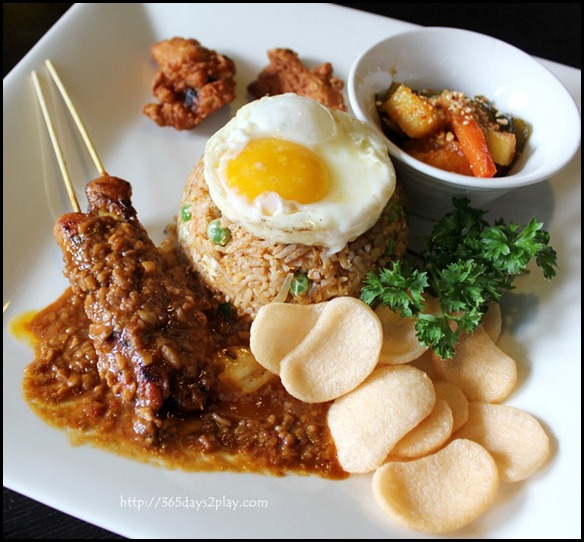 If you're ever lost for what to eat when you're at VivoCity or HarbourFront, you may just want to consider hopping across the road to the 1 year old Bay Hotel. STREET 50 Restaurant & Bar just opened last month, taking over the premises of the former Indonesian restaurant Rumah Rasa. STREET 50 offers diverse flavours ranging from Italian, French and American to Vietnamese, Indonesian and Singaporean with interesting twists.
Now every restaurant likes to say that they've added an interesting twist or a something special to their dish, but a lot of the times, the tastes are still pretty predictable. At STREET 50, I'm quite sure you will be in for a surprise when it comes to some of their signature dishes.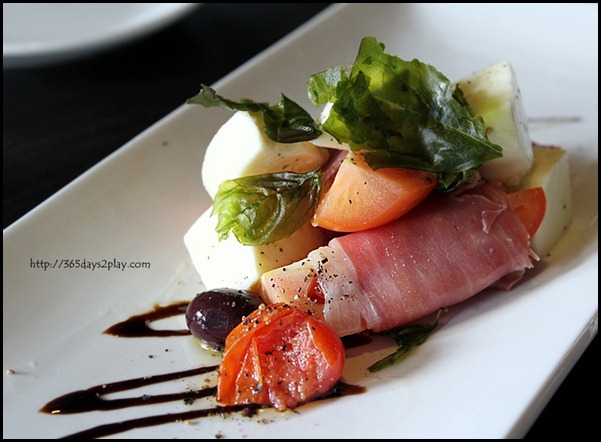 Caprese (Selection of interspersed vineyard tomatoes and buffalo mozzarella wrapped in parma ham with aged balsamico and fried basil) $12
We started off the meal with a delightful Caprese. I love Caprese and I always want to order it when I'm at an Italian restaurant. However, as you can see it is quite substantial for a starter so I end up always having to give it a miss. It was great to be able to indulge in a bit of Caprese at this tasting. Love the sweet tomatoes wrapped in the salty Parma ham! The buffalo mozzarella was a little tough though.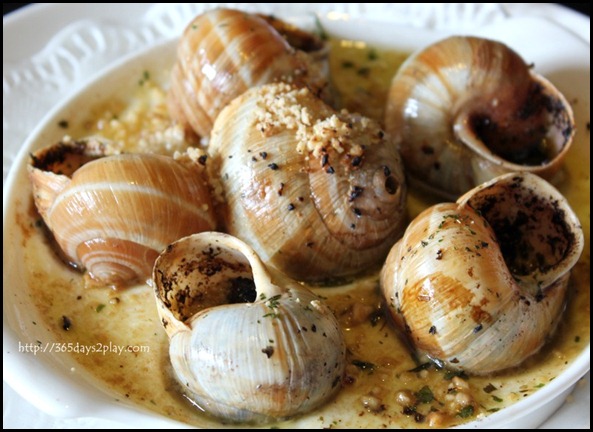 Hazelnut Escargot (Slow-baked Burgundy snails stuffed with hazelnut butter and flambed with brandy) $14
Escargots! Another one of my favourite foods! We were in for a special treat because these Escargots were also flambéed in Brandy. I've seen flambé of numerous steaks, and even a flambé Pencai, but never before, flambéed Escargots!
It was quite a spectacle of course, but I'm not sure if they did much to the escargots. Texture wise, the escargots were firm, like how they usually are. I did think that the excess Brandy overwhelmed the hazelnut butter and I do like my escargots buttery. Still, I enjoyed the tiny treat and dearly wished there were more!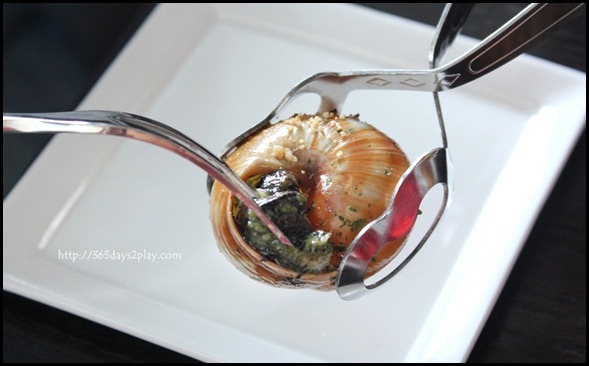 When eating Escargots, make sure to do it very slowly! The tongs look easy enough to use, but the shells have a tendency to slip sideways and fly across the room! I've had that happen to me once when I got complacent after eating my 5th one for the evening. Luckily it merely flew into the Partner's plate, so I took it back and polished it off.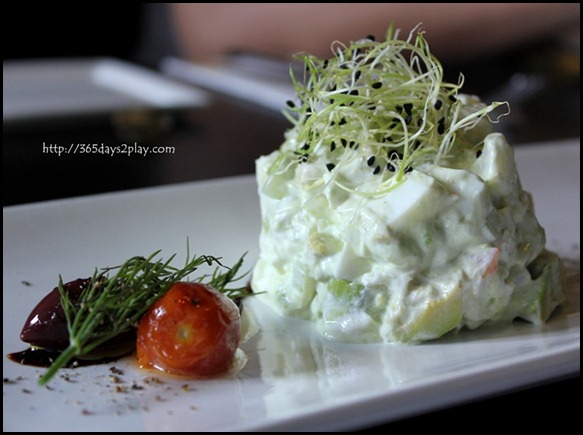 Tartare of prawn, avocado, celery and egg white topped off with sour cream aioli and tomato confit $12
We were on an appetiser roll for this tasting! But I have to say, all the appetisers on the menu were so appetising! Don't you think? This is like prawn cocktail except the dressing is sour cream aioli. There was a tad too much cream, but at least the sweetness of the prawns managed to cut through it. There was also a medley of textures going on, from the firm prawns to the slippery avocado to the fibrous sprout garnish.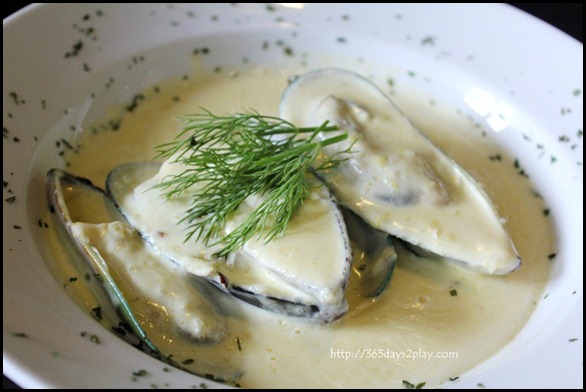 Mouclade Mussels (NZ mussels with fresh herbs and white wine in a creamy egg sauce brought back to fashion by Nigella) $14
I was expecting a pot of mussels or something but the mussels were served on a dish full of sauce. At first glance, the sauce looked way too much and it was actually very moreish. After we had all finished the mussels, we continued to have seconds of the sauce. And thirds in fact.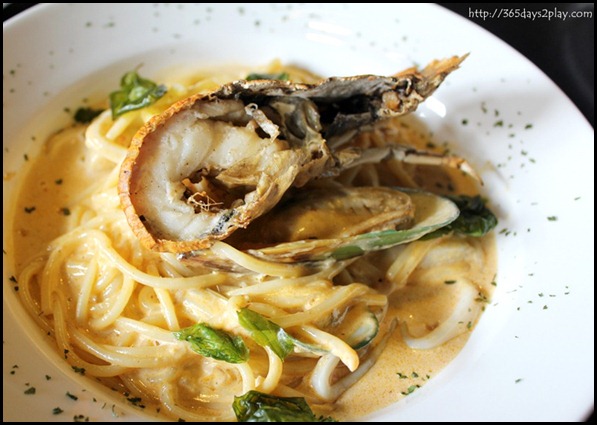 Tom Yam Flair (Spaghetti, crayfish, mussels, squid, herbs and wine in a mild tom yam cream) $18
Now here's one of the dishes that is hard to imagine compared to what we are familiar with. When eating fusion dishes, there's always the tendency to compare it to one or the other original dishes, but that's not what fusion is. The best way to describe this dish is to think of pasta carbonara with its cream sauce, loaded up with a good amount of tom yam flavour and a hint of sweetness. The spiciness was just right for me, as I often find Tom Yam just way too spicy. The spiciness of the tom yam help to cut through the cream, which is something I often like to do when I'm cooking. The squids were pretty tasty although slightly too firm, and helped to deliver more of the delicious sauce into my mouth. I didn't get to eat the crayfish so I shall not comment on it.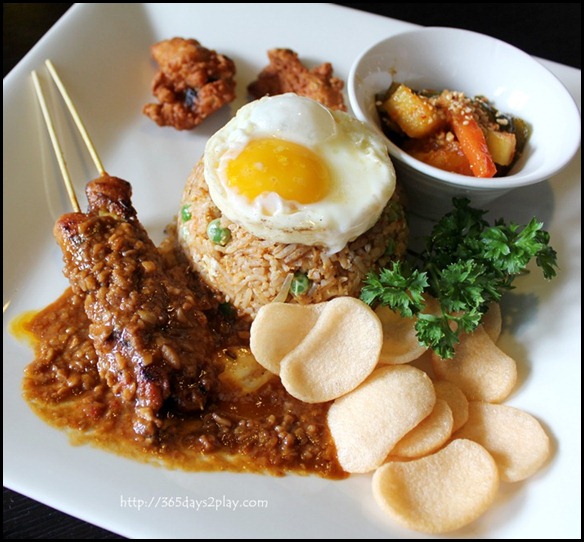 Crabmeat Istimewa (Stir-fried sambal rice with crabmeat, onion and green peas accompanied by satay, chicken wings, achar, prawn crackers and fried egg) $16
This dish reminds me so much of Nasi Goreng "Hotel Style". Whenever I order room service at staycations in Singapore or vacations in Asia, Nasi Goreng's like one of our favourite choices. People often think why pay $20 for a local dish that you can get for under $5, but look at the amount of ingredients provided! Nasi Goreng was also the dish we opted for for supper after our wedding celebration at Four Seasons hotel. (Gave us enough energy to finish counting the ang pows!)
I must confess, I don't recall tasting much crabmeat in the rice. The rice was also a tad soft. On the contrary, the satay blew my mind. It was FANTASTIC! The chicken was as tender as can be, and the satay sauce was flavourfully done! I think STREET 50 should consider selling satay as one of the dishes in the menu!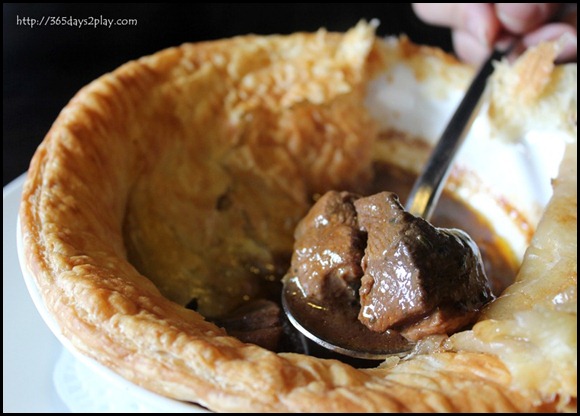 Duck Pot Pie (Slow braised duck in rich  red wine sauce with vegetables and spices in a baked shell) $22
Don't often hear of duck pot pie, do you? The duck pot pie drew lots of "ahhhs" when it arrived at our table because it looked so humongous. But don't worry, it's not all full of pie. This picture was taken BEFORE we started eating it, but after we'd broken through the pie crust. We all agreed the crust was lovely and buttery. It was great slathered in the rich red wine gravy. I didn't even need the duck, which I thought was so so. If red wine is not blended evenly in the sauce that it's added to, it would cause the gravy to be sour. I'm glad to report that the gravy was really tasty.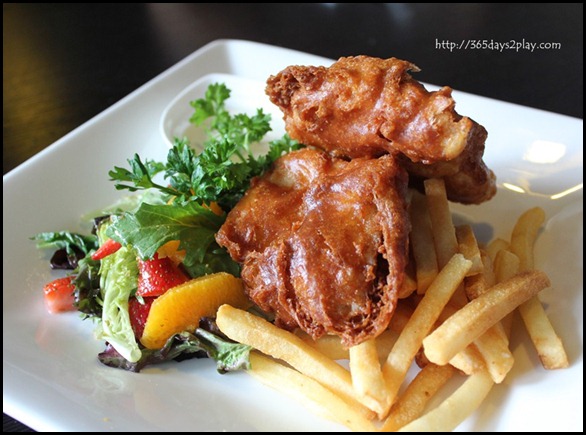 Cod & Chips (Fresh cod deep-fried in beer batter served with a fruit salad, fries and tartar sauce) $18
I'm a fan of cod so I specifically requested for cod to be ordered. Actually, I think it's a little bit of a waste to serve cod in a fish and chip style. Because cod is so strong in flavour and very creamy, it lends itself well to being served plainly and simply. In this case, it was too overpowering to have creamy cod, and heavy batter in the same mouthful. The first few bites were great and heavenly, but it was a slight struggle after that.
I dug out the cod and savoured it on its own.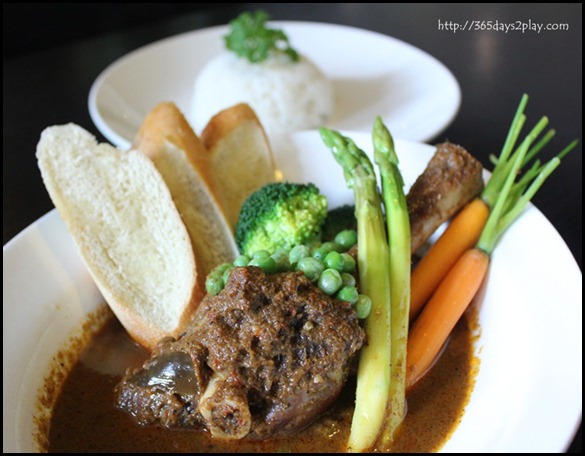 Lamb Rendang (Slow-braised whole lamb shank with rendang paste in claypot with carrots, potatoes, peas) $24
And the last of the main dishes, but certainly not the least, the lamb rendang. This was yet another winner. This was like eating mutton curry, but with the most tender piece of lamb ever. I really liked the flavours, and it wasn't even oily tasting at all. This was another one of the dishes with a twist as you would be hard pressed to find lamb shank in a rendang.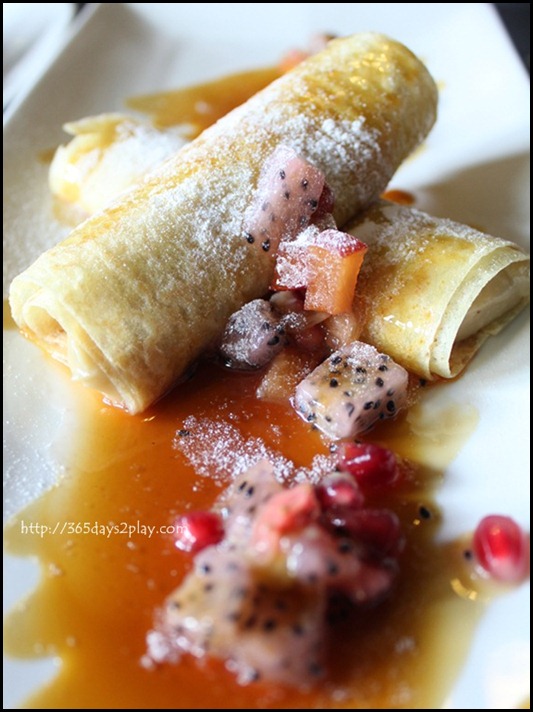 Durian Pengat (Luscious durian pulp cocooned in crepe) $8
Was pleasantly surprised to find the durian pengat served in this manner as compared to a dollop of it in a bowl. I prefer my durian pengat to be as close to the natural taste of durian as possible. This I believe was sweetened with a lot of gula melaka so the durian pengat was softer than usual and too sweet.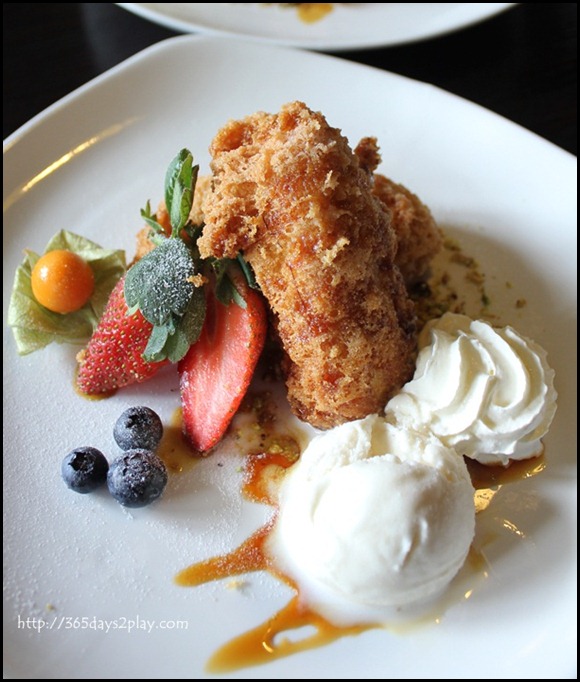 Banana Fritters with vanilla ice-cream $8
And lastly, Banana Fritters with ice cream. This tasted much better than the first time I tried it back when the restaurant was still Rumah Rasah. Love the crusty fritter bits. It would be nice to have more ice cream though, such that each mouthful of banana fritter can be combined with the delicious vanilla ice cream. The cream on the side was more or less ignored by everyone, as would be the case when ice cream is next door.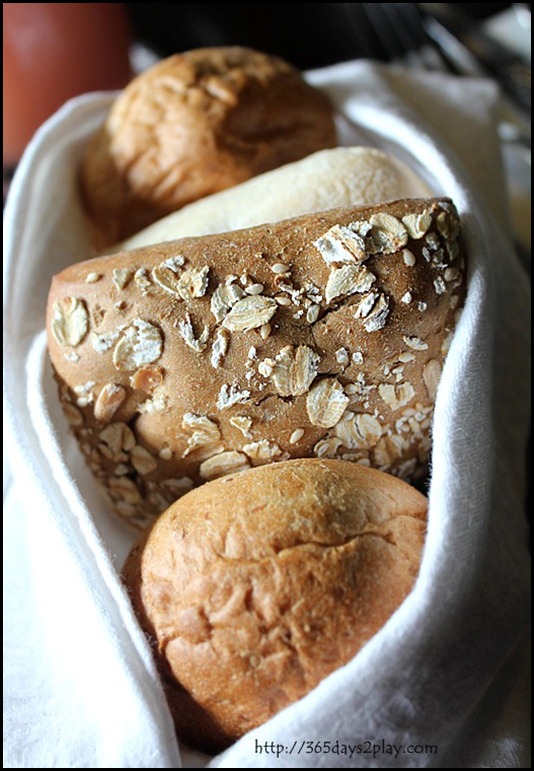 Ha, one more picture, of the complimentary bread.
So don't forget to check out STREET 50 if you're working in the MapleTree Business City, NOL/PSA area, or simply shopping nearby at VivoCity or HarbourFront and wondering where to eat. Click here to read more about what to eat around VivoCity.
Add me on Facebook, Instagram and Twitter if you want to be kept up to date with the latest happenings in the food and lifestyle scene in Singapore!
~~~~~~~~~~
STREET 50 Restaurant & Bar
at Bay Hotel Singapore
50 Telok Blangah Road
Singapore 098828
Tel +65 6818 6681~
http://www.bayhotelsingapore.com/ 
http://www.facebook.com/STREET50