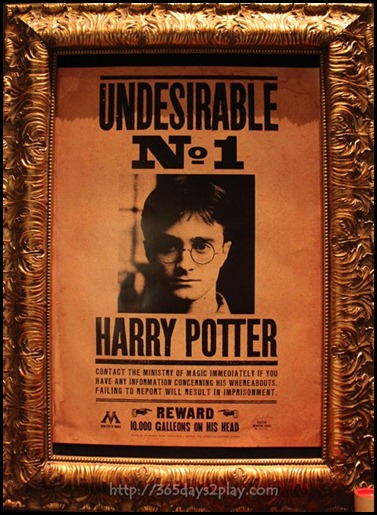 I was so so lucky to be able to get a private tour (as a VIM : Very Important Muggle) of the Harry Potter Exhibition held at Marina Bay Sands ArtScience Museum today, before the exhibition opens proper on 2 June 2012. It was just magical. Anyone who'd consider themself a fan of Harry Potter ought to take a look at the exhibition. It's surreal!
Before the tour, we had a quick Question and Answer session with the creator of the Harry Potter Exhibition Mr Eddie Newquist,ArtScience Museum Executive Director Mr Nick Dixon and GEORGE AND FRED WEASLEY!!!! They look so different all grown up and in different hairdos! And actually, they don't look as similar to each other as when in the movie!
So tall! Don't you think that one of them looks like a younger version of George Clooney? I have no idea who is George and who is Fred (James and Oliver Phelps)
So what is the Harry Potter Exhibition all about? If you are a true blue Harry Potter fan, you would undoubtedly want to experience what life was like on the sets. Basically the exhibition will showcase the grand collection of items in wonderfully detailed settings inspired by the Harry Potter film sets. You will be able see props and costumes from all the Harry Potter films, including Harry's iconic wand and eyeglasses, Professor Snape's original costume, the Golden SnItch and the Gryffndor school uniforms. Other key items featured include Sybill Trelawney's crystal ball and exotic wardrobe; costumes and props from Professors Lupin, Lockhart and Umbridge.: items from the Yule Ball including costumes from Harry, Ron, Hermione and Professor Dumbledore, and life-size creatures including centaurs, a caged dragon, Buckbeak the Hippogriff, and a giant Acromantula. You will even get a chance to try out the Sorting Hat! For the record, I was sorted into Griffindor!
Unfortunately, no photos are allowed in the Harry Potter : The Exhibition. If you take pictures and they stupefy you, don't say I didn't warn huh…
Official Photos of Harry Potter : The Exhibition Singapore
The following are some official photos provided by © Warner Bros. Entertainment Inc. Photos are however allowed in the Gift Shop.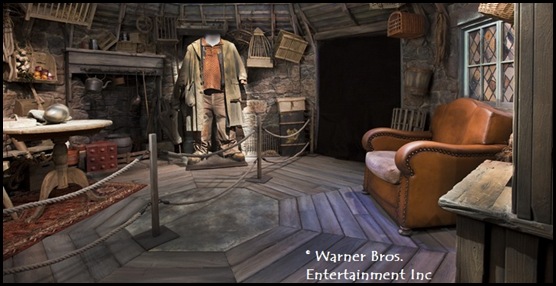 Hagrid's Hut. Yes you can walk right into it and have a seat on Hagrid's chair. I did. In fact, there is a sign to say "Please Sit". Obey it.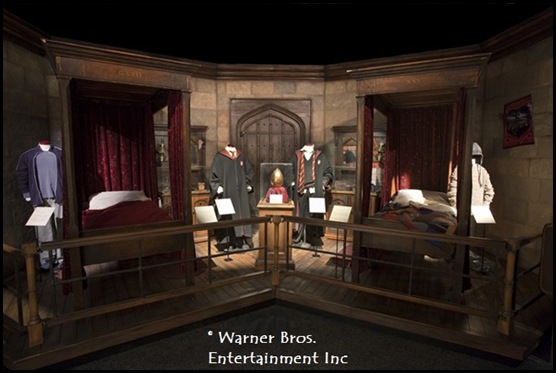 Harry's bed on the left and Ron's bed on the right. The beds seem rather small now that the actors are fully grown! The curtains have nice stars and moon shapes on them and weren't even custom made. They were spotted on sale in a shop. I would like to have bed curtains like those.
You have to look closely at all of the stuff on display because much care has been taken into creating each and every prop used on the Harry Potter sets. You will be amazed by the detail.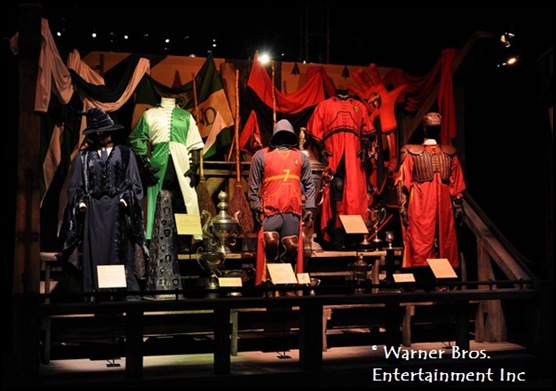 The actual costumes worn by the Quidditch players!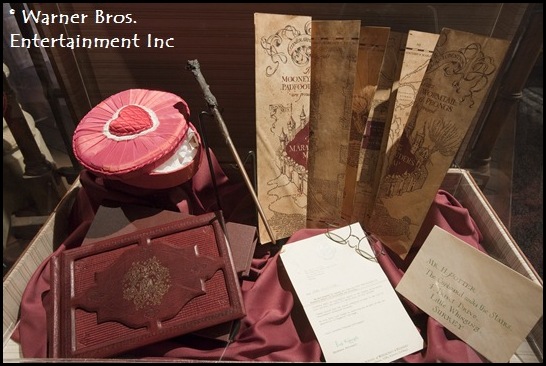 It's amazing these kept so well! That's the actual Marauder's map, and the actual letter sent by Hogwarts which changed Harry's life forever. You will be able to see the actual wands used in the movies. Yes, the actors were forbidden from sneaking them home, just for our benefit.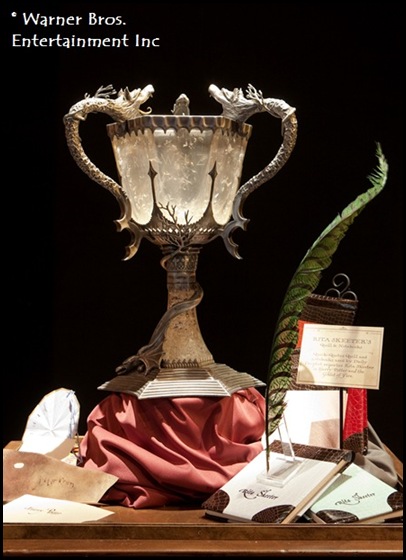 All the Horcruxes are available for viewing as well. Is it just me, or does the word "Horcrux" sound so foreboding? Really, take your time to go through each exhibit! We had only about 1/2 hr to go through the exhibition so I think I'll have to make another trip back!
Photos of souvenirs at the Harry Potter Gift Shop
The following are pictures taken at the Harry Potter Gift Shop. Pictures are allowed here.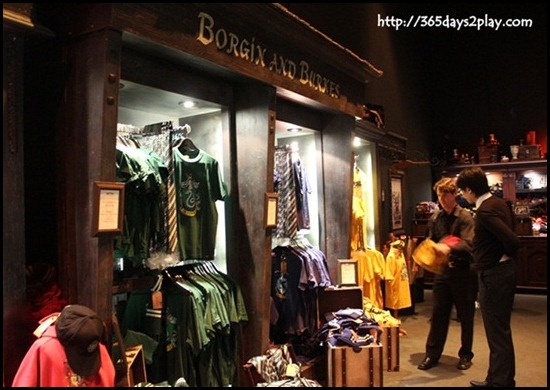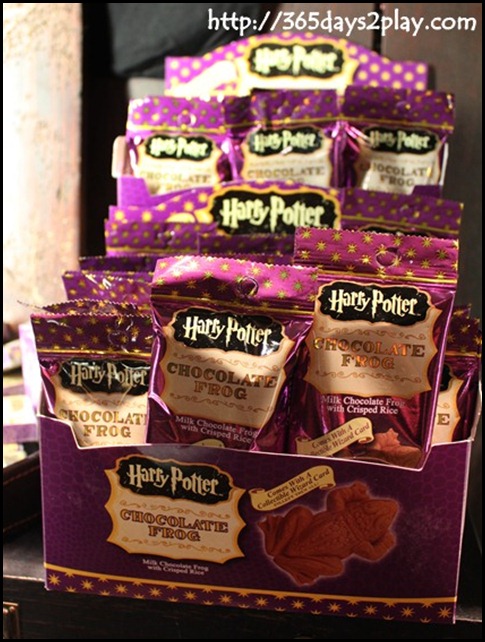 Chocolate Frogs. Comes with a picture card too. $6 for one packet. Not cheap.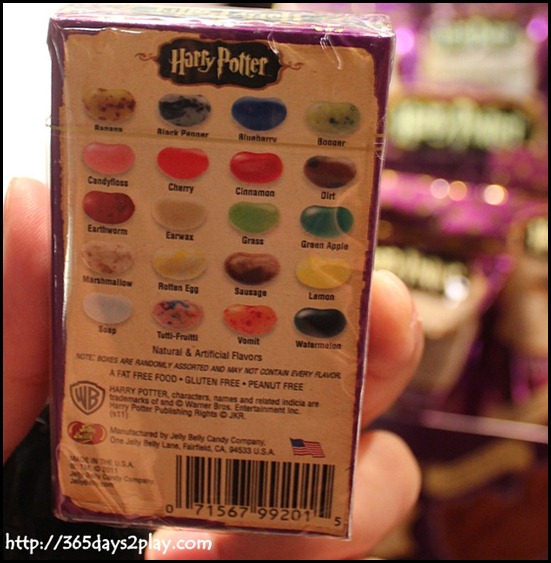 Who can forget Bertie Bott's Ever Flavour Beans? And they do mean every flavour. Try dirt, booger, earthworm, earwax, grass, soap, rotten egg and vomit. How's that? I should think earthworm might taste like chicken, no? $6 per box. Try them and let me know.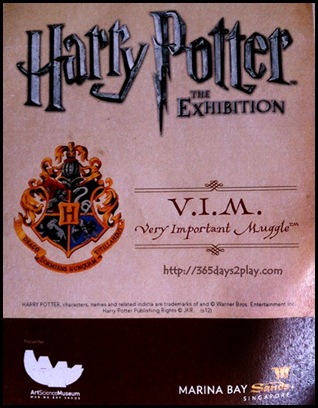 I'd much rather be a witch or a wizard, but Very Important Muggle is pretty good too. Thank you Marina Bay Sands ArtScience Museum for the wonderful opportunity.
Harry Potter Singapore Exhibition Location and Ticketing Information
ArtScience Museum at Marina Bay Sands
Bayfront MRT Station
Buy the Harry Potter Exhibition tickets here
Harry Potter Exhibition starts 2 June 2012 and ends 30 September 2012. Buy your tickets online to avoid wasting times in the long queues!
Don't forget to visit the Social Pavilion to get your FREE PHOTO taken, printed and posted on the Marina Bay Sands Facebook.
If you've enjoyed reading this post, please vote for me at the Singapore Blog Awards 2012. I'm a finalist in the Food Category. Please press VOTE ME and it's only successful if you see the words VOTED come up!