If you're in the Marina Bay Sands area, especially if you are going for the Harry Potter Exhibition, you really have to check out the cool new MBS Social Pavilion. It is a permanent social media booth for you to have your pictures taken, printed and posted on Facebook! All for free!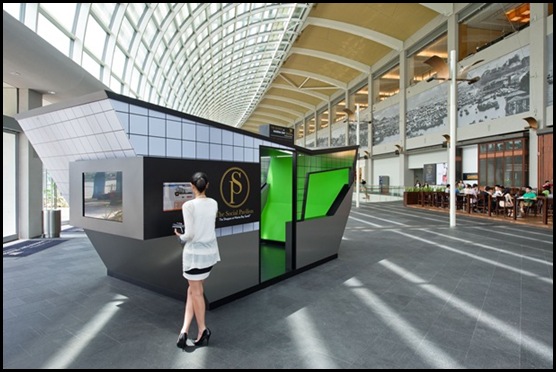 This is how it looks like, no prizes for guessing that it is modelled after the Louis Vuitton Pavilion and Avalon Pavilion outside MBS. It's located at the far end of The Shoppes, near Carnivore restaurant. If you're facing the waters, it's on your left.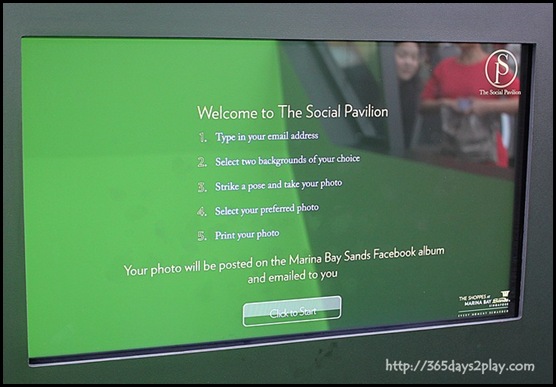 What you have to do is step inside the Pavilion, and start by keying in your email address.

You then get to choose 2 picturesque backgrounds of iconic areas at Marina Bay Sands and voila, you can start posing against the green background.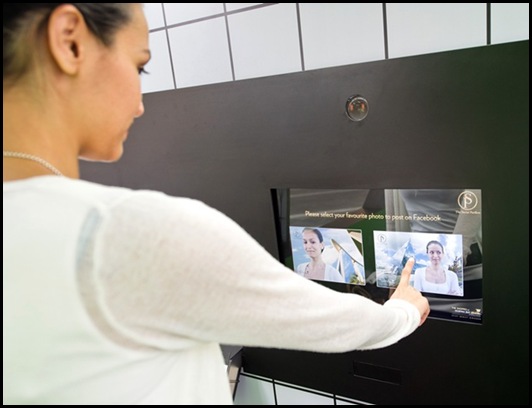 After posing once per background, you have to make the difficult decision of which looks nicer.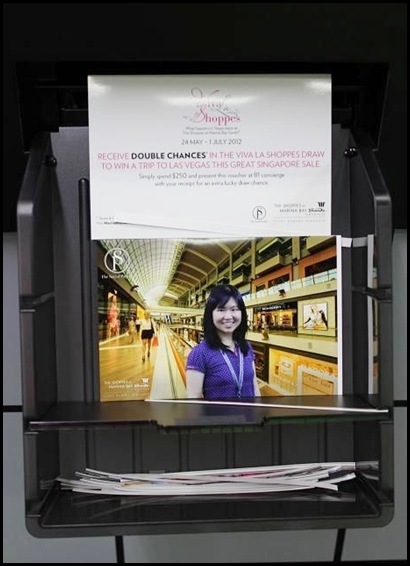 Collect your printout and admire! The photo will also be instantly posted onto the Marina Bay Sands Facebook page so don't forget to go to their Facebook to tag yourself and make comments! A copy of the photo will also be emailed to you. I was busy fiddling with my tag so I didn't take as nice a picture as I wanted. You can check Grace's page out to to see a nice picture of her and how best to pose!! Oh, just in case you want to hog that pavilion, note that each valid email address gives you 2 turns, ie 2 printouts per day.
Isn't that cool? I think all tourists, especially those without Internet connection, should check this out. Send a free photo back home. Good eh? I recall when I was in New York 10 years ago, and digital cameras were only just beginning to come into the mass market, there was this place near Time Square where you could get your photo taken and emailed instantly back home, for free. My first thought was that the Singapore Tourism Promotion Board should have that installed in Singapore as well. And to think now, with iPhone and free WIFI, all that is chicken feed!
While you're at the Marina Bay Sands Facebook, do check out their Great Singapore Sale Wishlist app. This app allows you to create your very own fashion look books from a range of fashion apparel and accessories from over 70 retailers at The Shoppes. Throw together an outfit worth S$500. The user who receives the most number of "likes" will stand a chance to win the S$500 outfit that they created!
The Great Singapore Sale Wishlist contest ends 27 June 2012 so hurry!!!
If you've enjoyed reading this post, please vote for me at the Singapore Blog Awards 2012. I'm a finalist in the Food Category. Please press VOTE ME and it's only successful if you see the words VOTED come up!
Read about my Very Important Muggle private visit to Harry Potter : The Exhibition at the ArtScience Museum.