As promised, here are the rest of the photos from my Afternoon High Tea buffet at Ritz Carlton. You know what, I'm so impressed by the Afternoon Tea spread, I think I'm going to make another reservation for afternoon tea when the Partner returns. (That's not to say that I'm going to be the one paying….)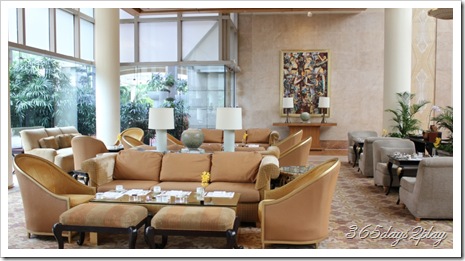 The Chihuly Lounge has a very bright and airy feel to it due to the glass walls and high ceiling. I love those big sofas but they are reserved for the big groups. Couples can also have the comfy grey sofa type seats.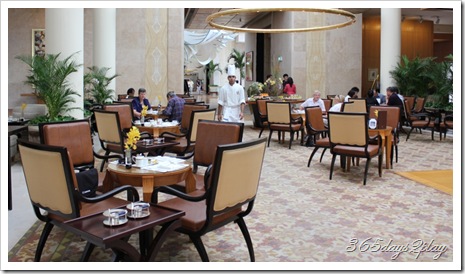 We had to sit at the tables because there were only 3 of us. The chairs are unfortunately not very comfortable because they are made for tall people. My back was unable to reach the back of the seat properly. But there is a trick to doing this. Ask the waitstaff for one of the cushions from the sofa seat, and the chair is instantly transformed!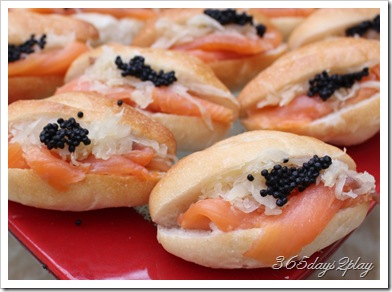 Smoked Salmon, Caviar and Cabbage in mini French Loaf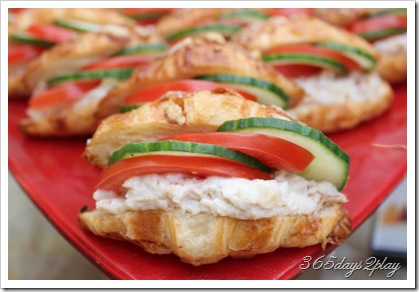 Smoked Chicken Salad in Mini Croissant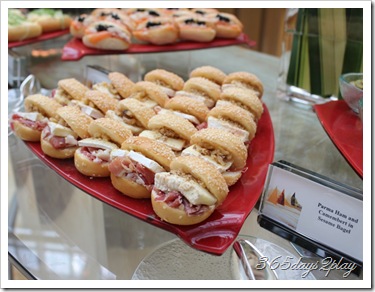 Parma Ham and Camembert in Sesame Bagel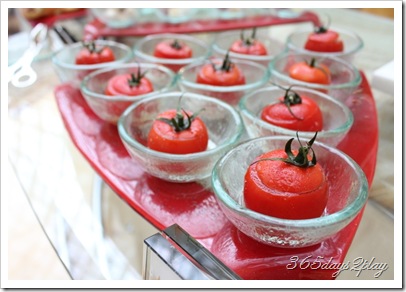 Stuffed Vine Tomatoes with Eggplant Caviar  – After googling, I realise eggplant caviar doesn't contain fish eggs at all…..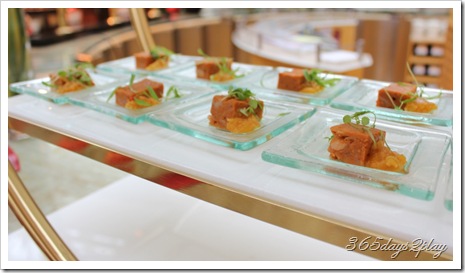 Spicy Seafood Cake in Pineapple Chili Coulis — otherwise known as high-class otah!!!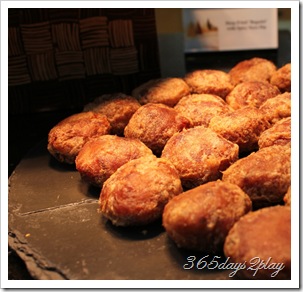 Deep fried Begedel (potato cake) with spicy soya dip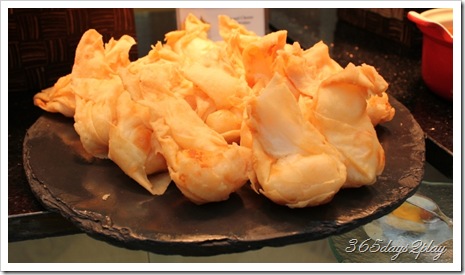 Prawn and Cheese Wanton Fritters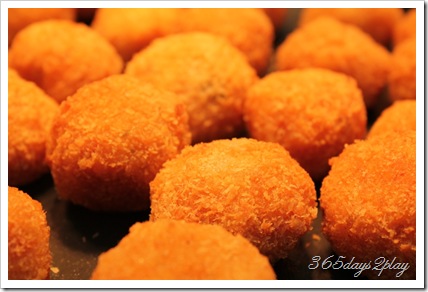 Seafood Balls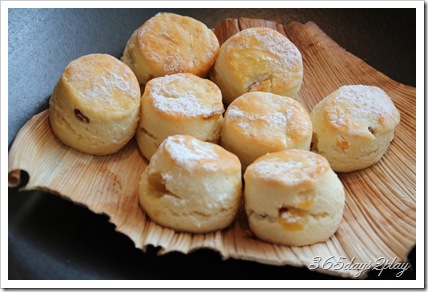 Fruit Scones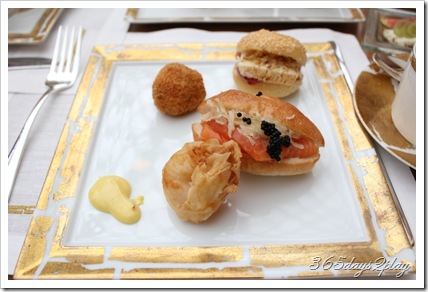 Items I picked for my 1st round (out of many rounds….)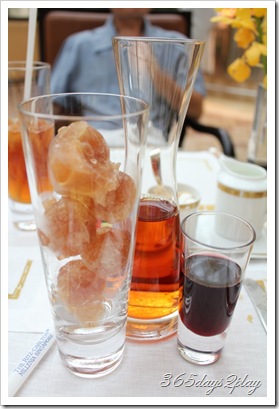 You can select a whole list of drinks from their menu as well. And when you are finished with your drink, you can order another one as many times as you like. I like ordering their iced teas. It's almost like an artform. In the picture above, I ordered blue-berry iced-tea. It comes in 3 glasses rather than 1. One glass has the blue-berry concentrate, 1 glass has the tea, and 1 glass contains iced-tea ice cubes! How unique is that? The waitstaff then pour the tea out for you. Here I've stopped them from doing so to take the pictures.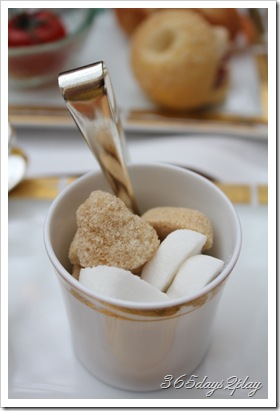 Sugar rocks
Tell me if you agree that the Chihuly Lounge at Ritz Carlton serves one of the best afternoon tea buffets in Singapore?
Check out Part 1 of Chihuly Lounge Ritz Carlton's afternoon high tea desserts and sweets
Check out 365days2play's review where to find the Best Scones in Singapore
Also check out 365days2play's reviews on other good places to have afternoon high tea : –
Hotel Intercontinental Lobby Lounge
Fullerton Hotel – The Courtyard