PARKROYAL on Pickering may strike you as a bit of a business hotel, given that it is in the heart of Singapore's financial district, but that doesn't make it any less suitable a location for a staycation. The hotel has been on my radar for several years now, thanks to its really eye-catching and unmistakable facade.
I've visited the hotel a couple of times in the past. Once was to enjoy the afternoon tea at Lime Restaurant, and another was to have a dinner buffet at the same restaurant. Recently, I had the opportunity to finally check out the rooms, and my was it a staycation to remember. Thanks to the PARKROYAL on Pickering Suite Little Escape promotion ($668 onwards) available just for December, we got to enjoy the comforts of a Junior Suite (has a living room area and separate bedroom!), a bottle of sparkling wine and chocolate-dipped strawberries, festive buffet dinner and buffet breakfast!
The room is super humongous! So much space to just relax in plus the wider views! There are 2 TV screens so the husband can watch 1 programme while I can watch another. But truth be told, we hardly had time for TV because we were so busy taking photos all over the hotel plus pigging out. Seriously every turn you take is a potential Instagram opportunity.
If you follow me on Instagram, you might have noticed via my InstaStories that we got upgraded to have Club Lounge access. Club lounge access means that in addition to the perks from the Suite Little Escape promotion, we would also be entitled to Champagne buffet breakfast, afternoon tea and evening cocktails at the Orchid Club Lounge. I would highly recommend topping up for it to really pamper yourself, but if you don't mind a smaller room, you can go for the Orchid Club Room ($440 onwards) and still get Club benefits.
Scroll down further to see what we did during our 1 precious day at PARKROYAL on Pickering where time just seemed to slip away so very much faster than I wanted it to!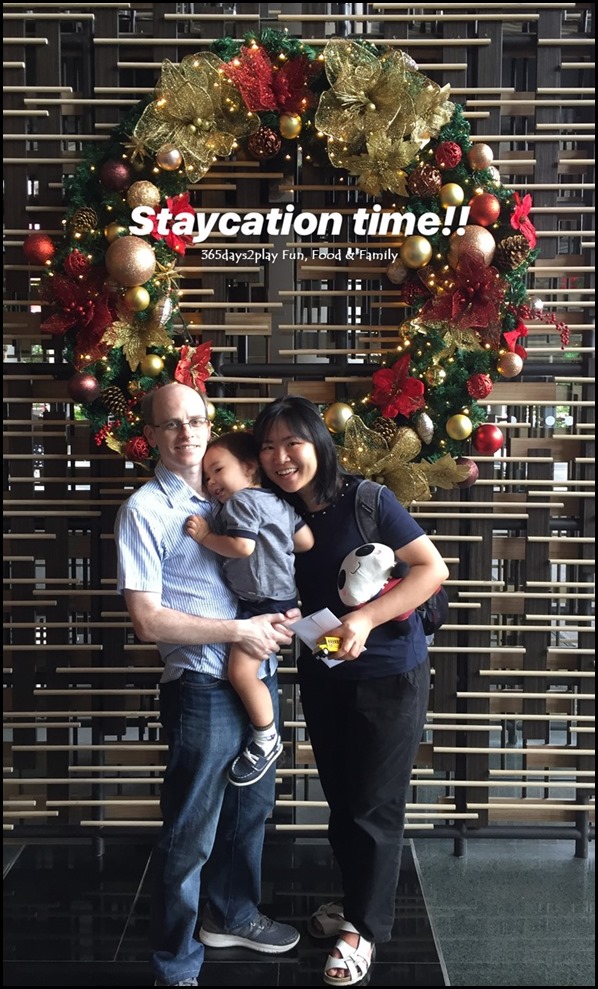 Staycation time indeed! Do come in and take some pictures at the hotel lobby too as that already offers up many photo opportunities.

Panorama picture of the Orchid Club Junior Suite taken while standing next to the minibar area, with the entrance door a few steps behind me. I love it whenever the rooms have a separate lounge area, then it feels a bit more homey. And it is especially useful if kids are sharing the room. They can be noisy in one room while the parents hide/escape in the other.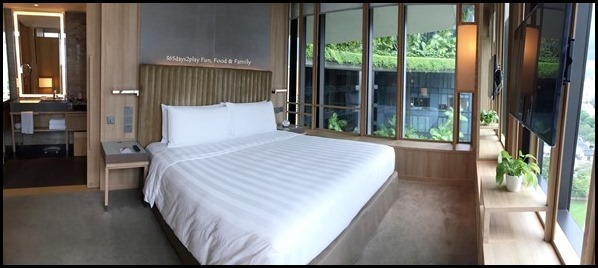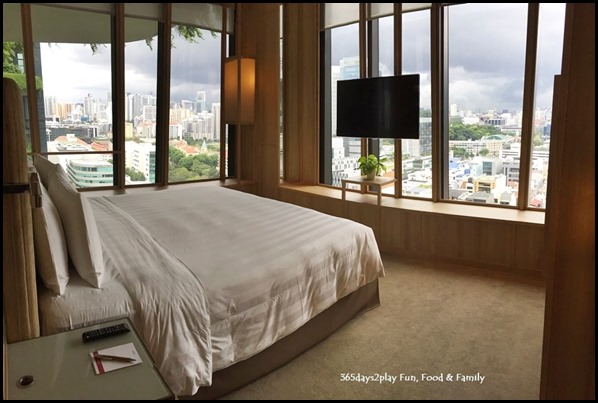 The bedroom on its own already feels so spacious. And check out the nearly full-length windows on two sides! Day blinds as well as night blinds are provided, at the touch of a button. Be sure to have them down at night or people from other rooms might be able to peek in.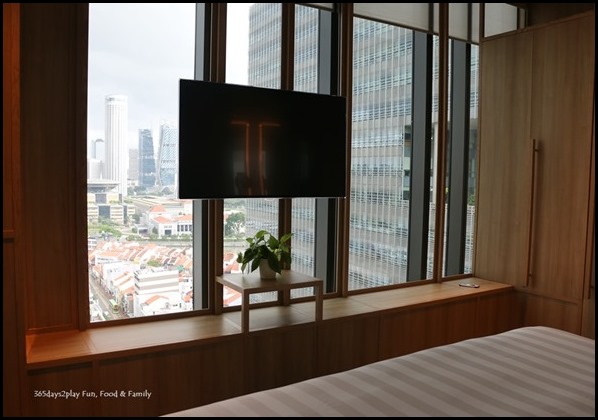 Dilemma : Laze in bed and watch TV all day or head to the club lounge to pig out?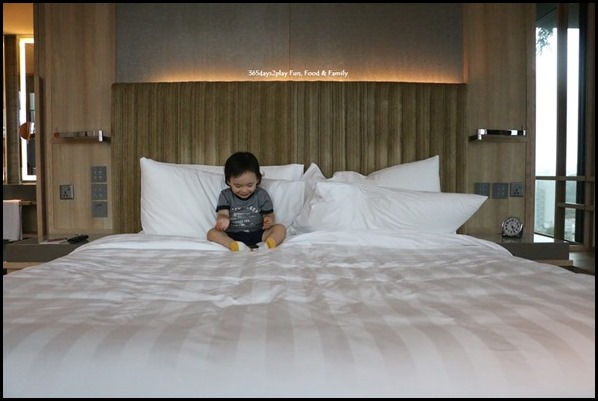 Here's a picture of the humongous king size bed, taken over by the tiny toddler. He looks like he's being enveloped by the big bed. And check out the cheeky face, planning the next naughty move I'm sure.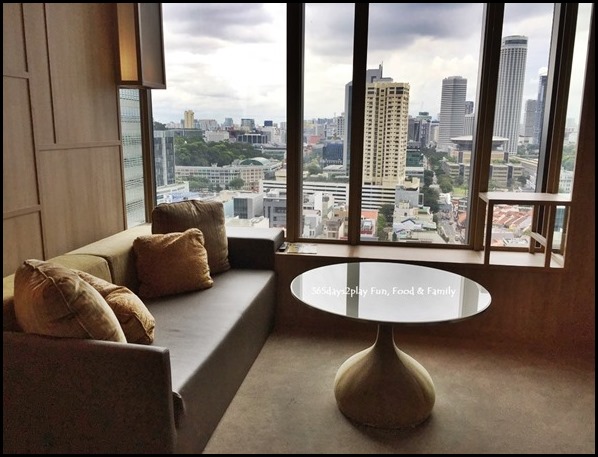 Another shot of the lounge area.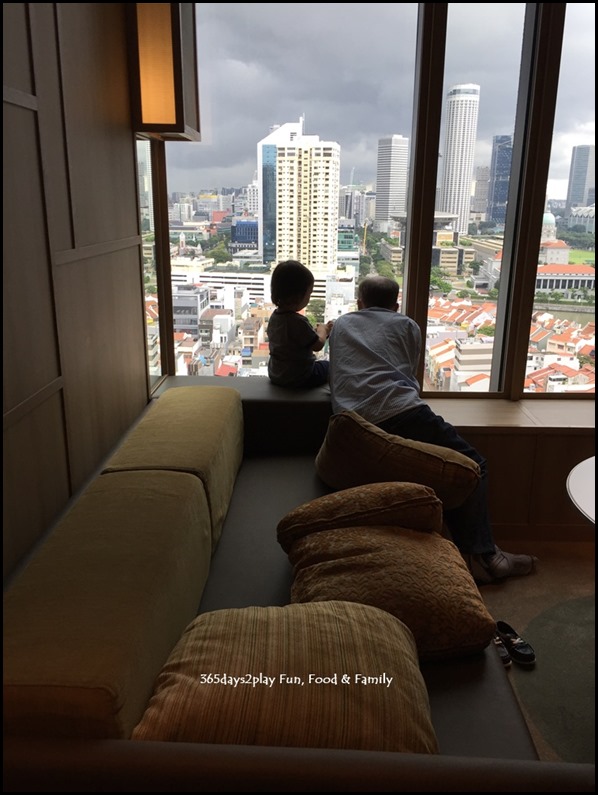 Father and son checking out the views below.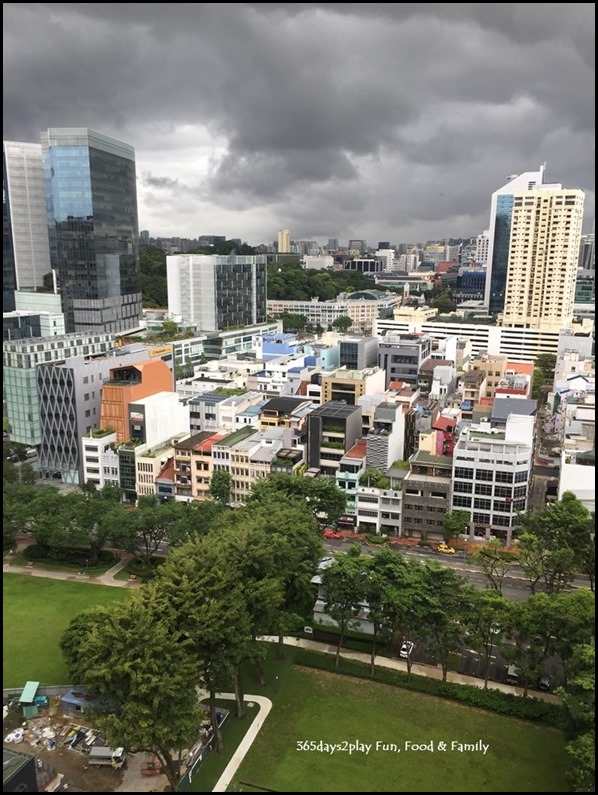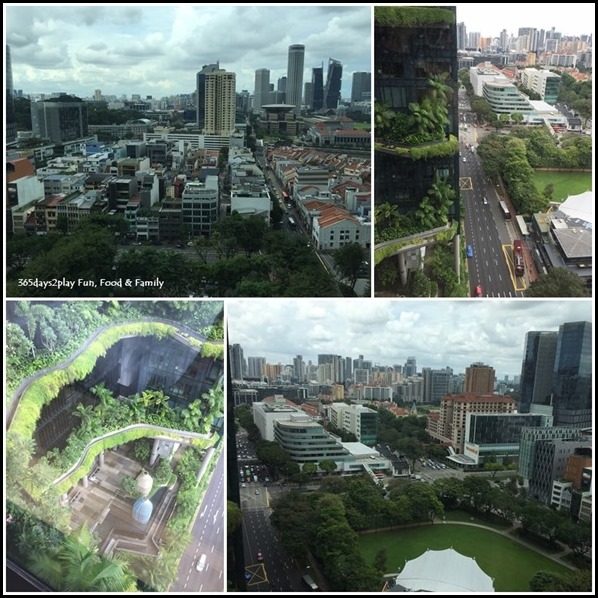 View of Hong Lim Park, with Clarke Quay towards the left. If you thought the clouds look ominous, well the heavens unleashed their fury soon after.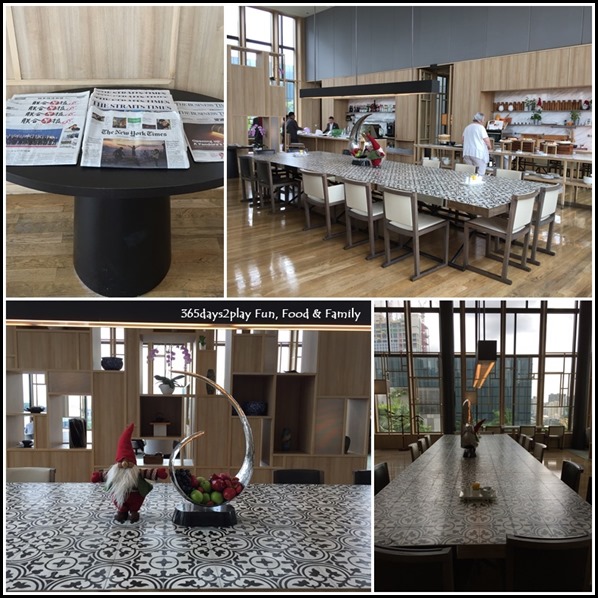 Well we couldn't wait for the rains to come, we had to go see what the Orchid Club lounge had to offer. Afternoon tea beckons and we certainly can't miss that!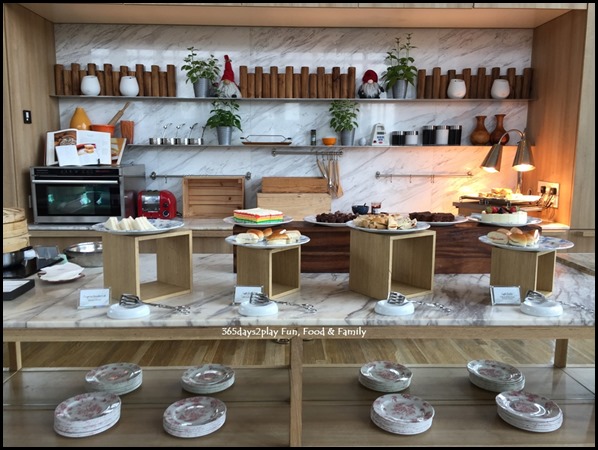 A simple afternoon tea spread comprising an assortment of sandwiches and buns, a couple of dim sum items, scones and cakes. Non-alcoholic beverages available too. Afternoon tea is from 2pm — 4pm.
It's not afternoon tea if you don't have scones! Glad to know that Edward loves scones, just like we do. Heck he loves all the baked goods! He had 2 scones I believe, while I only had half! Again dilemma, to stuff ourselves silly or to make space for dinner later?!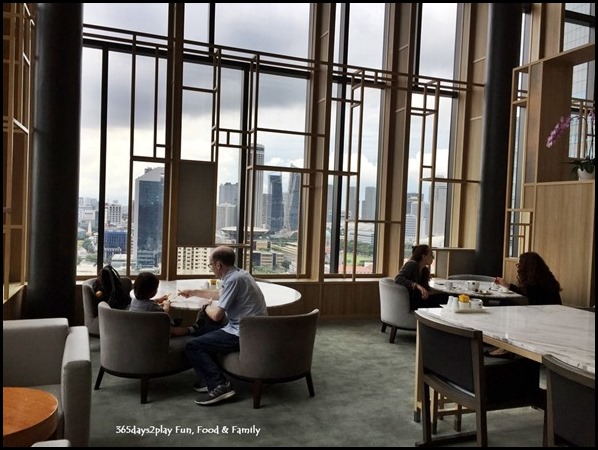 Even the club lounge feels so spacious with its high ceiling and near full-length windows. The seating area is also partitioned into two, to provide more privacy.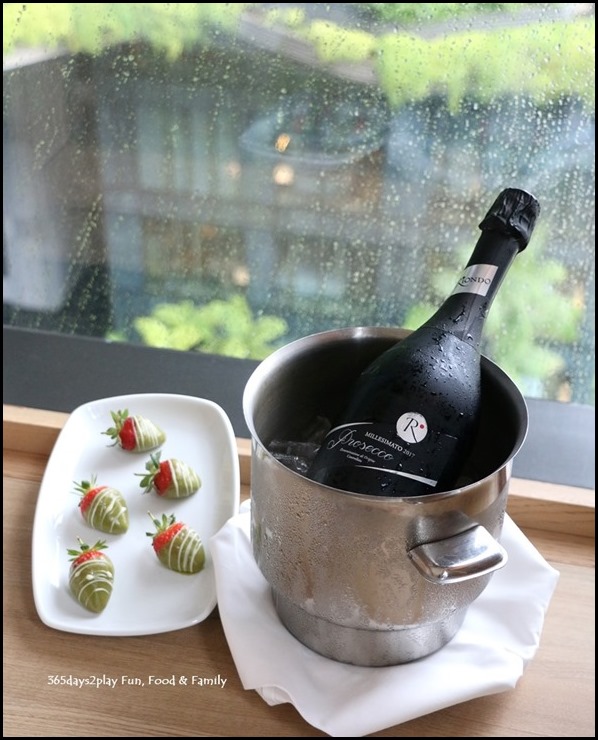 After afternoon tea, we headed back to the hotel room for more photos and the chocolate dipped strawberries that had just been sent up. The sparkling wine we brought home as a souvenir. I'm going to have a little of it in my orange juice for breakfast everyday and reminisce about our wonderful staycation.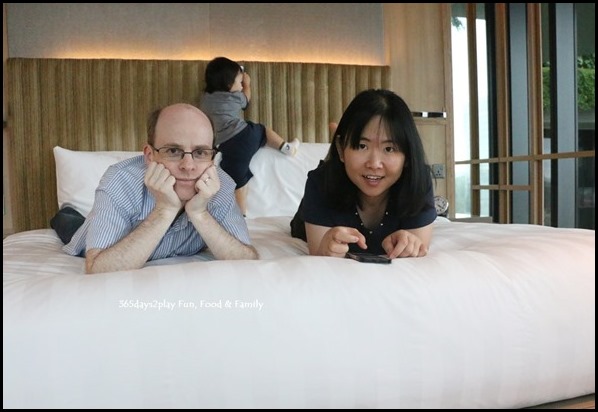 Well we tried to take a family wefie…..but someone had other ideas…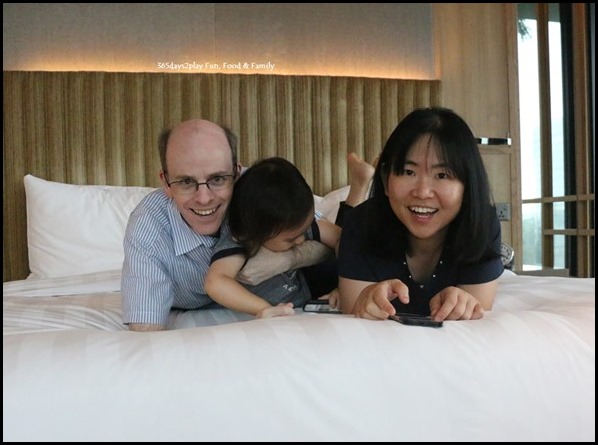 Had to catch hold of him but then he was struggling too much! We did get a good one eventually the next day. Scroll to the end to see it!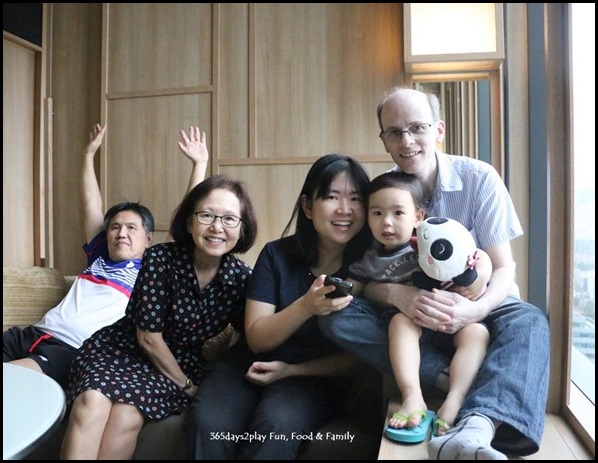 Meanwhile my parents decided to swing by to take a look at the said humongous room that we'd been raving about on whatsapp to them.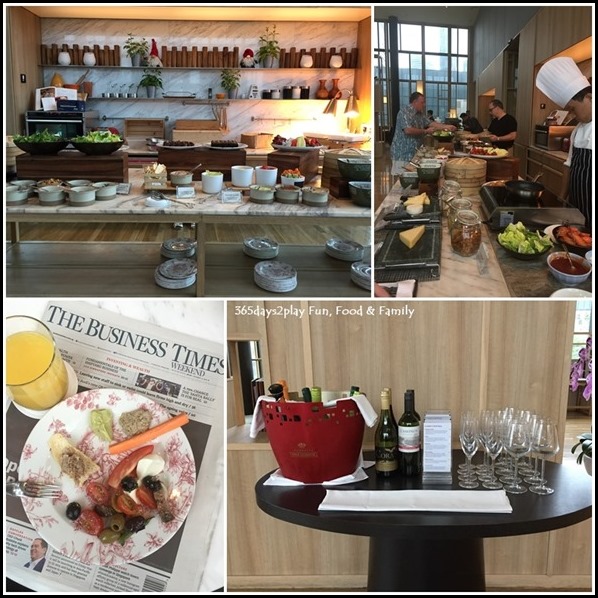 From 6pm — 8pm, if you have club lounge access, you can also enjoy the evening cocktails which comes with a small spread plus as much alcohol as you can drink. We were told that kids are not really encouraged to be at the club lounge during this hour due to the presence of many people drinking. I personally don't think it's an issue for Edward at his age and I don't think kids become alcoholic just by seeing adults drink in a setting like this. Besides, as with any other thing, parental supervision and guidance is the main thing.
Anyway, during past staycations with club lounge access, we would usually park ourselves at the club lounge and enjoy the food and drinks, which would be enough to serve as dinner for us. But because we had a festive buffet dinner coming up and didn't want to miss out on our roast turkey and ham, we had a quick drink and bite before heading downstairs to Lime Restaurant.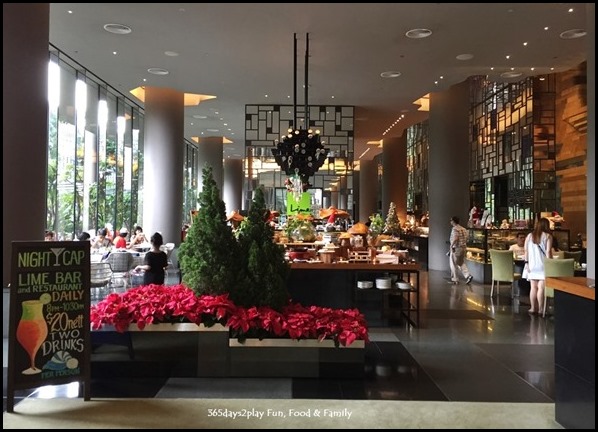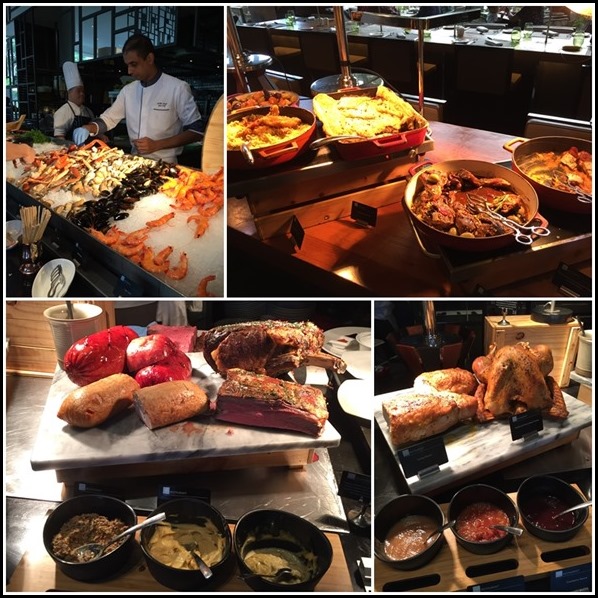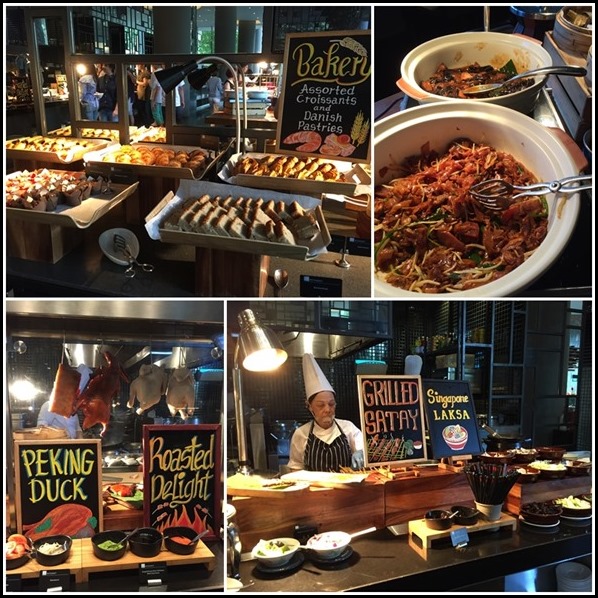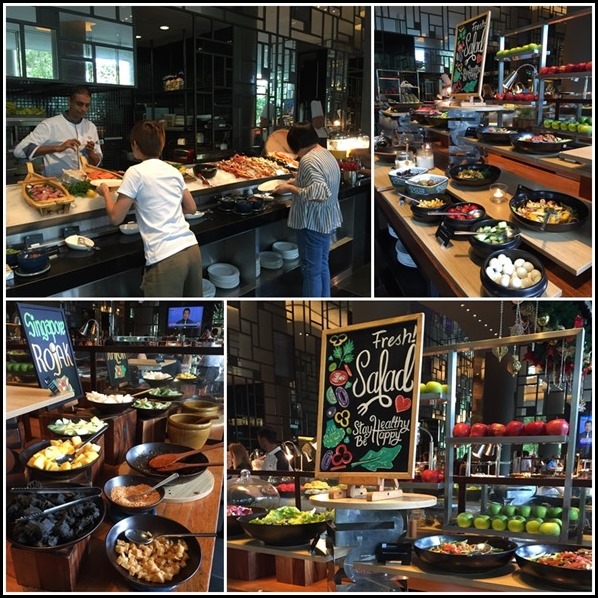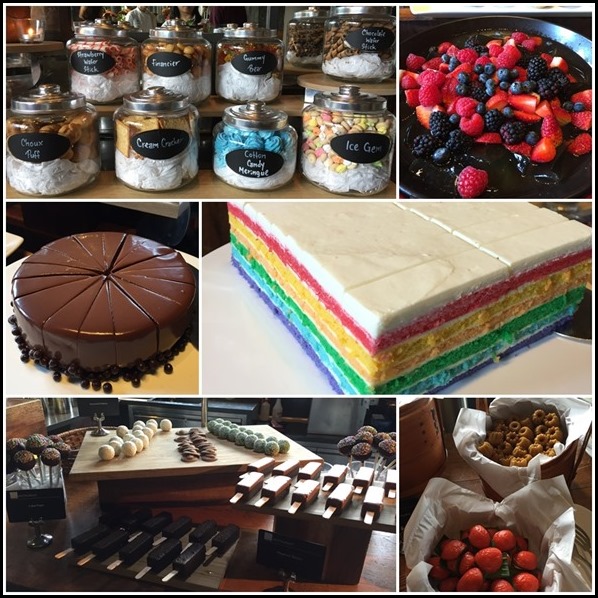 Although we had the festive dinner buffet as part of the Suite Little Escape promotion, I only took photos of the festive lunch buffet as it makes for nicer photos. Lunch and dinner buffets are almost the same anyway and some dishes are also rotated. Some of the highlights for me included the lamb chops which were sizzling hot and just cooked when I got them (lucky me!), the Christmas ham, and interestingly, the Carbonara! There is something extra they put in the sauce that saw me going back for seconds! I saw the chilli stingray and seafood bar receiving high demand from other customers. I wish I had more space for the pretty desserts (and the mini kuehs!), but in the end I decided to have seconds for the sashimi and forgo the desserts! A sin to some people, yes I know, but at least I already had some cake for afternoon tea!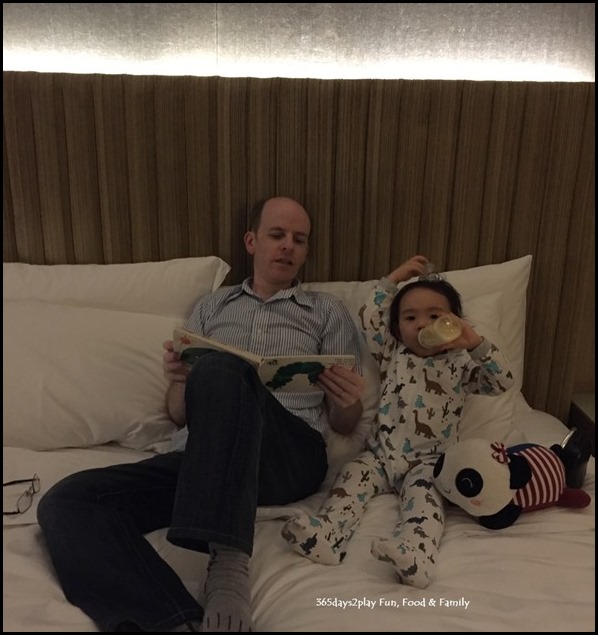 And at last, it was finally bed time. Have to have his milk and a story of course.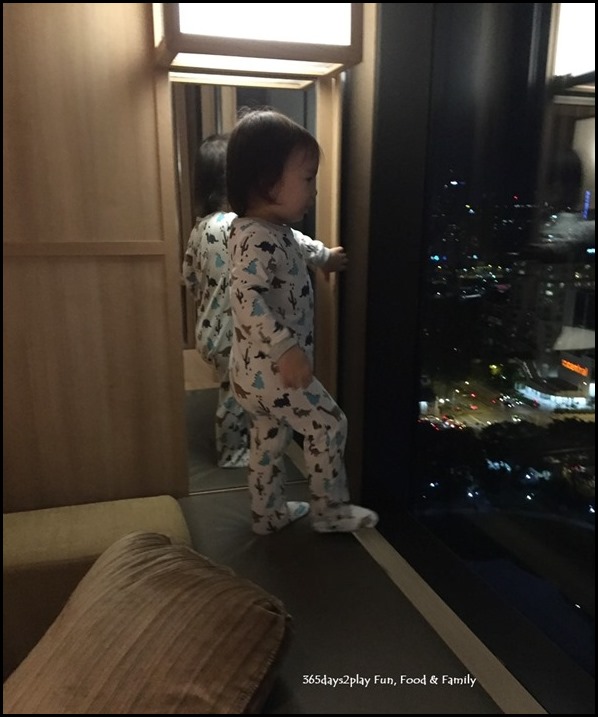 And who are we kidding. The toddler jumped out of bed after his milk to continue exploring the room. How can one possibly sleep at the same time as back home when it's so exciting to be awake??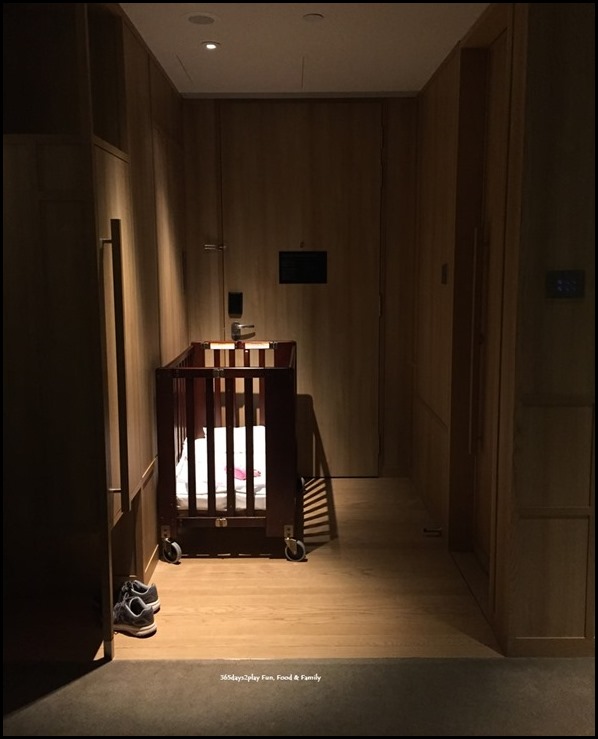 We placed his crib here so that he can guard the door at night.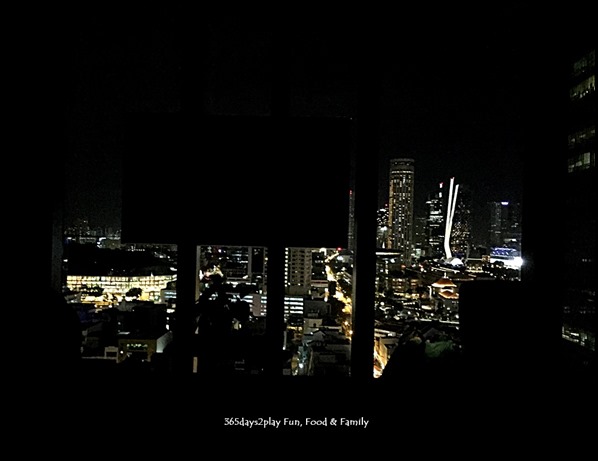 It was also very exciting to lie in bed and enjoy the night view of Singapore! I deliberately did not lower the blinds (I did so for the side window that faces other rooms).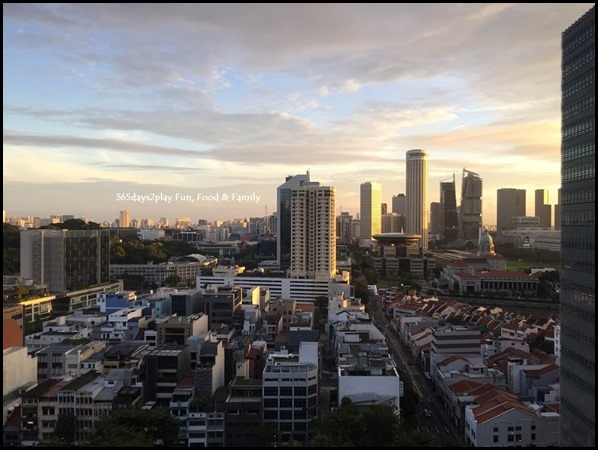 Crazy me even got up early to see if we could catch the sunrise. Alas, our room was nearer to the tall building so we couldn't actually see the sun itself. If we were in the rooms nearer to Chinatown / Clarke Quay, we would probably have caught a better view of the sunrise!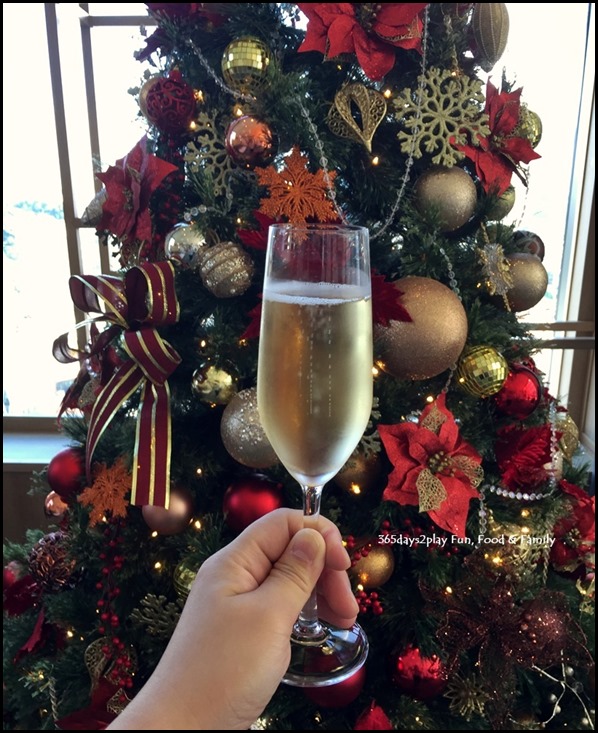 But you know what's the best part about waking up early during a staycation? Champagne breakfast! Need I say more?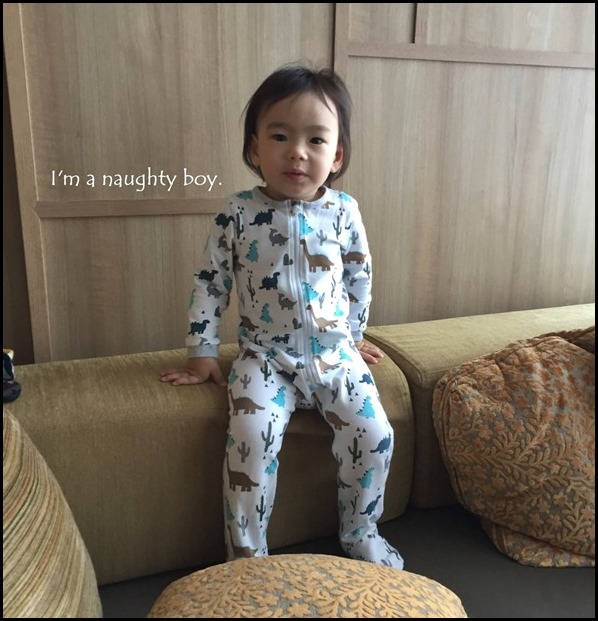 I wasn't the only one who woke early…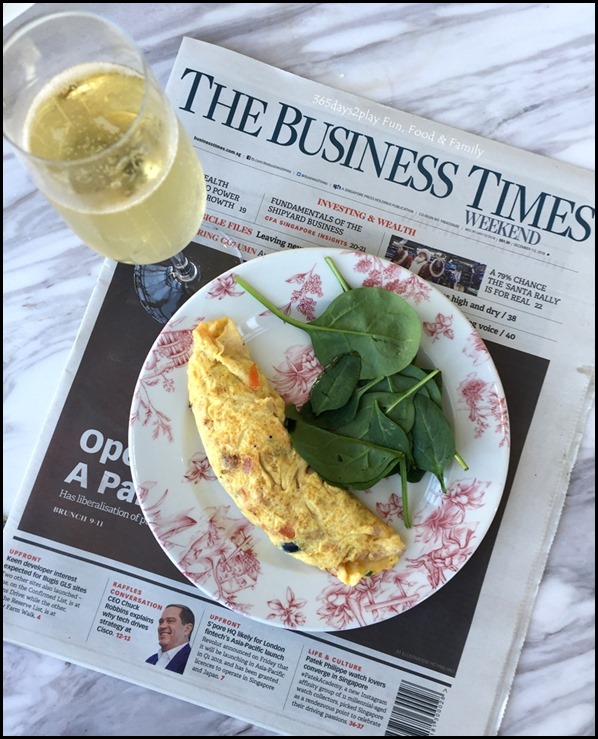 Nothing like catching up on the latest business news with a glass of sparkling wine in hand. And if you're not really the alcoholic kind, try a drop of it in some orange juice. It will be transformed!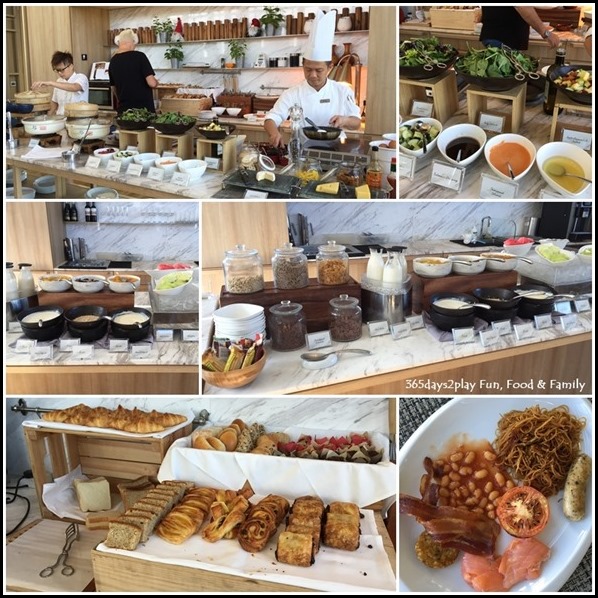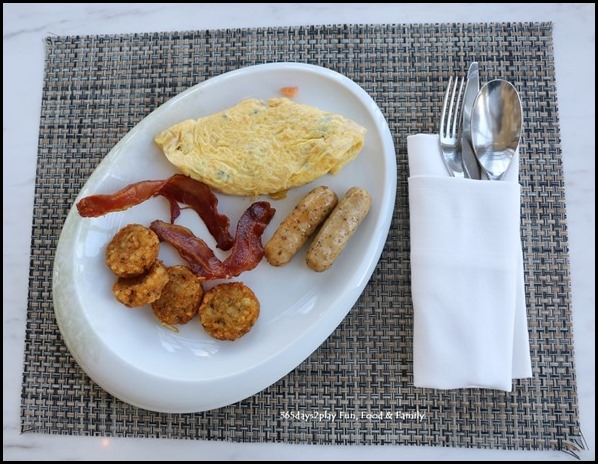 Whenever one has club lounge access, there's always the decision of whether to go to the main restaurant for the complete breakfast buffet spread, or to stay in the relative peacefulness of the club lounge where the spread is not as extensive but the ambience is much better. I have actually on several occasions opted to forgo the club lounge for the main buffet. For our staycation at PARKROYAL on Pickering, because sparkling wine was available for breakfast at the club lounge, it's pretty much a no brainer, right?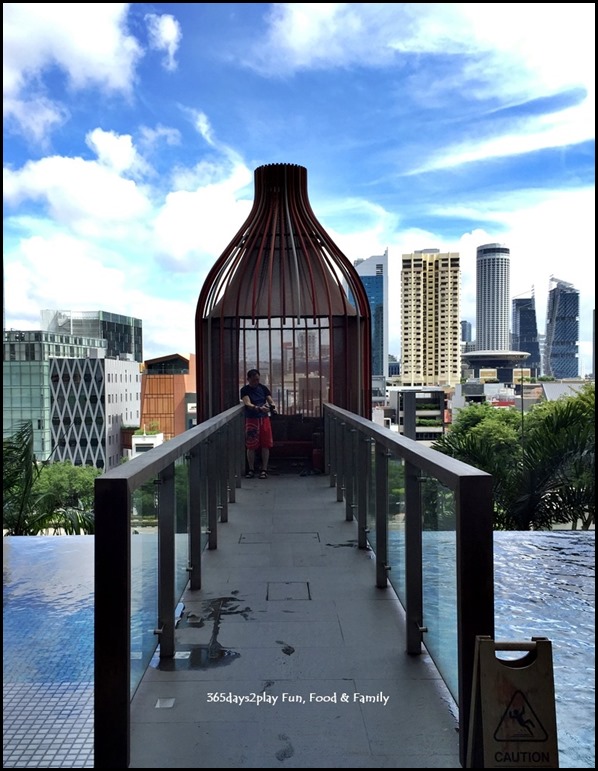 After breakfast, we did a quick stroll of the 4th level sky deck where the iconic gazebos are. You can't stay at PARKROYAL on Pickering without taking a shot of these. Everyone knows that because many people were strolling along the sky deck doing exactly that!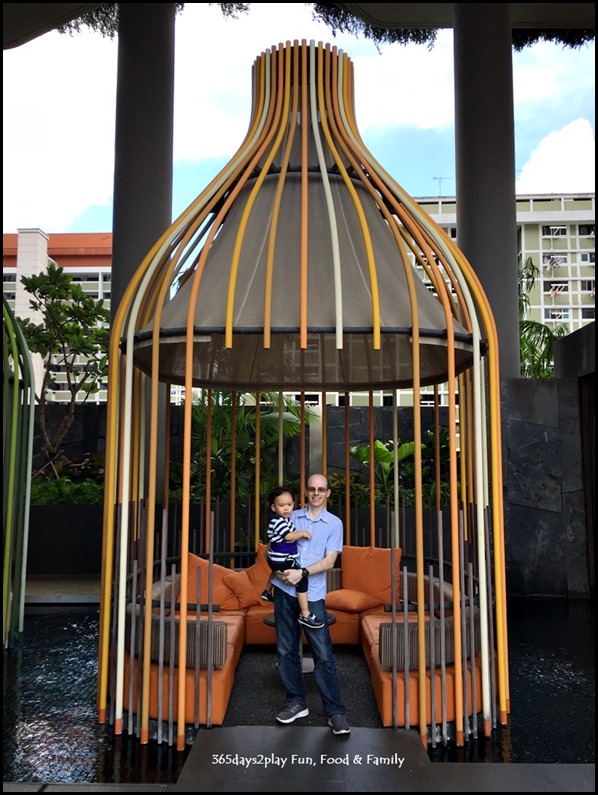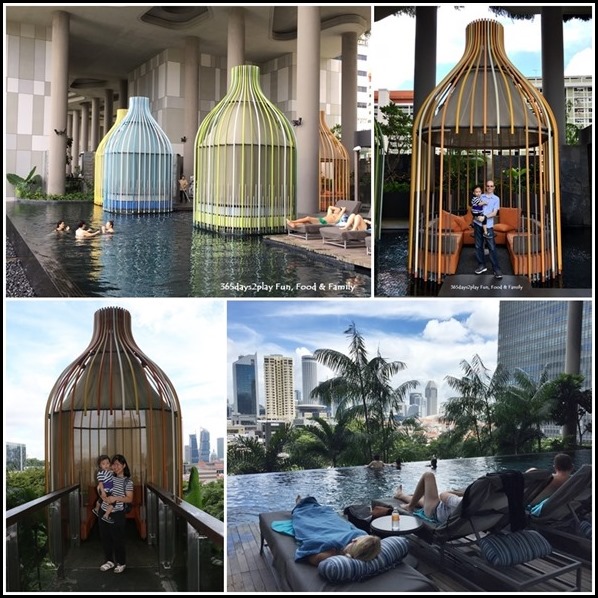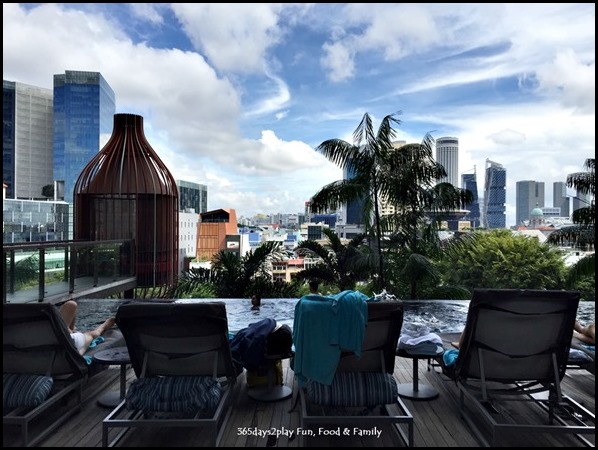 But there arises another problem, swimming at the pool becomes a pretty daunting affair thanks to all the shutterbugs. You really need to have a thick skin to be in your swimsuit with so many people snapping away! Also, the pool isn't that suitable for children who require constant supervision because access to and sight of the pool at some parts is obscured by the gazebos or deck chairs. I was actually going to go for a swim but I gave up the idea. Oh well, more time for photos!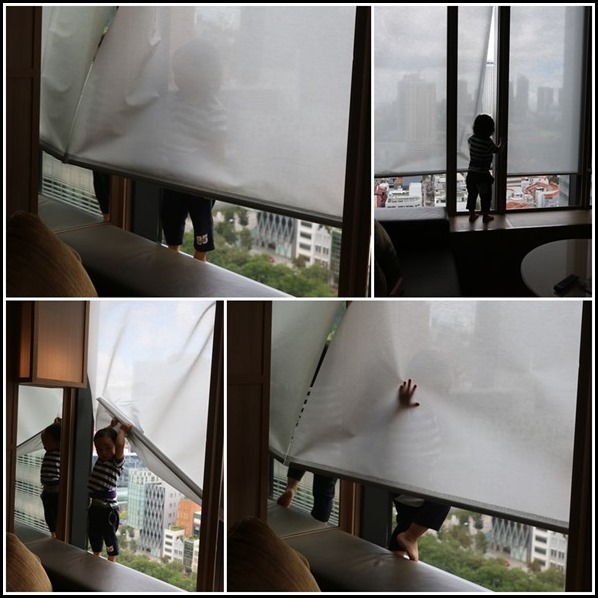 I don't think Edward minded at all the lack of swimming time!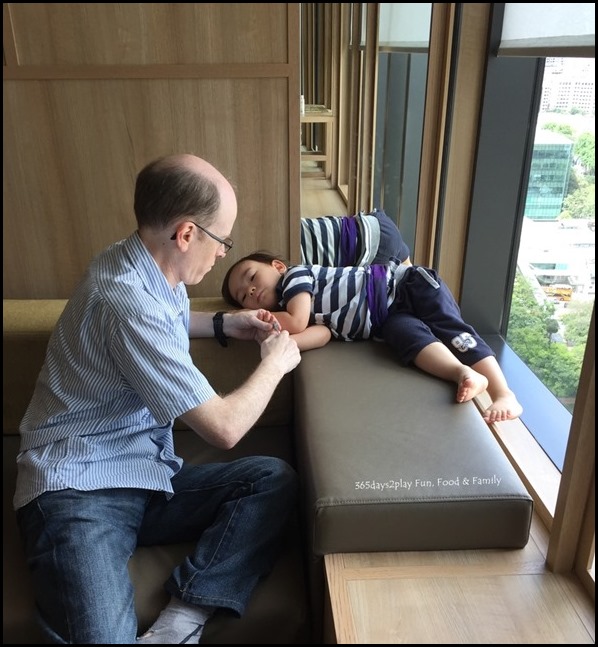 He even managed to get a manicure done!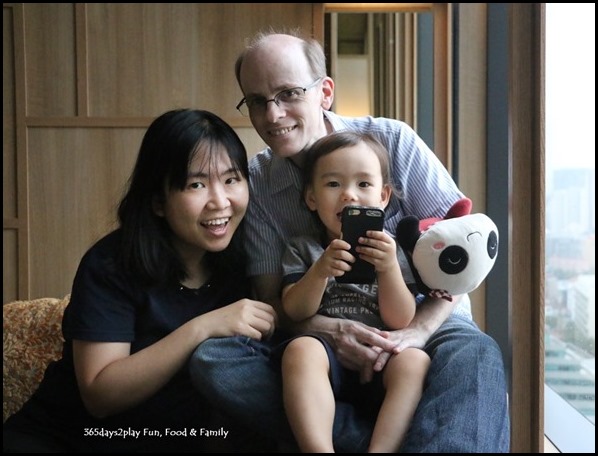 And thus ends our lovely staycation at PARKROYAL on Pickering. A big shout out to the hotel for sponsoring our staycation. Do check out the Suite Little Escape promotion, available only until 27 December 2018.
---
Add me on Facebook, Instagram and Twitter if you want to be kept up to date with the latest happenings in the food and lifestyle scene in Singapore!
Read my reviews of other staycations in Singapore
---
PARKROYAL on Pickering
3 Upper Pickering St, Singapore 058289
https://www.panpacific.com/en/hotels-and-resorts/pr-pickering.html