It was the Partner's birthday, so it became my turn treat him to a lavish meal. The idea of having good meat for dinner never fails to perk him up so we decided on Lawry's as the restaurant of choice. I was pretty keen to go back to Lawry's again since it has now relocated to Mandarin Gallery in Mandarin Orchard Hotel. We got a nice seat by the windows overlooking Orchard Road. Those dining in bigger groups should ask for the pretty booth seats.
Lawry's is famous for its prime rib roast beef. There are a few other choices of main courses to choose from like Lobsters, Fish and Chicken Cordon Bleu, but since Lawry's is famous for it's prime rib, then that's their speciality and probably the best tasting dish there.
We both chose the Lawry's Cut which is 280gms of the Prime Rib for about $80+ and comes with a Spinning Salad, Yorkshire Pudding and Mashed Potatoes.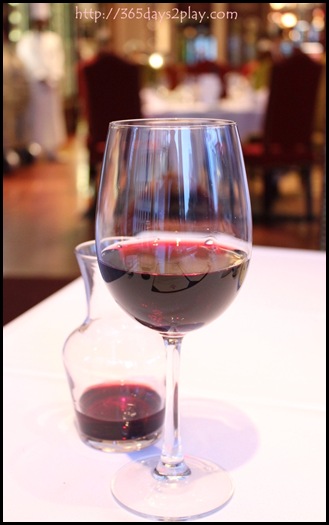 First, we had a glass of Californian Cabernet Sauvignon to get things started. I love drinking wine when eating steaks and roast meats. The wine tastes nicer and so does the food. And it just feels so much more festive with a glass of wine in hand! It's too bad that prices of alcohol are so much higher in Singapore than elsewhere.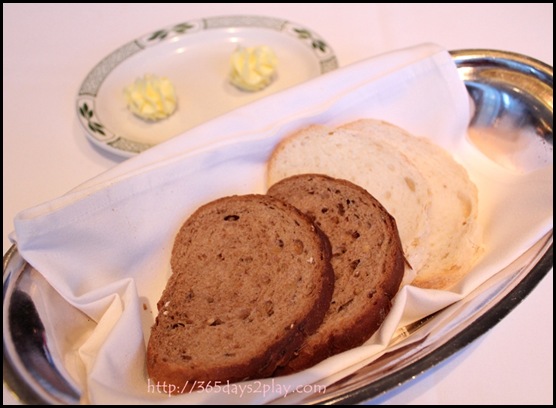 Bread basket — Normal tasting bread.
The Famous Original Spinning Bowl Salad— The waitress will literally announce aloud to everyone that this is Lawry's famous original spinning bowl salad. She will then make a performance out of mixing the salad dressing into the salad ingredients. The metal bowl is placed in another bowl of ice so it spins like hell during the demonstration.
I found this quite hilarious the 1st time I saw it several years back. Isn't this supposed to be some posh restaurant, and not a circus? The staff did not skip a beat when the next table totally ignored her. They must feel totally jaded with this performance if required to repeat this numerous times a day everyday!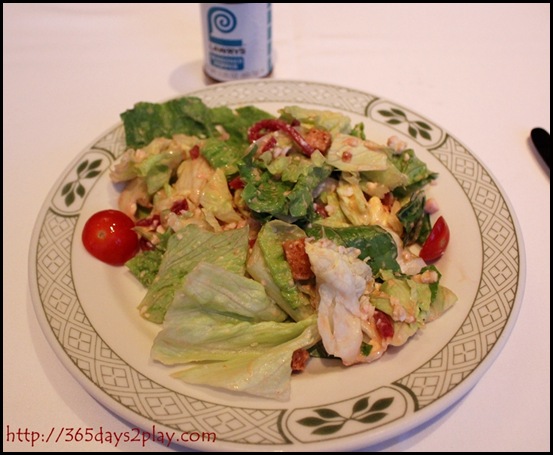 The salad tastes good. The vegetables are fresh and crisp and almost makes you believe you're neutralising the bad effects of eating so much red meat later on. Though strictly speaking, one should omit the salad dressing to be truly healthy. I finished the whole lot, fried croutons and all. Lawry's even serves you a chilled fork, which is thoughtful of them. But can someone tell me why this salad is famous because it sure doesn't look that stunning, appearance wise.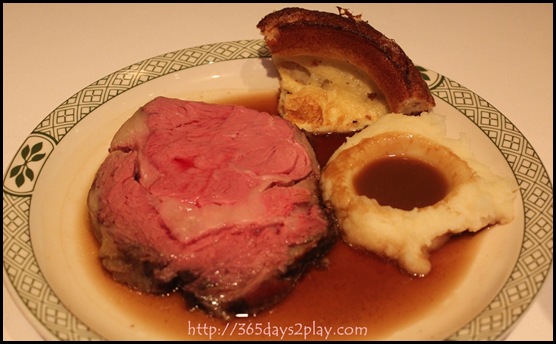 This is the 280 gm cut of delicious roast beef. Before we ordered, we were wondering if we might be able to finish 280 gm. I said, go for it since the 200gm roast beef is only about $10 cheaper. (If necessary, we can dabao!) Turns out I managed to wallop the entire piece of roast beef. It was really a very delicious piece of meat. It was cooked exactly to the doneness that I wanted, it was juicy, and it was tender all round. Really delicious, to the extent that I wish there was more of it!
The gravy looked a little watery at first, but it went really well with the meat as well as the Yorkshire pudding. The staff will offer you refills of gravy too, which I gladly accepted, using the Yorkshire pudding to mop up all it's flavourful goodness. Btw, I just LOOOVE Yorkshire pudding. It's supposed to be a damn fattening thing. These days, Yorkshire pudding is cooked by pouring a thin batter made from flour, eggs, and milk into a preheated and oiled baking pan. But in days past, fat drippings from roasting the meat was used. Or perhaps, it's still done now, depending on the restaurant. I've seen Jamie Oliver do it once on TV. The amount of oil used was almost equal to the amount of batter! Still, when having a celebration, let's go all the way!!!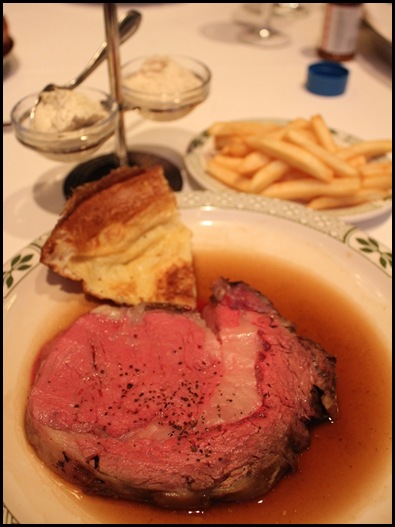 If you don't want mashed potato, you can ask for fries too. I recall previously they used to serve baked potato. Wonder if they have that if we ask.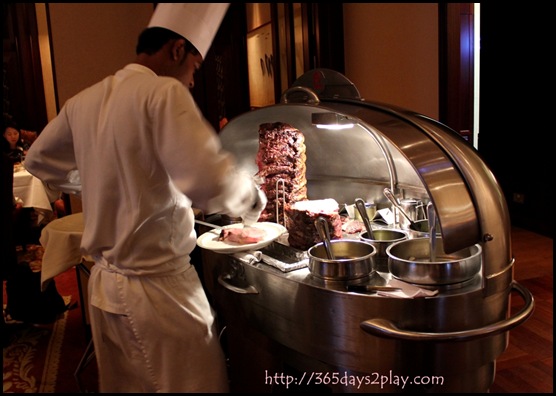 The chef skillfully carving up the meats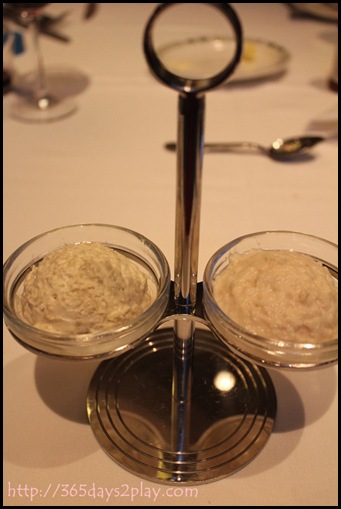 Whipped cream horse radish to go with the roast beef. Delicious!
Lawry's The Prime Rib
333A Orchard Road #04-01/31 Mandarin Gallery,
Mandarin Orchard Singapore 238897
Tel: 6836 3333 Fax: 6235 0300
Reservations: reservations@lawrys.com.sg
Operating Hours
Sundays — Mondays: 11.30am — 10.00pm
Fridays / Saturdays / Eve & Public Holidays: 11.30am — 11.30pm
(Last Order at 10.30pm)
Lawry's has a number of on going promotions. Eg DBS and POSB cards get 20% discount. Check it out!