*Media Invite*
If you've been looking for a good place to have a spot of afternoon tea, you might just want to consider the Grand Astor Afternoon Tea. Did you know, the afternoon tea ritual is a social institution and a gastronomic affair practiced at all St. Regis addresses worldwide? It's a cherished ritual I certainly wouldn't mind partaking in every weekend. Couldn't think of a better way to spend my weekend in fact, with a loved one or good friends of course.

At St Regis's Brasserie Les Saveurs restaurant, you will be served an elegant quintessential three-tiered silver stand with classic finger sandwiches like sliced tomato and cucumber, and smoked salmon and dill cream cheese. Heartier bites like pot pie and quiche of the day will also be available. And this is of course paired with your selection from 24 TWG exclusive tea blends or a St Regis custom blended fragrant coffee.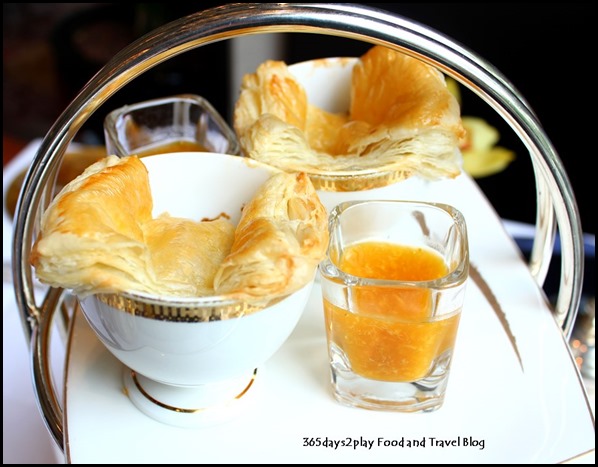 But wait, that's not all, because there is a scone bar featuring both sweet and savoury scones! Last I counted, there were 6 different flavours of scones to choose from such as the St Regis classic scones, pesto parmesan, black current & lemon, pistachio and cranberry and even Perrigord black summer truffle scones! This comes complete with pots of various jams, as well as the mandatory clotted cream!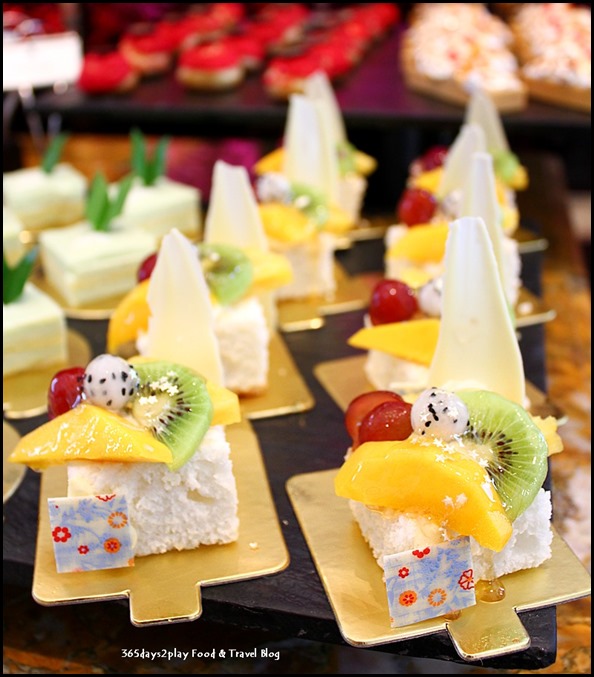 It doesn't end there because there is still the dessert counter with exquisite looking cakes and pastries that are just toooooo pretty to eat! I spent a good amount of time just hovering over the dessert counter taking picture after picture because the cakes were so delectable looking.
The Grand Astor Afternoon Tea is available Mondays to Fridays, 3 pm to 5pm at Brasserie Les Saveurs restaurant, and on Sundays, 3 pm to 5pm at Astor Bar, priced $46++ per person.
The Grand Astor Afternoon Tea Dance happens on Saturdays from 3pm to 5pm at $56++ per person where you can waltz or tango the afternoon away with dance instructors and a band to accompany you.
---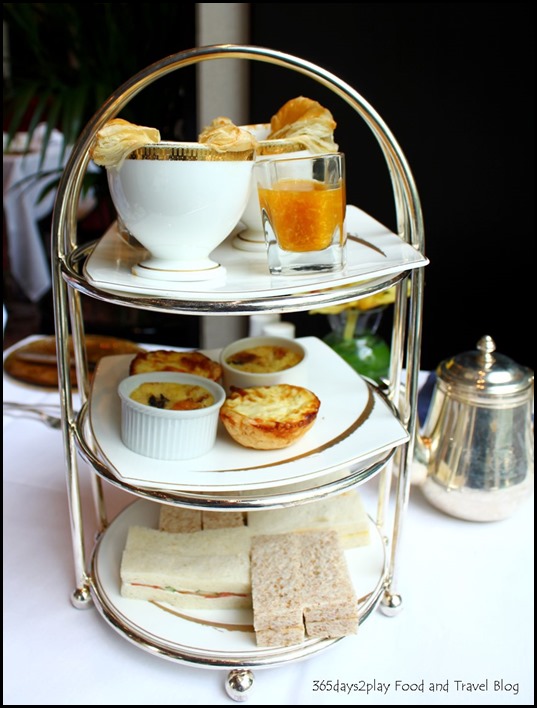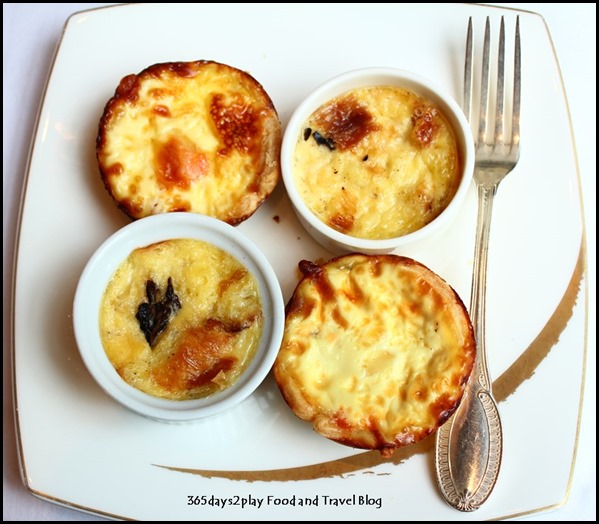 Quiche of the day and bread and butter pudding, served for 2.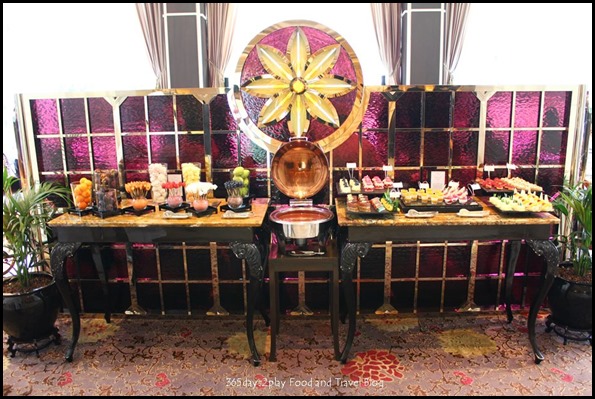 This is the glorious dessert table that will great you the minute you step into Brasserie Les Saveurs. Right in the middle is a huge pot of liquid chocolate, waiting for you to dip cut fruits, biscuits and macarons into.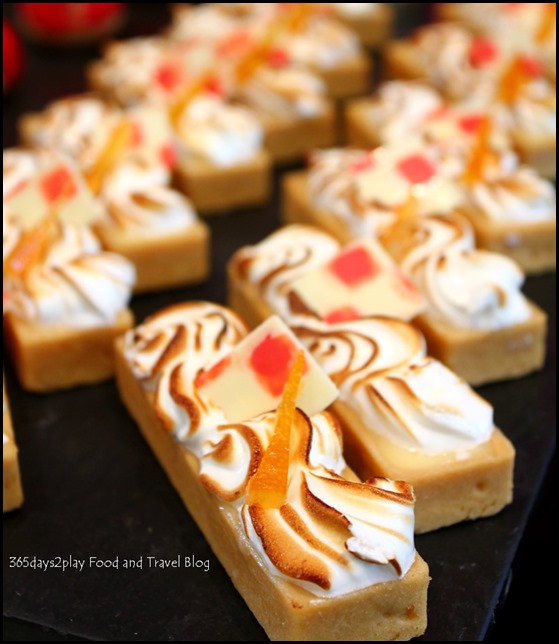 I never knew I fancied lemon tarts and pies until recently when I was lucky to try some good ones. This lemon meringue finger sized tart was really good! The tartness of the lemon curd paired very well with the sweet and bouncy meringue top and the pastry base! I had 2 of these!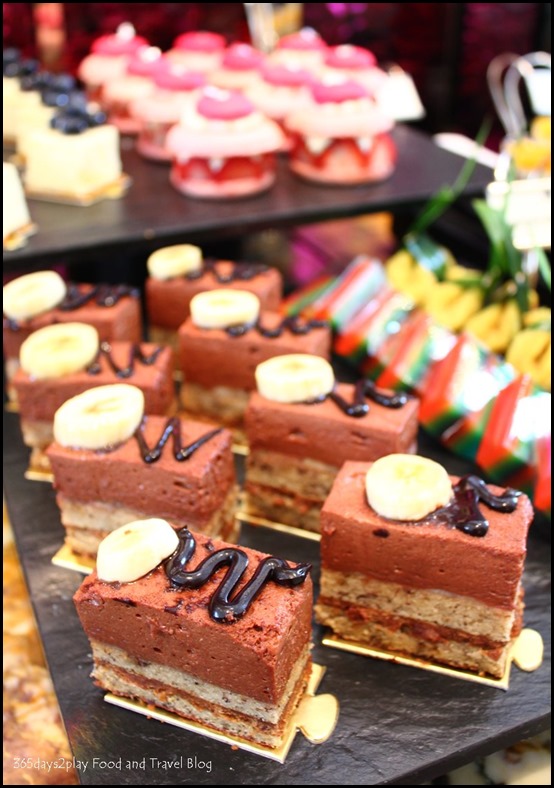 Chocolate Banana Cake Slices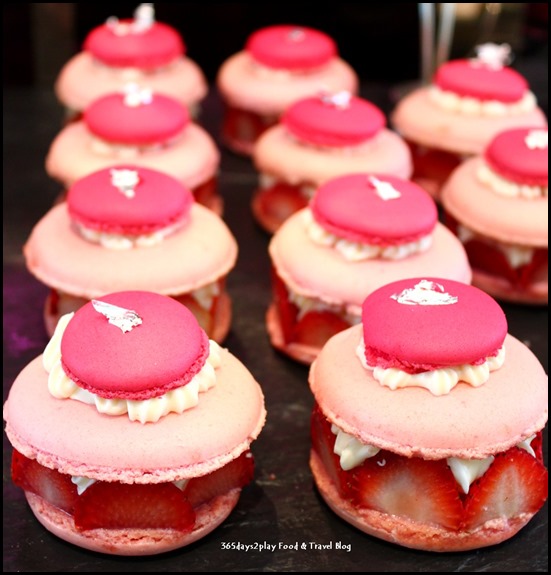 I christen this the mega mecaron. Like as if it isn't enough to just eat the usual sized one, this version has been enlarged, and just in case you still want a small one, well it's sitting atop the big one already.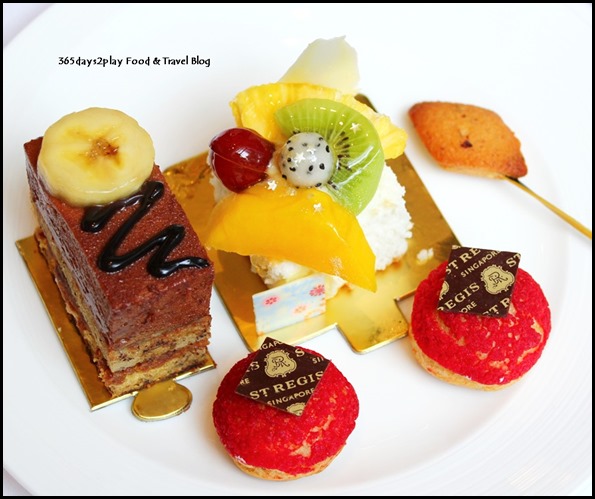 Pretty pretty sweet treats! I love the fresh fruit sponge cake as well as the cream puffs. Good cream puffs are made with real cream. Biting into one is like biting into a little balloon of milky goodness!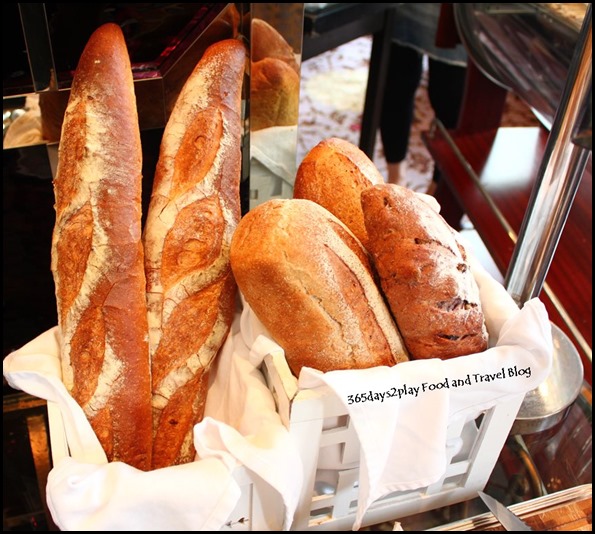 Breads to go with the cheeses at the cheese counter.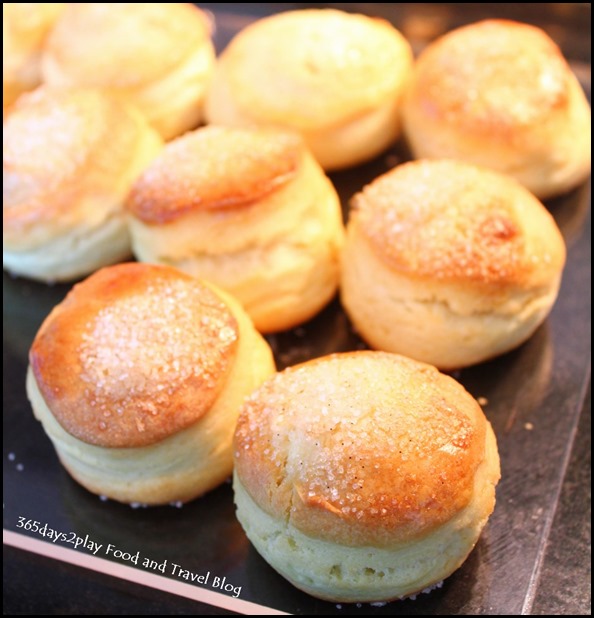 Normal scones with sugared tops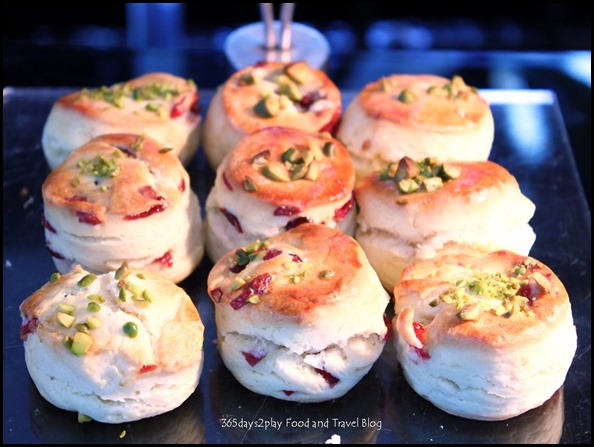 Pistachio scones with cranberries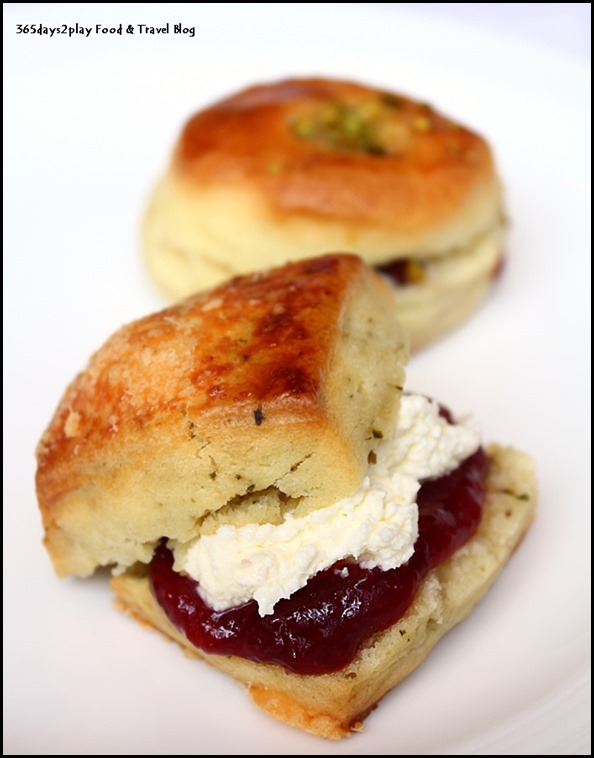 Can't resist trying to take the perfect shot of a scone with clotted cream and jam. This is my version of the perfect scone to date.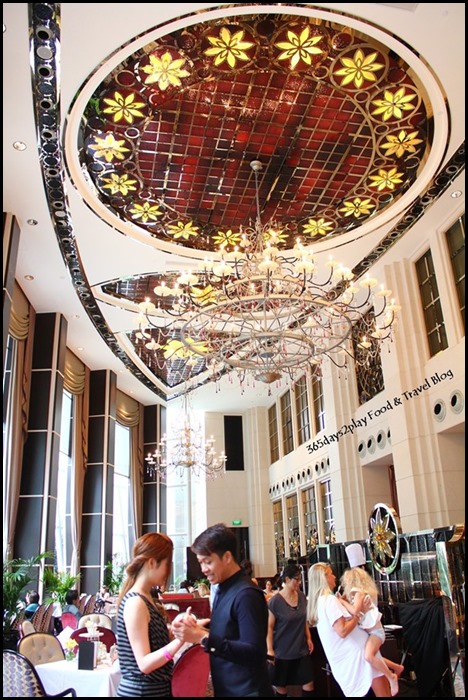 Don't be shy… there were 2 ladies who were almost glued to the dance floor. Not too sure if they had time to eat anything in the end!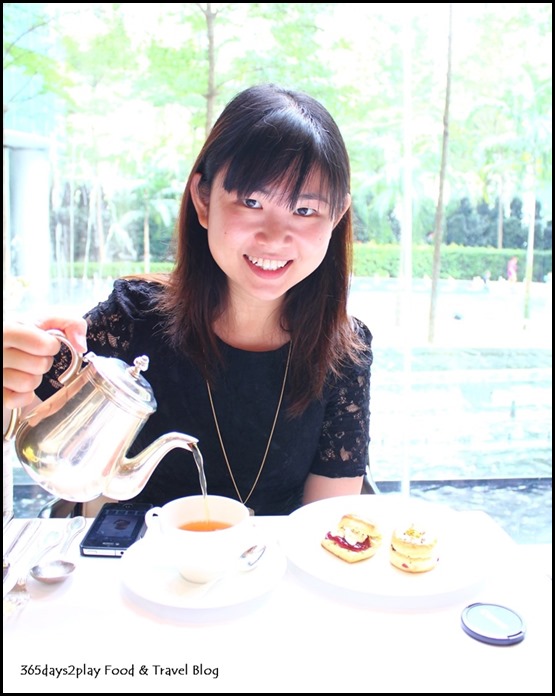 Afternoon tea, it's something that won't go out of style even in the hectic times that we live in. I had a lovely afternoon with the Partner at Brasserie Les Saveurs. Brasserie Les Saveurs has always been one of my favourite restaurants, in particular because it looks so elegant. Dining here feels like a pampering indulgence and always leaves me with good memories.
---
Check out my previous visits to Brasserie Les Saveurs
3 Course Set Dinner during Restaurant Week – https://365days2play.com/2012/03/25/brasserie-les-saveurs-restaurant-week-march-2012/
Christmas Dinner 2012 – https://365days2play.com/2012/12/08/brasserie-les-saveurs-christmas-dinner-at/
---
Add me on Facebook, Instagram and Twitter if you want to be kept up to date with the latest happenings in the food and lifestyle scene in Singapore!
---
Brasserie Les Saveurs at The St. Regis Singapore
29 Tanglin Road Singapore 247911
Telephone : (65) 6506 6888
http://www.stregissingapore.com/BrasserieLesSaveurs