Tis the season to be jolly and December is almost upon us already. Need I even remind all of us that once again, the year has just flown by in the blink of an eye? Make sure you end the year with a festive bang, and for me, that always means having a great Christmas as well as a great New Year.
For those of you who are planning on hosting your very own Christmas party at home, Cold Storage supermarket is a great idea to stock up on your festive produce. With a few simple ideas and some creativity, you too can host a Christmas party for cheap. If you're a guest attending the Christmas party, you can even consider buying gifts from Cold Storage. Any strategy to avoid the mall crowds is a good strategy. Read on for more ideas on how to host the perfect Christmas party without burning a hole in your pocket!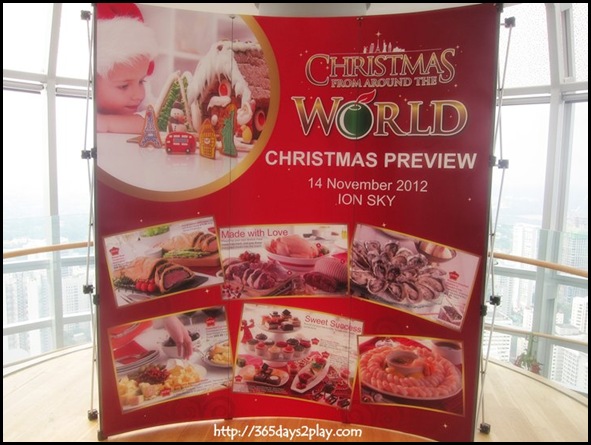 Actually, it was with a very heavy heart that I had to miss out this Cold Storage Christmas Preview, but I sent my trusty sidekick to take photos and eat my fair share of the food. Pretty amazing the venue too, it was held at ION Sky! The views are fantastic!
Festive Produce at Cold Storage Supermarket
Let's start first with all the goodies that were laid out for the media to try.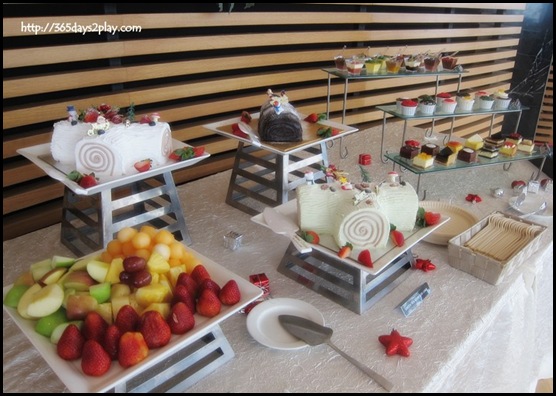 Starting with desserts as usual, of course you have to have the signature log cakes!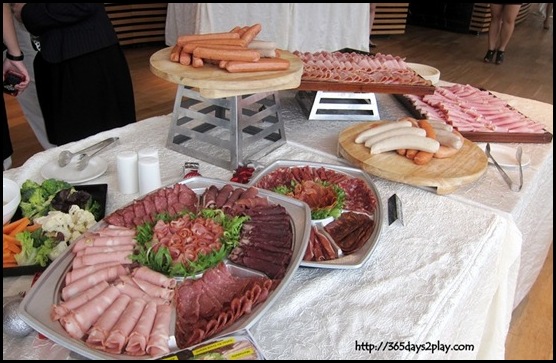 Italian Cold Cut Platter  (Parma Ham, Mortadella, Air-dried beef, Italian Air-dried Salami, Smoked Flat Pancetta) $99.99 for 1.2kg Serves 8 — 10 pax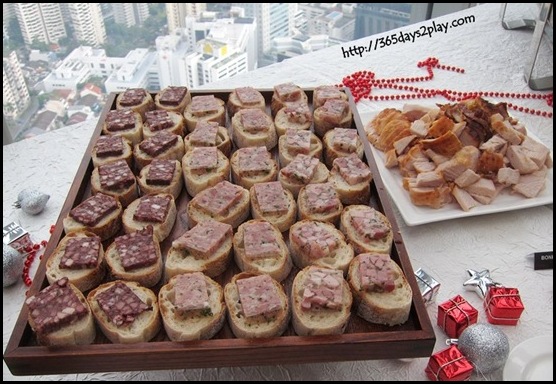 Sliced terrine meats on crusty baguettes. A cinch to make and yet a crowd pleaser.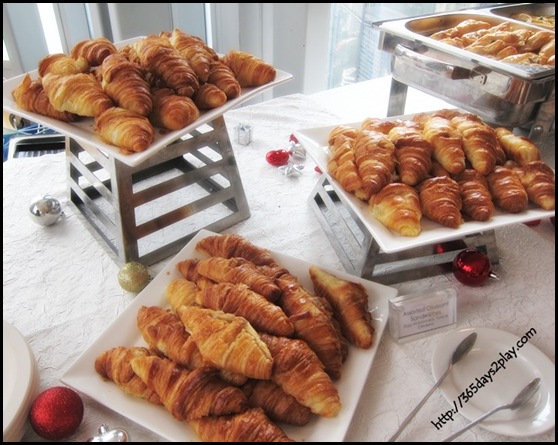 Filled croissants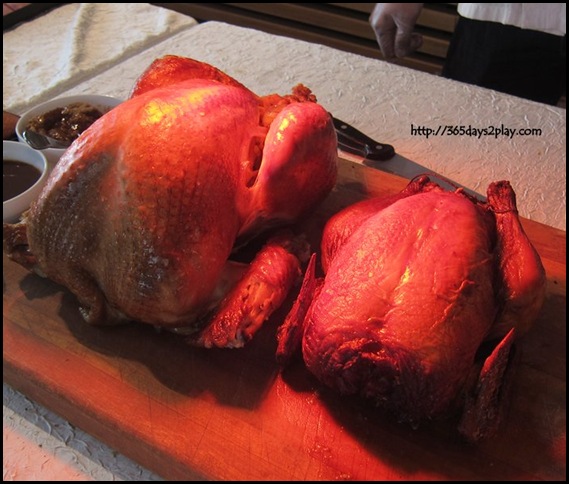 Can't have Christmas without Turkey. It's a rule. Several to choose from such as :-
Dinner Deal Delight $69.99 (Small butterball roast turkey with Chestnut Stuffing & Turkey Gravy 3.6kg 04.5kg, and Honey Baked Ham 800g) feeds 6-8pax.
Traditional Roast Turkey with Mushroom Stuffing, Cranberry Sauce & Brown Sauce $56.99 3.6kg — 4.5kg feeds 4-6pax
Rosemary Roast Turkey with Mushroom Stuffing, Cranberry Sauce & Brown Sauce $62.99 3.6kg — 4.5kg Feeds 4-6pax
and more…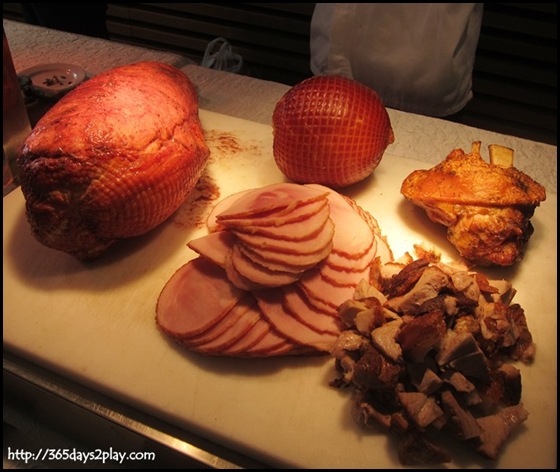 A number of hams to choose from too, such as champagne ham $38.99 1.2kg, forest berries glazed bone-in ham $89.99 4kg etc…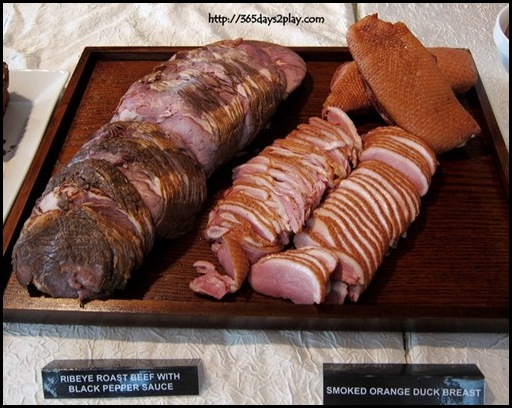 Ribeye Roast Beef and smoked orange duck breast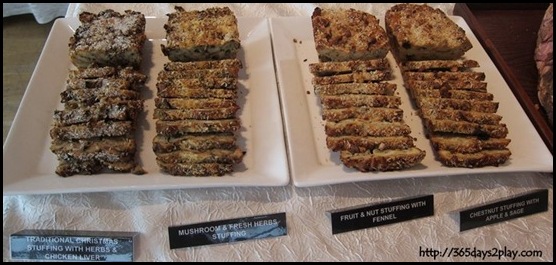 Stuffing of various sorts…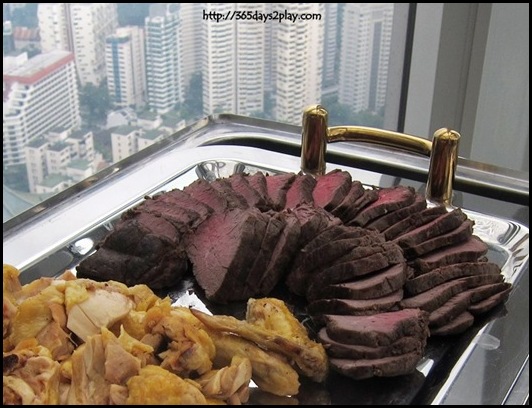 More roast beef and roast chicken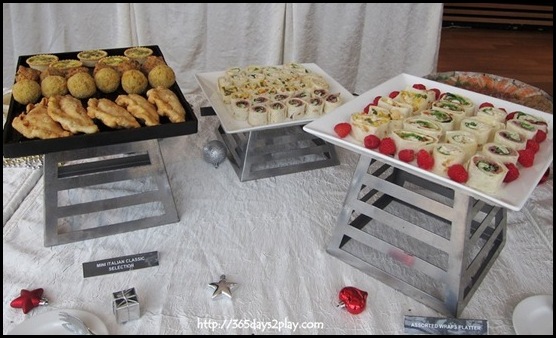 Cold Storage also does wraps and Italian Classics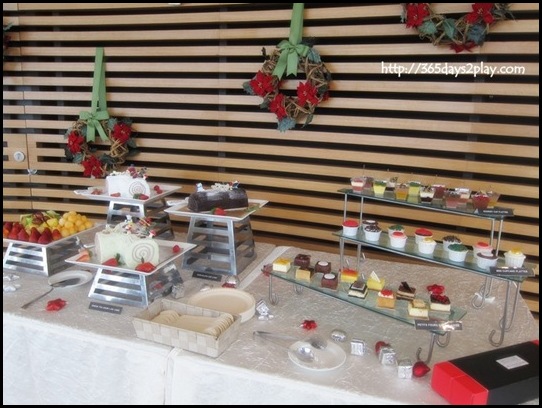 End off with dessert again.

Christmas Party nibbles and finger food
It's not enough to dish out the main courses, it's the small touches that also add to the festive mood. Make sure you lay out trays and trays of nibbles to help your guests get into the festive cheer!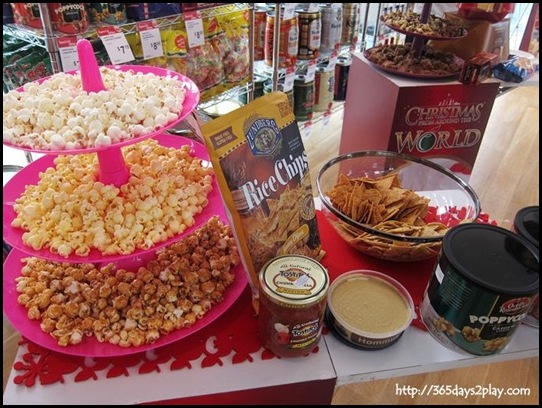 Get your glass bowls or tiered platters out and lay out the potato chips and popcorn to keep your guests entertained while you put the last minute touches on your turkey.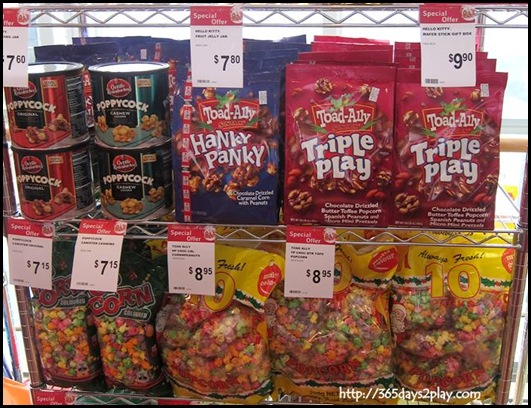 Want some Hanky Panky or Poppycock? And there's coloured popcorn if you so wish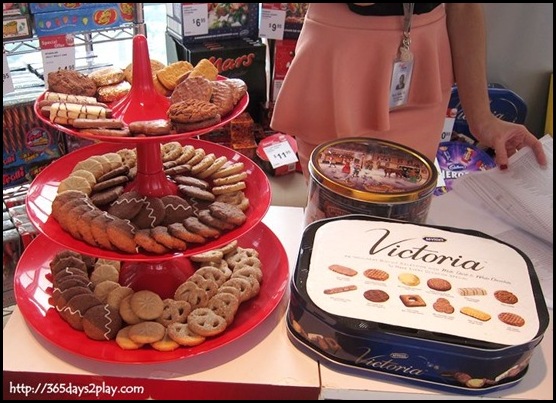 Butter cookies have been around forever, but when placed neatly on pretty plates, they do look lovely and festive don't they? Even a box of such cookies/chocolates makes for a nice and affordable gift.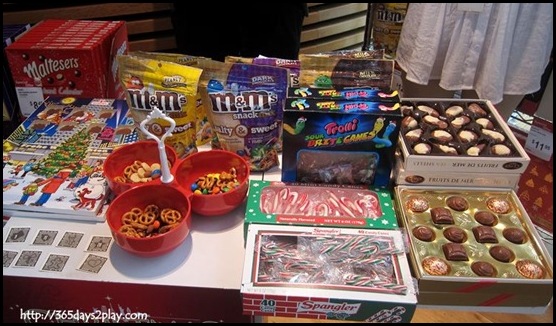 Can't have Christmas without chocolates. See the cute little bowls with the pretzels and M&Ms? Hand out mini candy canes when your guests arrive or when they leave. At least they'll have something to remember your party by when they wake up from the hangover.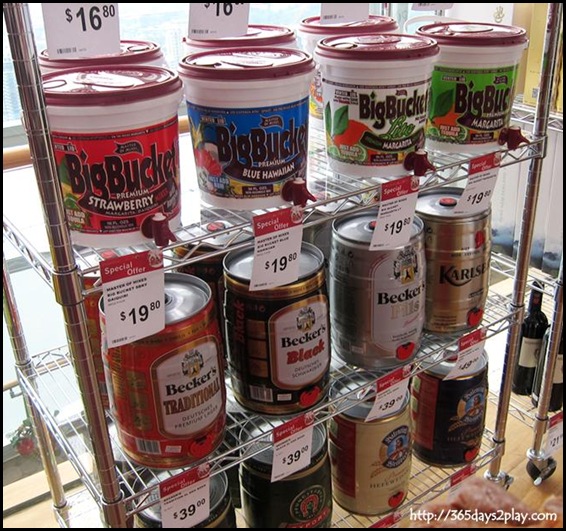 I don't think I've ever seen these before but I'm sure these gigantic beer canisters and the big buckets of daiquiri, margaritas will be a hit with the guests. Perhaps if you set them up high enough, you don't even need to hand out glasses…… I only wonder about the taste though, being in plastic buckets.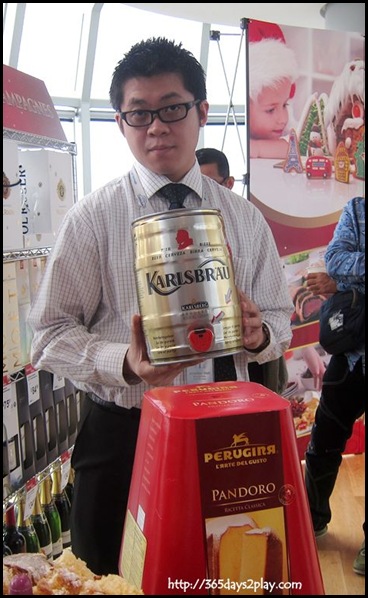 He's holding up a Karlsbrau German Premium Lager $49.90 5litres. All for himself I suppose.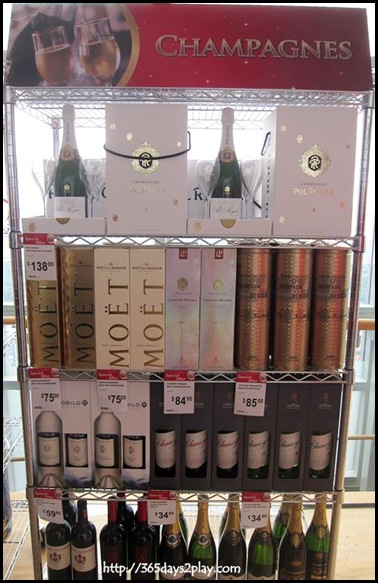 For me, Champagne's what gets me in the mood. Let's PARTY!
Buying Christmas gifts at the supermarket!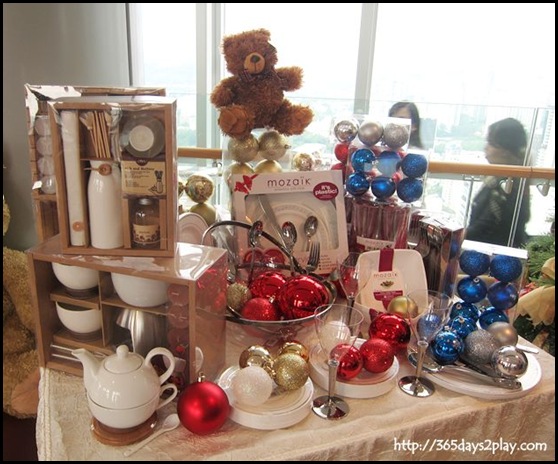 Do your Christmas shopping while doing your grocery shopping. Saves on the headache!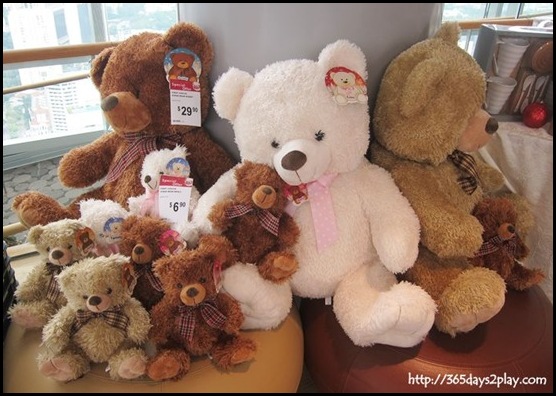 Huggable teddies for children who have been good this year…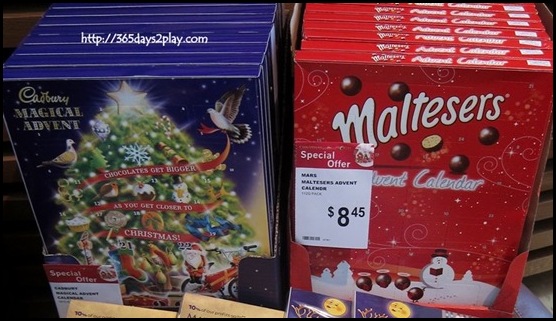 Advent Calendar so you get a little surprise every day in December and not just 1 day!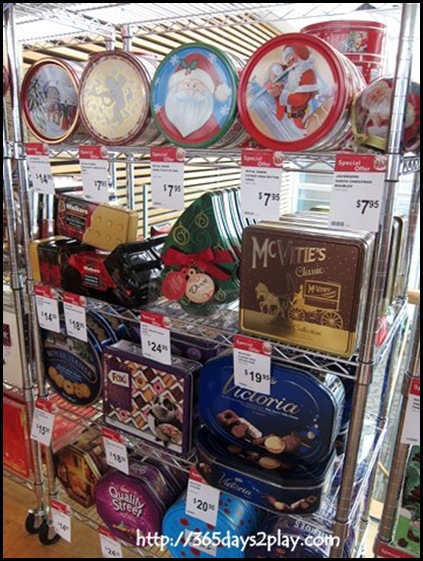 Actually the tins do make for nice gifts. I know my friend loves splurging on tins, and he lets me have the cookies inside. Just like the pretty tins people get during the Mooncake festival.