**Participate in the Bosch Competition and stand a chance to win a Bosch Classic Fridge or Bosch Juice Extractor! Details below.**
In celebration of 50 years of pioneering innovations in cooking, The Bosch Dream Kitchen Cookoff, premiering today at www.boschdreamkitchen.com, invites amateur cooking teams to a battle of culinary showmanship for a chance to win a Bosch Dream Kitchen.
The competition will culminate in a finale cookoff on 14 December 2012 as contestants try to out-cook each other for a shot at winning the Bosch Dream Kitchen Makeover with home appliances from Bosch, kitchen design, cabinetry, fitting and accessories from BLUM, and quartz counter top from Belenco.
Each webisode of The Bosch Dream Kitchen Cookoff revolves around the creation of different components of a meal under the observation of a distinguished group of Mentoring Master Chefs, including celebrity chefs John See of The Food Dot; Andrea Scarpa, Executive Chef of Da Paolo Bistro Bar; Heather Barrie of Fine Palate; Tim Ross-Watson of The Garden of Eden Restaurant; and Julien Royer, Chef de Cuisine of JAAN at the Equinox Complex. To spice things up, each team will be challenged to recreate specialty dishes originally created by the Masters.
Adding sizzle to the online reality show is host and local funny boy Hossan Leong, who adds his signature brand of tongue-in-cheek humour to the show as he "slices and dices" his critique of the contestants. Viewers can catch all the exciting cooking action on www.boschdreamkitchen.com.
~~~~~~~~~~~~
For more information, go to www.boschdreamkitchen.com or Bosch Facebook at www.facebook.com/BoschHomeSG for exciting details.
The People's Choice Award – Vote & Win! (16 Nov to 7 Dec)
Vote for your favourite team and stand to win a Bosch Classic Fridge!
Weekly Quiz (16 Nov to 13 Dec)
Watch the Bosch Dream Kitchen Cookoff and take part in our weekly quizzes for your chance to win a Bosch Juice Extractor!
~~~~~~~~~~~~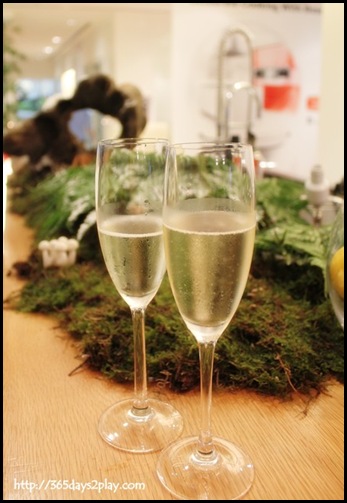 Bubbly for all the guests who attended the Bosch Dream Kitchen Cookoff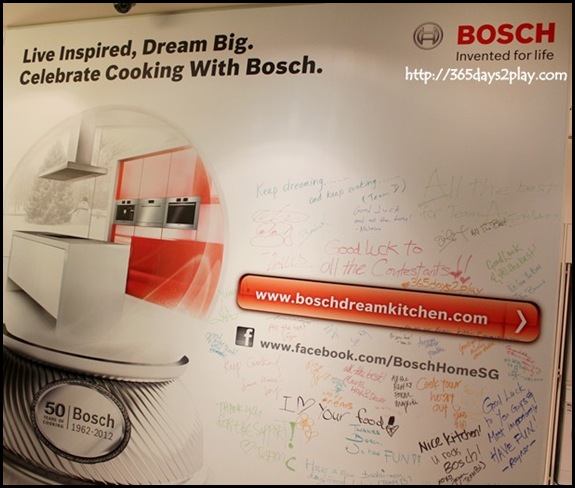 Spot my best wishes!
More about Bosch Appliances
Bosch introduced its built-in cooker in 1962 and has since been re-defining kitchens and the way people cook and interact with food for 50 years. "Nowadays, people aspire to own Dream Kitchen — one that combines modern conveniences and innovation with uncompromising quality and design. In this respect, we are proud to have continuously raised the bar with appliances that do just that. After all, Bosch appliances are Designed for Living' and enable everyone to cook more easily and effectively", says Dr. h.c. Dirk Hoffmann, Regional CEO-Asia Pacific & India, BSH Home Appliances Pte Ltd.