[Media Invite]
Greenwood Fish Market is going places! They have just opened a 2,700 sqft outlet in River Valley and this is on the back of a 4,100 sqft outlet at Quayside Isle Sentosa Cove opened in 2016. And guess what, they're not stopping there either. A whopping 8,500 sqft outlet is set to be opened in Dempsey Hill by the end of this year, and finally one outlet in the East at Jewel Changi Airport come next year.
To think that this little seafood restaurant has stood the test of time, 10 plus years is a very good record for an F&B business in Singapore!  When I first visited back in 2007, it was so small I recall having to squeeze past numerous seafood refrigerators in order to access the main restaurant itself. But my boss at that time waxed lyrical about the place (and its $1 oysters on Tuesday) so we all wanted to go (and also because he was paying the bill).
I haven't been back in years so it was good to be able to check out their new outlet at Valley Point Shopping Centre. The menu has obviously expanded over time and since I'm not the biggest of fish fans, I liked that is a wide selection of seafood dishes and meat dishes too. Fish lovers will obviously want to select a fish of choice and have it either pan seared, baked, steamed, chargrilled, battered or crumbed, and served together with vegetables and starch. Non-fish fans can go for seafood based pastas, burgers and even steaks.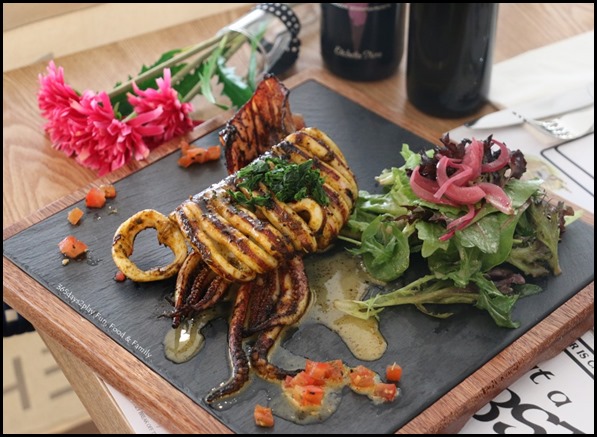 Chargrilled Mediterranean Squid with soba egg sauce $16.90
The small plates selection is worth looking at too and that's where I felt like ordering everything. They have things like deep fried calamari, chargrilled Mediterranean squid, tuna poke bowl (why no salmon poke?), cold smoked salmon and swordfish carpaccio. Put 2 or 3 of these together and you have a meal sized dish! In fact, the chargrilled Mediterranean squid was so humongous, it could have been a meal on its own.
Scroll down for pictures of what I tried!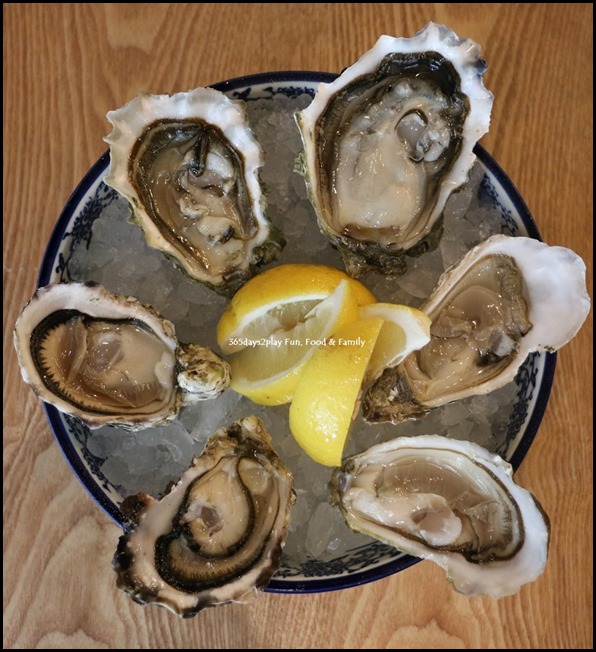 Oysters — 2 each of Mary Point $4, Golden Mantle $4 and Fine de Claire $5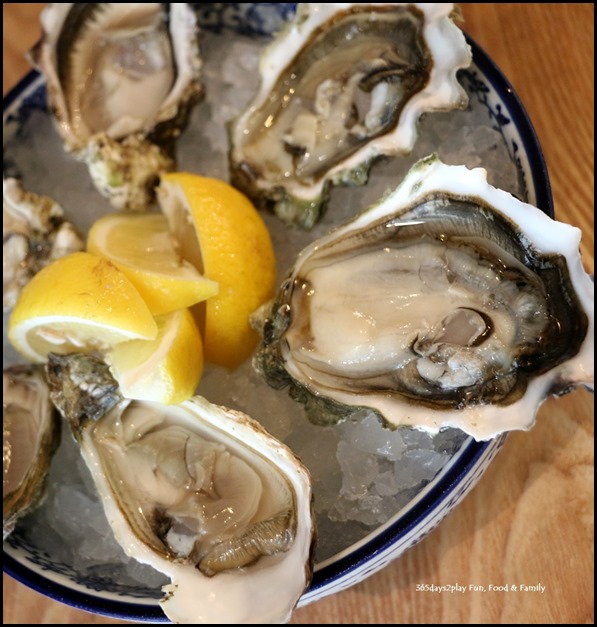 Here's a closer look of the oysters. Although I've always known that oysters from different places taste different, I did not realise how much, until after this meal. I've always been attracted to the fat and voluptuous looking oysters, which in this picture are the Golden Mantle oysters. But after downing them, I realise they were my least favourite! They were just too rich and creamy for me, although if I ate just one, I would probably be fine. On the contrary, the slimmer Mary Point and Fine de Claire had better taste profiles to me. So, big is not always best!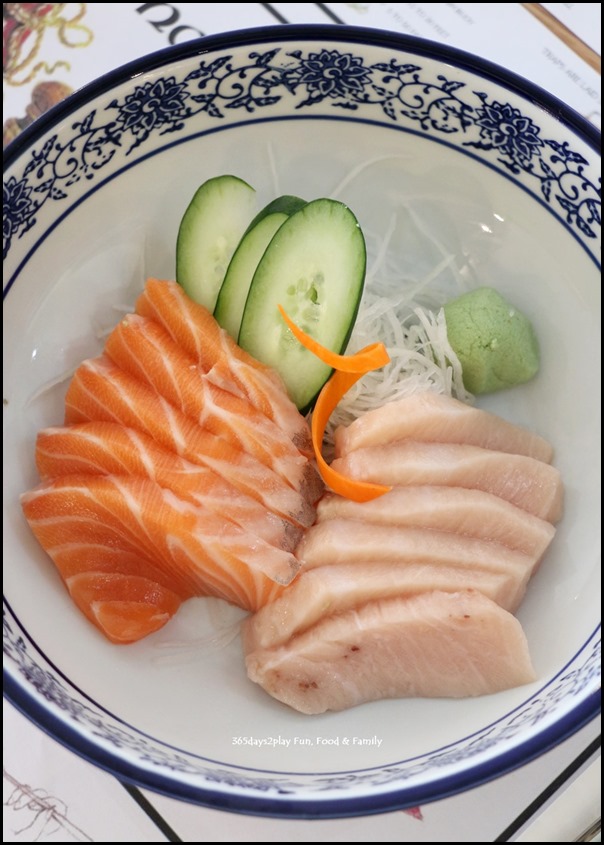 Salmon sashimi $16.95 and Swordfish $18.95
Sashimi! My favourite way to savour fish! These were so good and so fresh tasting! On the pricey side as compared to casual Japanese restaurants, but these are thicker cuts and taste good! Have to be careful about eating too much swordfish though, as they are high in mercury. Actually some experts say to limit fish intake to twice a week so as not to ingest too much mercury.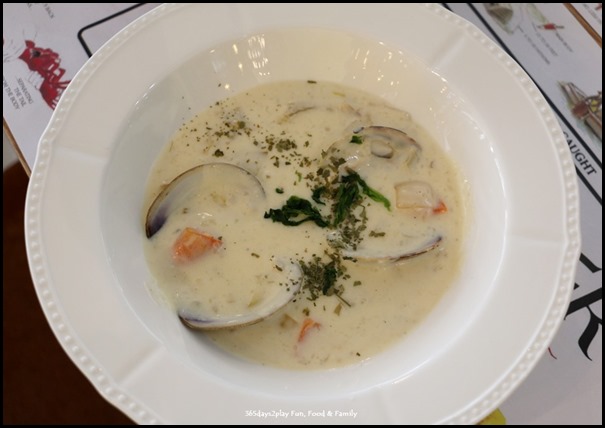 Seafood Clam Chowder $11.95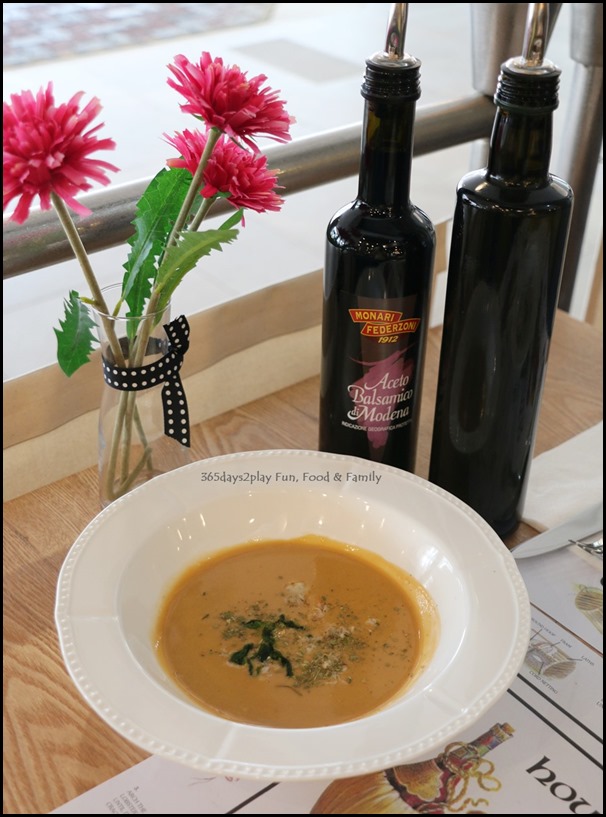 Lobster Bisque with Brandy $13.90
The soups were a bit of a let down in terms of ingredients. I was expecting the soups to have more chunks of ingredients for the price, but as you can see the lobster bisque is mostly liquid, while the clam chowder has a few clams and veg. Taste wise, both the soups were enjoyable. I liked the lobster bisque more as it has a stronger seafood flavour, enhanced further by the bit of brandy. I suppose the $$$ went into making a good stock.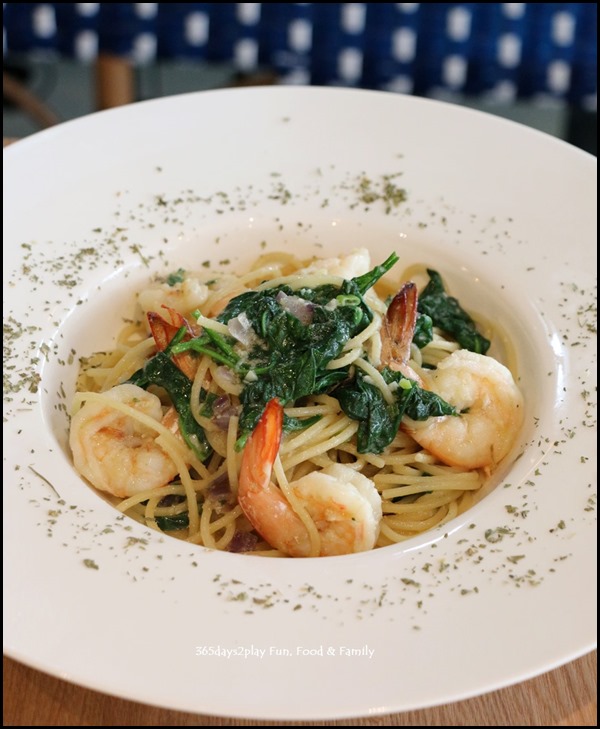 Prawn Aglio $24.95
A pleasant dish if you don't want fish.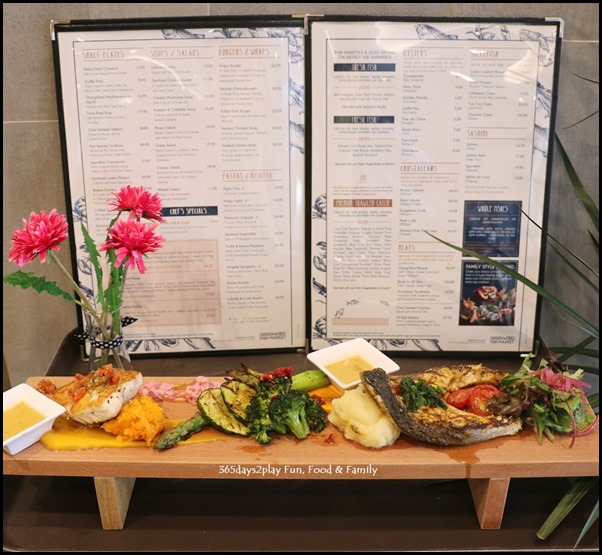 Fish Platter — $29.95 to $32.95 per fish
You can choose from a long menu of fish, depending on availability, and have them cooked to your liking, ie pan seared, baked, steamed, chargrilled, battered or crumbed, and served together with vegetables and starch. Hmm come to think of it, I should have asked for at least 1 to be crumbed or battered.
Do you like communal dining or do you prefer to have your own plate? If you like family-style dining, the chef will plate up the various fish ordered onto a platter, instead of serving via individual plates. I personally prefer my own individual plate for mains because I'm always busy at the start taking photos and I hate it if everyone's just staring at that big platter and having to wait for me to take my photos. Or I could be busy doing/eating other things and end up coming back to what looks like leftovers on the platter! Psychologically, I need to see a main course sized portion or else I feel like I haven't eaten enough!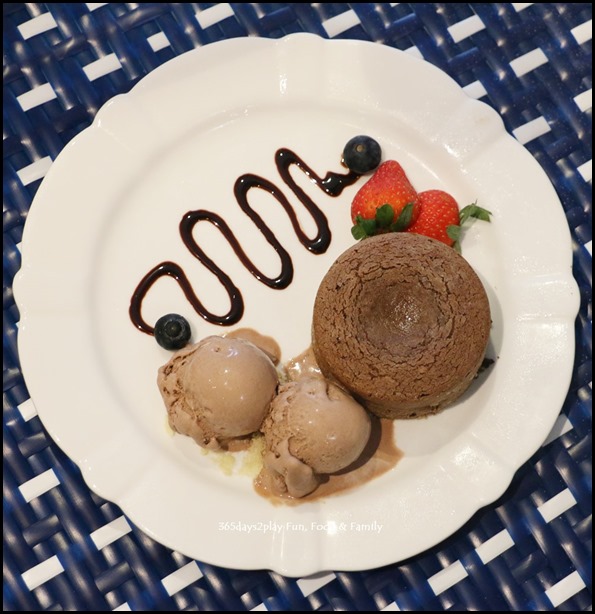 And if you still have space, there are about 5 desserts to choose from.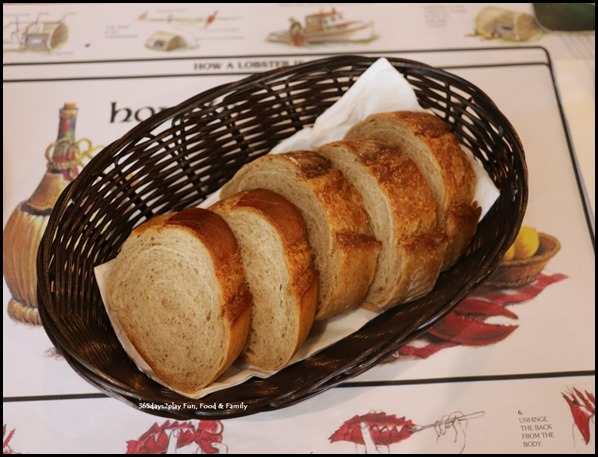 Complimentary bread with olive oil and balsamic vinegar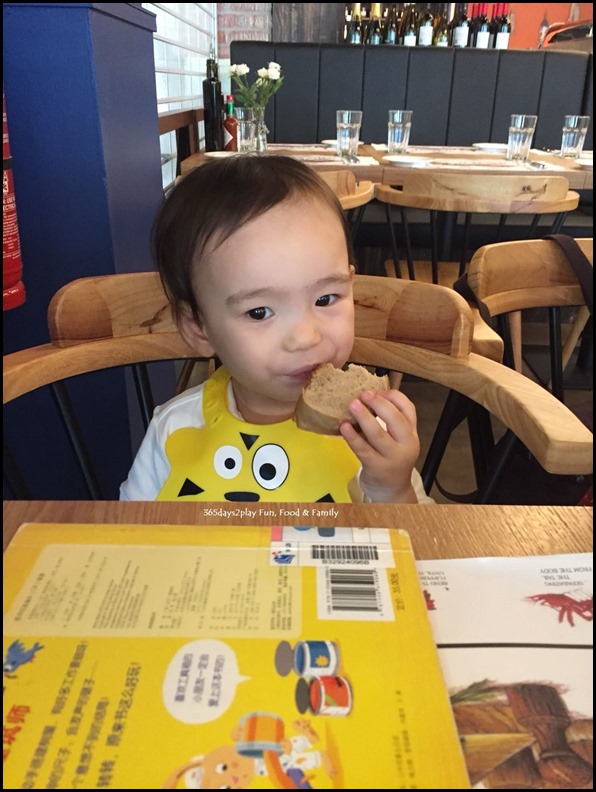 We were hoping that he would try some of the seafood but all he wanted was bread! TODDLERS.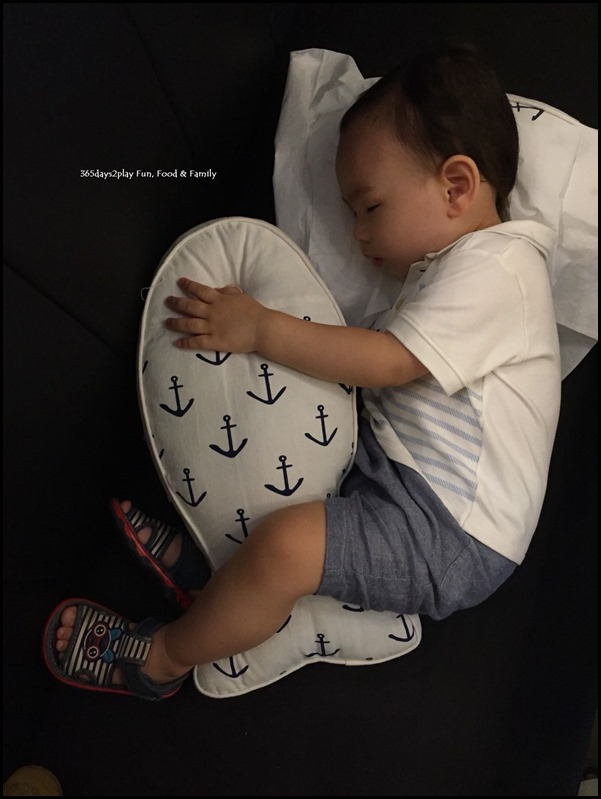 And suddenly, midway through the meal, he felt tired and wanted to take a nap! Luckily the staff were quick to suggest that we move to a table with the sofa bench so he could take a nap. So surprised he managed to nap within 5 minutes because he always has to make a huge fuss before taking a nap! Love those fish cushions, so cute!!!!! I wonder if they sell them?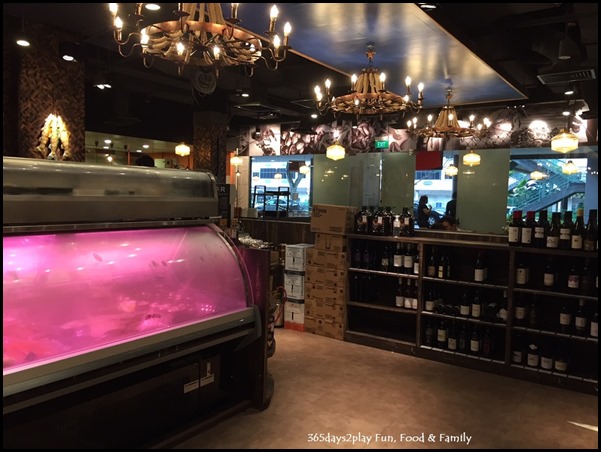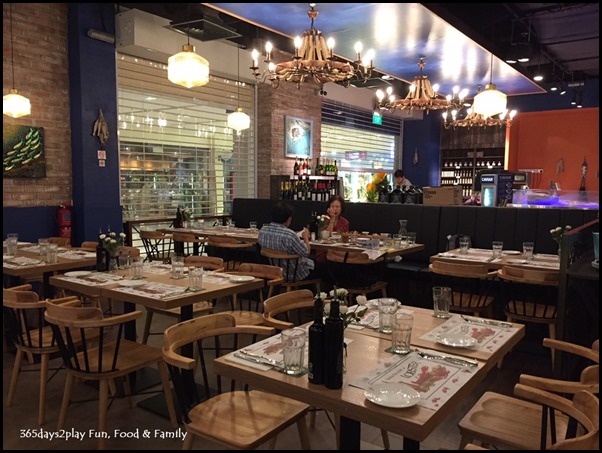 We were kindly invited for a food tasting prior to their official opening, hence there are no other customers in the picture.
---
Add me on Facebook, Instagram and Twitter if you want to be kept up to date with the latest happenings in the food and lifestyle scene in Singapore!
---
Greenwood Fish Market, Valley Point:
Address: 491 River Valley Road #01-21/22/23, Singapore 248371
Space: 2,700 sq. feet
Seating capacity: 90
Operation hours: Closed on Mondays. Tuesday — Sunday, 12pm to 10.30pm.
Tel: 6732 3788, 6732 6788 | Fax: 6732 9088
https://greenwoodfishmarket.com/