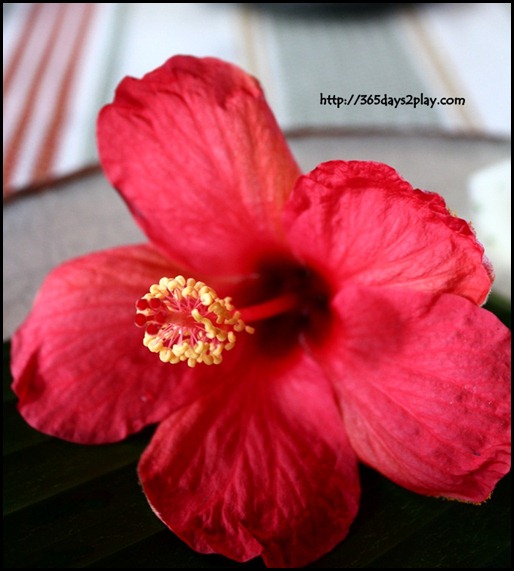 Lunch at Bulau Bulau Aboriginal Village was a really enjoyable affair. It was everything a good meal should be. Delicious, organic, not overly complicated food, plated beautifully and enjoyed in a picturesque environment. It was certainly worth the long journey to Yilan and a 4 wheel drive up the mountain to be able to partake in this wonderful meal.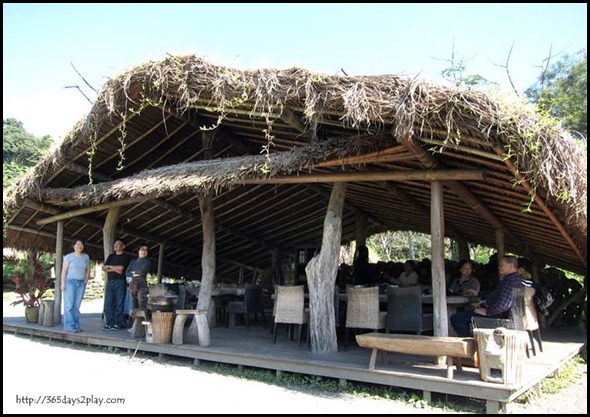 This is sort of like the main hall to gather and have lunch. Lunch comprised of many rounds of small dishes, just the way I love to enjoy my meal!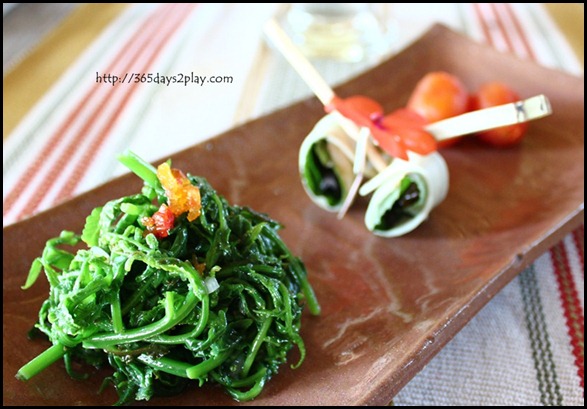 Escargots wrapped in ginger slices
Almost all the dishes served at Bulau Bulau are organic and grown on site, except for some items which are not possible to grow in Taiwan. I just find it so amazing that simple, natural ingredients can be presented in such an appetising way. The dishes will not look out of place in a fine dining restaurant but if you scrutinise closely, the ingredients used are all very down to earth! Even the escargots!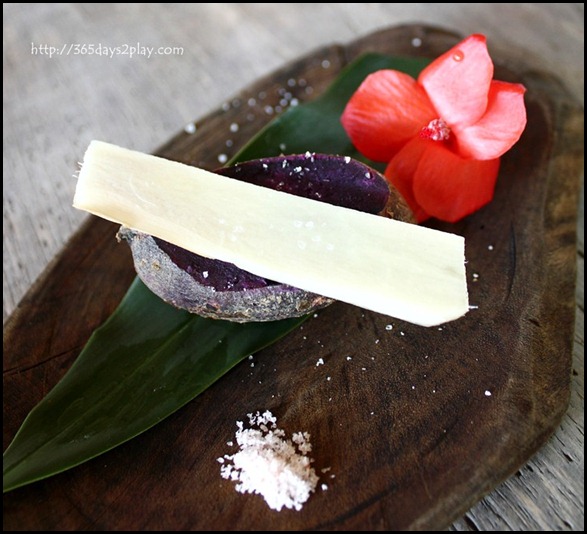 Purple yam with ginger slice and sea salt
We were told that rich Taiwanese businessmen love to eat yams with ginger slices to ward off all forms of cancer. We all know that ginger is good for health, but some people find it too strong tasting.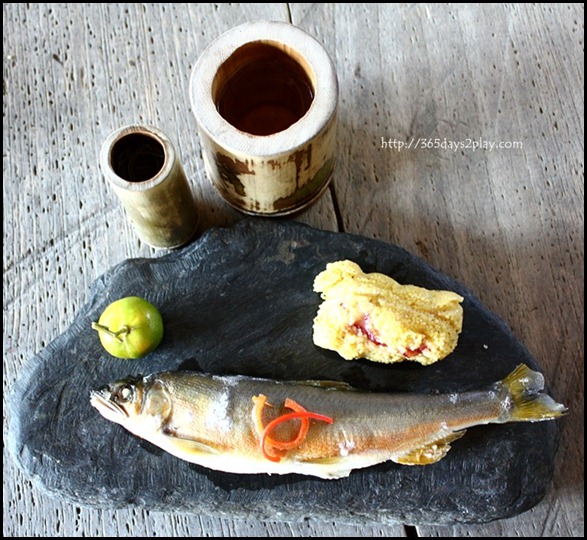 The fish was one of the items not reared at the village. Simply steamed, with just a little bit of salt, I found it really appetising. The glutinous millet rice dumpling on the side was also fantastic. It's not as sticky as the glutinous rice that we are used to in Singapore, which is good for the stomach.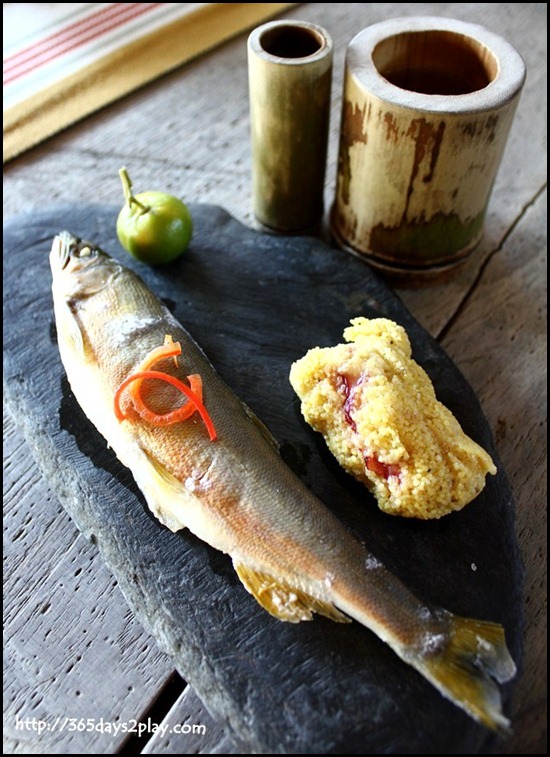 Another look at the fish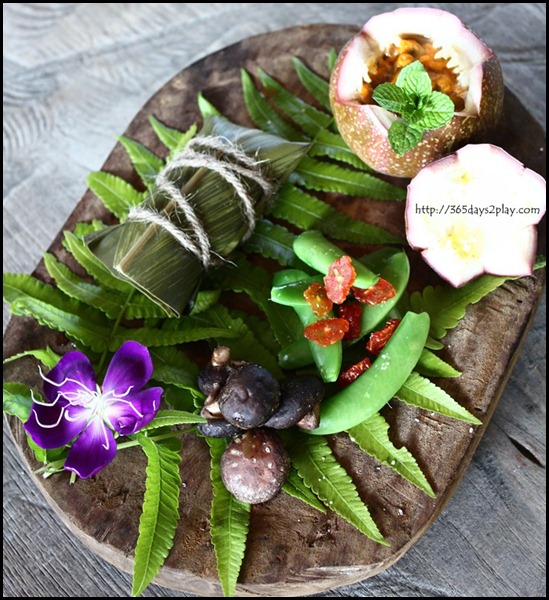 Vegetarians are are not left out. A separate dish will be served instead.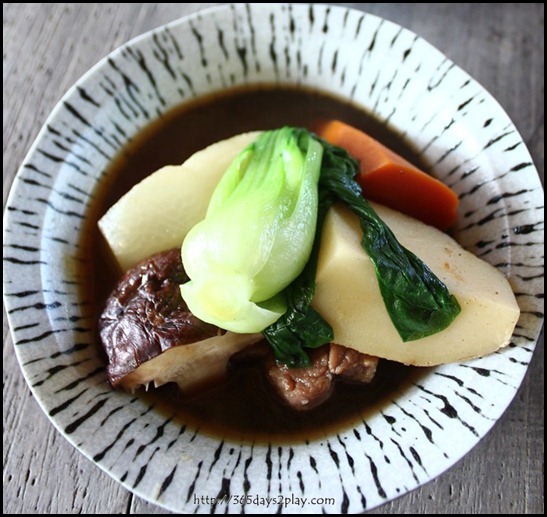 Love the beef and vegetable stew. Look at how richly coloured the broth is. Every mouthful felt so nourishing.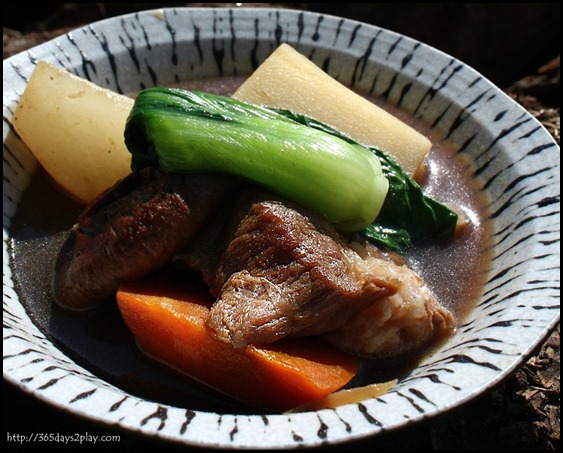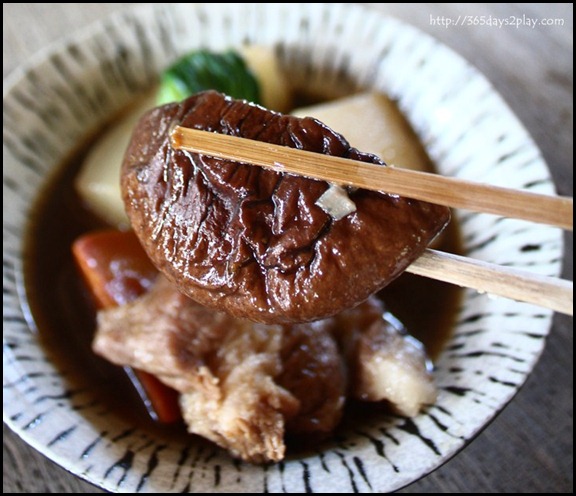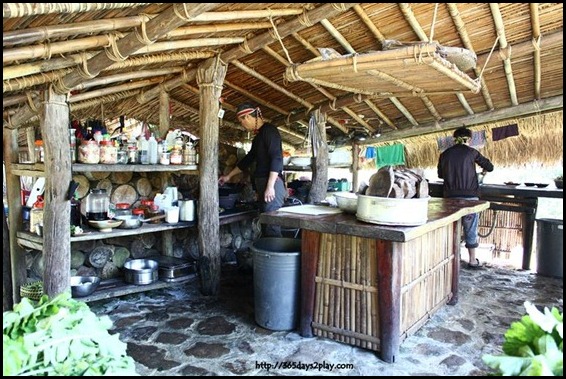 Took a short break to roam around the site for some pictures. This is the basic kitchen where all the meals are prepared. The villagers take it upon themselves to cook the meal. No fine dining chefs employed, yet the meal served was of fine dining quality.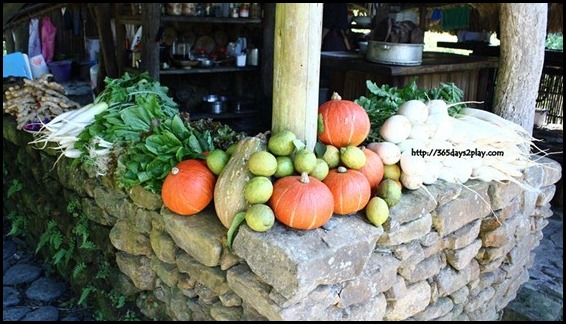 Fresh vegetables picked from the garden line the kitchen walls. Sometimes, the best meals are simple fare made with the freshest ingredients.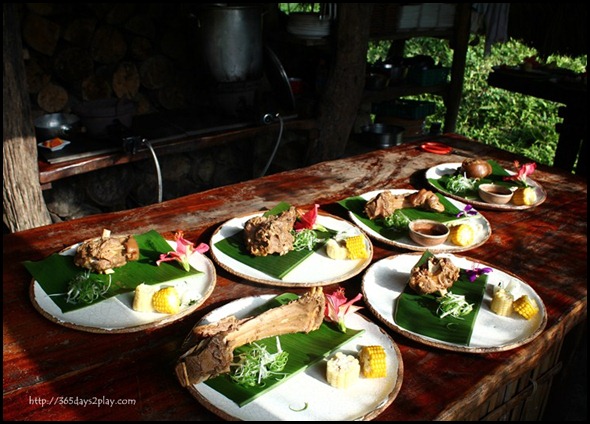 Our lamb main course being prepared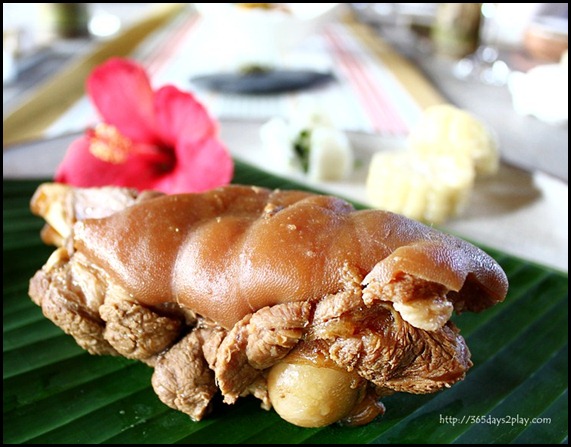 Lamb shoulder. Everyone gets a different part of the lamb.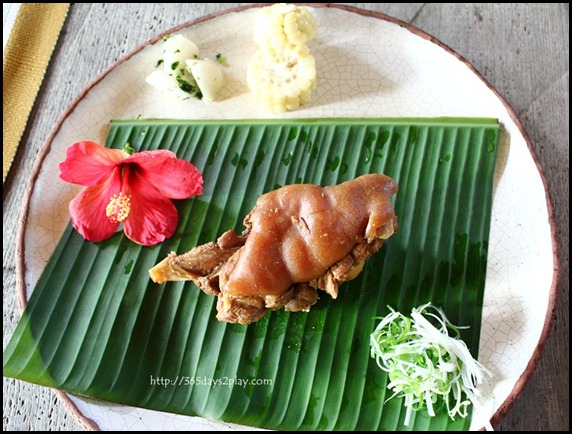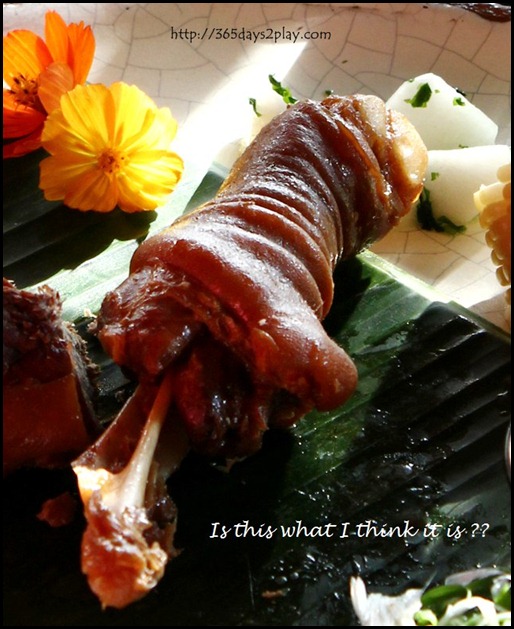 I saw this on someone's plate…..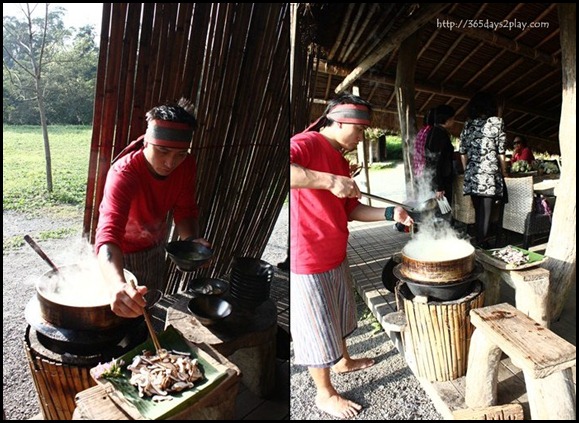 Our soup course being prepared right in front of us!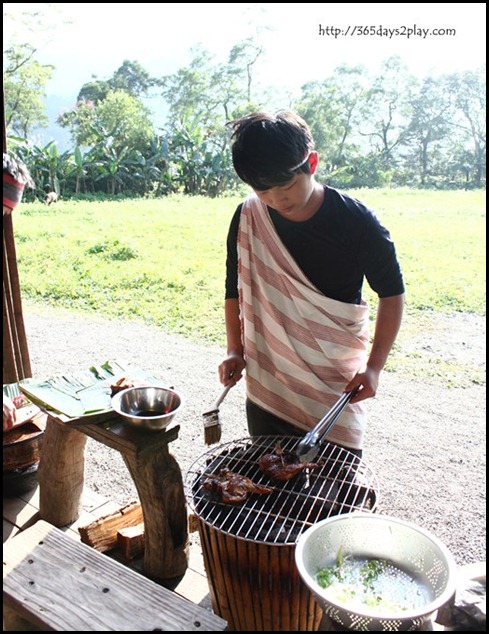 Grilled chicken for those who didn't want to have the lamb.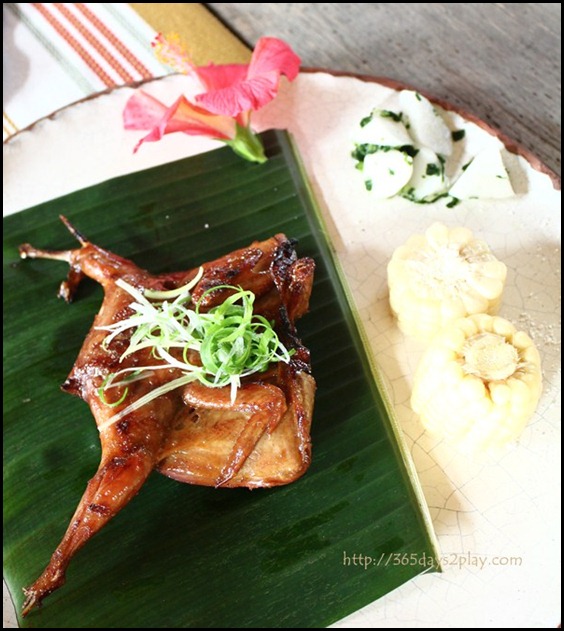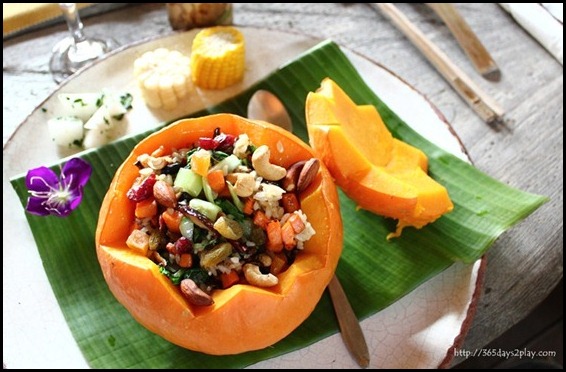 The vegetarian main dish option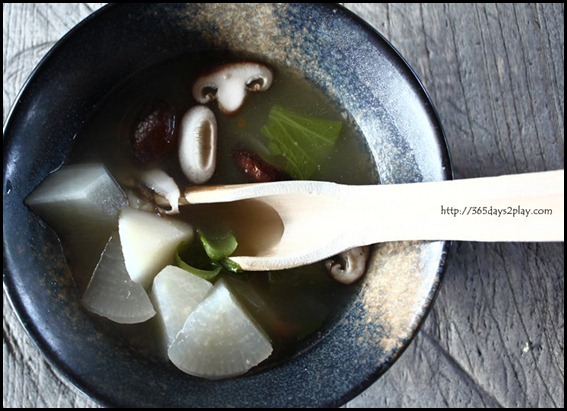 And a lighter radish soup to round off the meal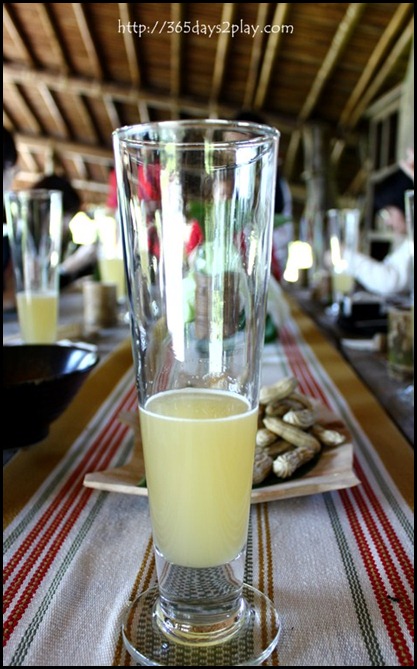 Free flow Millet Rice wine 小米酒. This was my 1st time trying Millet wine and I was totally bowled over by how good it was. It actually kind of tastes like a tangy, spritzy juice based drink. While it was free flow at the meal, a bottle of this cost SGD$40 I think. If not for the fact that I already had a lot to carry to the airport, I might have just bought some. Many of the Taiwanese guests at the meal bought loads. Overheard some people saying that this was the best millet wine they had ever tasted.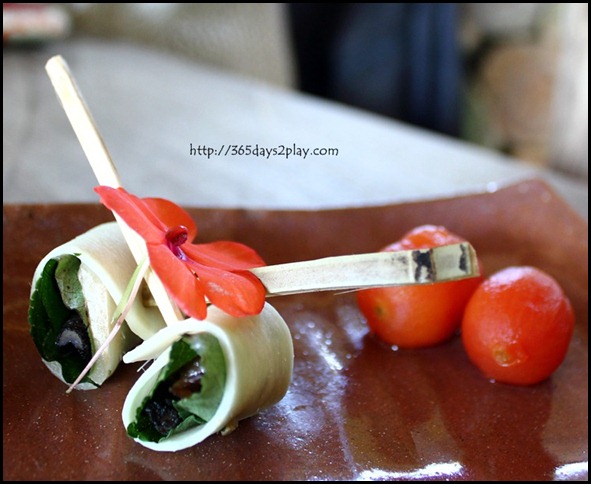 Closer look at the escargots wrapped in ginger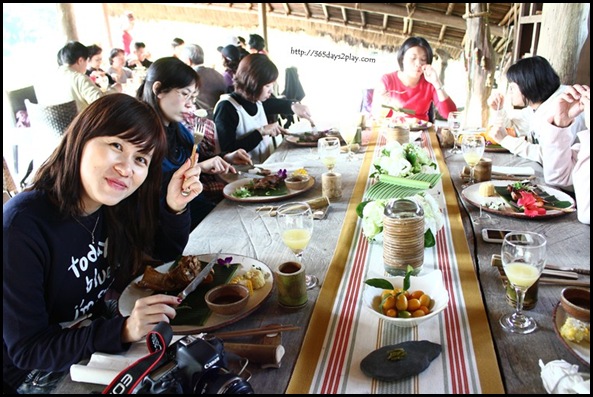 My vantage point from the head of the table.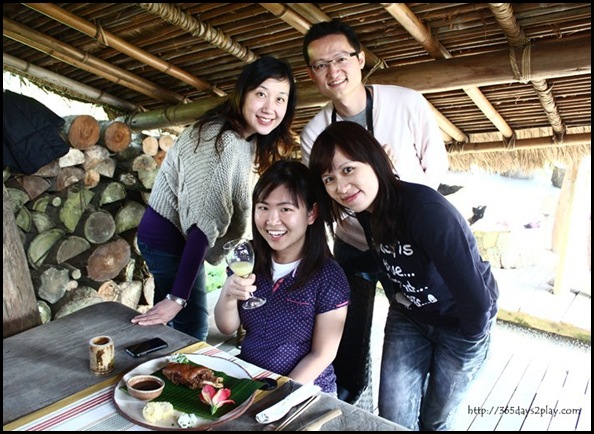 ~~~~~~~~
Click here to read about my Whirlwind 5D4N Blogger Sponsored trip to Taiwan courtesy of the iSee Taiwan Foundation.
Add me on Facebook, Instagram and Twitter if you want to be kept up to date with the latest happenings in the food and lifestyle scene in Singapore!
~~~~~~~~
Bulau Bulau Aboriginal Village
No. 46 Huasing Lane, Datong Township, Yilan County 267, Taiwan
Tel : +886 919090061
Yes…many of the restaurants I visited in Taiwan did not have websites, but the Aboriginal Tribe has one. How ironic!