We've all been so focussed about looking for the best cafes to have brunch that it came as a surprise to find out that hotels also serve brunch! The other day while having dinner at The Pool Grill at Marriott Hotel, I chanced upon their brunch menu and almost fell off the chair when I saw that they were serving eggs Benedicts and all day breakfasts. I don't know if it's just me, but is this a recent thing that hotels have also jumped onto the brunch bandwagon?
It's actually not a bad idea to have brunch at a hotel. For one, you don't have to fight for a table or ensure your elbow doesn't knock into the next table's drink glasses. You can even make a reservation. It's certainly not the cheapest place to have brunch, but judging from the menu prices at Marriott, it's not the most expensive that I have seen either! And because The Pool Grill is one of the featured merchants on The Entertainer App, you enjoy buy one get one free on all their main courses and egg based brunch dishes!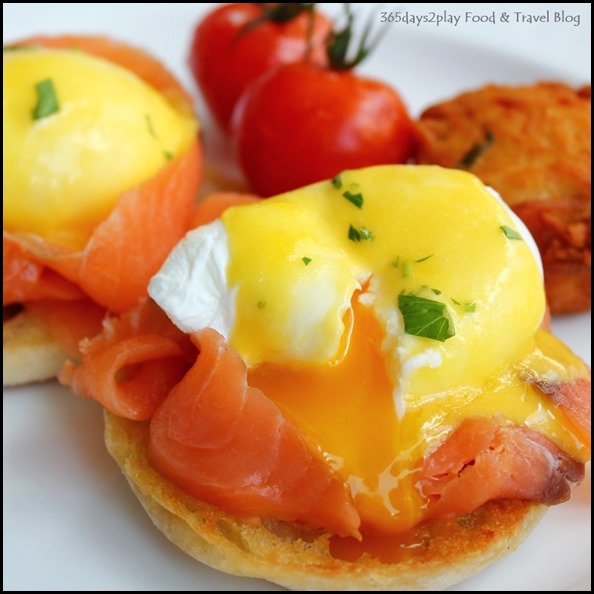 Eggs Benedict $19
See, I'm not kidding when I say The Pool Grill serves brunch!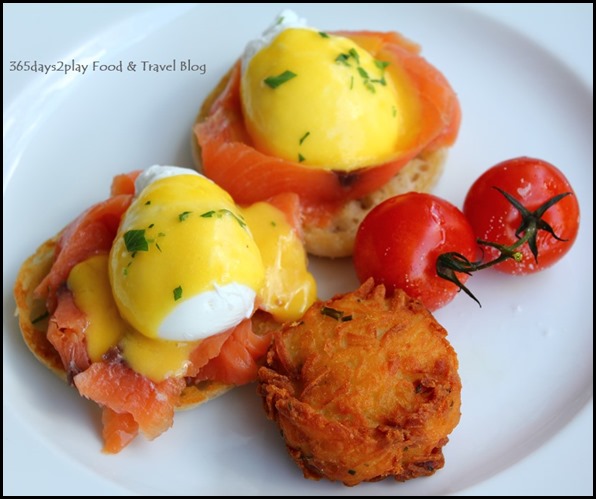 There are 3 types to choose from. You can get the Eggs Benny with either bacon, smoked salmon or spinach. I think unless you are a vegetarian, most people would not choose the spinach option only as that seems too plain for a leisurely weekend brunch? Not the best eggs benny served though, in fact they were average at best. The muffins were rather tough, while the smoked salmon was too salty. The hash brown cake was nice and crunchy though, and so were the vine ripened tomatoes.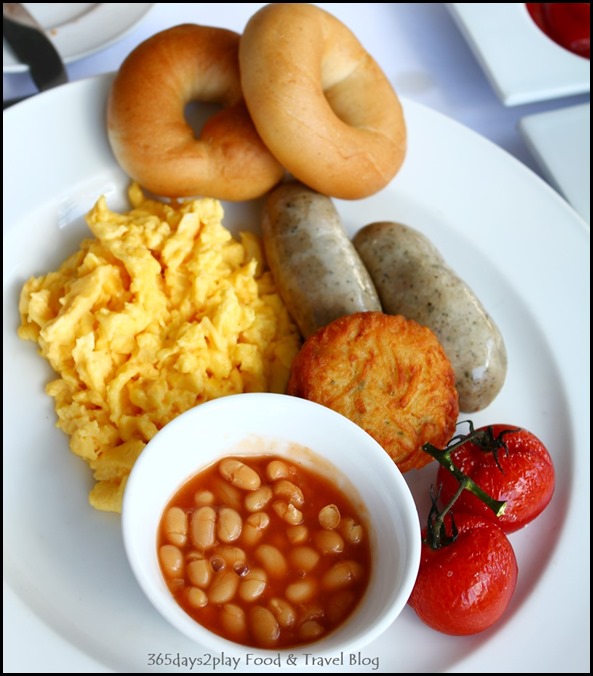 All Day Breakfast $28
The Partner ordered this, and I was quite torn between ordering the all day breakfast versus the cod fish and chips that I eventually ordered. You can have the eggs done to your liking, as well as choose between several sausages. The Partner chose the pork sausages. The all day breakfast fared much better than the eggs benedict, and apart from the bagels (you can choose toast), all the other items were delicious. The bagels suffered the same fate as the muffins in the eggs benny in that they were next to impossible to saw through.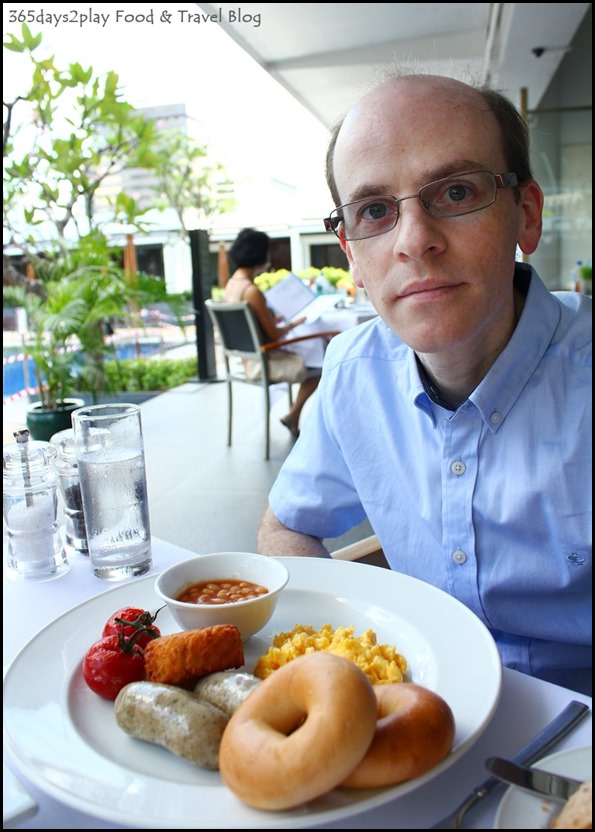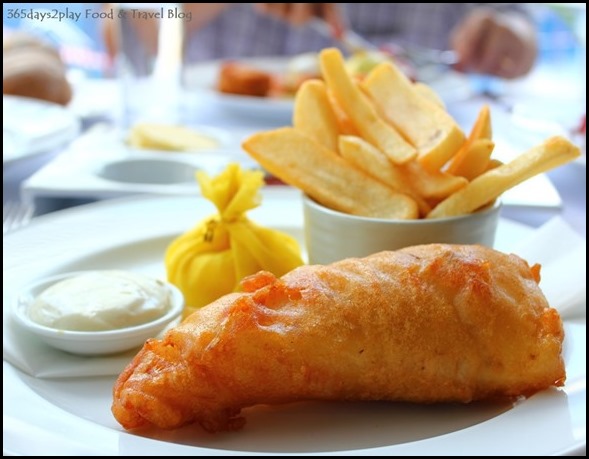 Cod Fish and Chips $28
Can't resist when I see cod on the menu! I'm very fussy with fish, and there are only a few types of cooked fish that I like, cod being one of them. Salmon is another of my favourites, but I prefer raw or smoked salmon to cooked ones as it's so easy to overcook them. The cod in this fish and chips was supremely tender and moist. Every piece flaked off so easily. And because cod has a richer feel, I almost couldn't finish this fish and chips, even though it doesn't look that substantial here.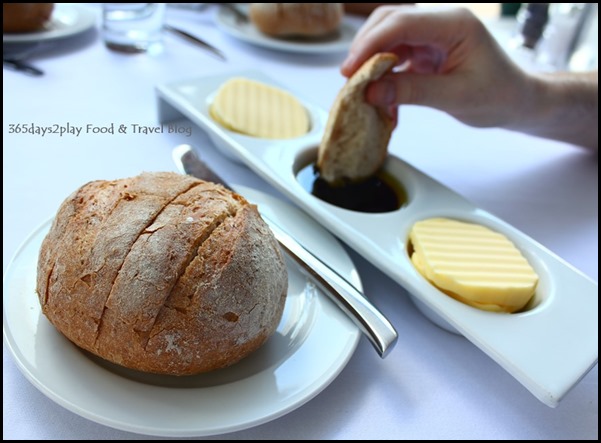 The great thing about dining at a hotel restaurant is that you get complimentary bread, even if it is for brunch! And a very generous loaf too, each person gets one!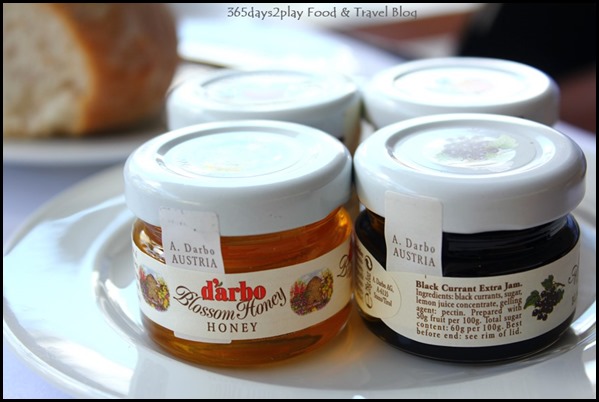 And don't forget the jam!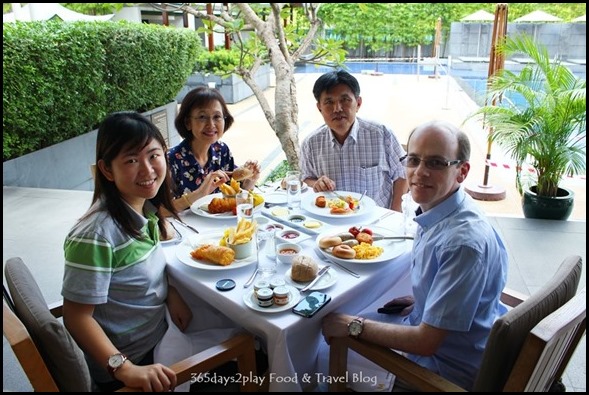 Happy brunching! There are still some renovation works going on at the Marriott Hotel's pool area, but it looks to be ending soon as the hoardings have all come down.
---
You can dine at The Pool Grill for cheap too if you have The Entertainer App. The Entertainer App lets you enjoy 1-for-1 main courses at more than 100 restaurants in Singapore. It costs only $19 for one month's worth of usage for you to trial it out. I know everybody doesn't like to pay for apps, but pay $19 and get $28 main course free, I think it's a no brainer right? Plus you'll surely be dining at more than 1 restaurant in the course of the month? If you want the year long one, you can top up after the 1 month is over. 
There are really a lot of restaurants in the list ranging from super atas restaurants to cheaper cafes.
Here's what you have to do
Go to https://www.theentertainerme.com/trysgfor19/ to read more about The Entertainer App and to purchase the app.
Key in promo code : 365days2play
Pay for the Entertainer Singapore One Month Membership of $19
Get access to all the participating merchants!
Click to use vouchers when you are at the restaurant!
Be sure to key in my unique promo code 365days2play to stand a chance to win the full version of the app for FREE! Promo ends 5 June 2014!
You can also read my review and instructions on The Entertainer App here.
---
The Pool Grill at Marriott Singapore
The Lazy Sunday Brunch is available from August 2013 at Pool Grill | Level 5
Call 6831 4605 or visit http://singaporemarriott.com/dining for enquiries or reservations.
Read more about The Lazy Sunday Brunch http://www.singaporemarriott.com/2013/08/02/lazy-sunday-brunch-at-pool-grill/