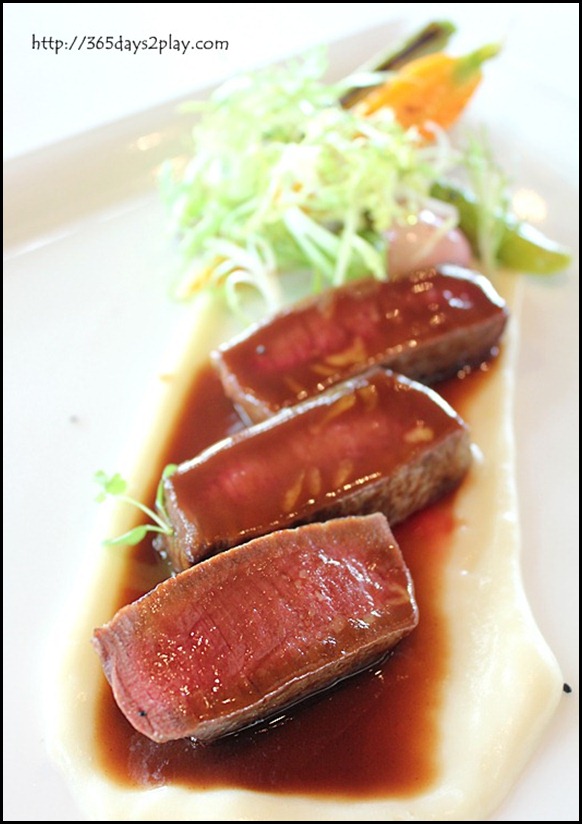 Prime Beef Tenderloin with Asparagus and Truffles Sauce
Il Lido's been having this great promotional deal with DBS where you get 50% discount off your bill if you spend above $200 before tax. DBS sends you the voucher on your birthday month, and I believe only if they deem you to be one of their exclusive customers. How we ever got onto that list of exclusive customers, I have no idea but I'm not complaining.
Since it is such a great deal, I decided to dine at Il Lido again for my birthday for the 2nd year running. I took the weekend set meal for $58.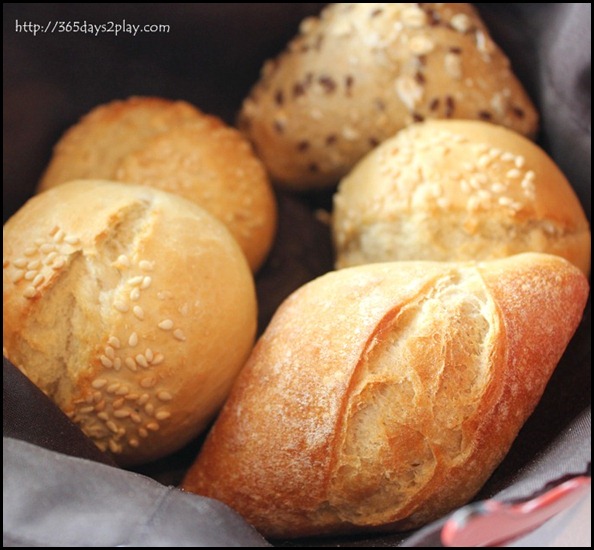 Complimentary Bread
Good bread is hard to find and for restaurants that manage to bake a good crusty loaf, I often find it hard to resist tearing the bread apart and slathering butter that is almost as big as the bread pieces. The baguette's a personal favourite of mine and if you haven't tried baguettes fresh out of the oven, you're missing one of life's simple wonders.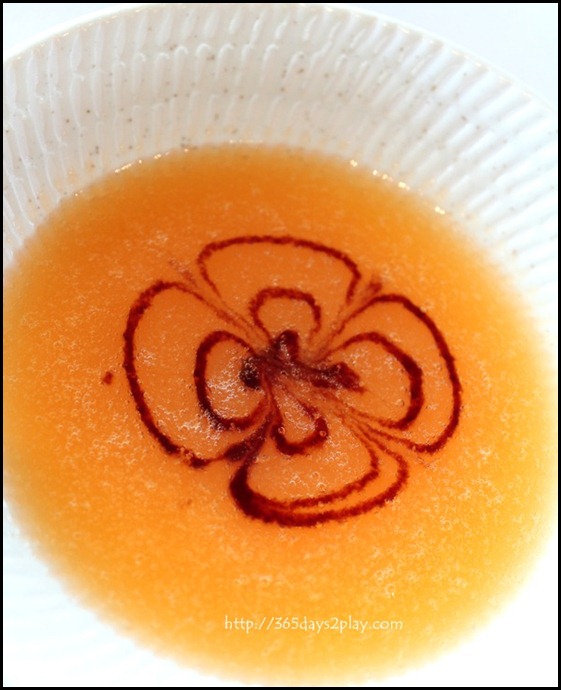 Cantaloupe Soup
Cold and refreshing. Might do well as a dessert too as it is slightly sweet.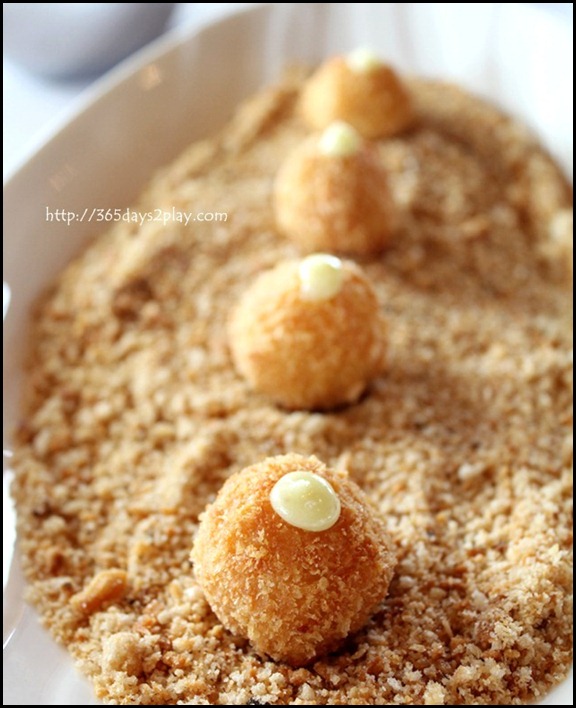 Amuse Bouche Risotto Balls
4 little balls of breaded balls filled with hot piping cheesy risotto. The crusty exterior was nice, but I was hoping for more than just rice and cheese encased within.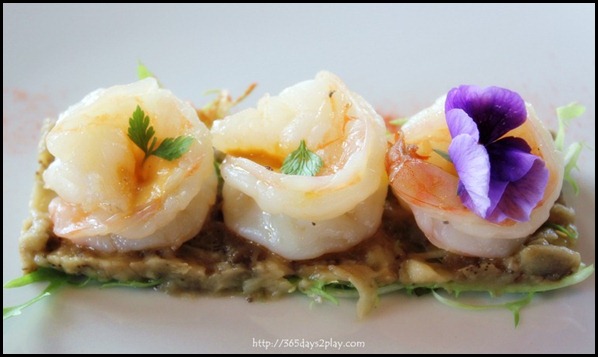 Prawns with Eggplant Caviar
This was supposed to be burrata cheese with eggplant caviar, but to my great disappointment, Il Lido had run out of burrata. I think if I hadn't seen the words burrata in the set menu at the start, I wouldn't have been so disappointed to know what I missed out! Such is the human psychology huh. I don't much fancy eggplant and the soft texture didn't do much to the prawns in my opinion. The prawns themselves were nice but nothing spectacular.
Homemade Spaghetti with Lobster Bolognese
One always wonders whose home the homemade ingredient was made in, but I guess they mean handmade instead of store bought. One of the nicest bolognese I have ever eaten. There is just enough liquid to lubricate the strands of pasta and to leave a subtle seafood tone. Could have done with bigger chunks of identifiable lobster, but it being a bolognese, you can't really fault them for mincing the lobster.  I've never actually liked tomato based pasta sauces and many places that serve tomato bolognese have the pasta swimming in such great quantities of it.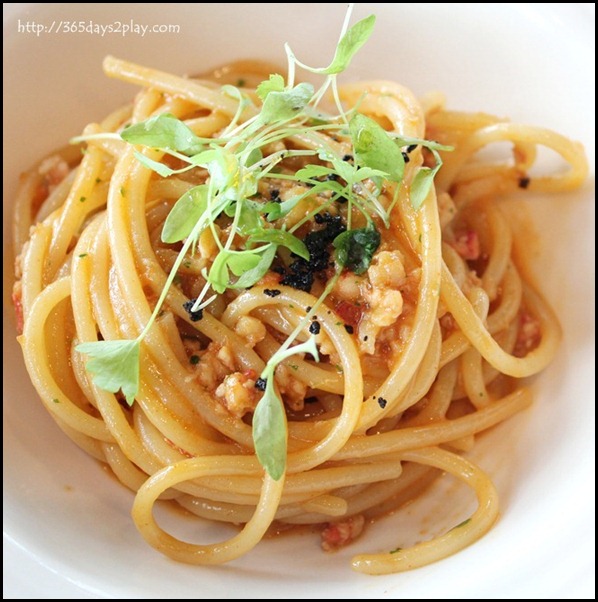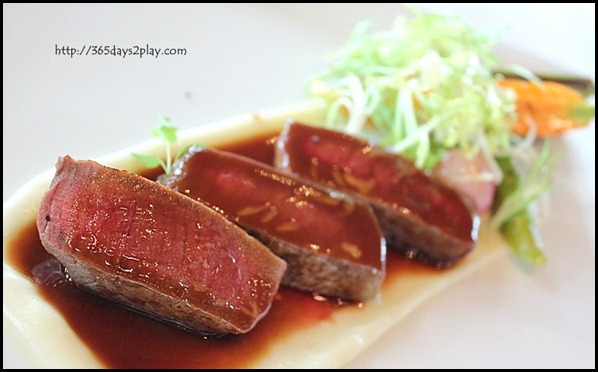 Prime Beef Tenderloin with Asparagus and Truffles Sauce
Nice pieces of tender meat, but lacking in flavour. Didn't manage to detect any truffle essence either.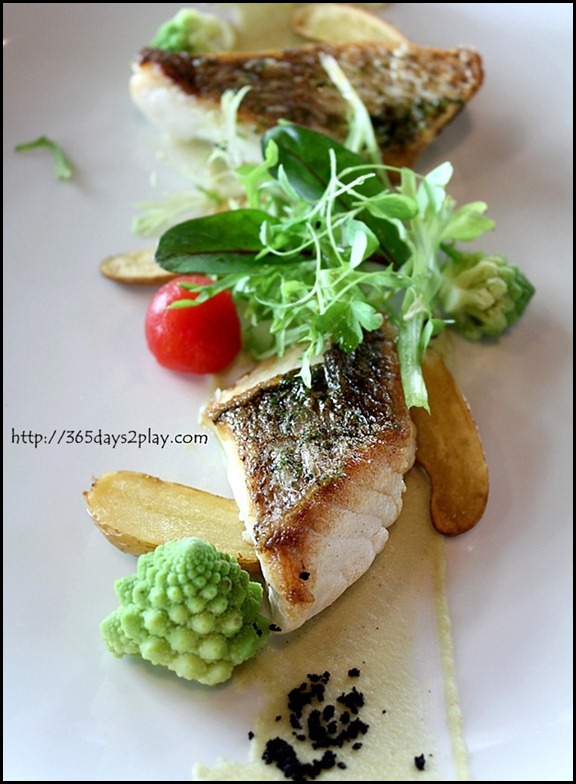 Wild Snapper with Romanesco and Caclucco sauce
My mother chose this main dish as part of her set.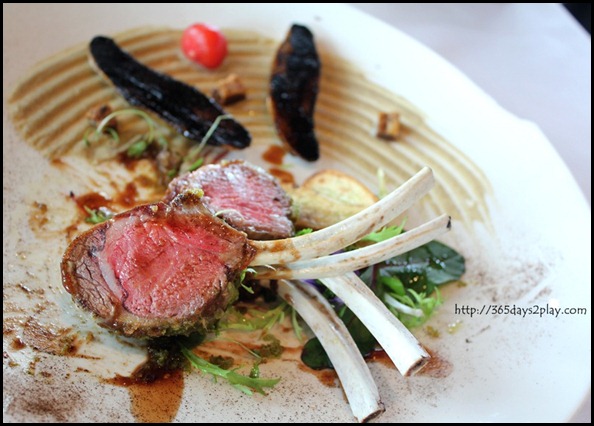 Lamb Rack with Smoked Eggplant and Fingerling Potatoes $58
The Partner opted to go for the ala carte menu instead of the set menu. Size wise, it was disappointing because the lamb rack wasn't very big. Considering that the set menu with numerous dishes cost the same $58, the cost of this lamb rack felt exorbitant. Taste wise however, the lamb rack was super delicious, tender and juicy.. There was also a special herb crust which added to the flavour. Once again, the soggy eggplant making an appearance here.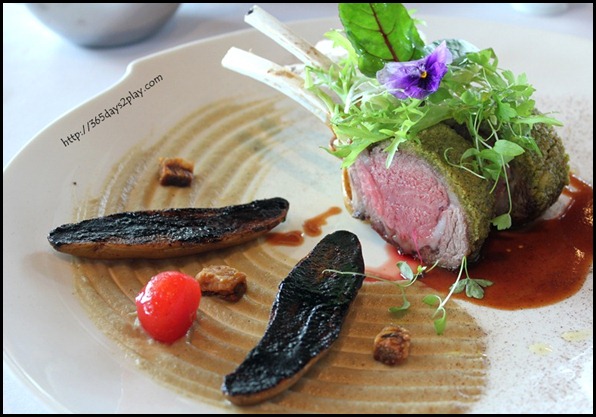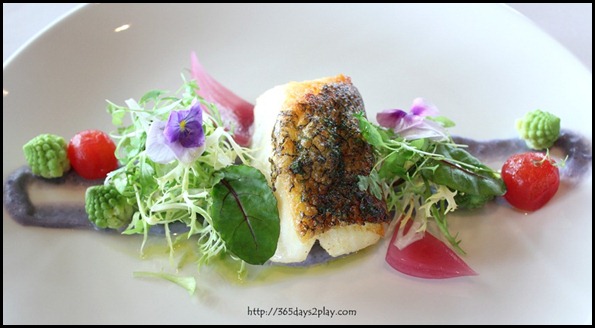 Silver Cod with Vitelotte Garlic Fondue and Romanesco $45
My father also opted to go for the ala carte menu. I was told it tasted very good, exactly like how cod should. I think cod's easy to like, unless the chef is so bad as to over cook it.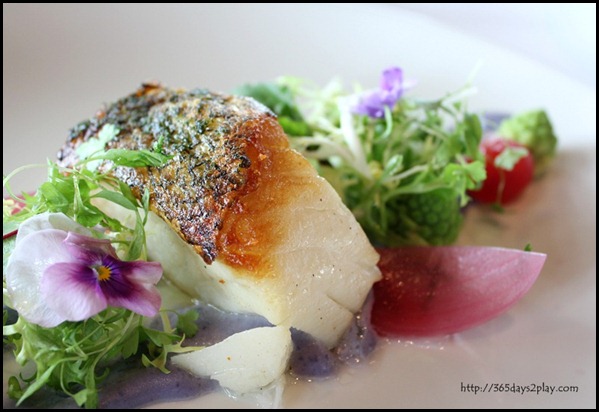 Flaky buttery tasting cod.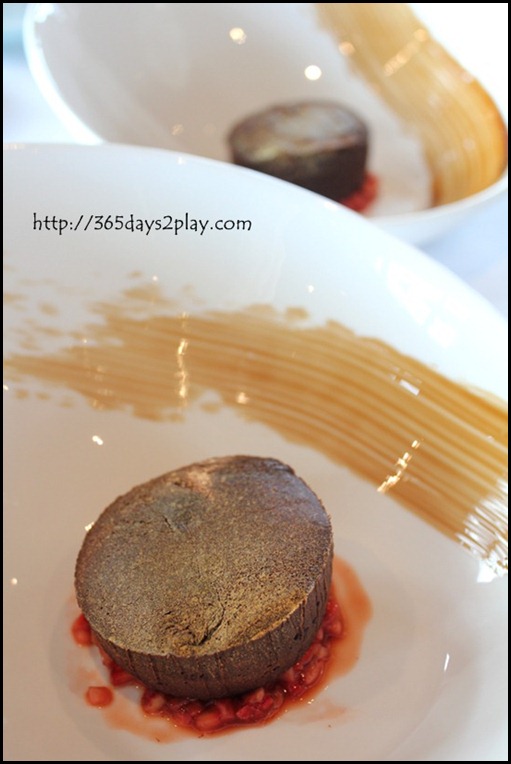 Molten Lava Chocolate Cake with Strawberries and Balsamic
No where near the best, to be frank. This was a very average piece of cake, which was rather dry on the outside too. Some skill is needed when making molten lava chocolate cakes. You have to watch the heat carefully so as not to burn the outsides, while cooking the cake enough such that you're not eating plain raw batter in the centre. You can see an oily sheen on the molten chocolate, which is not good.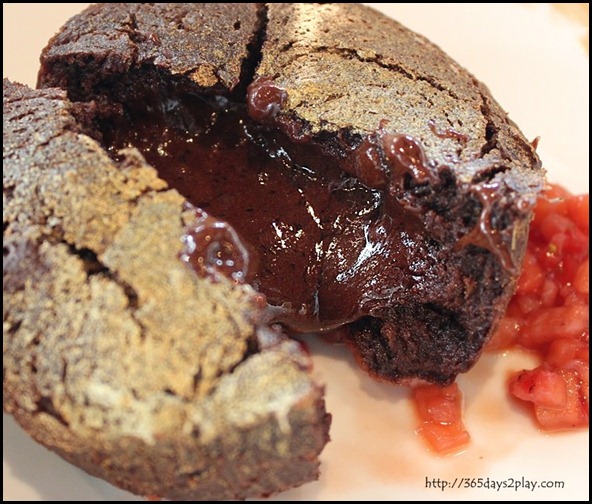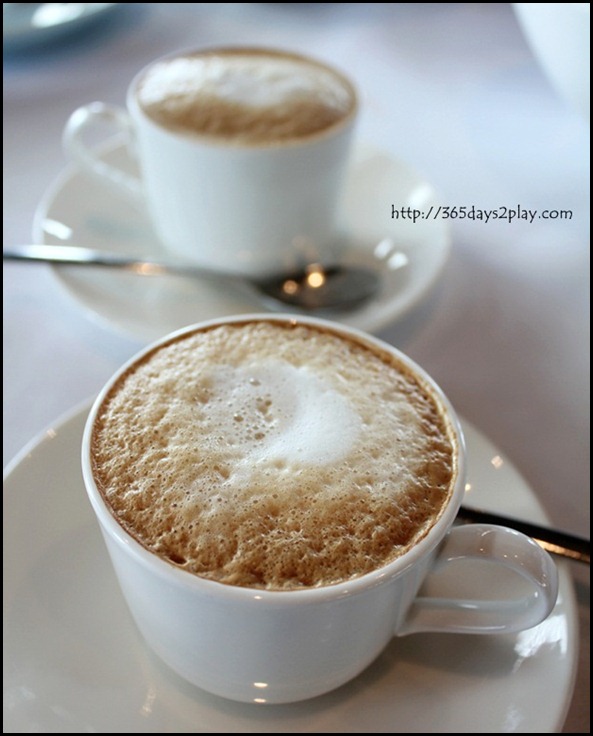 Complimentary coffee and tea on the house, but they were nice enough to offer flat whites upon request.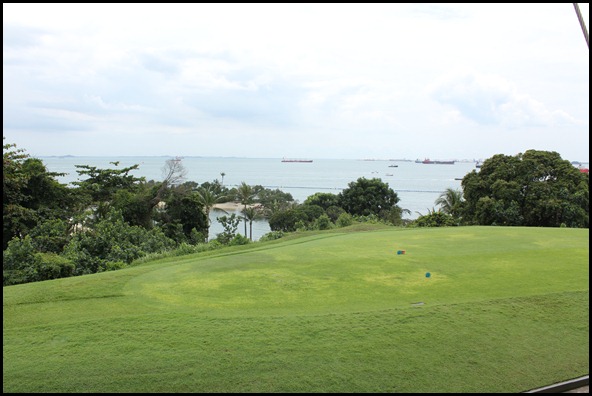 Nice view of the sea surrounding Sentosa. There are a few tankers in the distance, but it's as good as it gets when in Singapore. Go take a look at the view from East Coast Park, and you will see that it is even more chock a block with tankers.
On the whole, I think 4 times is really enough times visiting Il Lido. To be frank, the experience dining here this time round was extremely ordinary. If not for the 50% voucher, I would have thought the place to be exorbitantly priced in relation to the food served.
~~~~~~~~~~~~~~~~~
Read about my previous dining experiences at Il Lido Sentosa.
Find out more on what to eat at Sentosa.
Add me on Facebook, Instagram and Twitter if you want to be kept up to date with the latest happenings in the food and lifestyle scene in Singapore!
~~~~~~~~~~~~~~~~~
Il Lido Singapore
Sentosa Golf Club
27 Bukit Manis Road
Singapore 099892
Lunch : Open daily from 12pm to 2.30pm
Dinner : Open daily from 6.30pm to 10.30pm
PS: You have to pay an entrance fee to enter Sentosa. Check this link for the charges. Parking is free at Il Lido.