Hot on the heels of our lovely staycation at Holiday Inn Singapore Atrium is another staycation we did this weekend, this time at 5-star hotel The Westin Singapore (see my instastories highlights). It may surprise some to know that The Westin Singapore is now located at Asia Square Tower 2 since its reopening in Singapore in 2013. Previously they were located at the City Hall area above Raffles City Shopping Centre, and if you still have that address in mind, they actually vacated back in 2001! In those days, The Westin was the hotel to go to, and if you mention the restaurant Compass Rose to any of the older generation, they would surely remember!
I've actually stayed at The Westin once at its old location, on 1 Jan 2000 after painting the town red and enjoying the Millennium countdown. Those were the days when staycations weren't really a thing in Singapore. How's that for a memory? Alas, no pictures!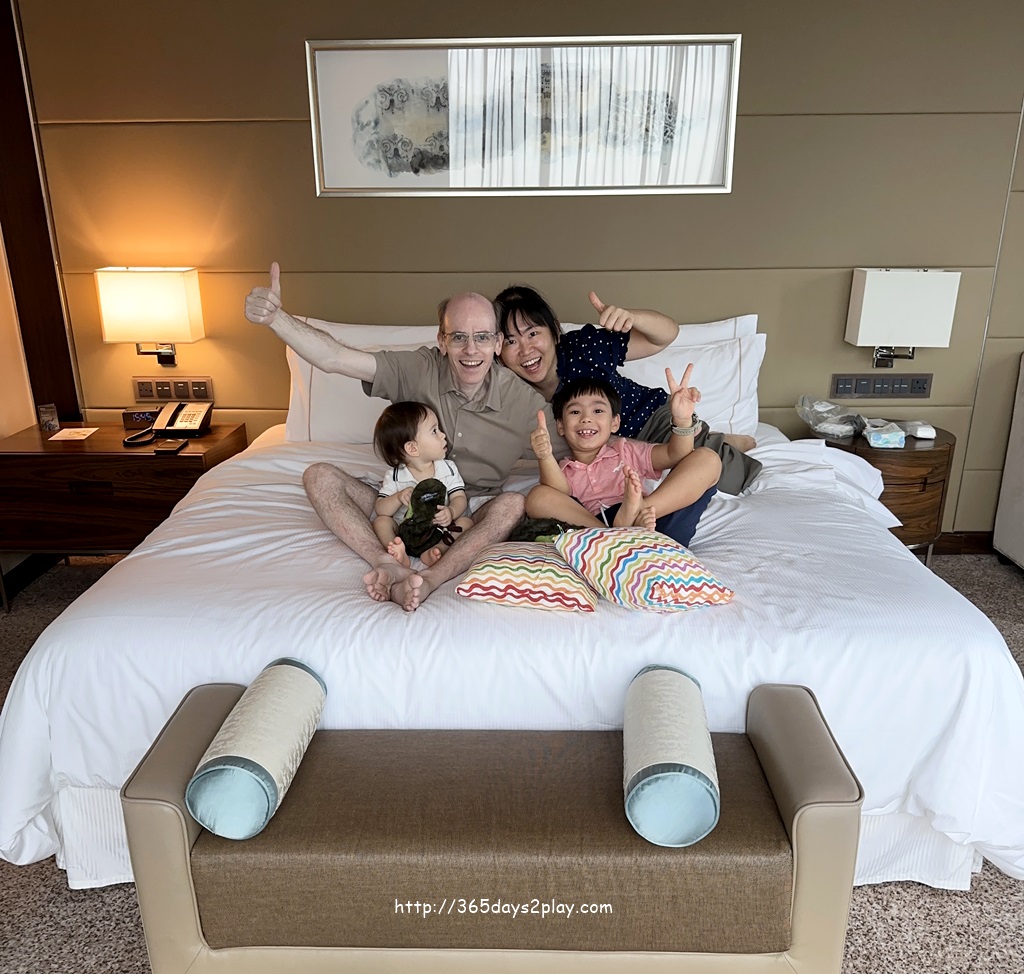 Family Weekend at Westin Singapore
Anyway, this time round we were invited to check out The Westin Singapore's Family Weekend at Westin staycation package.
The Family Weekend at Westin package is inclusive of:
A limited edition Jellycat Amusable Avocado bag filled with sweet treats
Art Pop! Paper Clay DIY Kit in Dinosaur or Unicorn design
Westin Family Travel Journal
Play tent for the children throughout your stay
Daily breakfast for two adults and up to two children 12 years and below at Seasonal Tastes
Note this promo is only valid for stays until 30 June 2023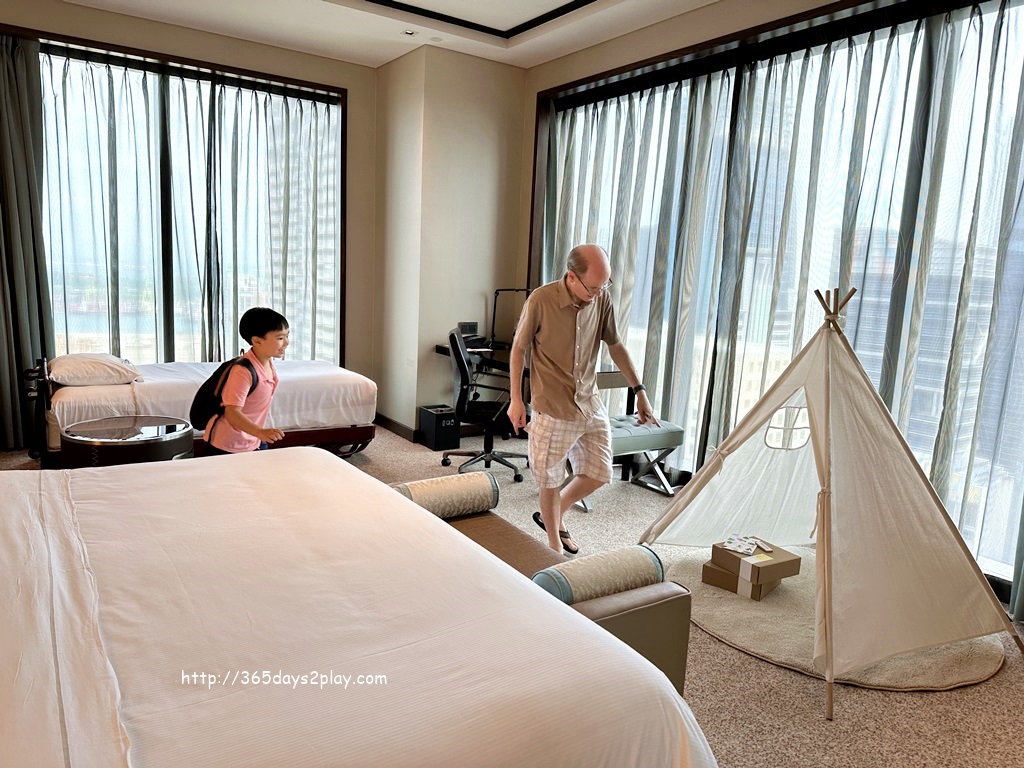 I love this spontaneous photo. Normally they will let me take my photos before raiding the room, but they were too excited!
I briefly checked the hotel rates and it seems this Family Weekend at Westin staycation package is only $20 more than the standard Flexible Rate, which doesn't even come with breakfast. Cribs are complimentary whereas rollaway beds are chargeable at $100. If you have 2 kids and you don't want them sleeping in your bed, you don't have to fork out extra if you go for the double bed/twin room configuration which sleeps 4.
Despite being a largely business hotel, The Westin Singapore sure knows how to make the kids happy. My kids were overjoyed at the cute avocado bags stuffed full of goodies. They lost no time in pouring everything out to inspect their loot! And what's with a play tent that the young and the young at heart can't seem to resist? Papa was caught hiding/relaxing in the tent a couple of times, although his relaxation time was short-lived because the kids saw it as an invitation to join in as well.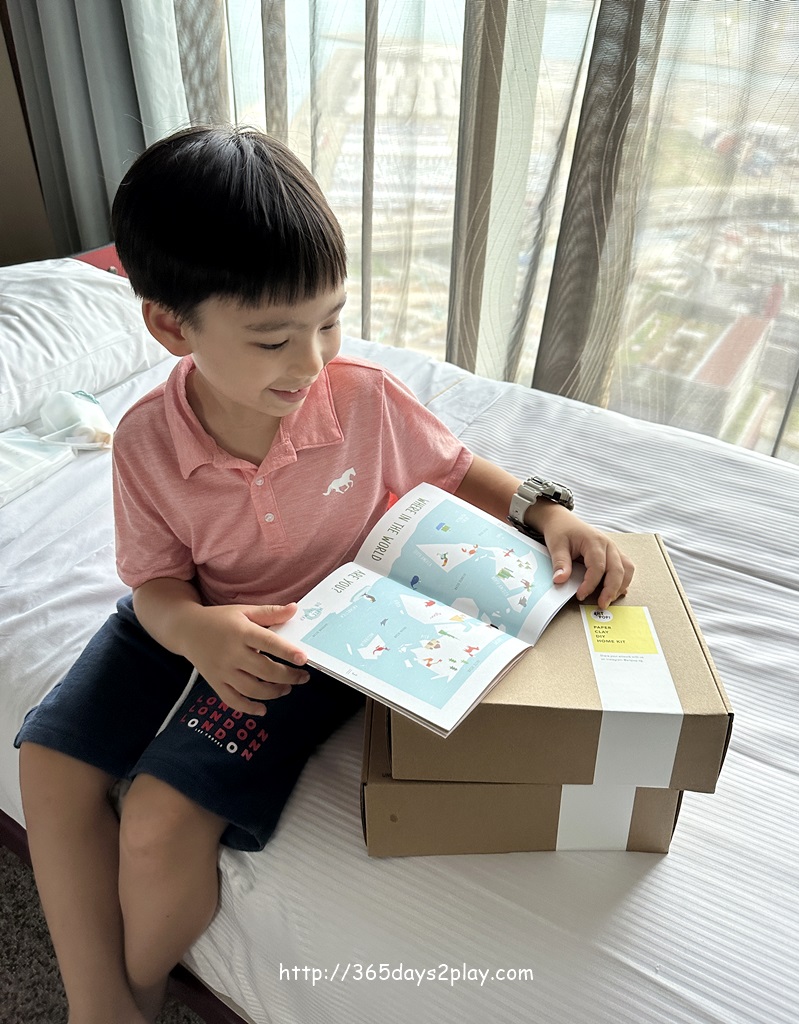 We also received some Paper Clay DIY Kits as well as cookie decorating kits. Edward wanted to get started on them but in the end we agreed to bring them home to prolong the enjoyment because there was simply too much to do during our one day staycation!
Everyone raved over the stylish and spacious room we had been given. The colour palette used is soothing and even the white ceiling with black border looks stylish. Yes it's possible to appreciate the ceiling when you have the entire day to luxuriate in the hotel room. We managed to snag a corner unit, so it is slightly larger than a standard room, and has windows on two sides. I know some people couldn't care less if their room faced a brick wall, but for those who desire a good view, try to book or request for the corner room.
I love having a good view and I will stand by the window looking out at the views for a long time. I literally do that every time I enter the room, and at night too. I've even popped out of bed in the wee hours of the night just to stare out and see how Singapore looks when all is quiet. So the full length windows, two sided to boot, were fully appreciated!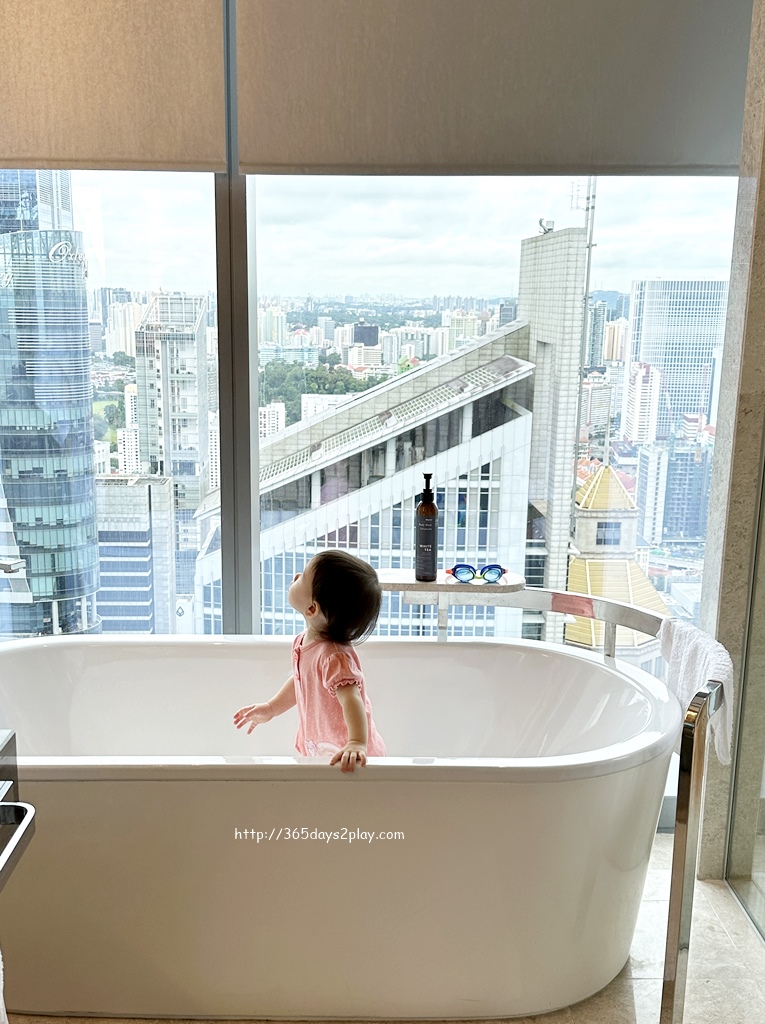 Don't forget to do the Instagrammable bathtub shot!
The full length windows extend to the bathroom as well, so make sure you have the shades down before stripping! The highlight of the bathroom has to be the freestanding bathtub. Modern looking, clean and huge, and boasting a view, what more could you ask for? We loved it so much we actually used it twice during our staycation, and had to cut our swimming session at the pool to just one. Here's a hint to budding instagrammers (the professional ones already know this), this is a great spot for a memorable photo. If you have some bubbly, that would be even better.
Weekend Family Buffet at Seasonal Tastes Restaurant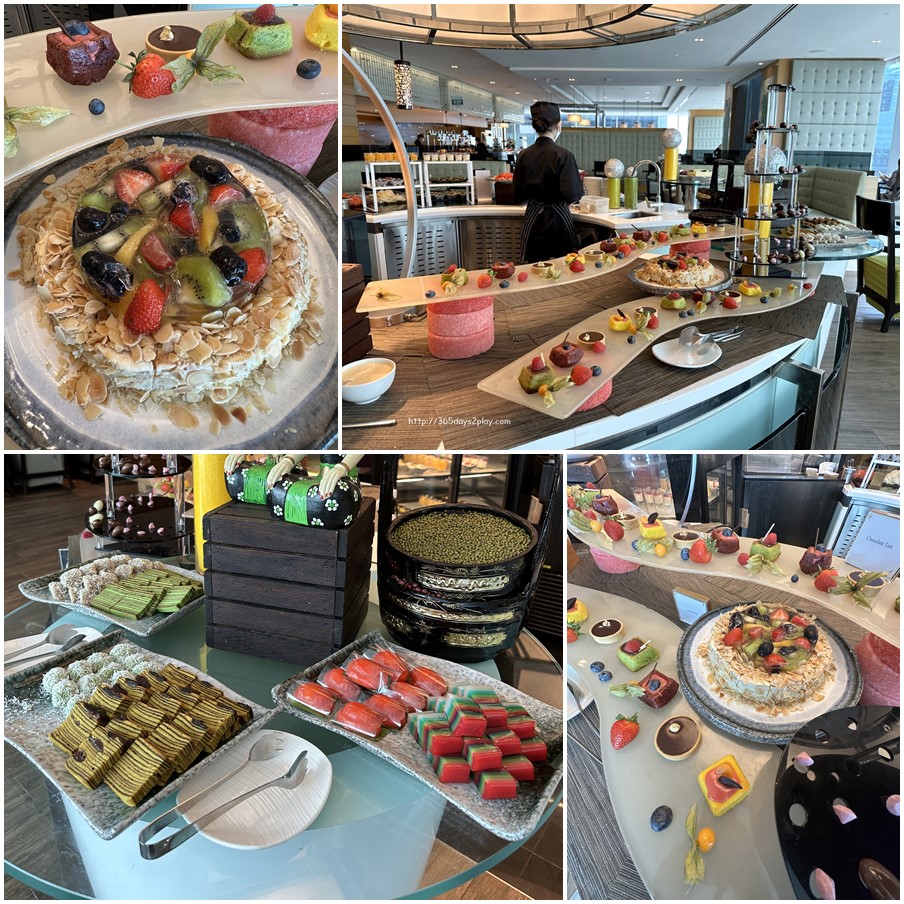 Although lunch is not provided in this Family Weekend at Westin package, you might want to consider their Weekend Family Buffet lunch. Yes you guessed it, one kid dines free with each adult buffet ordered. And given the pricing of $58++ for an adult, this is no doubt a value for money 5-star hotel lunch buffet. Most hotel lunch buffets are well in excess of $50++ these days, so if kids can dine free, that's some savings there.
And, there's also a dedicated kids area with kid-friendly food such as hotdog buns, fried chicken, etc displayed at a kid-friendly height so that they can serve themselves. There's a cookie and cupcake decorating area too. These are all complimentary activities, and for a fee, some art activities are also available.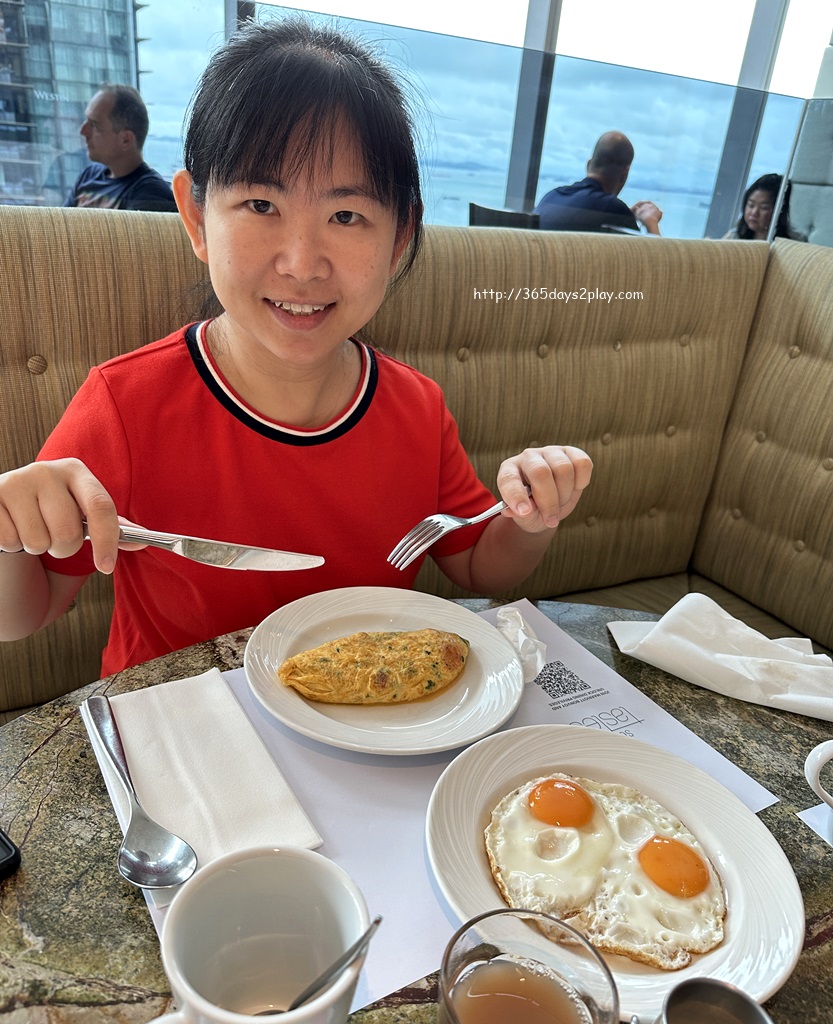 Make sure you go down early for the buffet breakfast too. I highly recommend the eggs station. They do a mean omelette and even have the option of adding ham or smoked salmon. I am also quite impressed by their cereal bar. More than 10 different cereals that you can choose from, including 3 or 4 different gluten-free options. And this is possibly the first breakfast buffet I've seen where there's also the option of almond milk!
Service was exemplary
I have to say service was exemplary during our stay at the Westin Singapore. Staff were attentive, friendly and seemed to enjoy interacting with the guests (as opposed to hurrying around in a frazzled manner), especially the little ones. Don't tell your kids but there's even a secret lolly jar where staff have been known to offer a lolly or two to good kids. Which makes me wonder how my son managed to obtain 6….
Infinity pool with a view of the Marina Bay Financial District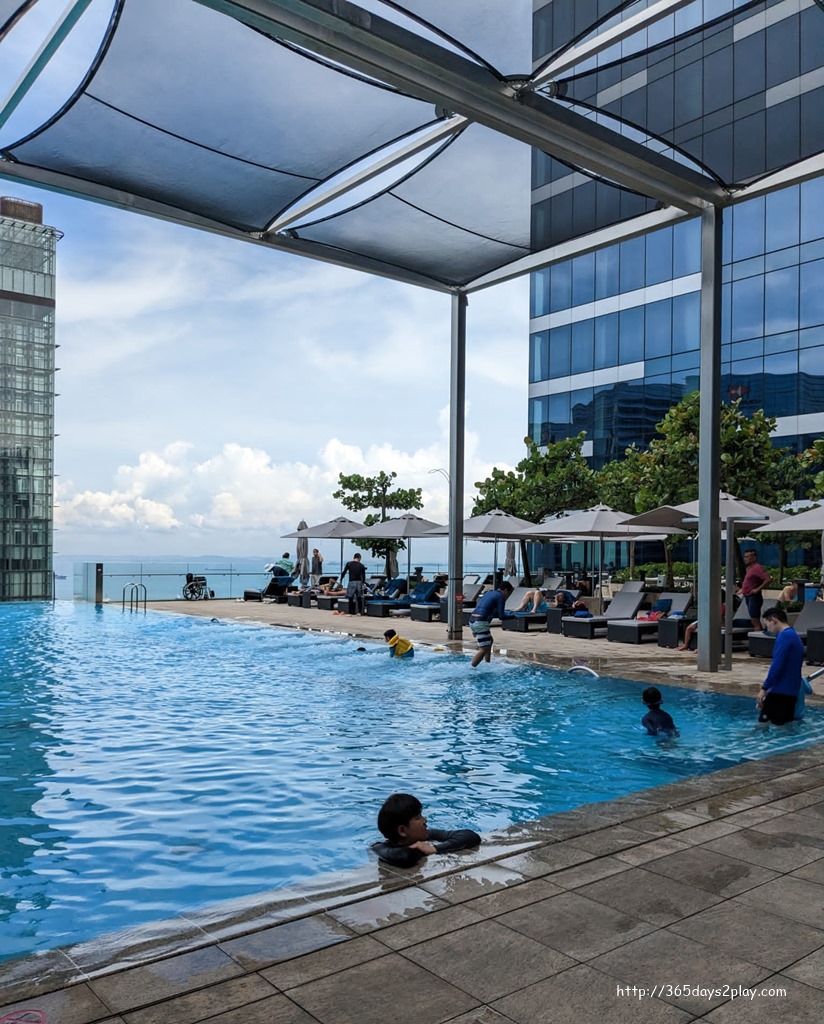 We did eventually make it to the pool for a quick dip after breakfast. It was quite a difficult decision between another bath in the bathtub, or checking out the infinity-pool. Well in the name of doing this review, I visited the pool. Unfortunately there isn't a separate pool for young kids who do not know how to swim. However if you keep to the side of the pool, it's where the inbuilt jacuzzi area is and that's shallow enough for older kids to play at if they do not know how to swim. The pool is also long enough to do laps if that's what you prefer, but me and Edward spent our time bobbing around at the jacuzzi area. If you move to the outermost part of the pool, that's a great place to take selfies with part CBD and part sea as the backdrop.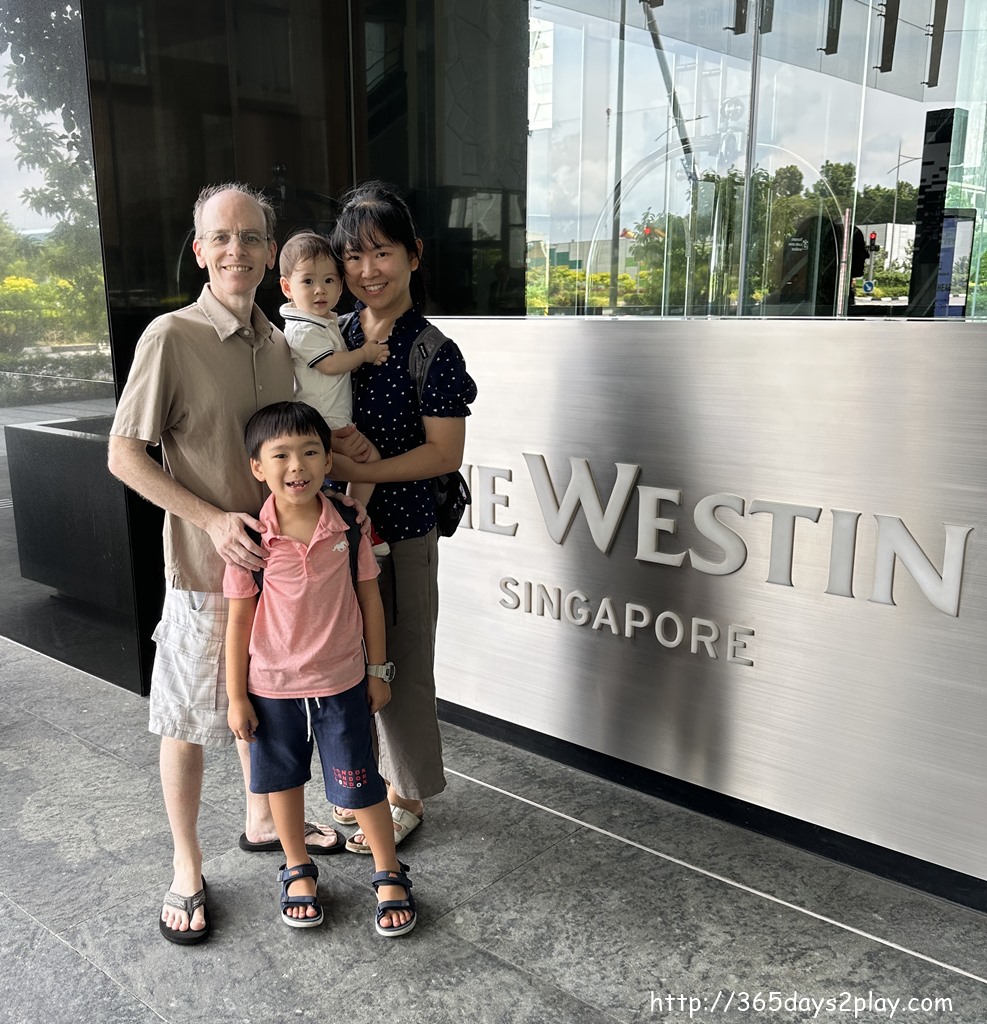 All in all we had a lovely stay at The Westin Singapore. If you have kids, I highly recommend you check out the Family Weekend at Westin staycation package which gives great value and isn't much more than what you would pay under the ordinary rate.
Parents do note the following though
1. The door to the bathroom is a sliding door with no lock or lever. Let's hope your kids are not the naughty kind who will bust in on you while you are showering or peeing…. And do empty the bathtub completely before going to bed for safety reasons.
2. There's a very high tech minibar system going on here. If you shift the non-complimentary items out of their slots for more than 15 seconds, you will be charged for the items. You can have the minibar locked if you don't trust your kids. Just call up reception and they can lock the minibar automatically without even stepping into the room, if they haven't already done so.
All to note
1. As the minibar is full of chargeable items, the remaining space that is available for your own personal items is quite small, probably the size of a tea cup saucer?
2. Remember to bring your own charger adapters as the power points are Singapore type sockets and not universal power sockets. Well there is 1 universal power socket should you forget yours, but that is located next to the tv, which isn't near the bed nor the desk.
**Please note this was an invited staycation at The Westin Singapore, however all views expressed are our own.