Even though it has been raining torrentially in the afternoons these last few days, it was unbelievably scorching on Sunday. After visiting Bark Cafe adjacent to Changi Museum, the Partner and I, plus a friend who met us for lunch thought it extremely appropriate to gravitate towards a cool cafe selling iced cold drinks. It was nice at Bark Cafe, but one hour in the non-air-conditioned Bark Cafe was as much as we could tolerate. While driving along Upper Changi Road North to get to Bark Cafe, we had spied a small nondescript cafe, so that's where we headed to.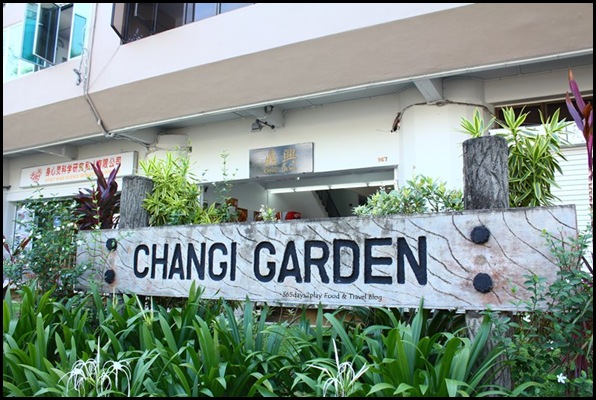 I'd never been to this area which calls itself Changi Garden. I don't suppose most people would know it too, unless you live in the vicinity. I know the famous Porta Porta Italian restaurant is located here, and after more than 10 years, I have yet to try it! I must make a mental note to try this Porta Porta out.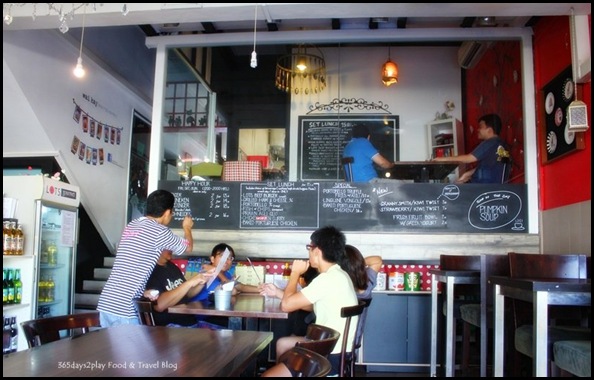 Lots Gourmet Stop is a nifty little place, decked out in bright colours, and with little trinkets and decorative plates plastered on the back wall. Alas, it isn't air-conditioned too, but it seems more shaded than the previous Bark Cafe. There is an upper inner balcony with air-conditioning, but we were told that it was reserved.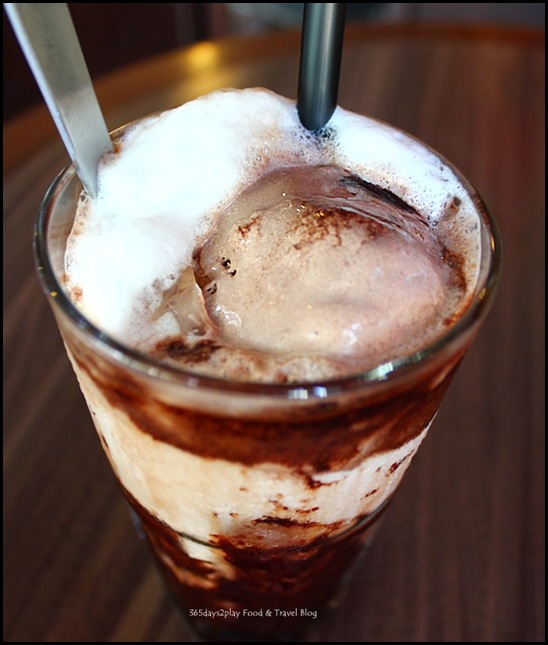 Iced Chocolate $6
We lost no time in ordering our drinks. I ordered this iced-chocolate which cost $6. It was one of the most expensive drinks on the menu, but when it arrived, the 3 of us did a collective "WOW". As you can see, the glass is really big. It also came with a dollop of chocolate ice-cream, which was a pleasant surprise. The first few sips were really refreshing and quenched my parched throat. After I had time to cool down, I realised that the drink could have been better made. There was a layer of undissolved sugar laying at the bottom of the drink. Also, I would have preferred a more intense chocolate flavour. Hope they manage to improve the drink the next time I'm here.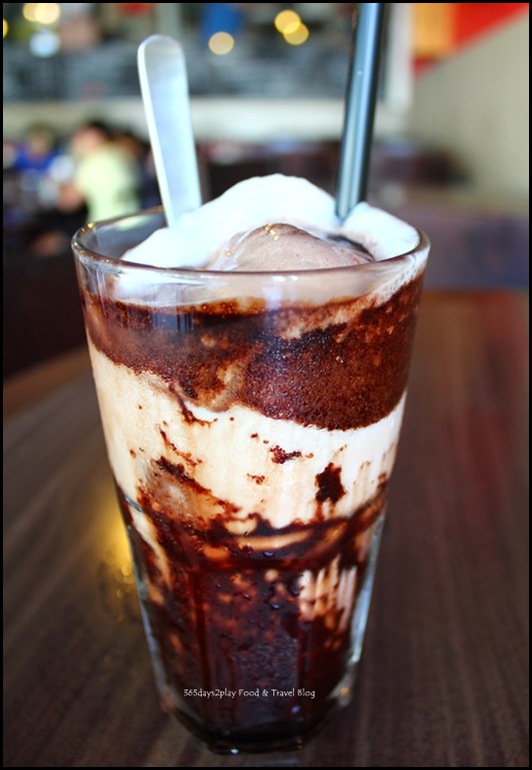 Another look at the humongous iced-chocolate.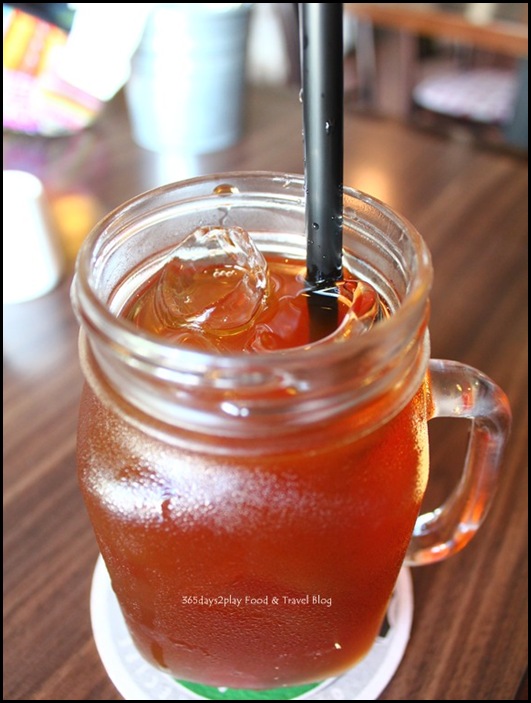 Iced Tea $3.50 with peach lychee flavour $1
The Partner ordered this Ice tea, made from the Gryphon Tea brand, and it was extremely refreshing. In fact, I liked this even more than my hot chocolate! The Peach Lychee flavouring added a nice hint of fruitiness without being overwhelming. Most importantly, the ice tea was not overly sweet, something that many iced teas are apt to be. A definite must order on a balmy day!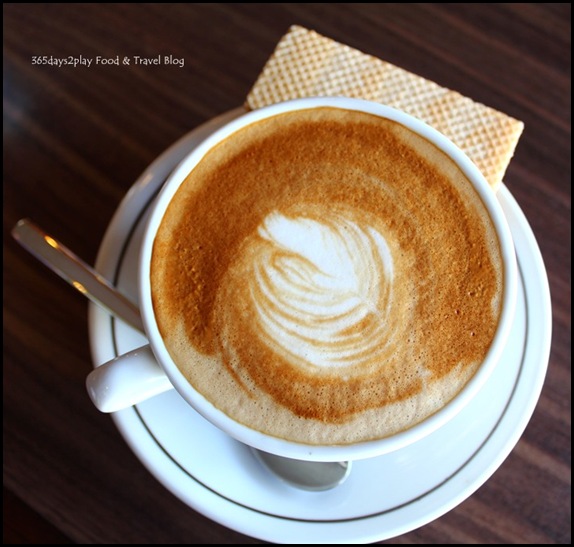 Cafe Latte $4
And last but not least, the cafe latte that the BFF ordered. I have no idea how he can down this hot drink, but he sure finished it. You can read all about his review here. I've never seen a wafer biscuit served with latte before, but I guess nobody says it can't be done.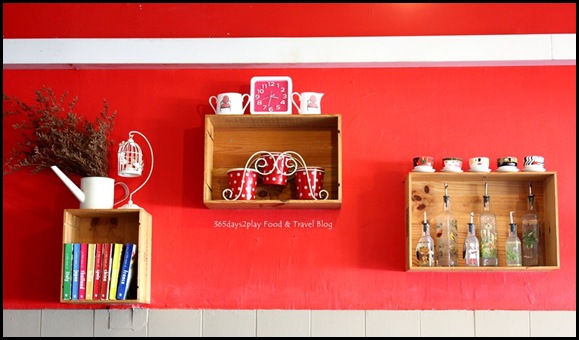 The red hues and little cabinets make the cafe look cheery and inviting.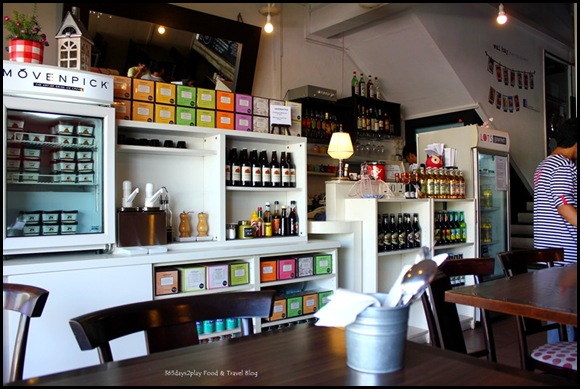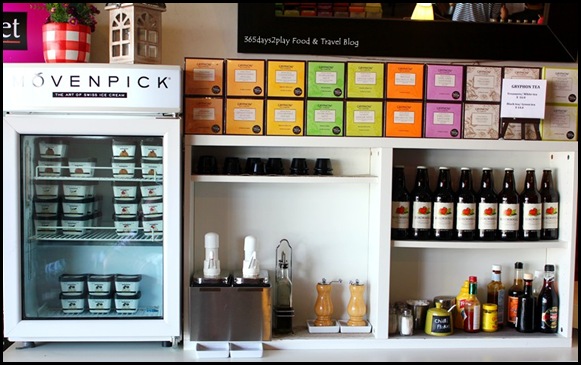 Gryphon Tea and Movenpick ice cream served here. However, the ice cream in my iced chocolate was from Nestle.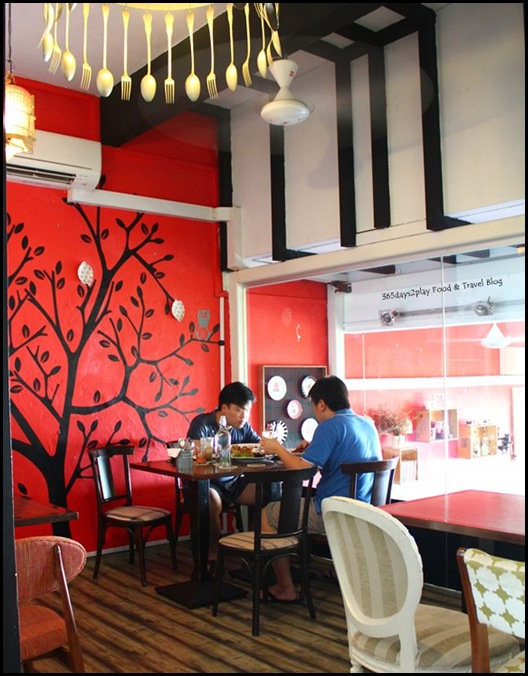 If you make a reservation, you might just be able to snag a place in the coveted air-conditioned balcony area. It would make a lovely spot to chill out and look down at all the guests, in more ways than one.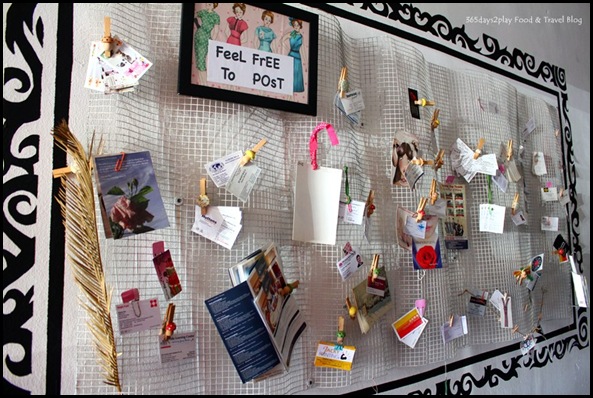 Love this board of sorts where patrons are invited to leave their calling cards.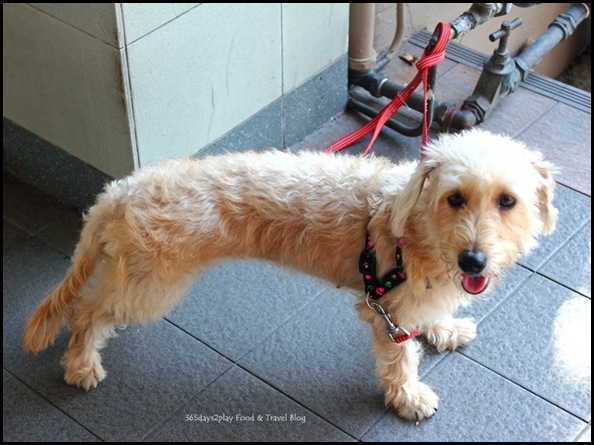 Curious dog from the neighbouring unit it seems.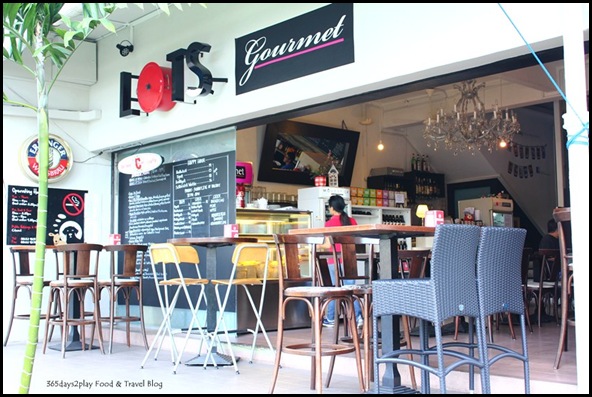 For those looking to have a complete meal, Lots Gourmet Stop serves burgers, sandwiches, wraps and melts in addition to the usual mains like pastas, green curry, steak and fish & chips ($14 — $20).They also have a very value for money weekday lunch set going for $15, but I guess this would only be for those living in the vicinity as there are hardly any offices nearby unless you count the Singapore Prison or the visitors to the Changi Museum.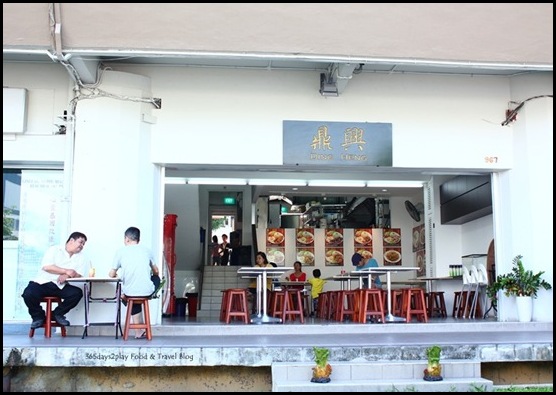 Another eatery selling mixed rice type meals at Changi Garden
We managed to park at the side road on the right side of Changi Garden, but the paid parking is actually behind Changi Garden itself.
Quite happy to have made the acquaintance of Lots Gourmet Stop. I'm always looking out for new cafes in the East of Singapore. Do let me know if you know of any worthy of a visit!
~~~~~~~~~~~~
Add me on Facebook, Instagram and Twitter if you want to be kept up to date with the latest happenings in the food and lifestyle scene in Singapore! Click here for more recommendations of cafes and eateries in the East.
~~~~~~~~~~~~
Lots Gourmet Stop
965A Upper Changi Road North, Singapore, Singapore 507665
Tel : 6633 9651
Tue – Thu: 10:00 am – 4:00 pm
Fri – Sun: 10:00 am – 10:00 pm