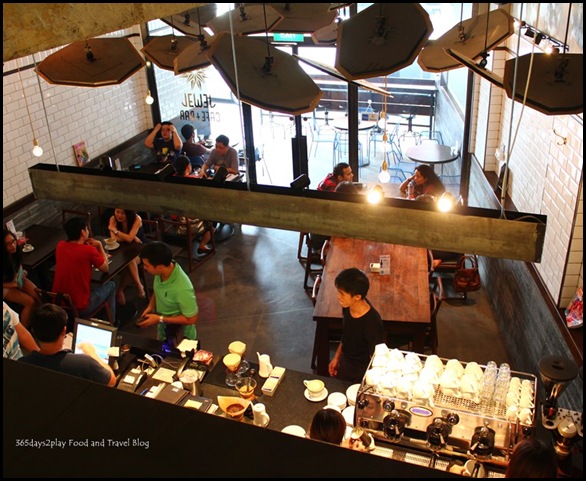 Any fans of Jewel Cafe along Shenton Way out there? Did you know that Jewel Cafe have opened a second branch in Rangoon Road and now serve full-fledged hot meals? I guess Jewel Cafe will always be known for its coffee, thanks to the brightly lit COFFEE sign that greets anyone who drives along Shenton Way. It's kind of subliminal messaging, in a not so subliminal way huh. Unfortunately, parking is a PAIN in Shenton Way, so hooray that they now have this new outlet!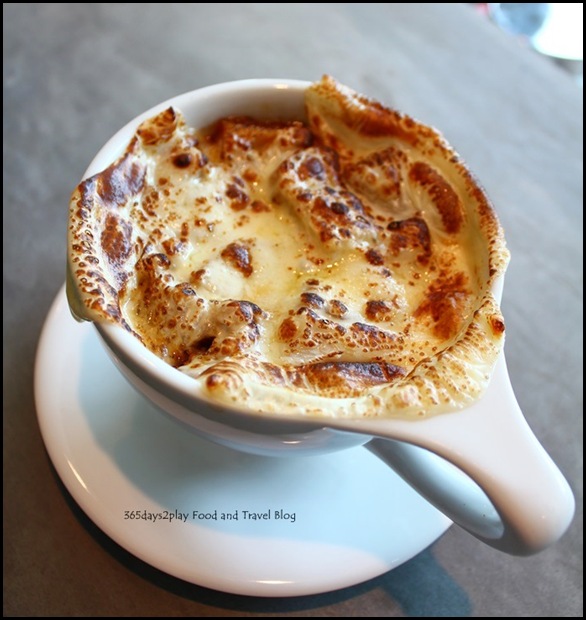 Onion Soup $8
I haven't really been on the look out for onion soup whenever I eat out because I don't normally order soups to begin with. However, my mother was feeling a little under the weather so I thought a nice soupy thing might just be up her alley. When the soup arrived, I was instantly reminded of the fantabulous onion soup I had at the famed Angelina in Versailles in France! Similar to Angelina, Jewel Cafe had a luscious layer of mozzarella cheese covering the soup and keeping the heat in. Under the cheesy goodness was another layer of bread pieces, to soak up the onion soup and to act as the carbo. And of course, underneath the bread was the delectable and piping hot onion soup with shreds and shreds of sweet tasting onions.
How I wish I'd ordered one for myself too but I was forced to relegate the onion soup to my mother after 3 mouthfuls. Return, I must, to Jewel Cafe to try the onion soup, and you can bet your top dollar that I ain't sharing.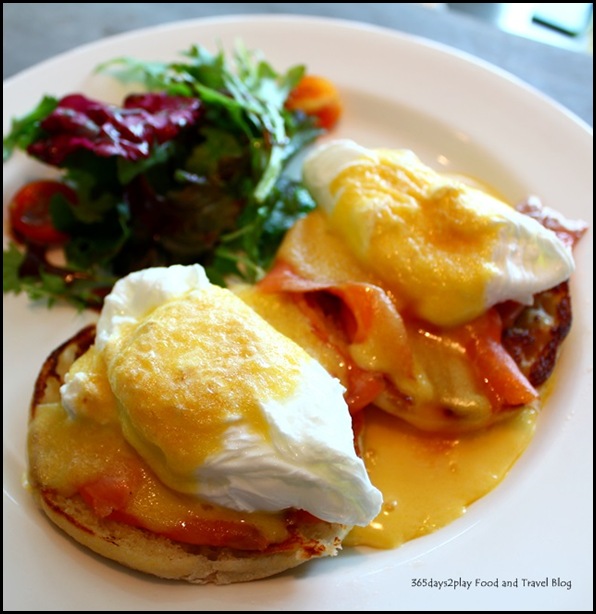 Eggs Royale $14
As usual, my father ordered the Eggs Benedict or its equivalent, in this case, the Eggs Royale. I think he found it quite satisfying, although if you ask me, the eggs look slightly over done, a little shrivelled don't you think?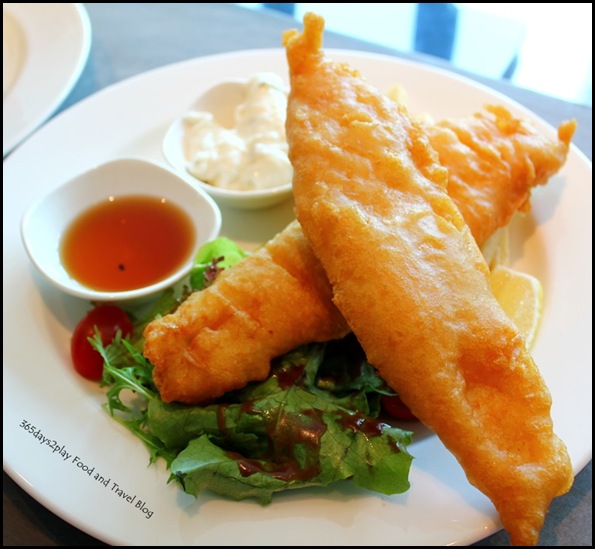 Fish and Chips $22
One of the few places that offers vinegar with the fish and chips, a very British/New Zealand thing. The fish was light and moist, but a little lacking in flavour. It was good that it wasn't greasy tasting. Eaten together with the batter, you won't notice it too much. I normally skip the crispy bits after a while and do a taste test on the fish, you see.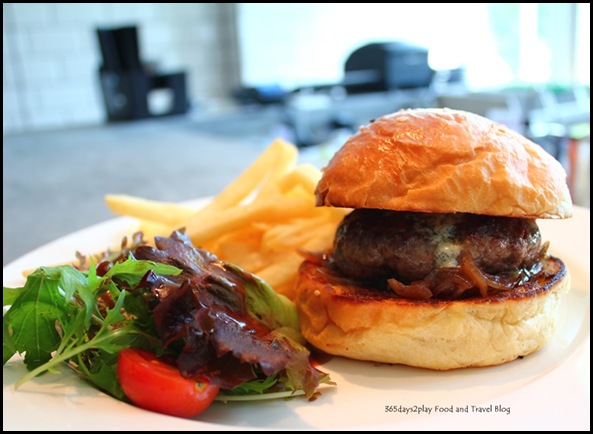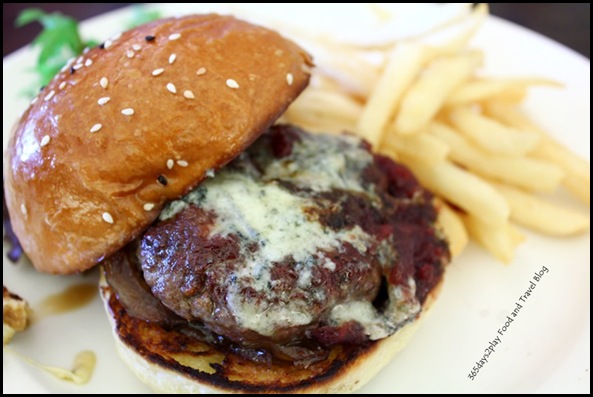 Port & Blue Cheese Burger $20
And lastly, I ordered the Port & Blue Cheese burger. Pardon the not so appetising looking slab of patty there, it's to show you the melted blue cheese that was included in this burger. Fans of blue cheese who want a resounding blue cheese oomph should give this burger a miss. It's for people like me who want just a little kick, without feeling like they consumed a fungal fest. Although I pride myself in being able to enjoy strong tastes, blue cheese is one of the areas I draw a line at, so just a little blue cheese will do just fine, thank you.
The burger in my opinion was a little on the greasy side and the meat was more cooked than I would have liked. I enjoyed the first half of the burger as the taste of the patty went well with the blue cheese. However, towards the end I did start to notice the dryness of the meat.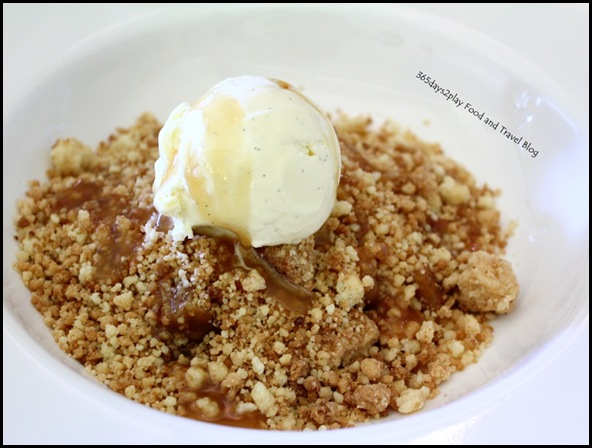 Apple Crumble $9
To end off our meal, we shared an apple crumble. A little pricey for just a plate of crumble (sugar and butter really), but the taste was heavenly! Once again, I wish I'd ordered one for myself! The caramelised apple bits are interspersed together with the crumble such that each mouthful was a delightful blend of sugary goodness. Topped off with the vanilla ice cream, it was a great way to end the meal.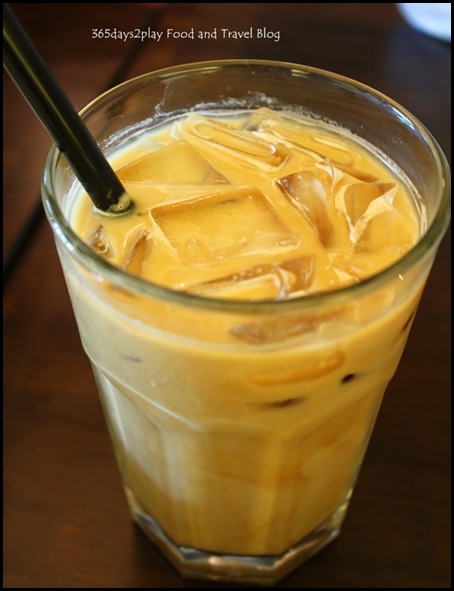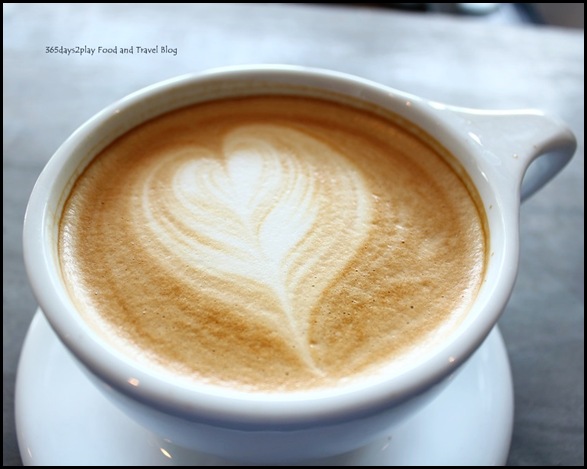 Oh, I forgot we ordered a iced latte $7 and a flat white $6. I think the coffee at Jewel Coffee in Shenton Way is better, and I guess for good reason because there is more focus on the coffee there I feel. Still, it's good coffee don't get me wrong.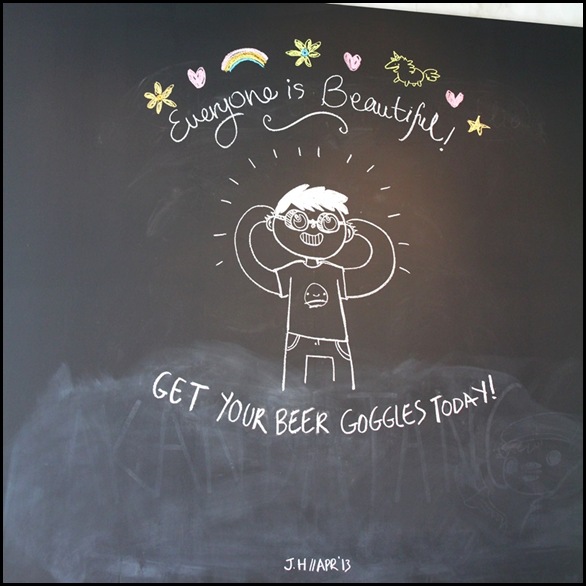 Where can I order one?
~~~~~~~~~
Read more about the latest cafes to open in Singapore.
Add me on Facebook, Instagram and Twitter if you want to be kept up to date with the latest happenings in the food and lifestyle scene in Singapore!
~~~~~~~~~
Jewel Cafe and Bar
129 Rangoon Road, Singapore
Tue – Thu: 9:00 am – 10:00 pm
Fri – Sat: 9:00 am – 12:00 am
Sun: 9:00 am – 10:00 pm
Jewel Cafe and Bar Facebook : https://www.facebook.com/JewelCafeAndBar
Jewel Coffee at Shenton Way : https://365days2play.com/2012/06/18/jewel-coffee-at-shenton-way/