When Paris Baguette first came to Singapore, I visited a few times but concluded that the food was too expensive to visit often. However recently, I discovered they have expanded the variety of items they are selling, some at pretty affordable price points.
The one thing you must try when you go to Paris Baguette is the Best Ever Garlic Bread. Yes that's the name of the bread and it's so good! It's actually a humongous bun stuffed full of creamy garlic cheese spread, semi sliced into 6 wedges. They are really generous with the garlic cheese spread so it's really satisfying eating this. At first glance the bun has an overly oily exterior, but once you sink your teeth into the bun, it's not the oily exterior but the garlicky and slightly sweet cream that will hit you. I love it that the garlic taste is so pronounced. For $4.20, it is totally worth it. Better still, its big enough to share amongst 2 people.
This type of garlic cheese bun is quite popular in Korea and last year I kept seeing it in Singapore's bakeries. But it's not so easy to find it now so I'm really glad that this is a permanent feature at Paris Baguette.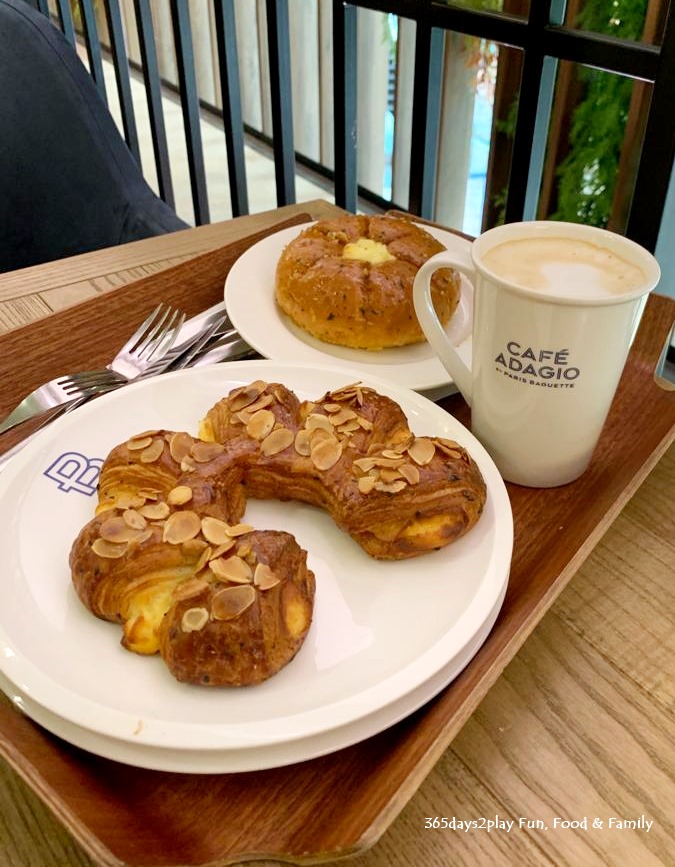 Check out this almond crusted thing that we also ordered. Again I chose something humongous so that it could be easily shared.
They also have a number of interesting takeaway bakes such as the Honey Gorgonzola Cheese Bread. Not bad actually. For one it's probably the only bakery offering a bun stuffed with gorgonzola. I like the mix of the gorgonzola with honey but I could do with more filling though. For the pricing of $2.90, I guess one can't complain since gorgonzola is not cheap.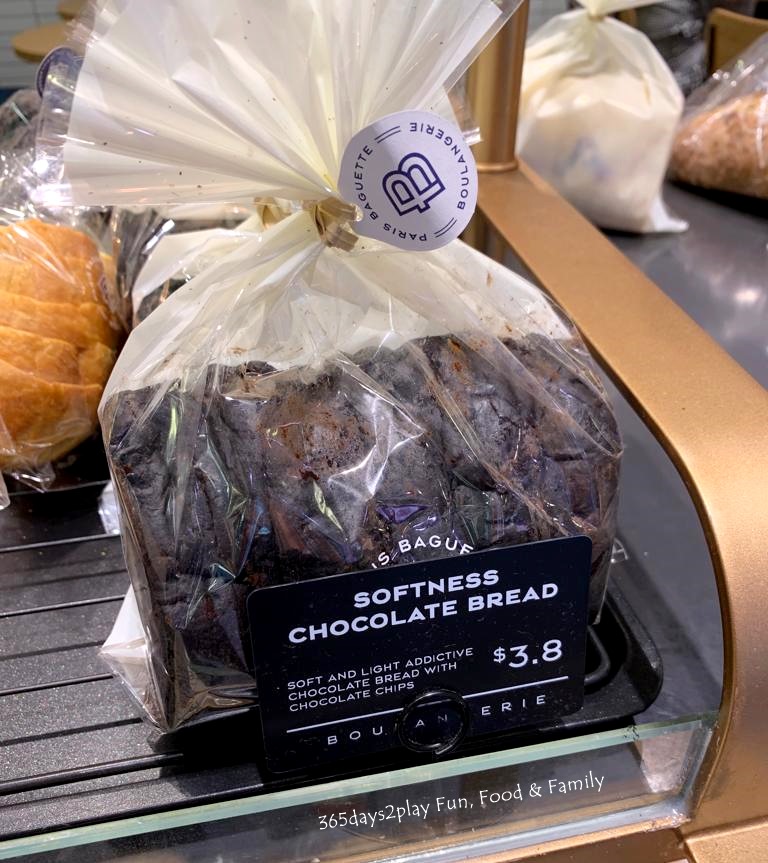 Forget about the chocolate bread though. Despite the dark hue, it really didn't taste much of chocolate.
The Milk Cream Chocolate Ice is worth a try if you don't mind the pricing of $8.40. It's more expensive (the most expensive drink on the menu!) than usual because they top it with a milk pudding thing. But taste wise, it just feels like any other normal iced chocolate. So I guess I'll stick to a cheaper drink the next time round.
Here's a pro tip but don't tell anyone about it. If you want an affordable cafe to get some work done you can go to Paris Baguette and get one of the huge pastries for only $4+. Much more affordable than getting a slice of cake elsewhere that can cost close to $10 these days thanks to inflation!