I was suddenly made aware that I have a truckload of flour still in my possession after the last supermarket shopping spree. I can never stop myself from buying baking items that are on discount. Trouble is, I tend to go on these shopping sprees towards the end of my baking mood period (when the supplies are running low), and by the time I have purchased the goods, I'm out of the baking mood! I've probably chucked out more expired flour in all these years, than the savings I've made buying them on discount!
Anyway, thankfully, I'm back in my baking mood again, and just in time too. I've got like 5kgs worth of whole wheat flour to use up! The fastest way is to bake a cake, as that uses the most amount of flour at one go (not to mention butter and sugar…)
I chanced upon this lovely recipe for Honey Whole Wheat Pound Cake from Joy the Baker and decided to do just that, with some modification. I'm pretty glad to say that despite my initial fears, for whole wheat products can turn out to be so different from white flour, the cake is pretty darn good! I can't even tell that the cake has been made with whole wheat flour! It just has a more "loafy" and nutty texture, which I'm sure you must have come across even with white flour. This is delicious cake that is HEALTHY, can you believe that????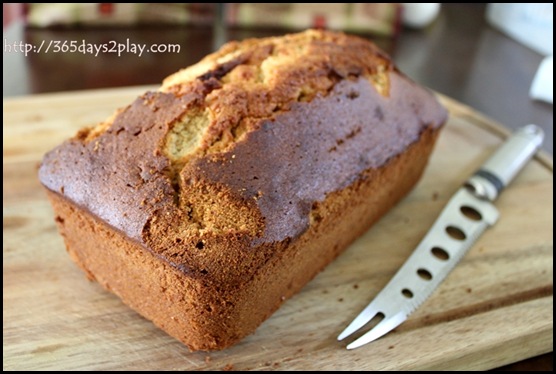 I had to slice off the burnt bits, hence the uneven top…
Ingredients:-
2 1/4 cups whole wheat flour or whole wheat pastry flour (I used 2 cups wholewheat, and 1/4 cup white cake flour)
1 teaspoons baking powder
3/4 teaspoon salt
170gm butter
1 cup sugar
1/2 cup honey
2 teaspoons vanilla extract
3 large eggs (separated)
1 cup buttermilk (I used 3/4 cup milk)
Instructions (all done by hand as I hate having to wash the electric mixer):-
1. Whisk the flour, baking powder and salt together in a small bowl and set aside.
2. In another bowl, whip butter, sugar and honey until light in colour and fluffy. Stir in the vanilla extract and egg yolks. Give it a few more good beats.
3. Add the dry ingredients from step 1 and the buttermilk into the butter sugar mixture, in parts. Mix lightly each time.
4. In a 3rd bowl, whip your egg whites until you see soft peaks. (Skip this step if you want a denser cake) Fold them into the mixture from step 3. Do not beat.
5. Transfer your batter to an oiled loaf tin and pop it into a preheated oven of 180 degrees celcius. I used a 11x22cm loaf tin and the batter was filled nearly to the brim. If you have a slightly bigger tin, use that.
6. Bake for approximately 1 hour. Be careful not to burn the top especially if you've used a smaller loaf tin.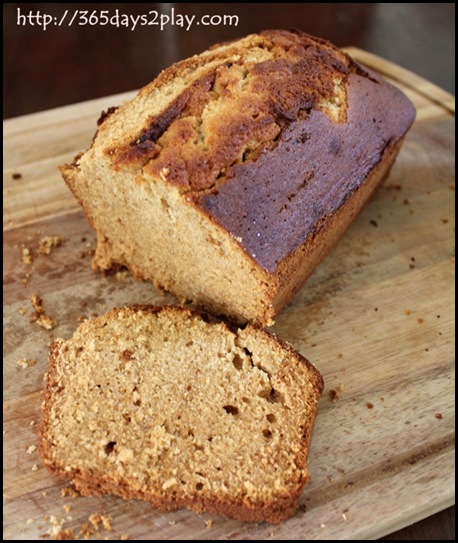 And voila, the fruits of my labour!
The cake has a loafy texture akin to banana bread. It isn't a rich and moist type of cake so don't be expecting that. If you want to turn it into a decadent type of cake, I suppose putting chocolate ganache or frosting would help loads. But for me, if I want a decadent and rich cake, I'll make a decadent and rich cake. This cake suits me fine for days when you just want some cake, without feeling like you've sinned a lot. Goes really well with a glass of cold milk too!