I've always liked the idea of going to Marmalade Pantry. Although I feel the menu is somewhat overpriced, and the service can sometimes be horrendous, I still like dining here once in a while. Dining at Marmalade Pantry gives me the "on holiday" feeling and it always feels a treat to come here, even though it's just a casual restaurant. Maybe it's the menu (Weekend Brunch Menu, Food Menu, Beverage Menu). They have a lot of all day breakfast/ brunch selections. And they also have a good selection of cakes, tarts and puddings, which they place prominently at the entrance of the cafe! Is it any wonder why you almost always have to line up like 1/2 hour before you get your seat?
Eggs any style $18 — I chose scrambled eggs, with grilled English sausage, sauteed mushrooms, roasted tomatoes, home made baked beans and whole wheat toast. Can you see the ripples in the scrambled eggs. The texture was just right, firm yet somehow oozing with creamy goodness, although a little bit more salt would not be a sin. The sausages were a little salty on their own, but when eaten together with the scrambled eggs, they were a match made in heaven! The baked beans were also very good and I just love baked beans, even the Heinz ones from a can.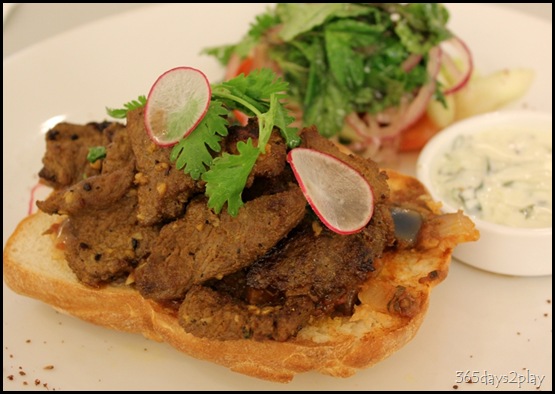 Spiced Grilled Lamb Sandwich $21 — With iman biyaldi (don't ask me what this is), mint and radish on garlic flatbread. The dip was really nice, and the spices in the lamb were flavourful. The meat itself was tough and dry which was a pity. It would just be perfect if not for the dryness of the meat.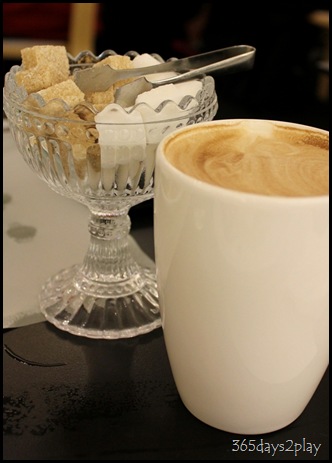 Cafe Latte $7 — Expensive for a latte, but I'll close an eye given the size of the cup. Pretty good. Smooth and strong but not as good as my favourite coffee places such as 40 Hands, Papa Palheta, The Plain and Chef Icon Nature Bakery.
The Marmalade Pantry – good things to eat
Unit 03-22 Orchard Ion
2 Orchard Turn Singapore 238801
bistro & shop operating hours
monday to sunday 10am to 10pm
telephone 6734 2700
facsimile 6734 2279
tmp@marmaladegroup.com