Calling all you football fans. It's already time for you to plan for FIFA WORLD CUP BRAZIL 2014!
This is no quick weekend to Bangkok or KL. This takes planning! Ticket bookings are available already with the prices; just click here. That's right, it's only a year away. Get ready to travel, cheer, celebrate and samba; or cry if your team loses.
After a wait of 64 years the World Cup is returning to the most victorious nation in World Cup history. Who's your favourite team? England? Japan? Honduras? Even if your team is not there just choose any one of the great teams that have already qualified and cheer them on.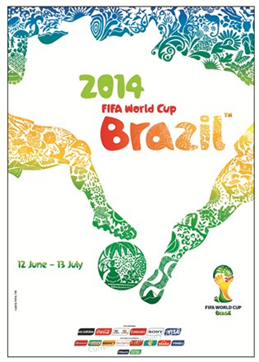 Can Brazil taste victory on their home soil or will they crack under the immense pressure of an expectant nation? Will Argentina steal their show and break their hearts? Can England defy the critics and win for just the second time? Imagine a Brazil/Argentina final with Messi and Neymar against each other! To see this live, it can only happen at the World Cup. You would know what I mean if you are a football fan.

If you're a fan of the English Premier League this will be the last world cup for the likes of Steven Gerrard, Frank Lampard and Ashley Cole (although Cole does seem to never age). What are their chances? Quarter finals is as far as I expect. They have a decent squad but in my mind they just lack enough match winners.
Or perhaps you prefer the Bundesliga. Remember the verve and skill Germany produced in South Africa? Now the team is more matured. Can they go all the way this time? So close at the last World Cup and also at the Euros. I believe they will be tough to beat but of course, no European team has won the World Cup in South America.

Spain will once again be among the favourites but no team has defended their title since Brazil did so in 1962! They've got good depth and plenty of match winners. I also think they will be tough to beat but not good enough.
Argentina? They've played well in their qualifiers and will be a threat. But for my mind, if I had to bet on one team I would go for Brazil. Under Scolari they have become more cohesive and if the home support lifts the team they will be unstoppable.
More than 3 million people attended the last World Cup in South Africa, did you? It only comes around once every 4 years. If you have no money you have to wait until 2018 in Russia!! Just in case you want to read more about the World Cup, you can find out more here http://en.wikipedia.org/wiki/2014_FIFA_World_Cup.
~~Written by The Partner~~