The Partner and I were invited to a French culinary masterclass conducted by Masterchef Christophe Grilo at Nourish Studios and hosted by Dettol.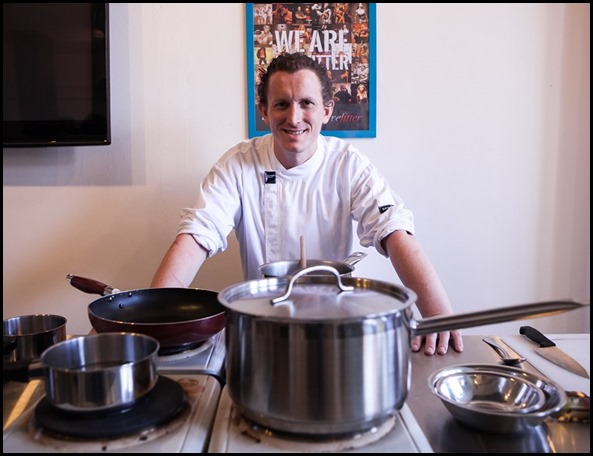 Bonjour Masterchef Christophe Grilo. He also runs his own business Bakery Artisan Original.
Like us I'm sure you're wondering "huh, cooking with Dettol?" No, Dettol is not moving into the grocery business or opening restaurants. Instead, Dettol wants to highlight the importance of kitchen hygiene and how their products can help to keep your kitchen clean. I've never really viewed Dettol as being particularly important in the kitchen arena, because to me, Dettol is about disinfecting toilets or soaps for scrubbing bodies. It was good to attend this event to find out what other products Dettol has up their sleeves.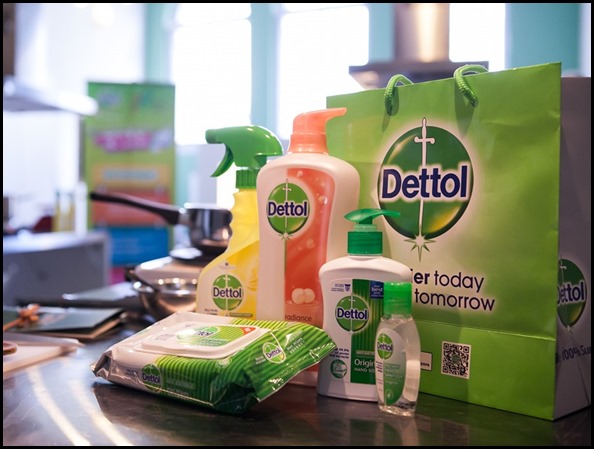 All your favourite Dettol products.
Sometimes when we prepare meals we can have unwanted visitors that take days to get over. No, I'm not talking about uninvited relatives, I'm talking about E.coli, salmonella and other bacteria. Every year millions of people around the world poison themselves unnecessarily due to poor kitchen hygiene.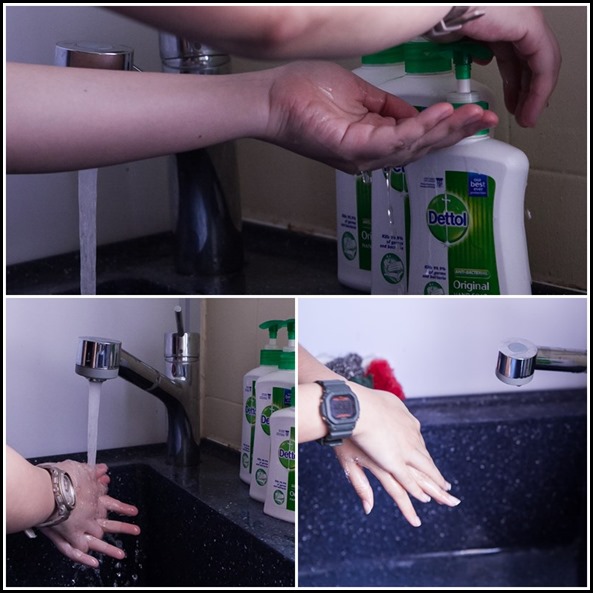 In addition to the palms and fingertips, make sure you clean between the fingers, under the nails and the back of your hands too.
Dettol cleaners and wipes can kill 99% of all household germs. You can do a quick spray and wipe on kitchen surfaces before food preparation. Kitchen wipes can be used to quickly sanitise hands, utensils and surfaces. If you're away from the kitchen and don't have accessible running water and soap then hand sanitisers in the small bottles are convenient to use. This is especially true for travellers. Don't want to get sick during your dream holiday, do you?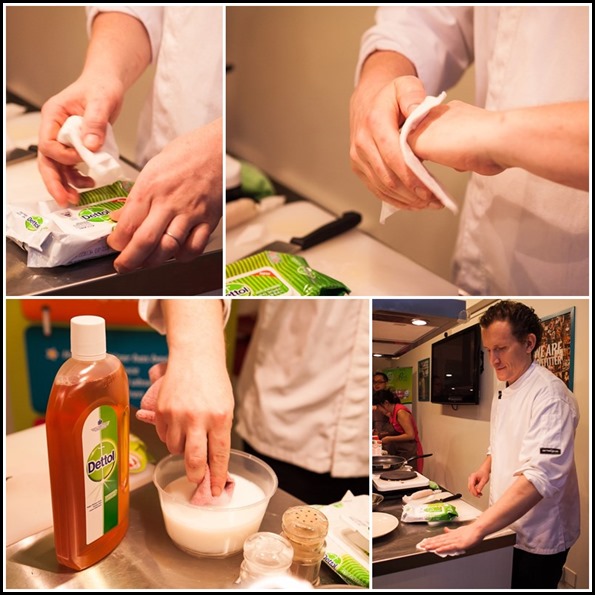 Wet wipes can be used to clean hands after touching raw food, or to clean the tables. You can also create your own "wet wipes".
Now after sharing with you some hygiene tips with the help of Dettol, let's proceed on to the cooking! Chef Grilo took us through the preparation of the 3 courses:
1. Seasonal Vegetable Tartine
2. Free Range Chicken Roulade with Potato Onion Terrine
3. Chocolate Mousse and Crostini
The salad was easy to make and you can all do this at home. I find it amazing when people tell me they want to eat a healthier diet but don't have time. A salad can be whipped up in less than 5 minutes. Chef showed us an easy but tasty vinaigrette that has just a few ingredients and takes less than 2 minutes!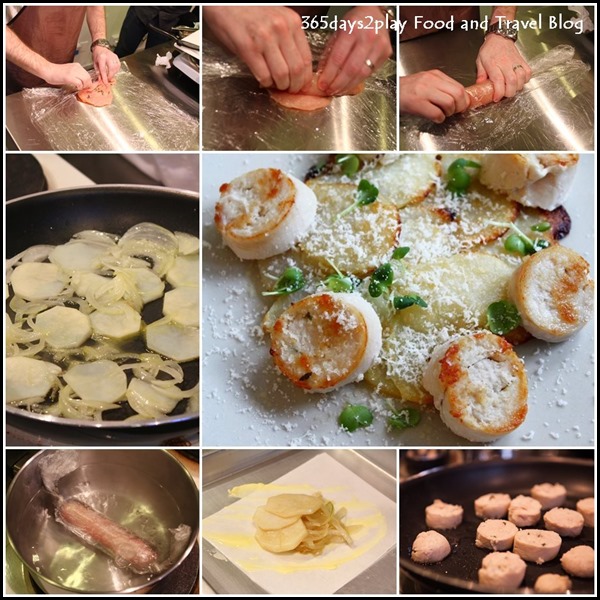 The main course was Chicken Roulade. This is my first time cooking something in plastic. Chef explained that although meat should not be left out for long periods it is still important to bring meats out of the fridge before cooking to enable it to warm to room temperature. This allows for more even cooking. I confess it felt odd to wrap the chicken breast in plastic and pop it into the pot of very hot water. The idea is to gently cook the chicken at a low temperature to ensure the finished dish is tender and moist. I've always like chicken breast but I know most Singaporean's don't like it as too often when they have tried it the meat has been overcooked. Once the chicken was in the pot the water was kept hot but not boiling for 10 minutes. Chef said you can also cook the chicken breast by placing it in hot water and then turning the heat off completely. The chicken will gently cook in 20 minutes.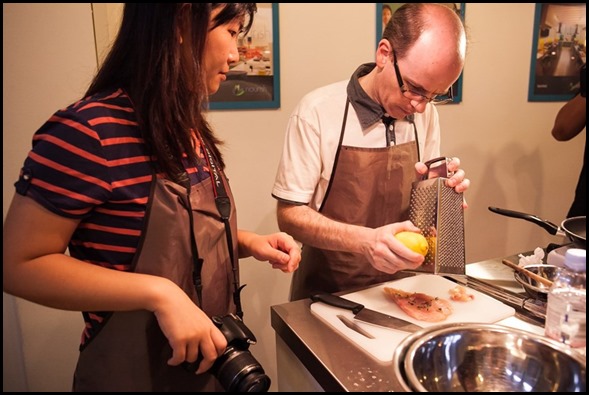 In case you were wondering who was doing the cooking… 365days2play was doing the supervising.
We had to leave before the Chocolate dessert was made, so no pictures or write up on that unfortunately.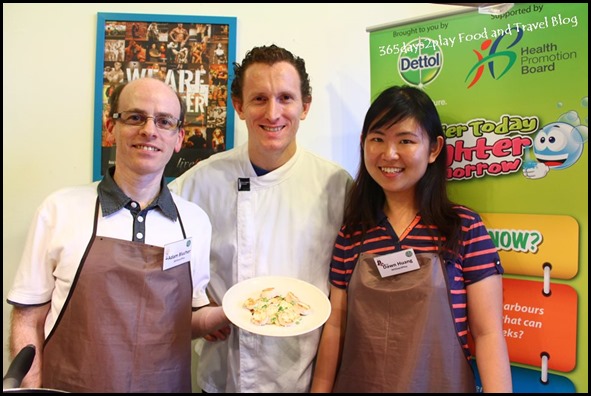 The Partner and I with Masterchef Christophe Grilo. He's smiling so I guess he was happy with our cooking skills.
So I hope this post helps you out in the kitchen. Let Dettol take care of the unwanted E.coli while your good cooking takes care of the uninvited relatives.
*Text provided by The Partner
*Photos courtesy of 365days2play and Dettol
---
Add me on Facebook, Instagram and Twitter if you want to be kept up to date with the latest happenings in the food and lifestyle scene in Singapore!
---