You must visit Bollywood Veggies if you are planning to visit the Kranji Countryside in Singapore. Yes, if you didn't know, we do have a "countryside" of sorts, a tiny haven for those who wish to escape the materialistic city, even if for a while. Even though this area is nothing compared to the vast farmlands in Malaysia and other countries, because it's Singapore's very own, the idea of exploring Kranji Countryside makes you feel like you're on an adventure!
Bollywood Veggies is a mini farm with bistro, run by Ivy Singh-Lim, the current President of Kranji Countryside Association, and her husband Lim Ho Seng. It's really an iconic place to visit. Ivy is very vocal with her thoughts on some of the government's policies, and the place is dotted with interesting questions that every ought to ask. My colleagues and I were there to check out the Poison Ivy bistro located onsite, but we couldn't resist taking a quick tour of the vegetable farm before returning to our cubicles at the office.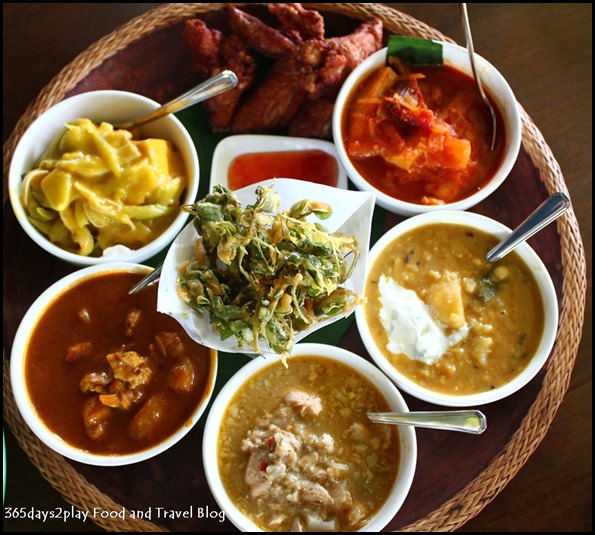 The Warrior's Platter $40 -  It's basically all the dishes of the day plus rice. We were served banana Curry, Chicken Wings, Assam Fish, Tofu Lemak, Spiced Yellow Lentils, Chicken in coconut, and moringa tempura right in the centre.
The menu isn't extensive, but the ingredients are largely sourced from the farm itself. I really love the idea of eating locally sourced, hopefully organic, foods and food that is prepared with love. At the Poison Ivy Bistro, "SALT" is a dirty 4 letter word. So really, it's worth the trip all the way to Kranji to taste some of these home-style dishes.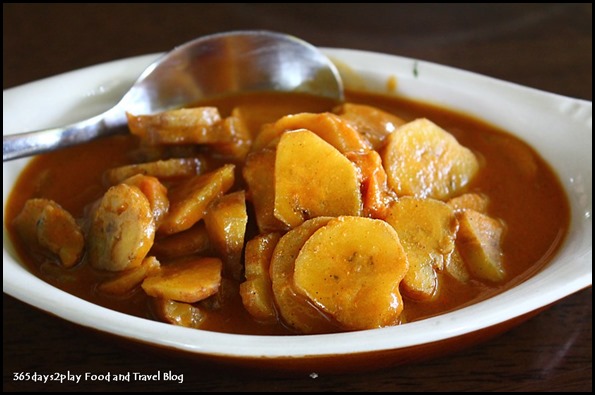 We ordered additional banana curry because we forgot that it is included in the Warrior's platter. It's an interesting flavour, not my favourite dish I have to admit. Only $5!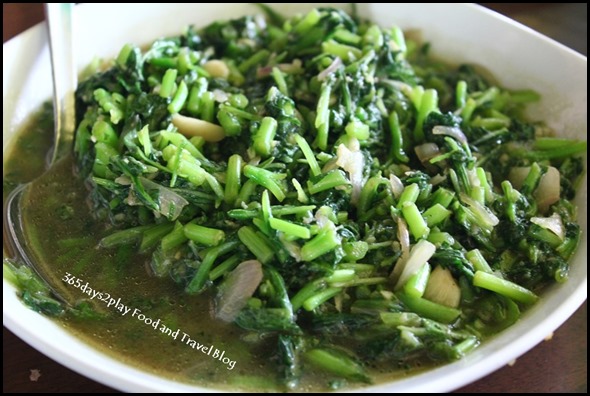 Spinach $8
We also added spinach to our Warrior's Platter. I liked this a lot! just a simple dish but prepared like how my grandmother used to do it!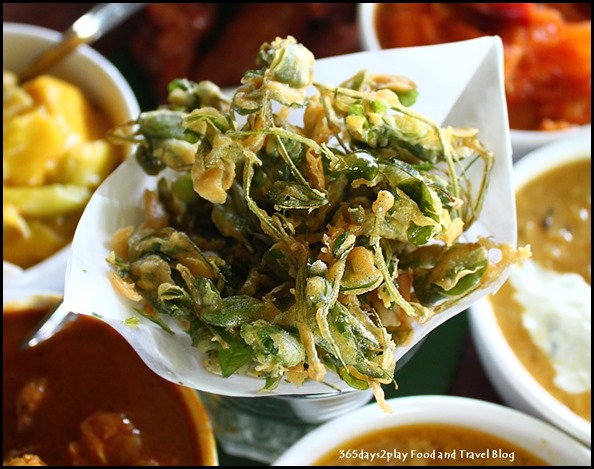 Closer look at the moringa tempura. Darn addictive. There wasn't a single person who didn't like this. Moringa is native to Africa and Asia, and apparently the leaves are rich in protein, vitamin A, vitamin B, vitamin C and minerals.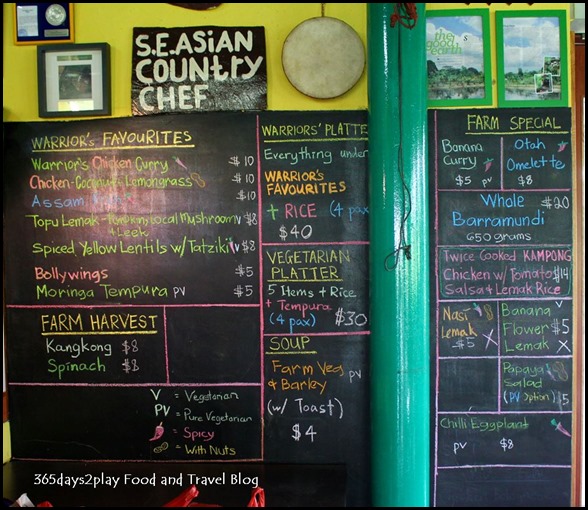 The Bollywood Veggies Poison Ivy Bistro Menu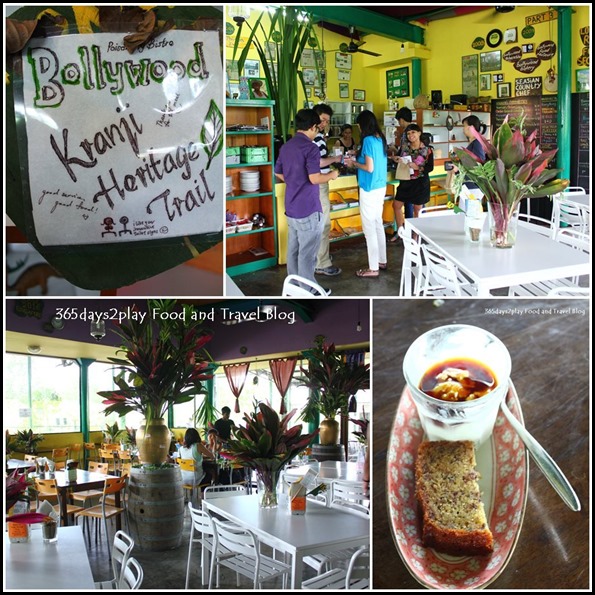 Banana cake which one of my colleagues ordered, didn't try it.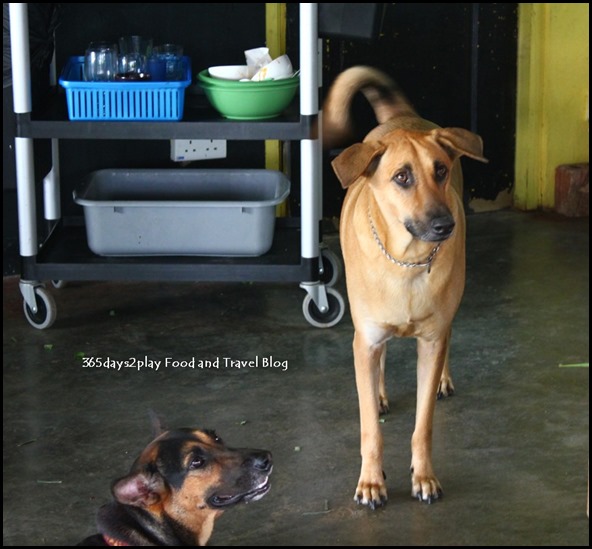 Dogs are free roaming within the bistro itself. They are friendly and yearning for attention!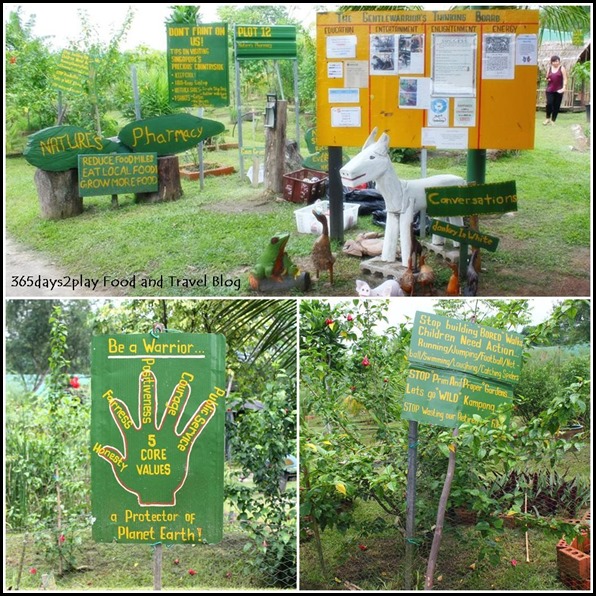 Click into the picture to see the admonitions from Ivy! The signs are pretty funny and you can find them all over the place! Quite fun to go and spot them all.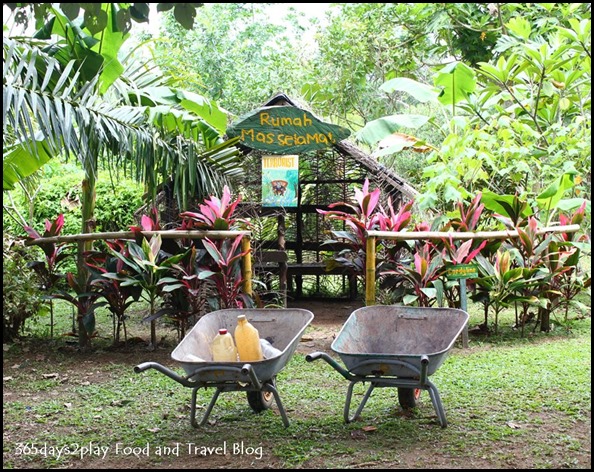 This was where Mas Selamat was hiding before he was caught….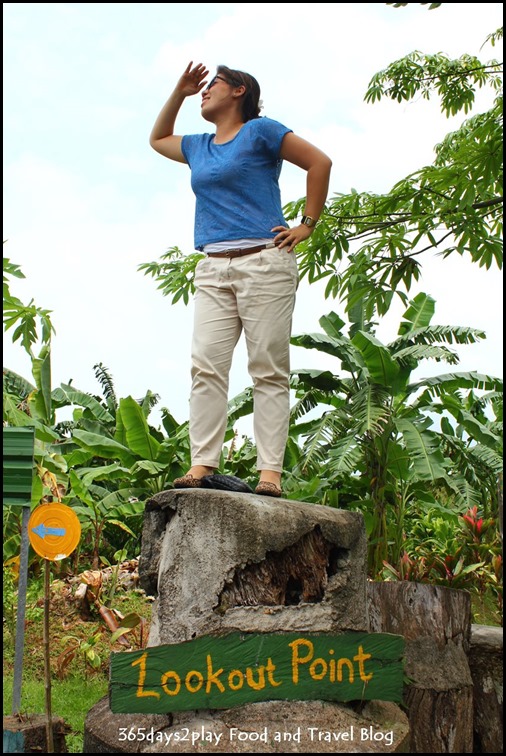 My colleague gamely acting the part. Guess she doesn't know this picture is going to appear on the internet for all to see….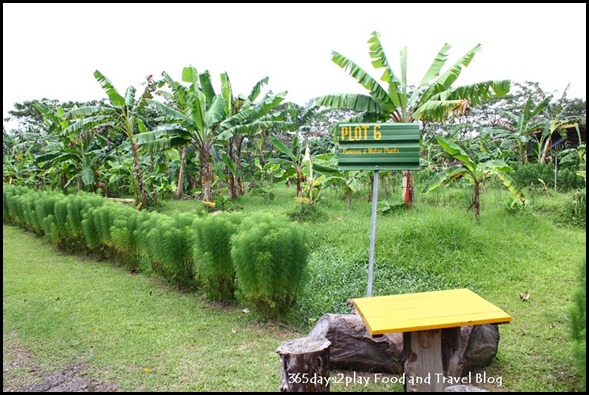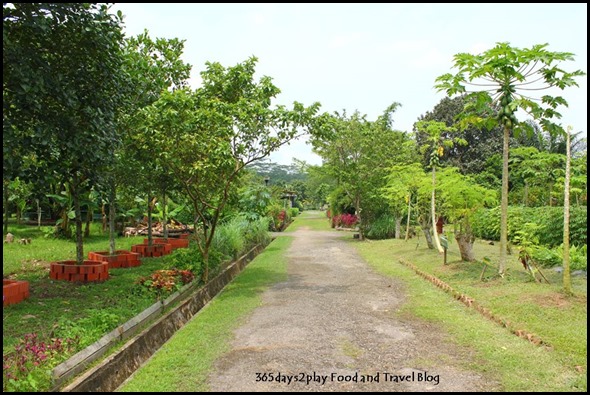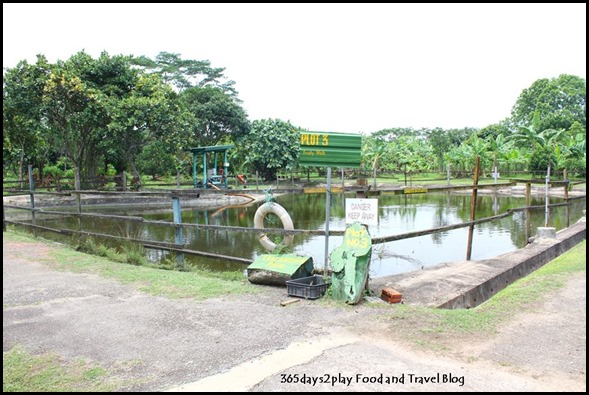 You know what this is right? That humongous flower is the banana flower and above it are the combs of bananas! There are a gazillion varieties of bananas but it is a pity that we only get the generic ones at the supermarket. I wish we could get bananas of different varieties, just like we used to be able to do so at the provision store or wet market. They're way tastier than the Del Monte version.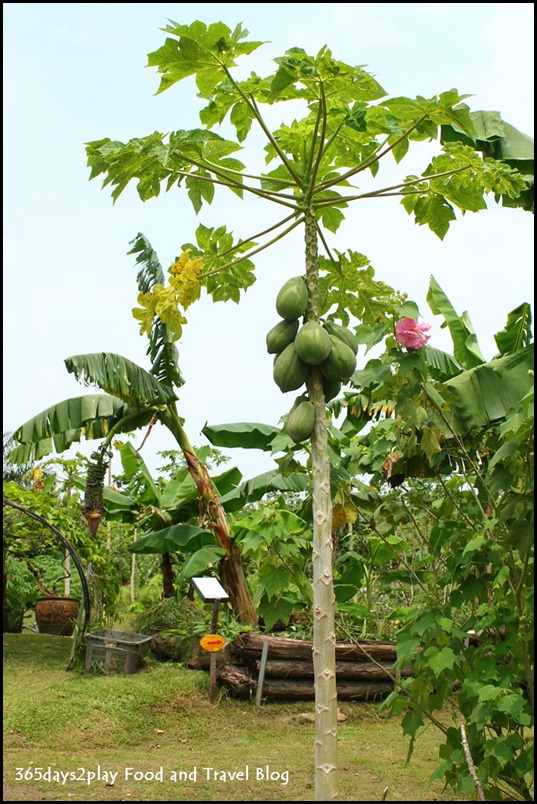 No prizes for guessing this is a papaya tree. They seem to be able to grow anywhere and they take up so little space. I have a good mind to plant one in a huge flower pot! Free papayas!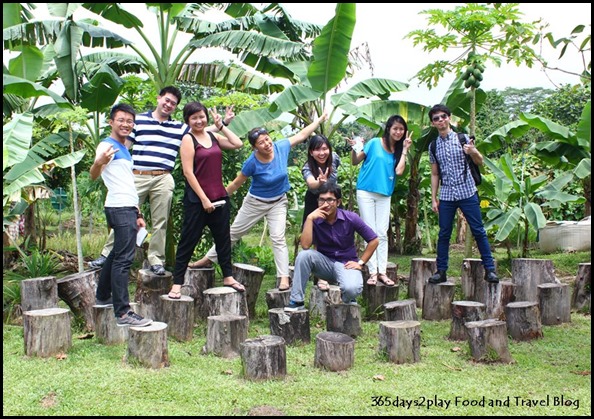 That's a photo of us, to commemorate our trip to Bollywood Veggies! Spot me in the picture! If you have the time you should definitely check out Bollywood Veggies! Good to "detox" from concrete structures once in a while.
---
Read about GardenAsia and Cafe Bistro, also located at Kranji Countryside.
Add me on Facebook, Instagram and Twitter if you want to be kept up to date with the latest happenings in the food and lifestyle scene in Singapore!
---
Bollywood Veggies Singapore
100 Neo Tiew Road,
Singapore 719026 (Kranji)
Tel : +65 6898 2013
Wed to Sun & Pub.Holidays from 9 am to 6.30pm
Dinner is not available as they close at 6.30pm
Shuttle Bus to Bollywood Veggies
Driving Directions : http://www.gothere.sg/maps#q:100%20neo%20tiew%20road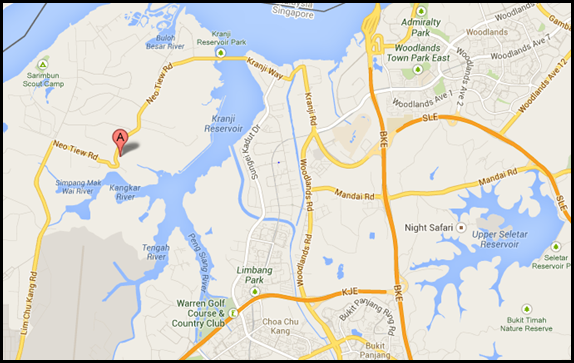 "A" marks the spot of where Bollywood Veggies is on the map.