It's no secret that I love dining at fine-dining restaurants, I love the effort the chef displays in every dish that is presented, I love the attentive service and ambience, I love how the 3 hour meal feels like a long luxurious session perfect for catching up with the Partner. I what I do hate though, is the bill after the meal! Sometimes it's expensive enough to shock you into indigestion straight away!
But now, with the Amex Platinum Card, you can enjoy up to 50% discount when you dine at many of Singapore's illustrious restaurants. Take for example our visit to JAAN at Swissotel, the bill was a whopping $400+, but with the Amex Platinum Card, we only paid half the price.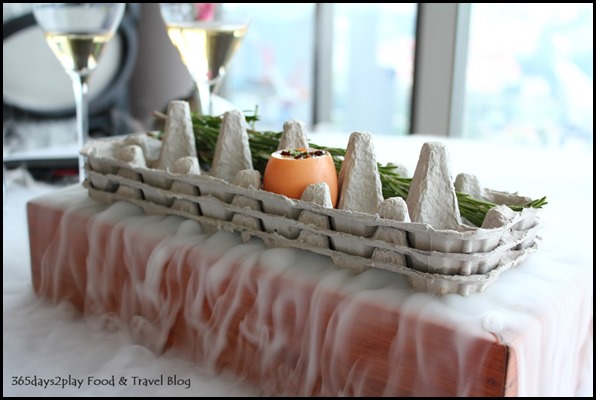 ---
---
Here's what the American Express Platinum Card offers you
A complimentary Palate membership* worth S$457.96 (incl. GST)

Get up to 50% savings on food orders* at some of the best restaurants in Singapore
Enjoy 15% savings on drinks* at some of the island's trendiest bars.

A complimentary The Far Card Classic Membership worth S$425 (incl. GST)

Enjoy year-round savings of up to 50% on dining for unlimited visits at your choice of 11 restaurants at Fairmont Singapore, Swissí´tel the Stamford Singapore, Equinox Complex and Swissí´tel Merchant Court.
Revel in the accommodation benefits by free room upgrades and special room rates
Enjoy 15% off a la carte bookings of spa treatments from Mondays to Fridays at Willow Stream Spa at Fairmont Singapore and Spa & Sport at Swissí´tel Merchant Court

American Express Selects® – Enjoy up to 50% savings* with American Express Selects at a wide selection of restaurants in Singapore and around the world.
And that's just the dining privileges! There are also movie discounts, spa discounts, golfing and shopping privileges!
Lucky Draw Promotion (exclusively for Platinum Card Members): From now till 9 Nov 2014, you can also be one of the 5 lucky winners every day to win S$100 worth of dining vouchers (TungLok dining vouchers for Monday to Saturday draws and Fairmont dining vouchers for Sunday draws). Every receipt above S$50 earns you one chance to win.  Enjoy double the chances when you spend S$50 or more in a single receipt at any The Far Card or Palate establishment.
---
Anyway, the proof is in the eating so let's get down to the experience we had at JAAN. JAAN is a lovely restaurant helmed by Chef Julien Royer. Being on the top floor of the Swissotel, it's a really nice place to have a romantic dinner or an important birthday celebration. Derived from the ancient Sanskrit word for bowl', JAAN is an intimate, 40-seat restaurant dedicated to showcasing the finest in Artisanal French cuisine in Singapore.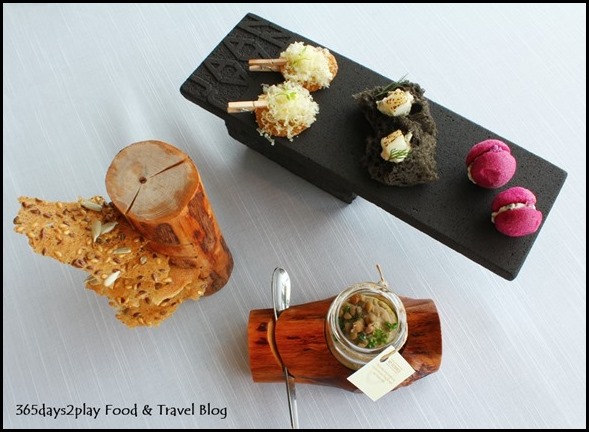 Cantal and Walnut Cracker, Black sesame sponge with Smoked Eel, Beetroot macaron
The Amuse bouche, or several of them to be exact, to kick start the meal. Absolutely loved those cheese crackers and mini macarons.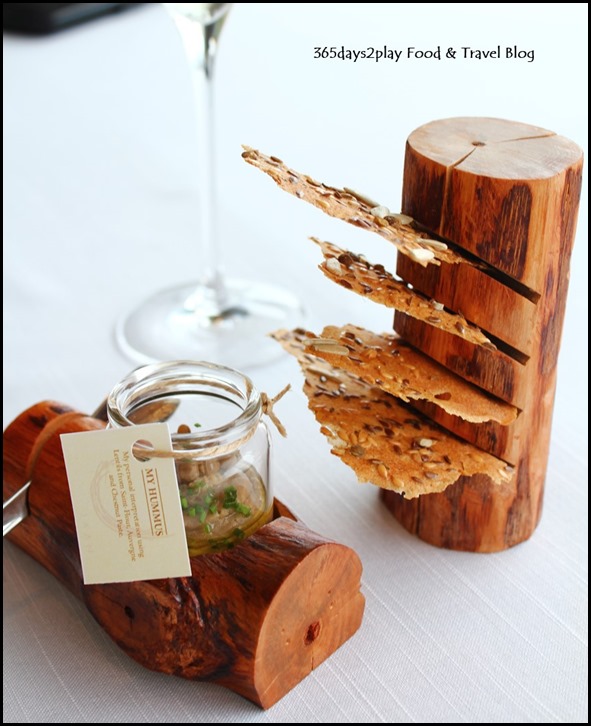 Lentil Hummus, Cereals Tuiles
This hummus is Chef Julien's personal interpretation of the dish, and it's made using lentils from Saint Flour in his home region of Auvergne!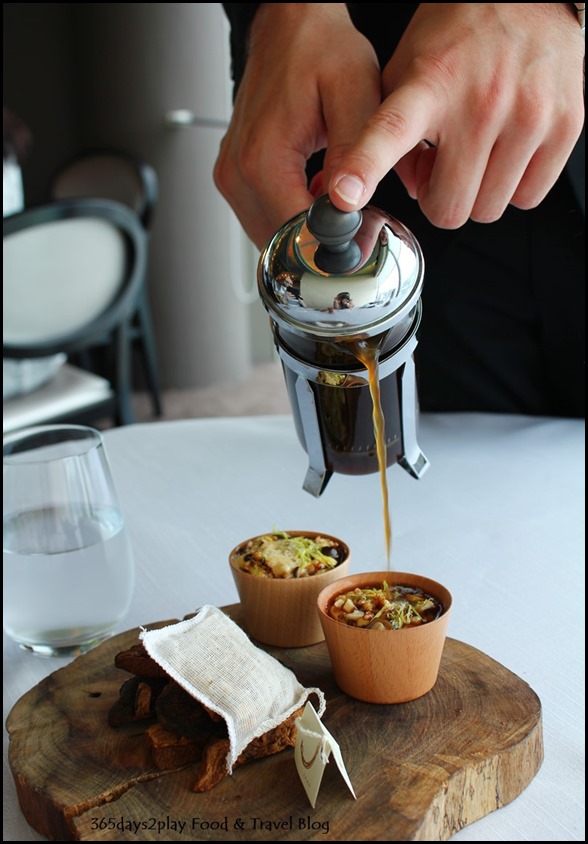 Mushroom Tea, Cep Sabayon
We are still at the amuse bouche dishes! The Cep Sabayon Mushroom Tea is brewed and poured into espresso cups with portobello mushroom discs, lovage oil and diced walnuts for a warming and homely experience. I love the crunchy bits that goes into the mushroom tea.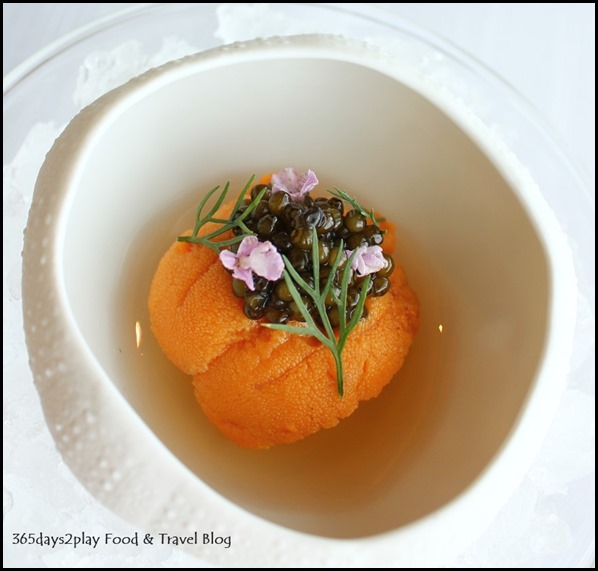 Hokkaido Sea Urchin with obsiblue prawn, daikon kaluga queen caviar
Sea Urchin, plated so exquisitely, needs no further description if you've tasted fresh ones before. I tried to take really small bites to prolong the pleasure.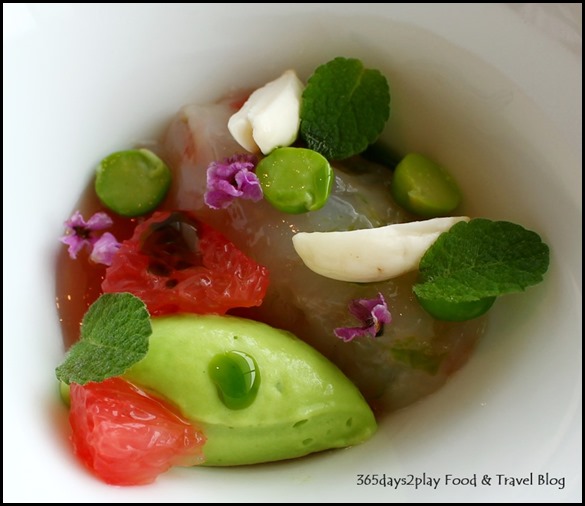 Wild Langoustine with grapefruit, pear, mint
The wild langoustine was simply prepared with mainly citrus accompaniments so that the freshness of the flavours were evident.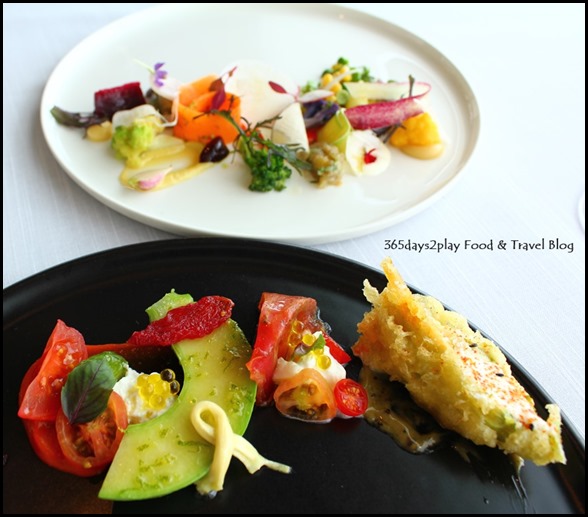 Jaan's Garden – Summer vegetables and herbs composition (top)
Zucchini Trumbetta with burrata artigiana, tomato collection, nicoise olive (bottom)
After the impactful flavours from the 1st few dishes, the vegetable dishes seemed simple in comparison. Don't be mistaken, they were tasty, but just not as memorable. I did like the zucchini trumbetta though, no prizes for guessing why.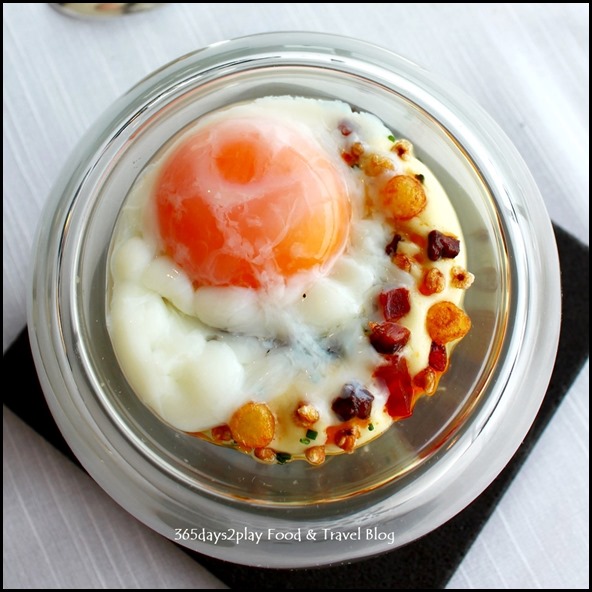 55′ Rosemary smoked organic egg with ratte potato, chorizo iberico, buckwheat
And no prizes for guessing that this was one of my favourite and most memorable dishes. I must admit I do have a very soft spot for eggs, but this just blew my mind when the egg still in its shell arrived complete with dry-ice fanfare (see picture right at the top of the post). Cooked for 55 minutes at 64 degrees celcius, with chorizo iberico and ratte potato bits to give some bite to the smoke infused egg, there's just no beating the sous vide method when it comes to soft boiled eggs. It's like eating clouds!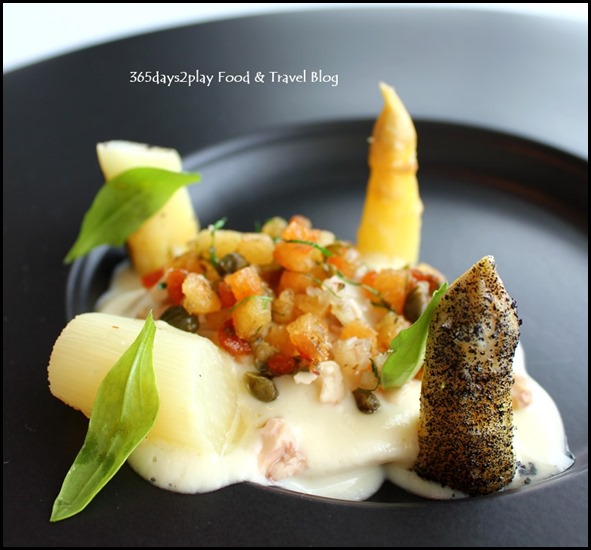 Milk Poached White Asparagus, organic egg yolk, burnt bread, grenobloise
For the less hard-core egg fans, you can get this less in your face egg served with poached white asparagus. This had more flavours going on, with the egg taking on the role of a sauce.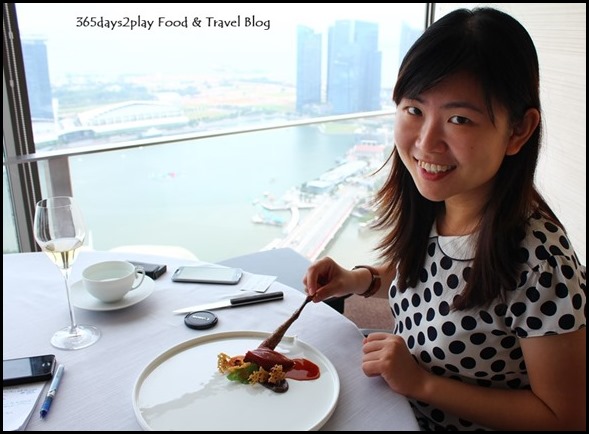 Here's a picture of me. Check out the great views. Pity it was not a blue sky day.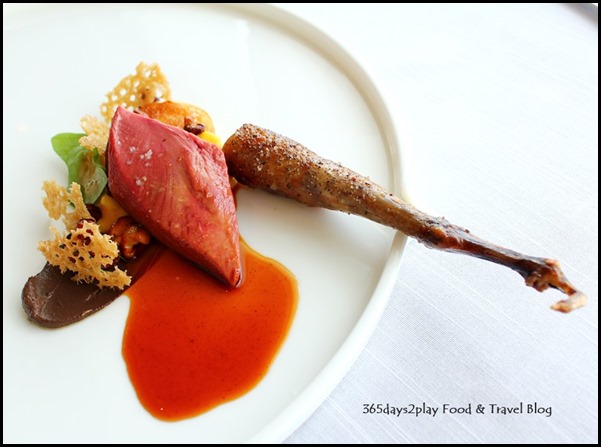 Hay-Roasted Pigeon with corn, bread, liquorice
It is not that often that we find pigeon on the menu. This version had a subtle smokey flavour from being roasted in the oven on a bed of damp hay. I was kind of expecting more flesh, and I had to remind myself, a pigeon is really rather small after all. The breast was amazingly tender and more of the centrepiece than the thigh. The texture is similar to chicken if you're wondering, but the flavours are more complex.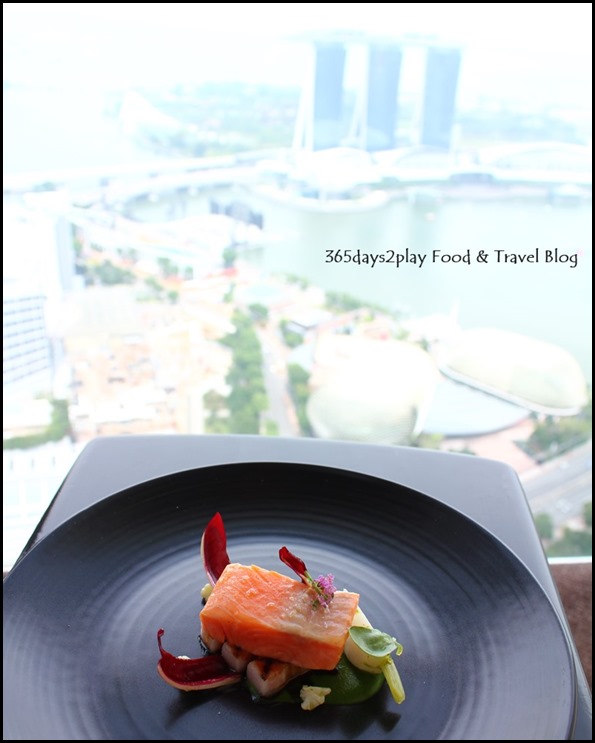 Confit Rainbow Trout with kagoshima pork, cauliflower, miso caramel
In comparison to the pigeon, the rainbow trout had a more subtle flavour if eaten without the kagoshima pork. The Kagoshima pork served at JAAN comes from pedigree Berkshire pigs that are bred under licence in Japan. They are famed for their flavour, pink hue and marbling.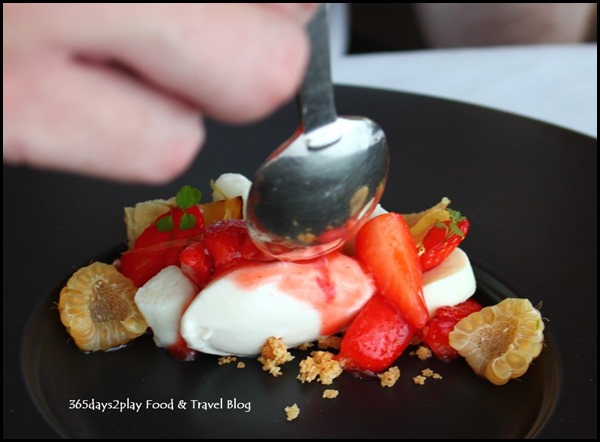 Gariguettes Strawberry Feuilles a Feuilles with fromage blanc, lemon
I don't always like fruity desserts, but I enjoyed this due to the multiple textures and flavours at play. Really love the sweet Gariguette strawberries.
Choconuts Tart
This would be the crowd turner and a highly recommended dessert to order. Here you can see chef still pumping in the chocolate cream. The Choconuts Tart contains three kinds of chocolates, made in various ways and served at different temperatures, but what I really liked was the tart base which was buttery, airy and so crumbly. Went so well with the dark chocolate ice cream.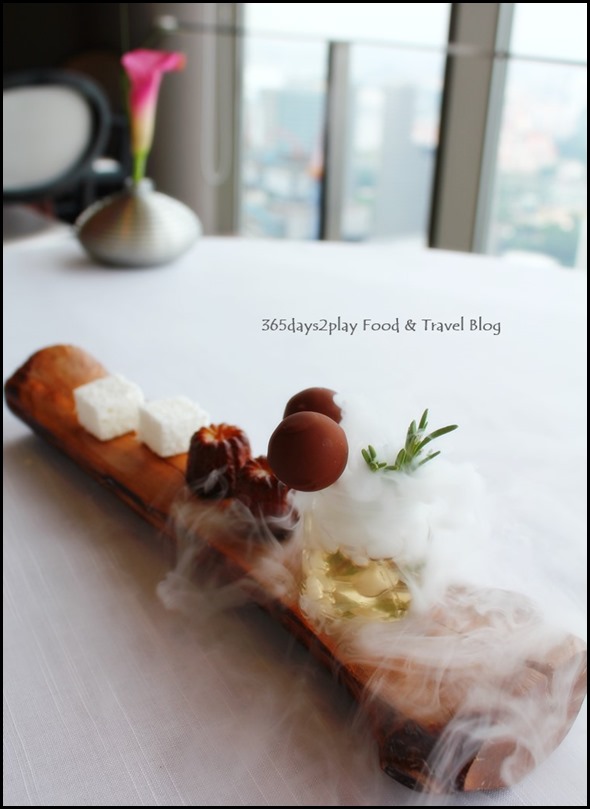 And we are not done with the theatrics! Petit fours to bid you farewell.

~~~
The beauty of food is in it's freshness and simplicity. This is Julien Royer, Chef de Cuisine's motto, and it was fully exemplified in the meal I was honoured to partake in.
~~~
---
Add me on Facebook, Instagram and Twitter if you want to be kept up to date with the latest happenings in the food and lifestyle scene in Singapore! 
---
Jaan
Level 70, Equinox Complex
Swissí´tel The Stamford, 2 Stamford Road, Singapore 178882
Tel: +65 6837 3322 | reservations@equinoxcomplex.com