Nestled in one of the shophouses along Mohamed Sultan Road is the unassuming Pixy Restaurant & Bar. The muted tones of the decor belie the creative and somewhat flamboyant fusion French & Japanese cuisine that is offered at Pixy. The restaurant is helmed by Chef Tomine Nobuaki (Nobu) who was born in Japan but grew up in San Francisco during his teenage and early adult years. A graduate of Le Cordon Bleu in the US, he worked in various restaurants such as Gary Danko (US), La Baie in Ritz Carlton Osaka and Luxury resort hotel Sankara in Yakushima before coming to Singapore and helming the fort at Pixy since January 2019.
We had the pleasure to partake in the $100 Omakase Autumn menu, which comprises of 5 dishes. Please scroll down to read more about the omakase. In particular, I would really like to highlight the Foie Gras Flan and Roasted Irish Duck Rouennaise, which are dishes I would not hesitate to try again if given the opportunity.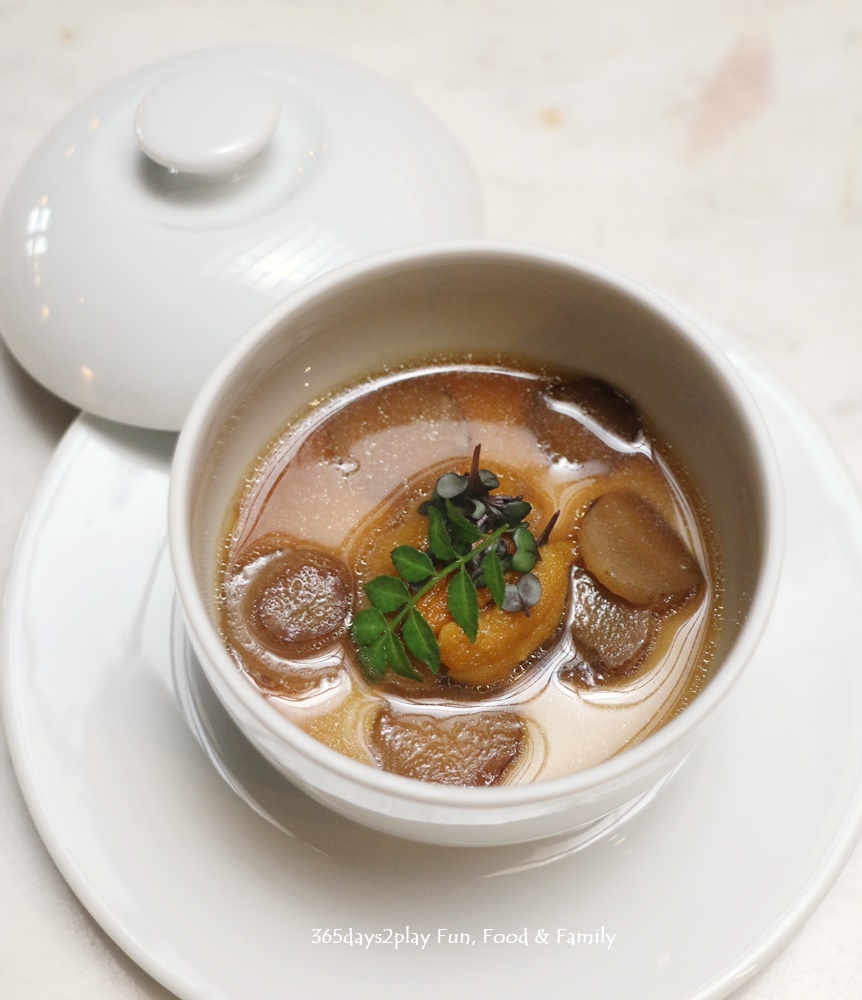 Foie Gras Flan
Who knew that Foie Gras and Chawan Mushi would be a match made in heaven? It's a wonder I have not tried this combination because this was fantastic. Steamed foie gras mousse is combined with the pillowy soft chawan mushi. And as if that's not enough, uni (sea urchin) is included as well. Such delicate textures but such strong flavours. Braised gobo (burdock) is added to bring you back down to earth with its earthier tone.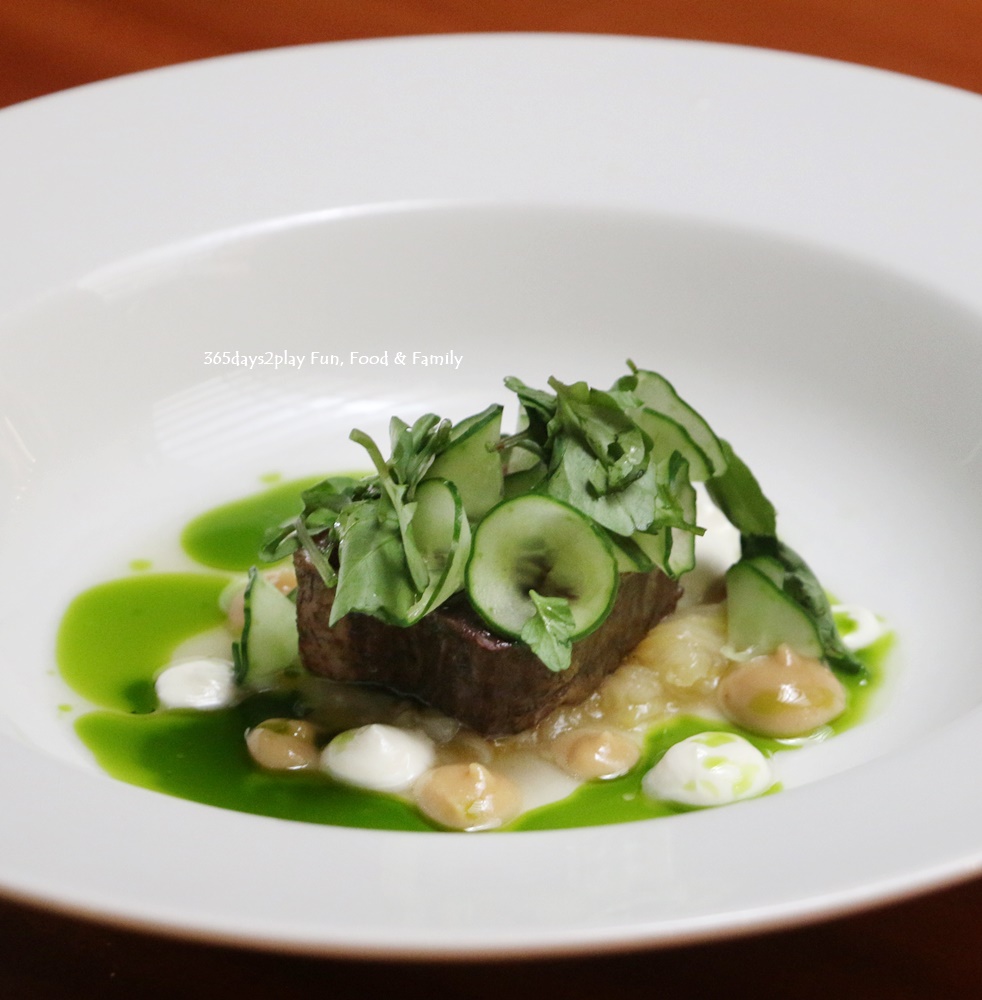 Wara Smoked Bonito
You often encounter bonito as shaved flakes on top of Japanese dishes such as okonomiyaki. But here, you are offered a chunk, which is flash-smoked with rice straws and topped with miso sauce, sliced cucumber and watercress. The savoury tastes are pared down with the addition of dots of yoghurt for a soury tang. I quite enjoyed the strong flavour of the fish even though I still prefer oily fish that tastes buttery.
Dragon & Buri
Another fish dish here, this time using yellow tail Amber Jack that is fried using the tempura technique. The psychedelic pink sauce is actually made using dragon fruit and cream cheese. Certainly a refreshing change to the usual mayonnaise type creams.
Roasted Irish Duck Rouennaise
Another of my favourites during the Omakase meal, this dish was simply perfection to me. The duck skin was so sinfully crisp, while the duck breast was so tender I didn't notice it was breast. The Rouennaise sauce (rich red wine sauce with pureed duck livers) was also very enjoyable for its rich savoury taste.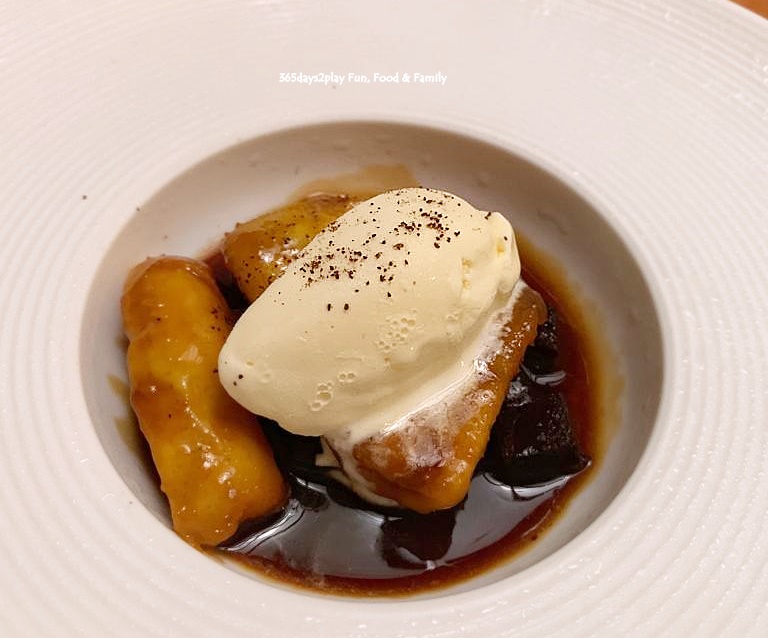 Magical Banana
And finally, the magical banana which comprises of caramelized banana, gateaux au chocolate, vanilla ice cream and mysterious coffee sauce. Actually the magic is not in the banana but in the coffee sauce. The sauce is poured into your dish after the dessert has been served. It's liquid at first but it soon hardens into a soft jelly. Once again, great flavour and texture combinations. There's jelly, there's cake, there's ice cream and the bananas, you'd be hard-pressed to find it boring.
---
Add me on Facebook, Instagram and Twitter if you want to be kept up to date with the latest happenings in the food and lifestyle scene in Singapore!
---
Pixy Restaurant & Bar
16 Mohamed Sultan Road #01-01 Singapore 238965
Mon – Sat  6 pm – 12 am "‹