After the nail biting decision of going for a really dark wall colour, we waited for the good people of Dulux to come turn our white walls into the beautiful image we had in mind. The painters arrived at 9.30 am on the dot as arranged, and immediately got cracking. They looked very experienced and seemed pretty methodological in their process.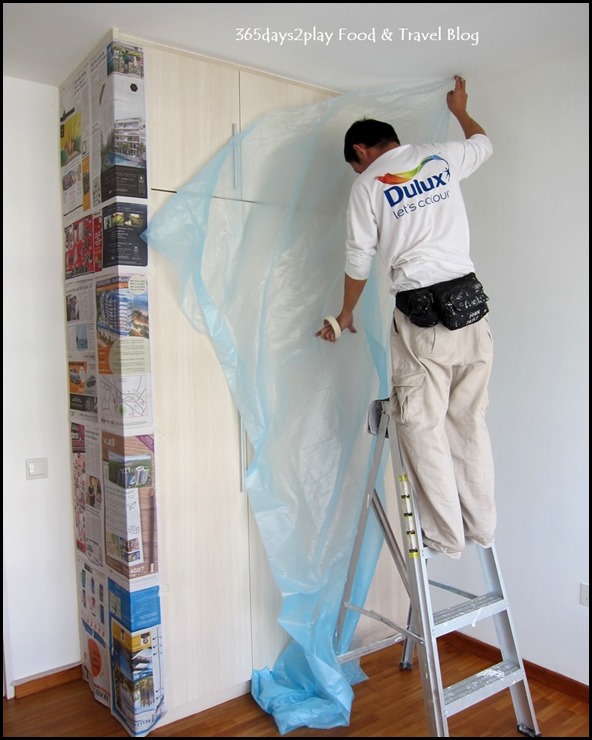 First things first, armed with a ton of old newspapers and plastic sheets, they got right down to covering all the surfaces that were not meant to be painted. Where the cupboard edges met the walls, they were meticulous in ensuring a straight line. If only the HDB painters had put such heart into their work, I wouldn't be "boasting" cupboards with white splotches now. At one point, the painters even asked me who it was that did the last paint job. I gave them one word, "HDB", and they nodded at me with sympathy.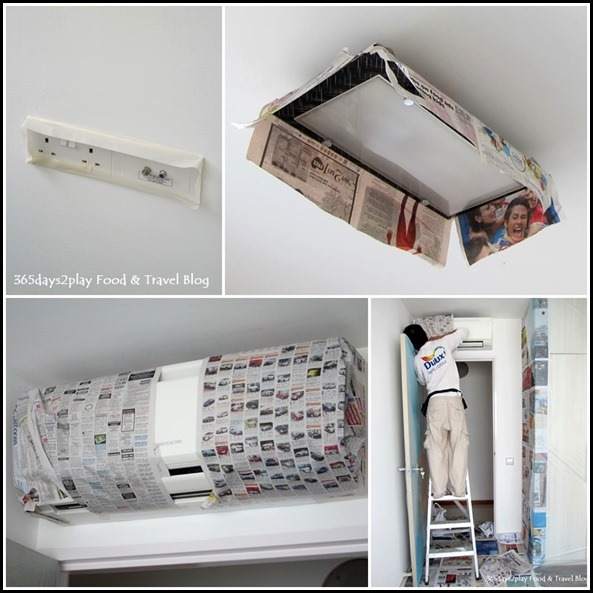 When I say they wrapped everything that was not meant to be painted, I really mean EVERYTHING.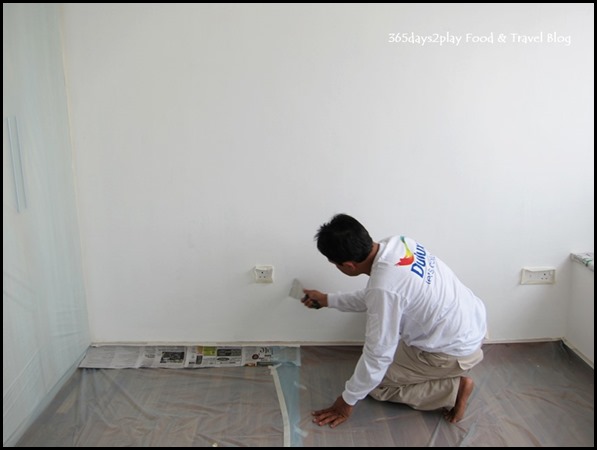 They also briefly flaked off any uneven bits or protrusions. Take note though, if your wall is very uneven, or has numerous cracks, you should get your contractor or someone to come repair the surfaces first if you want an even finish. Dulux can only help you with really minor bumps as what they are able to do is simply to scratch it off with the metal implement like what is shown in the picture above.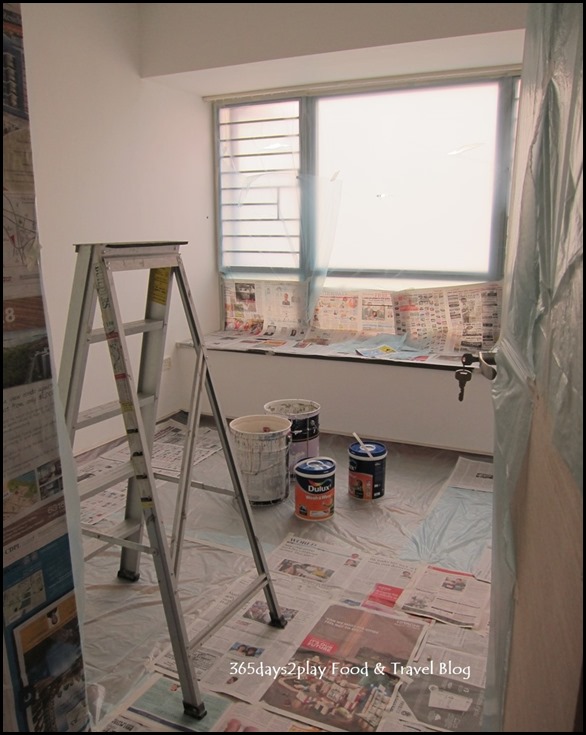 Wrapped up room, all ready to be painted! The wrapping and covering process took about 1 hour.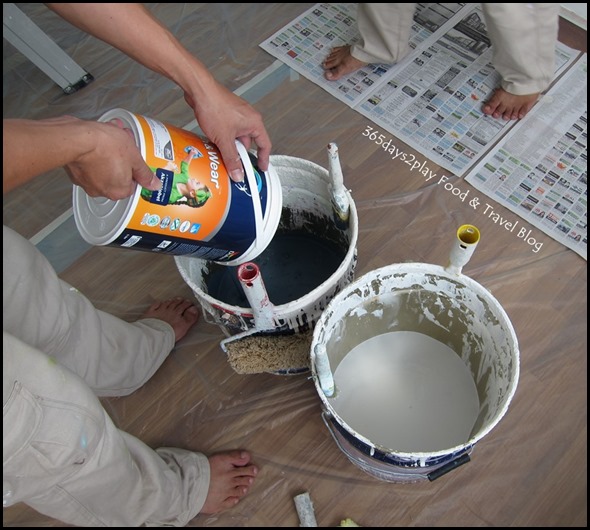 All too soon, it was time for the painting to commence. I looked into the buckets to see the actual colour of America's Cup, which is the dark blue colour I chose for the room. I was having major regrets and cold feet. Felt like the most horrible mistake in the world to have chosen this dark colour! What was I thinking!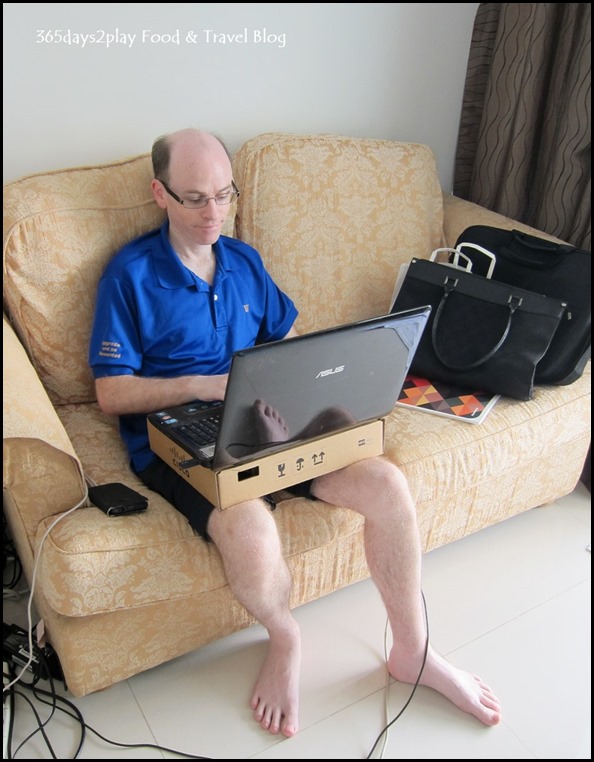 Meanwhile, the boss was blissfully surfing the internet, not bothered about the painting process nor my worries at all. Hats off to the Ang Mohs, they really are not bothered by minute details! They're not like us Asians, where at the supermarket we must scrutinise the fruits we buy have no bruises, dents or scratches!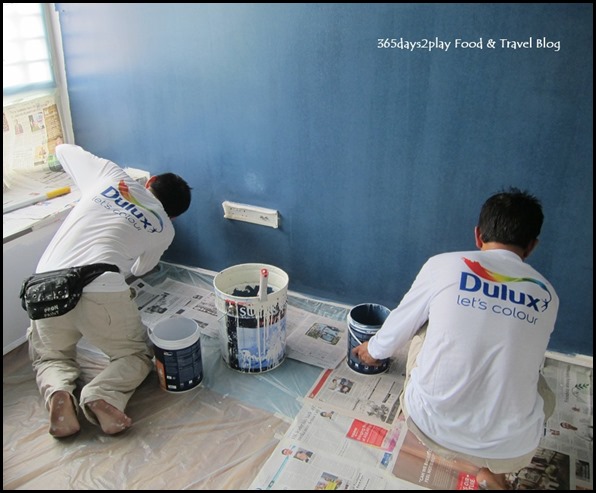 After the 1st layer was applied, I felt even more horrible as it just didn't look like the shade I'd chosen! The Dulux painters told me "cannot tell now lah, coz the paint is not dry. Wait till it's dry!" I wonder if I am the most worrisome/tiresome customer ever??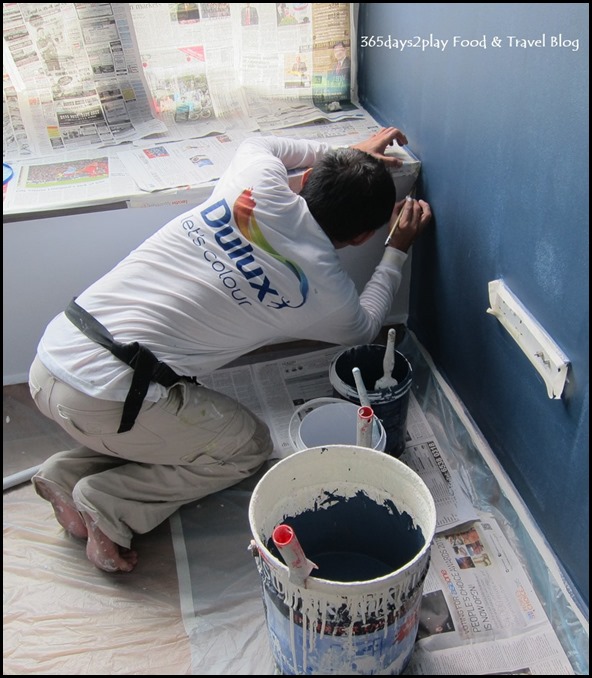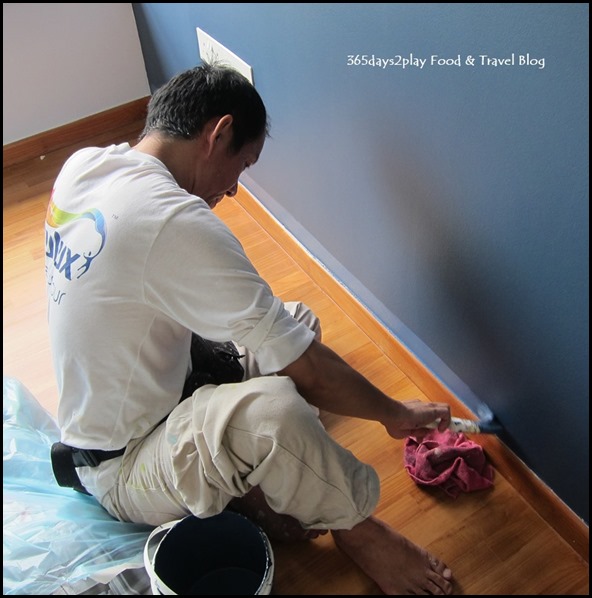 Really impressed with the attention that they pay to the corners! Alas, I don't have any pictures of them painting the walls with the long brushes. It seemed like I'd just stepped out of the room for 10 minutes, and the large surfaces were all covered! Although I barged in several times while they were sticking on the newspapers and stuff, I didn't want to knock them off their ladders while they were painting!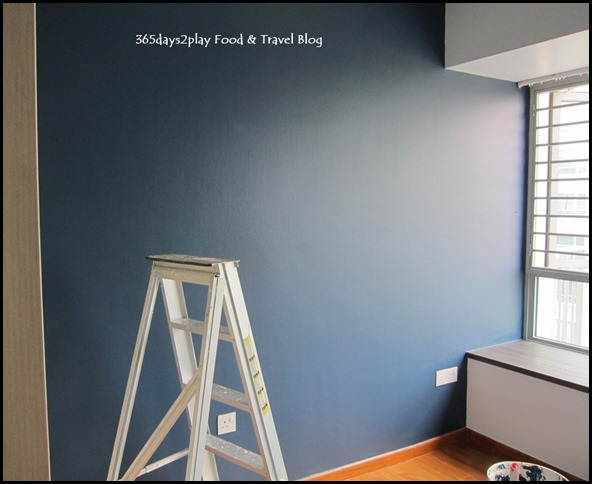 I must say I worried for nothing because the finished product looked FANTASTIC! It looked more or less what I had in mind and I was totally elated with the colour! The darker blue totally works, even for a tiny HDB room, no problem at all! If you want a darker blue with a slightly greyish tone, just ask for Dulux's latest America's Cup colour. That's the colour I chose, which I later found out is one of Dulux's latest colours!
For those of you out there who have always wanted to go for a darker colour, or more outlandish colours, I say, JUST GO FOR IT!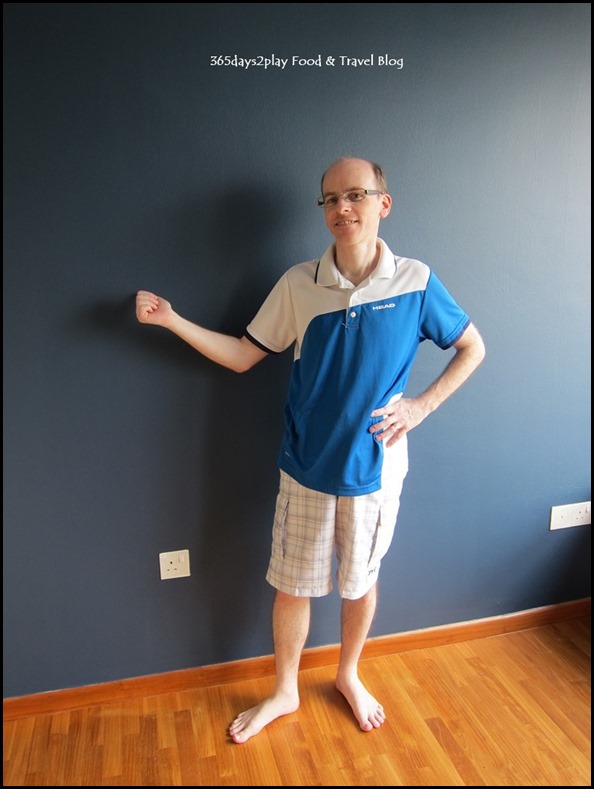 The boss with the freshly painted room in America's Cup blue. Apparently he "told me so" that it would look great. Tsk.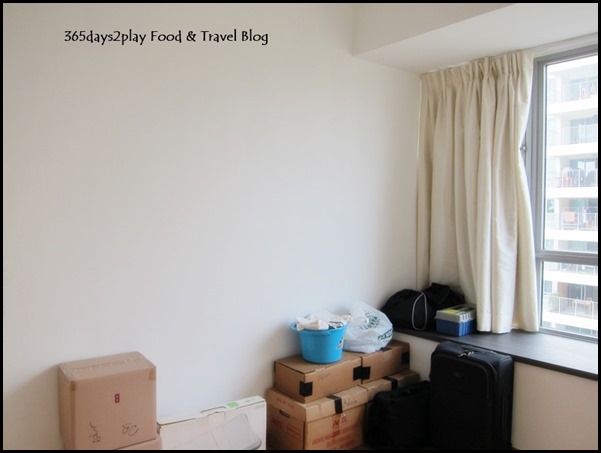 Well, what d'ya think? From this plain Jane……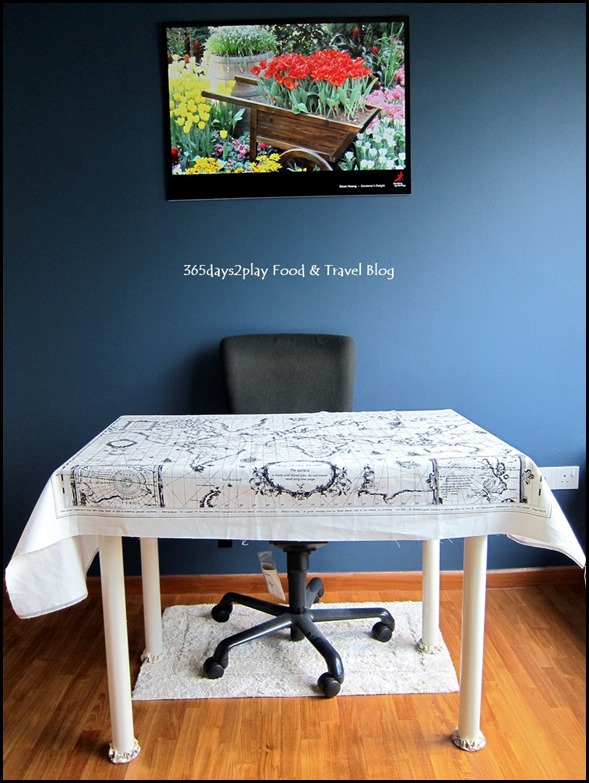 To this, a stately blue!!!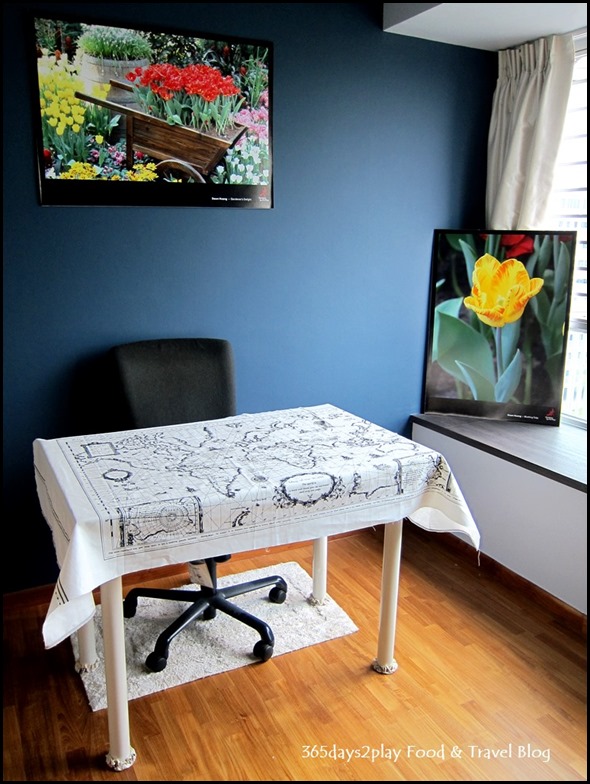 I think this Dulux America's Cup blue really goes well with many colours, contrary to popular belief. White furniture certainly stands out against the blue background, but yellows also perform quite well. Using the opportunity to showcase my tulip photos taken at Gardens by the Bay Flower Dome! I didn't think that I would use my study room for other purposes other than computer work and the like, but now I'm so inspired to turn my blue walls into a mini gallery of sorts!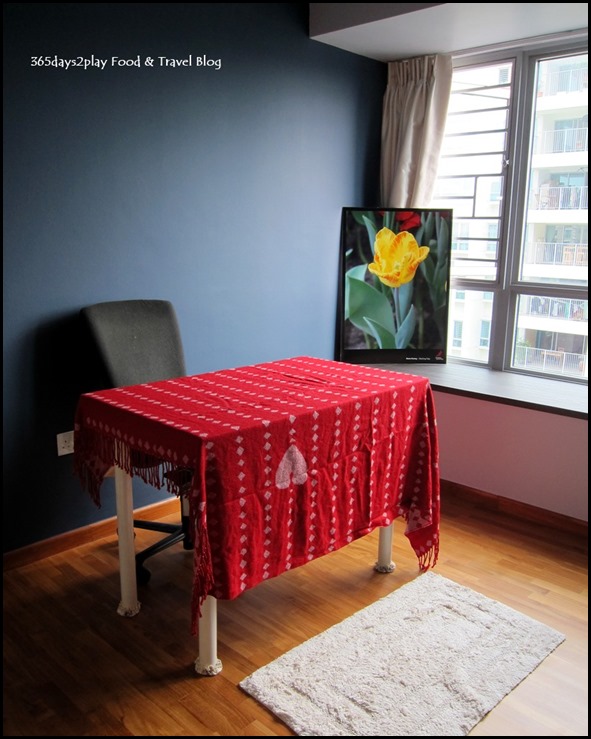 The red table cloth also matches the America's cup. Whoever said blue doesn't go with parquet wood, I say go on and give it a try! Btw did you notice my table legs are wearing booties…
---
Thank you Dulux for transforming my nondescript room
into a room that is inspiring and unique!
To help you make the most of your next paint job, check out my posts below: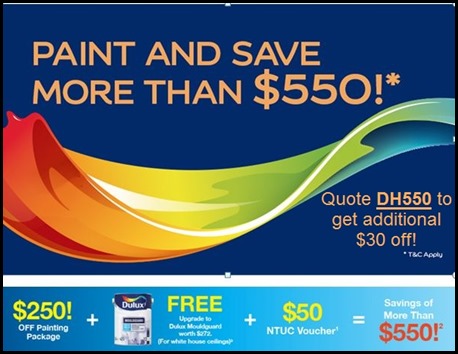 Or why not just engage the Dulux Painting Services and let it all be fuss free? If you quote DH550, you get additional discounts. It's really not that expensive actually, for a professionally painted room, and it saves time and hassle too. Call 6265 0677 to enquire.

If you've enjoyed reading my articles, do vote for me 365days2play by clicking on the green banner above.  You stand a chance to win $500 painting package vouchers and $100 home decoration vouchers too! Voting is from 8th Dec to 14th Dec. You get to vote once daily!!
You can also watch our Dulux paint journey along with the other bloggers via this video.
Dulux Let's Colour!
Facebook : http://fb.com/dulux.sg
Instagram : http://instagram.com/duluxsg
Pinterest : http://pinterest.com/duluxsg (see my favourite Dulux colours here)
Youtube : http://youtube.com/duluxsingapore