**Closed for renovations until mid-march 2014
After the slogfest in the office these past few weeks, I promised myself a good brunch to sort of celebrate (the weekend that is, not the end of the project!) as well as relax. A few days ago, I happened to chance upon AiMakan's Facebook posting about this new cafe called Blackbird Cafe. The fact that this place is owned by a New Zealander got me sitting up. Straight away shot an email to the Partner asking him where our cafe was, as it's kind of been a dream of mine to have my own cafe one day. Well, one day it will come true.
Anyway, so today with the parents in tow, we made it to Blackbird Cafe for brunch. Brunch is from 10am — 3pm. It was lucky we arrived early around 10.30am. We had our pick of the choicest seats. By 11am, the place was full!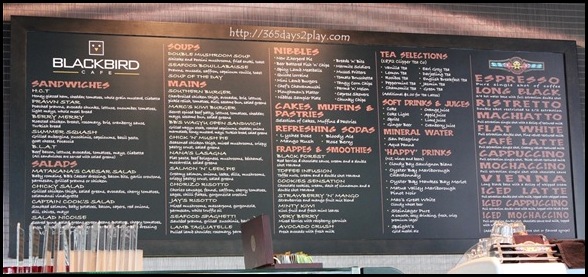 Check out the full menu on this menu board, but for brunch, only brunch items are served, along with 1 sandwich and 1 mains of the day (which was a burger today). I thought the brunch menu was rather limited. Apart from the photos you see below, they only have buttermilk pancakes, bread basket, Danish basket, 5 cheese omelette and fresh fruit platter.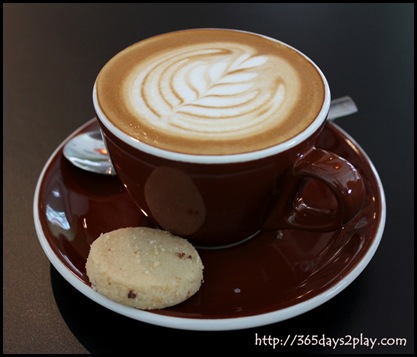 First up, Flat White to wake me up ($5.50). Coffee was really nice and smooth. Cookie was tasty too.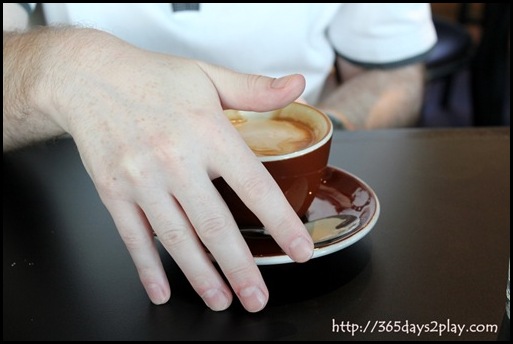 This was how nice the Flat White was…… when I wanted a sip.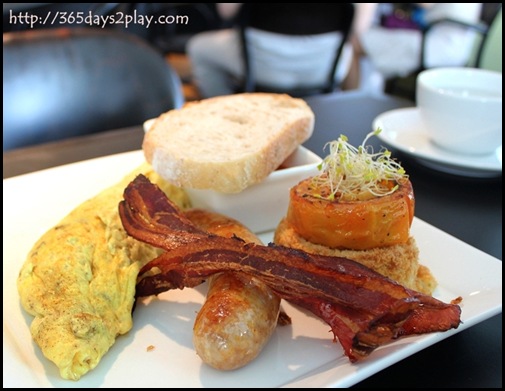 Big Breakie $18 — Eggs done any way you want plus sausage, bacon, hashcake, tomato, baked beans and sourdough bread. Omelette was nice and fluffy, tasted almost like scrambled eggs that happened to look like an omelette. The hash cake was really good and different from the usual hash browns. It's compacted minced potato covered in a breadcrumb thingy. Best part was that it wasn't oily looking or tasting. Sausage was so so, and the bacon was totally over fried, although I suppose some people like it this way.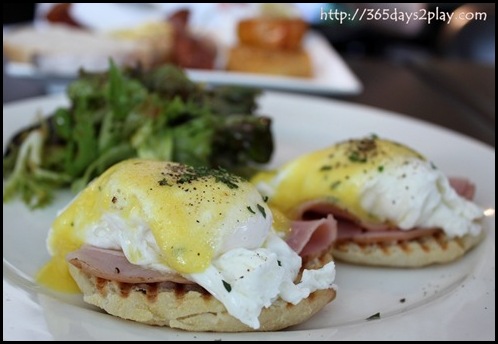 Eggs Benny $12 — This was what I ordered. I'm afraid I didn't really enjoy it very much. The eggs were poached in a vinaigrette water so there was an overpowering sour taste. It soaked through into the muffin bread base such that there was no way of escaping it. Quite disappointing actually when I so looked forward to the trip here. I asked the waiter about it and apparently the eggs are not poached in plain water to give a different twist to it. Didn't work this time round I'm afraid.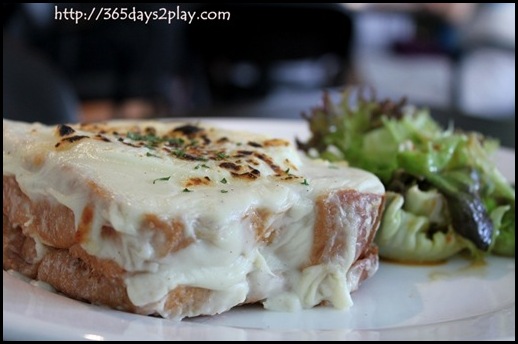 Croque Monsieur $10 — Oven baked brioche with bechamel, ham and cheese plus salad greens. This here is a modified version of the Croque Monsieur as my father doesn't eat ham. We got the chef to remove the ham and substitute it with eggs instead. My father enjoyed his meal very much but would have liked it to have more cheese. He also loved the bread and said it had a pastry like flavour.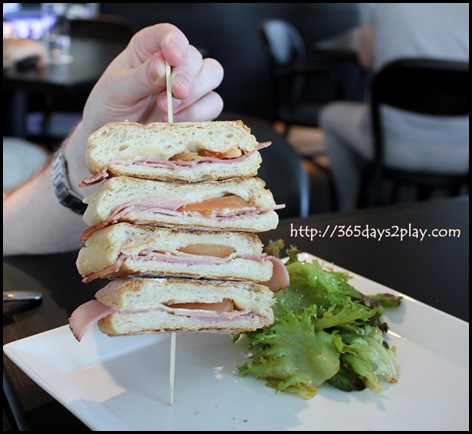 Sandwich of the day, the HCT Sandwich $10 — Honey glazed ham, cheese, tomato with wholegrain mustard on ciabatta — My mother had this and was very pleased with the sandwich too. She loved that the ciabatta tasted fresh and had a sort of crispy texture. It's light enough too as it isn't laced with lots of cream. It could have done with a few more slices of cheese, just to give more punch.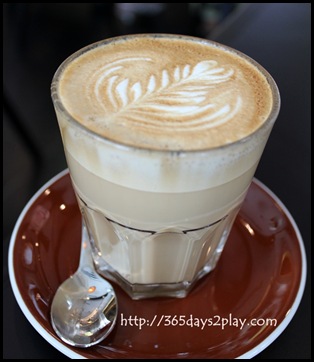 Cafe Latte $5 — As tasty as the Flat White, and 50 cents cheaper if you don't mind more foam but hey, where is the cookie???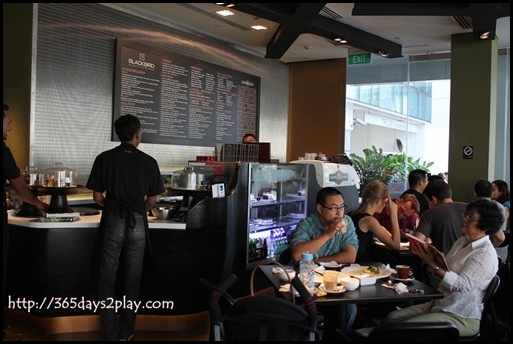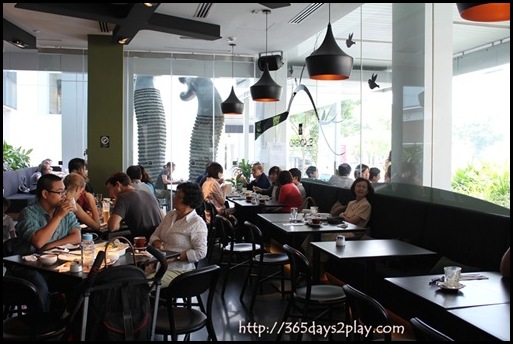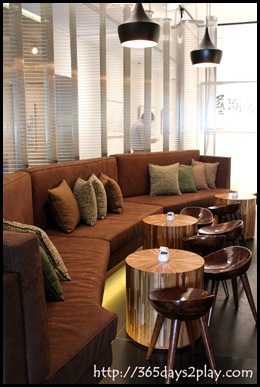 Nice place to chill after a movie at the Cathay?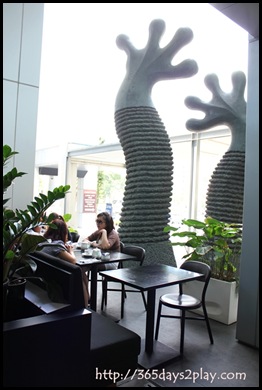 Don't really like those monstrous frog feet high above me.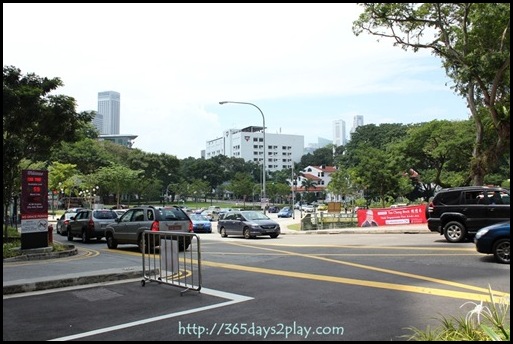 Enjoy the view of cars going through Handy Road while sipping your flat white.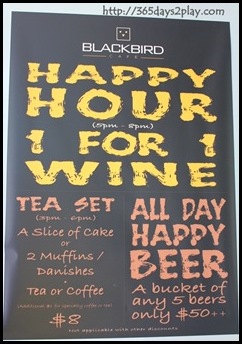 Blackbird Cafe promotion….mmm I want 1 for 1 wine…..or how about 1 for 1 whine?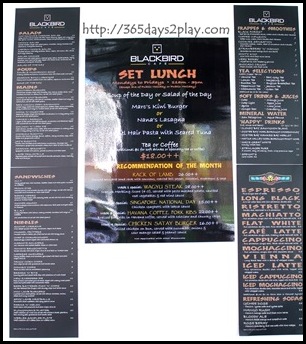 Click on the picture above to see Blackbird Cafe's menu items and pricing. The normal menu looks very interesting and I really want to come back to try out some of the stuff like Wagyu Open Sandwich, Lamb Tagliatelle, Beer Battered Fish and Chips and the very creative New Zhepherd's pie (they spelled it as Zherperd though…)
Blackbird Cafe
6 Handy Road #01-01 The Luxe Singapore 229234
Telephone: 6337 3448
Email : enquiry@blackbird.com.sg
Monday — Thursday: 11am — 10pm
Friday — Saturday & PH Eve: 11am — 12am
Sunday: 10am — 10pm Sunday Brunch: 10am — 3pm
Directions to get to Blackbird Cafe
After you turn up Handy Road, the Cathay will be on your left. The Luxe is just after that.