After disembarking from the InterIslander Ferry that took us from Wellington at the bottom of the North Island to Picton at the top of the South Island, and getting settled into our nifty little rented Toyota from Avis, we got cracking on the journey to Nelson. The ferry ride took almost 4 hours instead of the usual 3, due to some loading issues, so we were keen to make up for lost ground.
There are two routes to Nelson. The scenic route takes you through curvy mountainous roads but rewards you with a spectacular view of the land, the straighter route takes you through flat wine country. Apparently both routes take about the same amount of time, as you have to drive quite slowly on the curvy mountain roads.
The route to Nelson goes through a little bit of the Marlborough region (ie wine country) but we weren't intending to go for any wine tastings this time round, having already had ample opportunity during our honeymoon in Alsace, France last year. This time round, the focus of the holiday would be nature and scenery, and of course, lots of relaxation.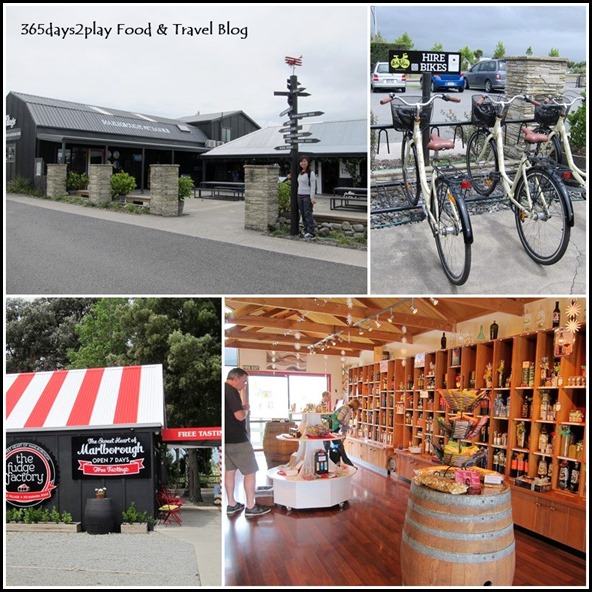 The Vines Village (Website , Google Map)
However, we did stop at The Vines Village, which is still along the route to Nelson. As the name suggests, the Vines Village comprises of a mish mash of several shops showcasing Marlborough's arts, craft, food, wine and design. We were really absorbed in this shop selling numerous jams, honeys, liquors and what not. Really good place to stock up for last minute gifts or souvenirs. If you have the time, you could also rent a bicycle to explore the area.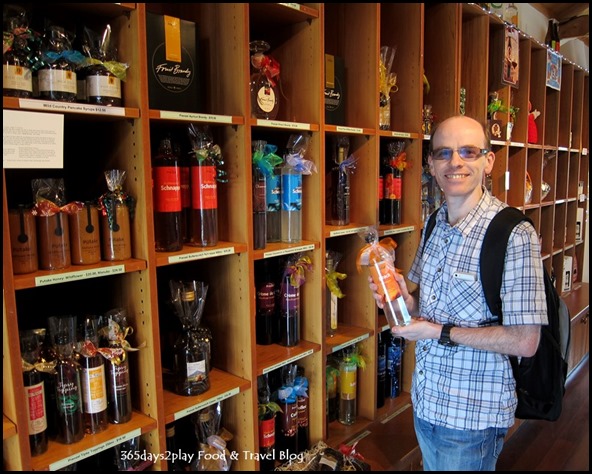 The Partner was really happy with his loot…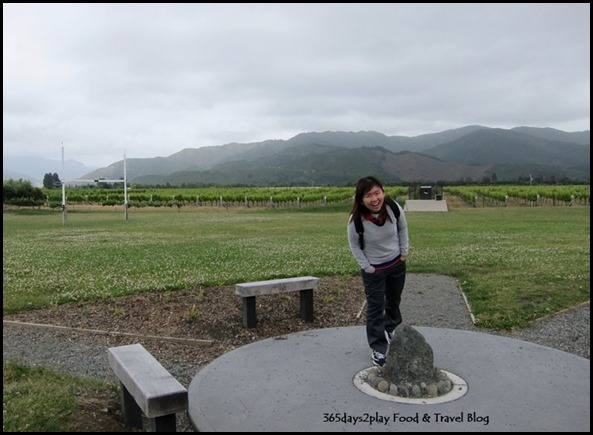 Good place to stop to stretch your legs or take a picture with the grape vines. There's also a cafe and a huge pond which would interest the kiddos.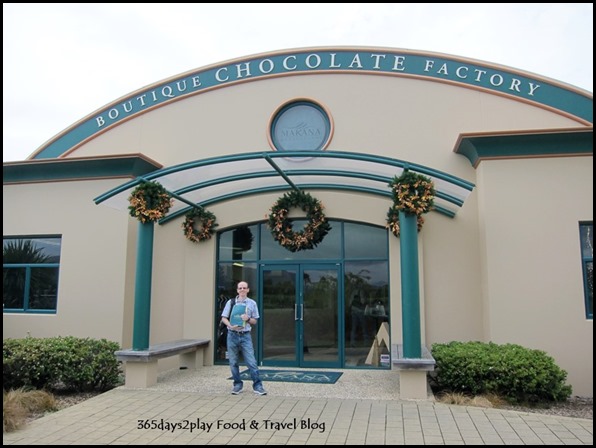 We also stopped at the Makana Chocolate Factory. It's a mistake to stop here if you don't intend to part with any cash. The staff have the ritual down exactly. When you first enter the store, you will be innocently asked if you would like to try some Macadamia Butter Toffee Crunch. Well, of course, since it's free! You try not to grab the biggest piece in the basket. And it's just so damn good! The best sort of crunchy, sweet, melting and chocolaty all at the same time!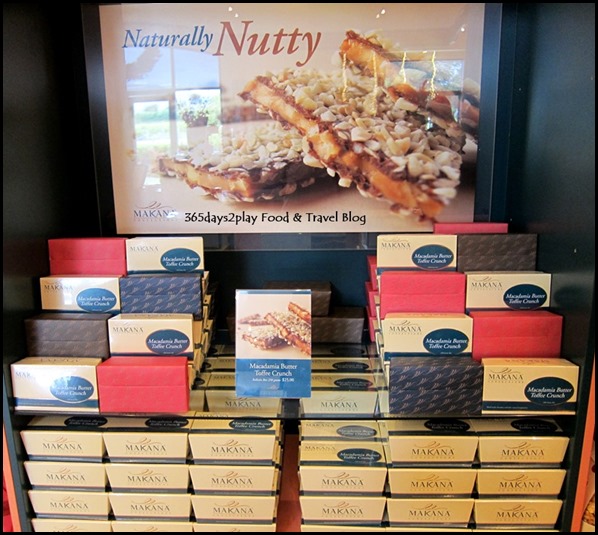 It's $25 a box!!! But oh so worth it and perfect as gifts! We got 2 boxes as Christmas gifts. One box for the entire family to share for Christmas, and one just for ourselves to take back to Singapore.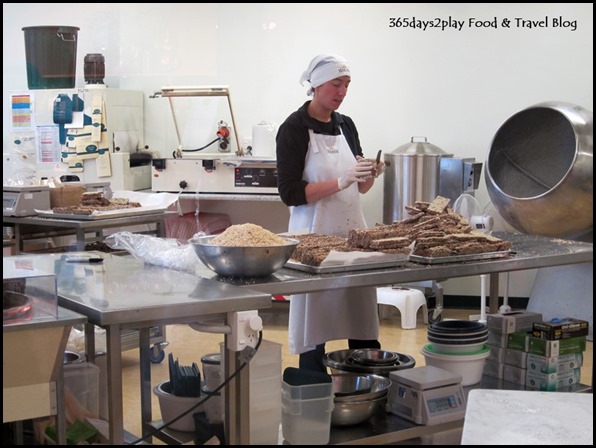 You can also view the staff preparing the chocolate goodies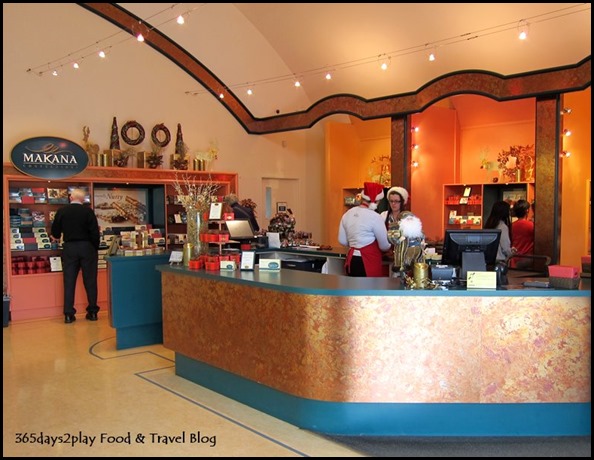 Not a very big shop, but big enough to have something that would entice you to part with your money.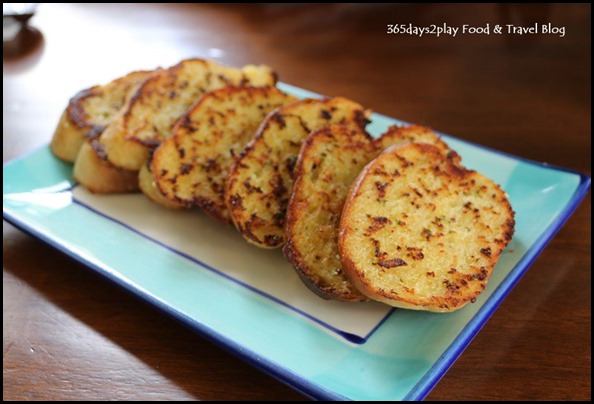 Along the way from Picton to Nelson, you would most likely pass through the town of Havelock. It's a really small town, the blink and you miss it kind. However, it's also a good time to stop for lunch here, as we did, at the famous The Mussel Pot restaurant, that has apparently been in the business for more than 20 years.
We weren't extremely hungry, you know after trying all those chocolate at Makana and Jams from The Vines Village. But we really did want to try the fresh mussels that is signature of the Marlborough region.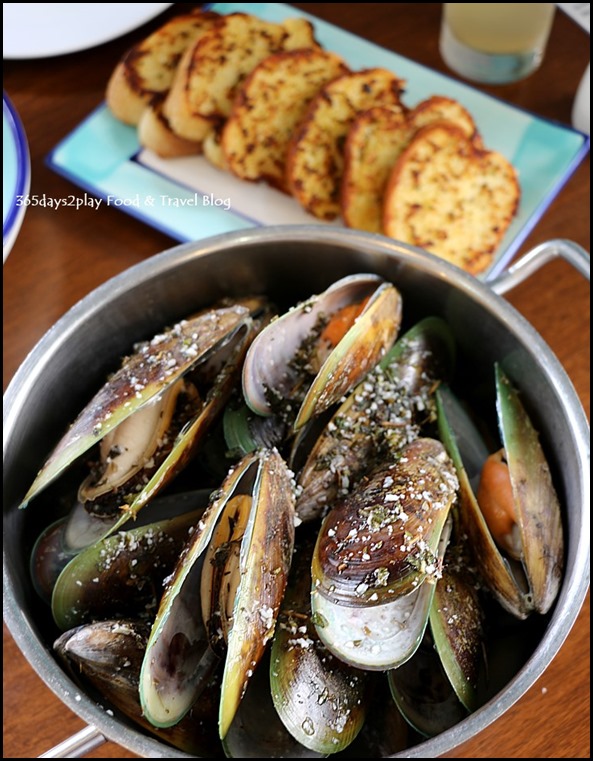 We ordered a pot of mussels plus garlic bread to share. The mussels are at $18.80 per pot while the garlic bread cost $5.20. We went with the steamed mussels in Thai green curry and coconut milk, but there are other bases to choose from such as garlic, white wine & herbs or cream, basil and garlic. Actually I didn't find the mussels particularly tender, nor spectacular, although the Partner quite enjoyed them. They tasted similar to what you would get back in Singapore, but I was expecting something much better. Still, it's a good place to stop for lunch but do note they close at 3pm. We did not realise this when we arrived at 2.45pm and felt a little bad to discover we were the last customers in the restaurant at about 3.30pm.
We made no further pit stops so as to reach our lodgings at Almyra Waterfront Lodge 45 minutes from Nelson city by 5.30pm as promised.
Click here to read more about my trip to New Zealand 2014.
---
Add me on
Facebook, Instagram and Twitter if you want to be kept up to date with the latest happenings in the food and lifestyle scene in Singapore! 
---