Opened less than a year ago in 2014, TAO Seafood Asia may be the new kid on the block relatively speaking, but its roots go much further back. 67 yr old head chef Lee Tong Kuon is the former executive chef and co-owner of the Thai Village Holdings Ltd which he opened back in 1991 with his brother. Chef Lee now helms TAO Seafood Asia as head chef in the restaurant created and managed by his son Adrian Lee.
TAO Seafood Asia enjoys an envious location at Asia Square, when it comes to corporate lunches and dinners, as it's right smack in the heart of the CBD. CitiBank, DBS Bank and even the Singapore Exchange are but a stone's throw away. Easier to convince your boss to hold the department CNY lunch here if the boss only needs to walk for 5 minutes.
To pay tribute to his teacher and mentor, chef Preecha Jangsombatsiri (Ping), and his culinary roots, chef Lee Tong Kuon and his team have set the stage to bring Yaowarat (name of Bangkok's Chinatown) to its army of Thai-Teochew loyalists in Singapore with five of Yaowarat's lunar new year classics with a TAO spin.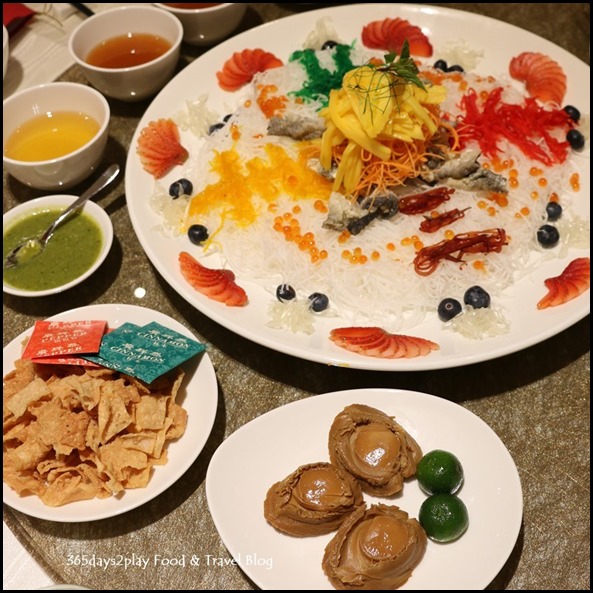 TAO Supreme Prosperity Yu Sheng $128++
As with many of the Chinese New Year dishes at TAO Seafood Asia, there is an element of Thai even in the Yu Sheng, with the use of ingredients such as Thai basil leaves, crispy deep-fried fish skin as well as the use of mango slices. In fact, this Yu Sheng boasts a hefty 18 different ingredients and is probably the only one where fruits play a significant role.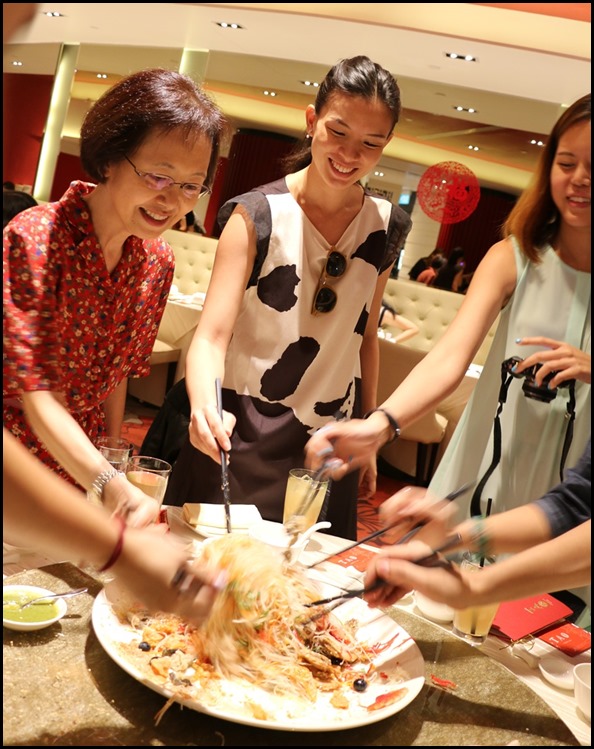 Lo hei, the perfect way to break the ice even in the most sombre of meals. The inner child in us emerges as we try to toss the yu sheng higher than the person next to us.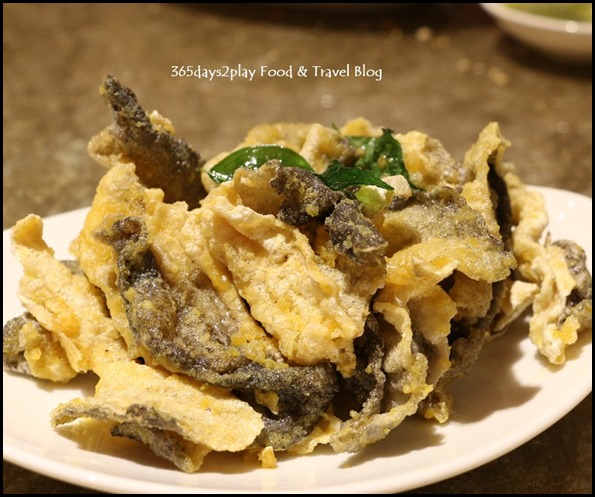 Crispy Fish Skin with Salted Egg Sauce
Wow who doesn't love crispy fish skin? Topped with salted egg sauce, this was super addictive and disappeared within seconds.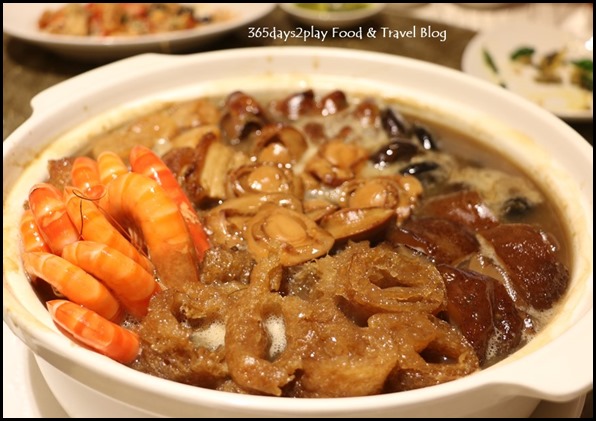 House of Golden Riches Yaowarat Pen Cai $318++ for 6 pax, $488+ for 10 pax
TAO's pen cai includes whole abalone premium sea cucumber, prawns, dried oysters and fish maw. The fish maw was specially sourced in Bangkok's Chinatown aka Yaowarat, and hand carried back to Singapore! The highlight of any pen cai would be the expensive ingredients, but I quite liked the broth as well, which for once was very flavourful and had a depth of its own.
Don't forget to dip the ingredients in the house-made green chilli blend. Be warned that a tiny drop goes a long way. This chilli sauce is really the bomb. It is so good, everyone was given a bottle each as door gifts!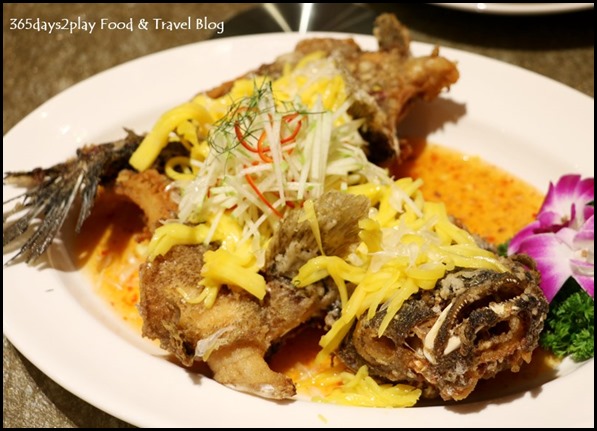 Golden Soon Hock with Mango Slices $9.80++ per 100grams
Another winner for the evening was the marble goby aka soon hock, which was fried to a crisp perfection and topped with mango, green apple and onions. A light sauce would have been drowned out, hence the use of Thai sweet and sour sauce, which had the impact required in a dish like this.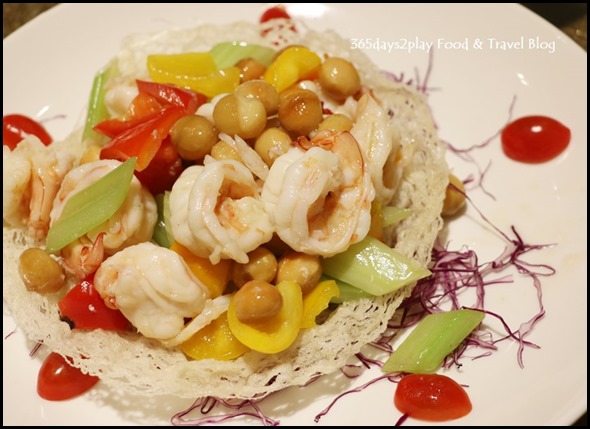 Sauteed Prawns with Macadamia Nuts $32++
Lightly sautéed prawns with crisp celery and bell peppers. It's not often you find macadamia nuts in Chinese dishes, but it was well deployed here, lending a savoury nuttiness to the dish. A well conceived dish, although the prawns tasted a little mushy.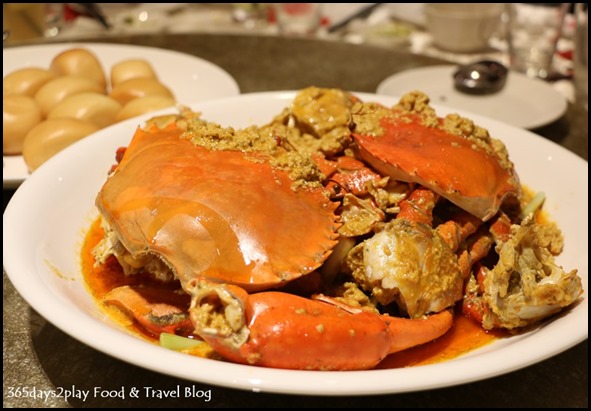 Tao Thai Curry Crab $6++ per 100grams
And the last dish for the evening, the Tao Thai Curry Crab. Crab dishes are notoriously difficult to perfect, as everyone has their own favourites. Quite a number at my table preferred the usual curry crab you can get from the likes of Long Beach and Jumbo Seafood, and found this to be lacking in terms of spiciness and punch. I however really enjoyed this version of this chilli curry crab, which employs more basil leaves, coriander, kaffir lime leaves, raw palm sugar amongst other things, and had 2 big pieces of the Sri Lankan crabs!
---
Add me on Facebook, Instagram and Twitter if you want to be kept up to date with the latest happenings in the food and lifestyle scene in Singapore!
---
TAO Seafood Asia
12 Marina View Asia Square Tower 2 #02-10 Singapore 018961
T: +65 68449969
E: taoseafoodasia@gmail.com
http://www.taoseafoodasia.com/
Opening Hours
11:30am to 2:30pm and 6:00pm to 10:00pm, Mondays to Sundays
Last order by 9:30pm
The Thai-Teochew Yaowarat Chinese New Year creations at TAO Seafood Asia are available from 3 February to 5 March 2015. Prices start from S$32++ for ala carte dine-in creations and S$48++ for takeaways. All prices are subject to 10% service charge (for dine-in, not applicable to takeaways), as well as prevailing government tax. For enquiries and reservations, please call the restaurant at 68449969.
.