NParks has been on a roll, unveiling mega playground after playground in Singapore in recent years. You might have heard of the playground at Admiralty Park (opened in 2017) which boasts a whopping 26 slides! Everyone's favourite East Coast Park also now features a playground with a huge climbing structure as well as inclusive play elements at Marine Cove (where McDonald's is), after a complete overhaul was completed in 2016. There's also a small playground and suntanning decks at Raintree Cove. Even the UNESCO World Heritage inscribed Singapore Botanic Gardens has added an extension to the popular Jacobs Ballas Children's Gardens. Just this year alone, they have built new playgrounds at Hort Park, Jurong Lake Gardens and the latest one at Fort Canning Park.
The great thing about the Fort Canning Park playground (Jubilee Park) is it's convenient location. The older generation will remember this place as the location of the Van Kleef Aquarium and the National Theatre.  Unlike most of the other mega playgrounds which are located in far flung locations, the Fort Canning Park playground is located in the CBD area, and right smack next to Fort Canning MRT station. Even the carpark is 2 hops away, instead of across a large field or something.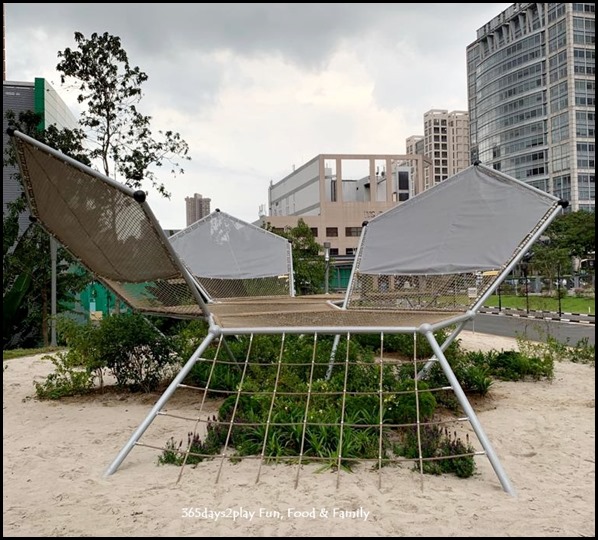 It is not a very big playground due to the hilly terrain, but it offers quite a number of interesting play elements. Some of the play elements I have never seen before. A number of them also work only if you play together with other children, which teaches the children the value of cooperation and teamwork.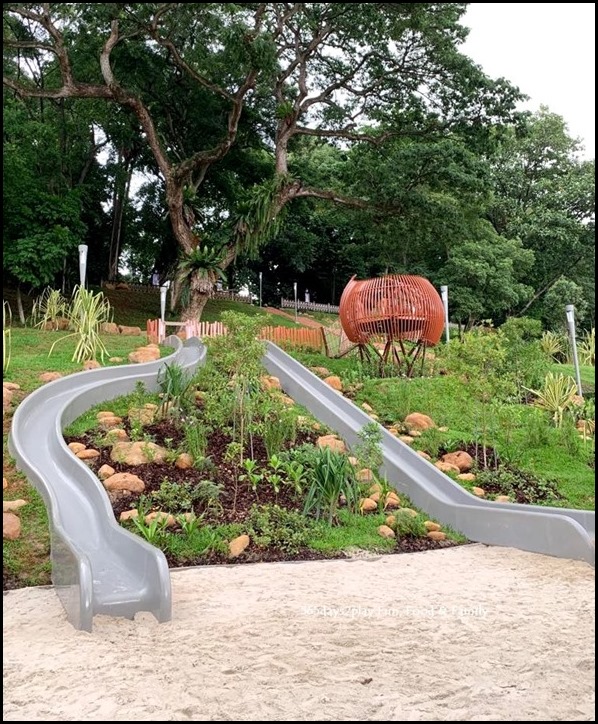 There are a couple of rather long slides built into the Fort Canning Hill itself, but guess what, you get to ride an escalator up to take the slide! Yes, believe it or not, there are actually escalators at Fort Canning Park taking you up and down the hill! Well of course the slides also have accompanying stairs, but I'd want to take the escalator nearby just for the novelty of it.
The escalators are certainly new, and I believe they were installed to facilitate people going to the Bicentennial Experience at the Fort Canning Centre, or simply to provide easier access to Fort Canning Hill. I myself have scaled this hill numerous times in my younger days to reach the then Fort Canning Country Club, now known as Hotel Fort Canning / The Legends Fort Canning Park. And it's no joke to climb up that steep hill! I'd go to the club for a swim, but after the exhausting climb, I'd no longer want to swim! Watch my Youtube video of Fort Canning Park Playground to see the escalators!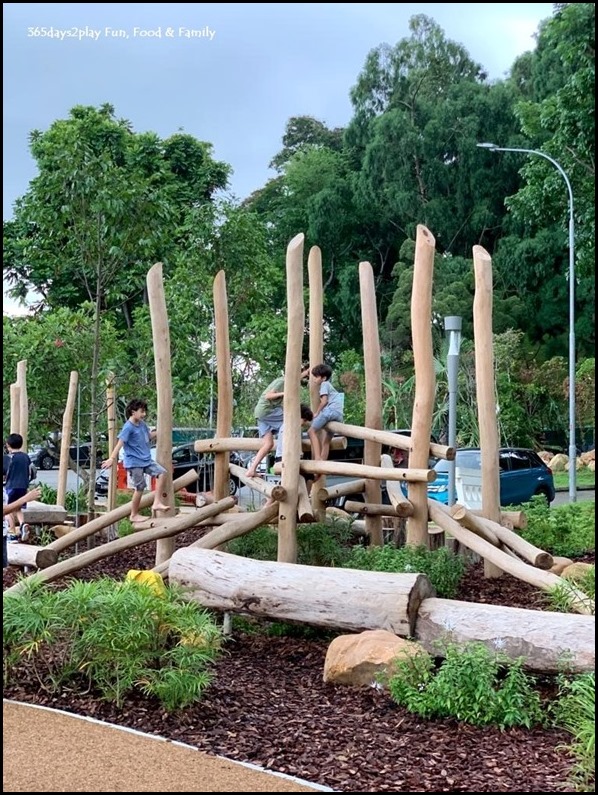 If you have time, you should check out this newly opened playground, and make a day of it by going to the Bicentennial Experience, checking out the various revamped gardens at Fort Canning Park or strolling along Clarke Quay which is on the other side of the Fort Canning MRT station. There's also a cafe called The Fabulous Baker Boy located at Fort Canning Park, about a 1 minute stroll away from the playground. Oh I should add that PUB are currently doing works directly next to the playground. It is cordoned off but the noise is loud and you can sometimes smell exhaust fumes. Best to visit on a weekend when no works are being done.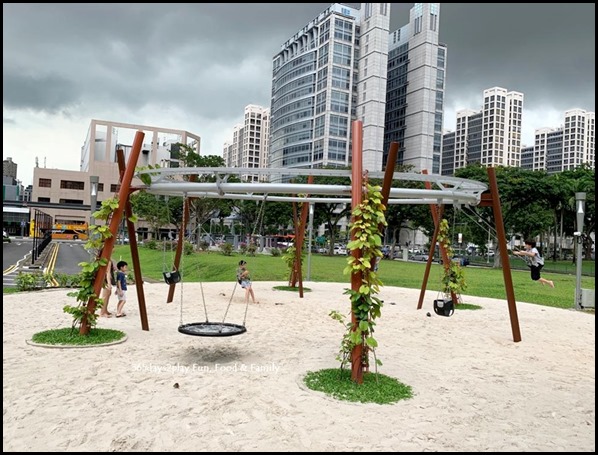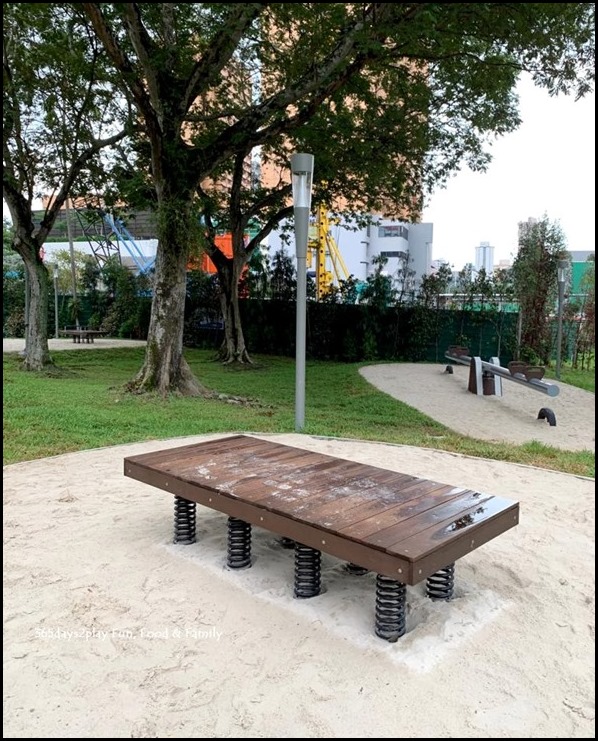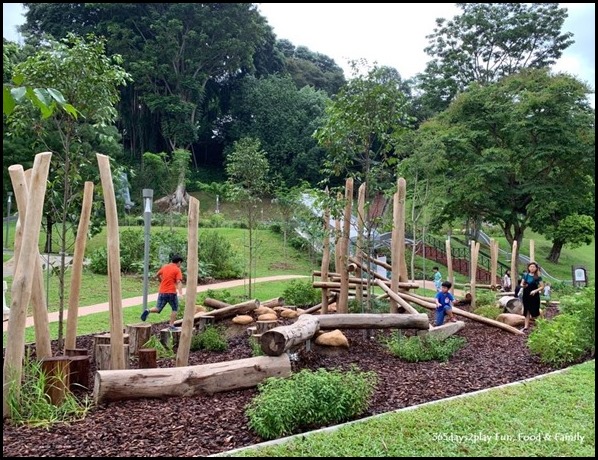 Biophillic play spaces are the a focus for new playgrounds these days. And not a moment too soon. Chuck those electronic devices out and give children space to be creative on their own.
---
Add me on Facebook, Instagram and Twitter if you want to be kept up to date with the latest happenings in the food and lifestyle scene in Singapore!
---