Have pictures of meaty sandwiches with oozing cheese been inundating your Instagram feed lately? They are probably pictures of Syohachi Wagyu Hamburg's beef toasties. I must say those pictures called out to me so much, I went to see what's the big deal today. Seeing those pictures reminded me of Fong Sheng Hao's toasted sandwiches and perhaps even Shake Shack!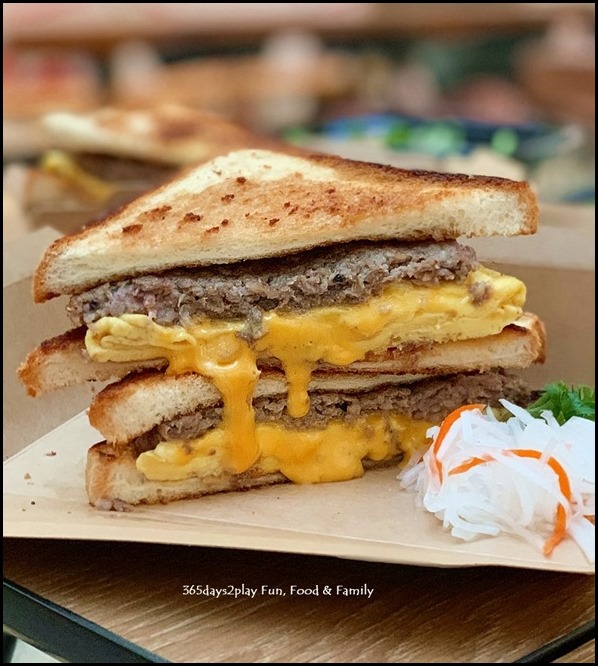 Syohachi Wagyu Hamburg is Singapore's first fast casual farm-to-table restaurant specialising in premium quality Japanese A5 Wagyu Beef Hamburgs, and at affordable prices. The reason for the affordable prices (ie less than $10) is because the brand holds an exclusive partnership with award-winning Hidakami Ranch in Japan.
So Instagram aside, this is supposed to be some legit beef sandwich. A5 stands for the topmost quality of Japanese beef that you can get, and basically it means that the meat is very superior. Although it might seem a waste to mince up an A5 beef and smother it with egg and cheese, I guess the saving grace is that they're not charging an arm and a leg for it.
I went for the Syohachi Japanese Wagyu A5 Beef Toastie ala carte $7.70 and added on an Egg omelette $1 and Cheddar Cheese $1. Compared to the photos on their Instagram, I noticed my beef patty to be slightly more cooked, whereas theirs had a bit more red to it. Nevertheless it was still pretty juicy so I guess I don't have an issue there. True to my expectation, copious amounts of cheese oozed out of the egg tantalisingly. Interestingly though, my cheddar cheese was enveloped within the egg, whereas I see the cheese as a separate layer in their photos. I suppose it doesn't make much of a difference except for aesthetics.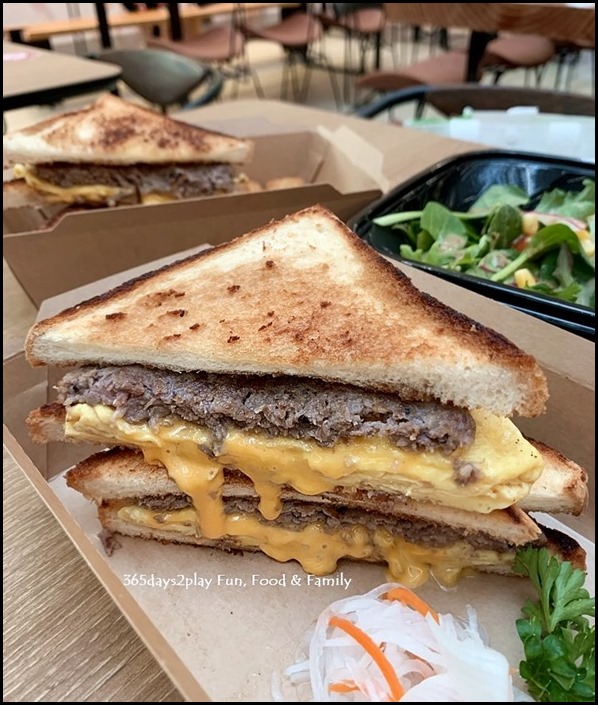 So, the taste. I have to say I quite enjoyed the beef toastie. It was not too greasy nor salty, as some had warned. It's a very substantial sandwich and I really was struggling to finish the last bits. Being an egg and cheese lover, I really enjoyed the addition of those ingredients. However on hindsight, I realise they might have slightly overwhelmed the taste of the A5 wagyu beef. If you want a meatier taste, perhaps just add on cheese, or omelette, but not both. I'd be keen to try the sandwich again without the add ons, just to better taste the beef. My dining companion on the contrary was disappointed that the meat was minced rather than in steak form.
The bread is toasted before being assembled. Syohachi's standard procedure is to toast the bread to a somewhat charred state, ie patches of black. Obviously that will provide more flavour but for health's sake, I did request for them not to have it too charred.
The cheese by the way, will start to harden after a couple of minutes of cooling down, so if you need to take photos, be quick about it!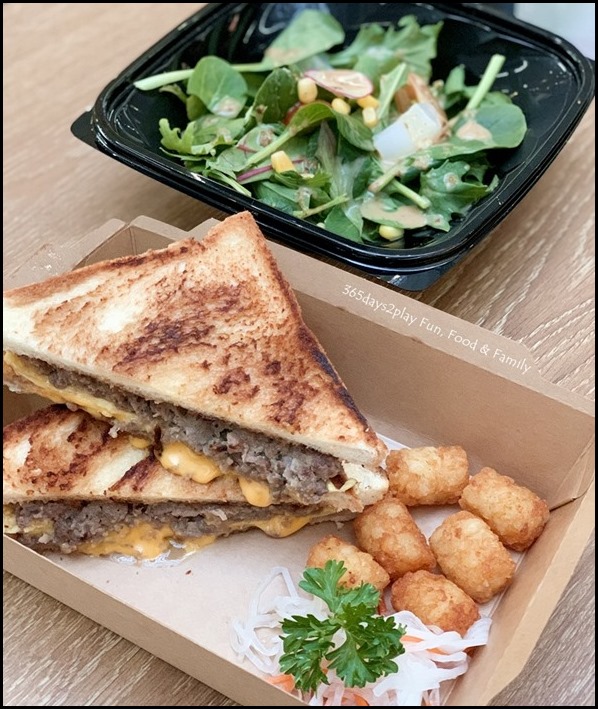 The toasties can be ordered ala-carte, or in a set. However the set merely includes tater tots (seems weird to have more carbs), and a small salad, so it's probably not necessary to have the set if you don't want those items. Other toasties on the menu include Japanese Egg Omelette and Cheddar Cheese Toastie (ie no beef) and Peanut Butter with Condensed Milk Toastie.
When to go???
Now here's the confusing part…. the menu changes depending on the time of the day. If you want the toasties, you have to go before 11.30am or after 2.30pm. During lunch hour, only the Hamburg Steak set $16.50 is served, which is basically a huge Hamburg steak patty with Japanese steamed rice, signature beef gravy and mixed salad. Only this is available during lunch hours, and not available as ala-carte either.
Basically just remember the following timings:
Breakfast 8.30am – 11.30am : Toasties Set and Petite Hamburg Set
Lunch 11.30am – 2.30pm : Wagyu Hamburg Set (full portion) and Egg & Cheese Toastie Set
Afternoon High Tea and Dinner 2.30pm – 8.30pm : Toasties Set and Wagyu Hamburg Set (full portion)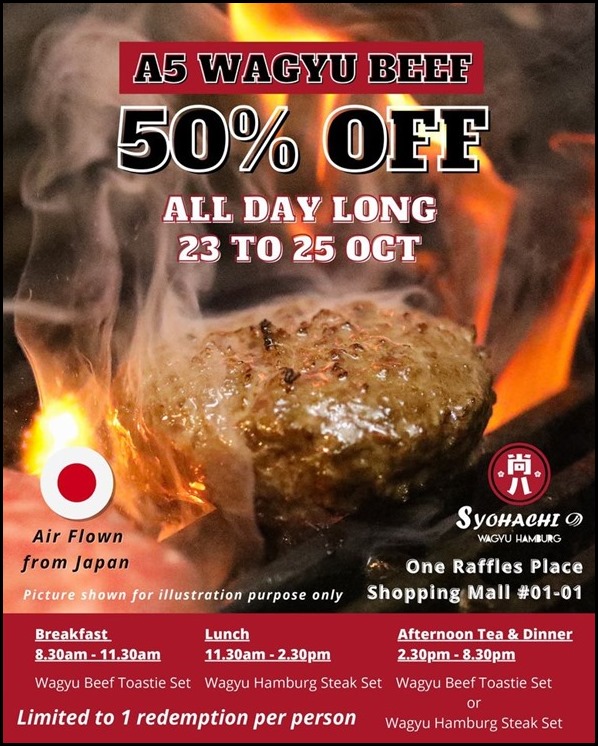 Good news if you're enticed by what you read here, Syohachi will be having a 50% discount all day long from 23 – 25 October. The items on 50% discount are the Wagyu Beef Toastie Set and the Wagyu Hamburg Steak Set, depending on the timing. Not sure if the add ons are going to be on 50% discount or not. Limited to 1 redemption per person.
Will we be seeing long queues? Actually I was kinda expecting the restaurant to be packed when I was there today at 9am. Turns out my dining companion and I were the only customers until about 10am when several more diners started to stream in. If the queues are manageable, I might actually pop back again on the weekend!
---
Add me on Facebook, Instagram and Twitter if you want to be kept up to date with the latest happenings in the food and lifestyle scene in Singapore!
Other Toast options in Singapore
---
Syohachi Wagyu Hamburg
One Raffles Place Shopping Mall #01-01 Singapore 048616
Tel : 6223 0755
Facebook : https://www.facebook.com/SyohachiWagyuHamburgSG/
Instagram : https://www.instagram.com/syohachi_wagyu_hamburg/
Opening Hours : 8.30am — 8.30pm daily