After our lunch at Chijmes, we decided to take a walk around the grounds. Some renovations are still on-going, mainly at the cathedral area only, so most of the restaurants and cafes have already been open for business for quite some time. Not much has changed, and rightly so because this is a historic building, but yet Chijmes feels refreshingly different from before. There are a number of new restaurants, as well as a number of old ones.
I would say the courtyard areas are more manicured with lush trees and foliage strategically placed such that you feel as if you are taking a walk in a garden. It kinda feels as if you are taking a stroll in some European park! Also, the single file restaurants have had roofs extended over their outdoor dining areas so rain or scorching sun is less of a worry now.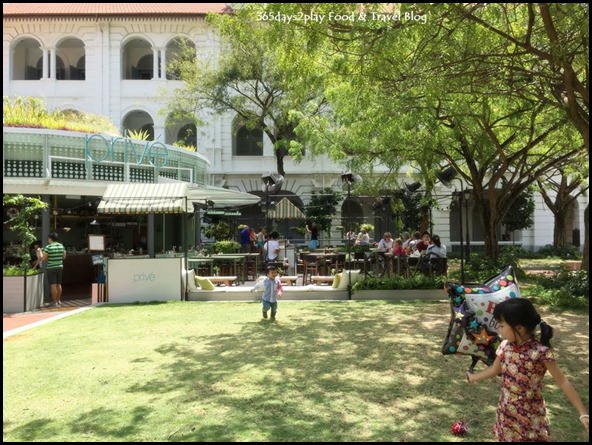 I love seeing kids run around outdoors (as opposed to in the malls). This is such a pretty picture, and even after a full meal at Lei Garden next door, I wish I had space to enjoy a drink or something at Prive just so as to be able to relax in this greenery. Thumbs up for how Prive has managed to incorporate nature into their design elements, from the green roof, to the creeping plants surrounding the outdoor area. And of course the large shady trees all around add to the atmosphere. Prive seems to have a knack for choosing "picturesque" locations… you will remember they have another outlet at Keppel Island facing the marina.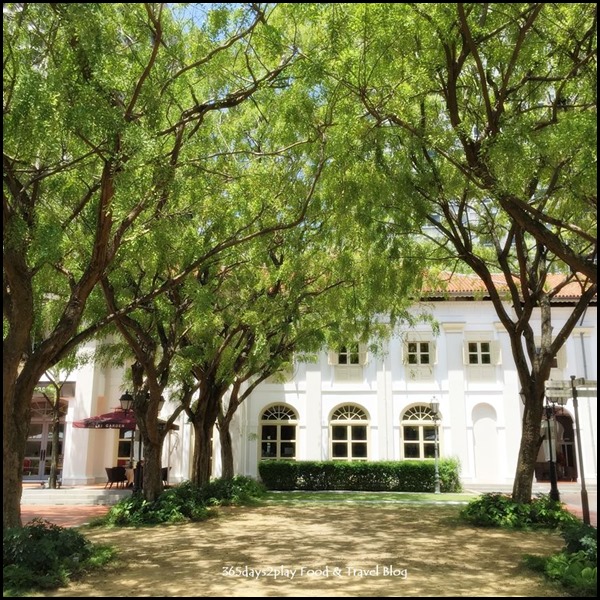 The shady trees I was talking about that make you feel as if you are walking in a park.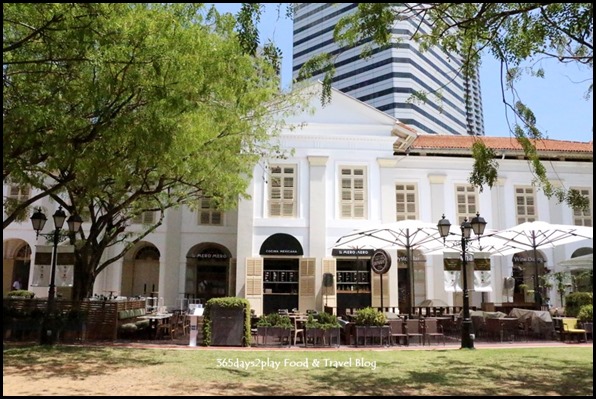 El Mero Mero which serves contemporary Mexican cuisine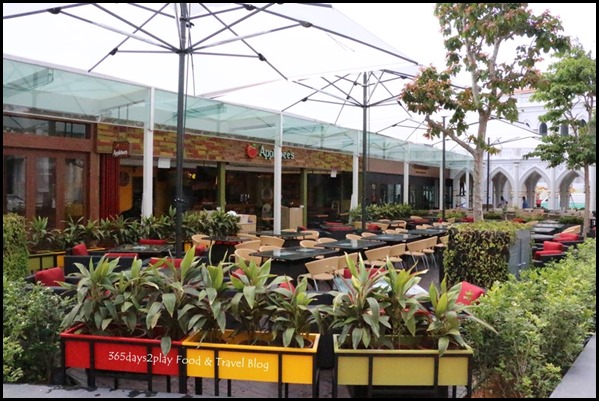 Applebees, the American casual diner chain with more than 2000 outlets worldwide. You can't quite see it in the picture but flanking Applebees on both sides are Carnivore Brazilian Churrascaria and Giardino Pizza Bar & Grill. If Giardino Pizza sounds familiar, it's because it used to occupy the spot that is now occupied by Prive. Perhaps they got tired of customers complaining of the heat, and wanted a unit with an indoor air-conditioned area. I had dinner at Pizzeria Giardino (it's name last time) about 5 years back and I have to admit, it was a furnace! The particularly humid weather that day did not help, but what made it worse was that the hot air from the kitchen kept dissipating out for some reason. Anyway, those days are thankfully gone with their new location.
Lei Garden from Hong Kong, serving up fine Cantonese cuisine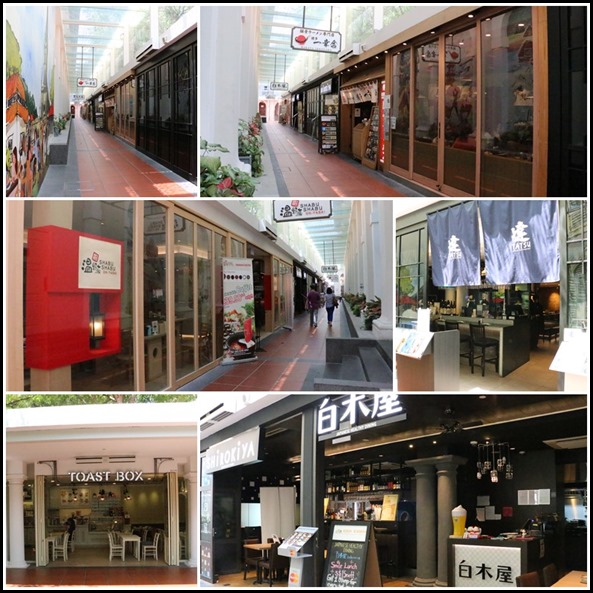 These are the peripheral restaurants which you have to get out of the courtyard to be able to access. Quite a number of Japanese themed restaurants here such as Tatsu, Tonkatsu & Sake Bar Tonzaemon by Ma Maison, Gyu-Kaku Prime, Ikousha Ramen, Shirokiya etc. And strangely, Toast Box. For the slightly upmarket Chijmes, Toast Box does seem out of place, not to mention that there is also another Toast Box outlet at Raffles City Shopping Mall just across the street. Well it's always good to have affordable drink options around after spending a pretty penny at the restaurants in Chijmes.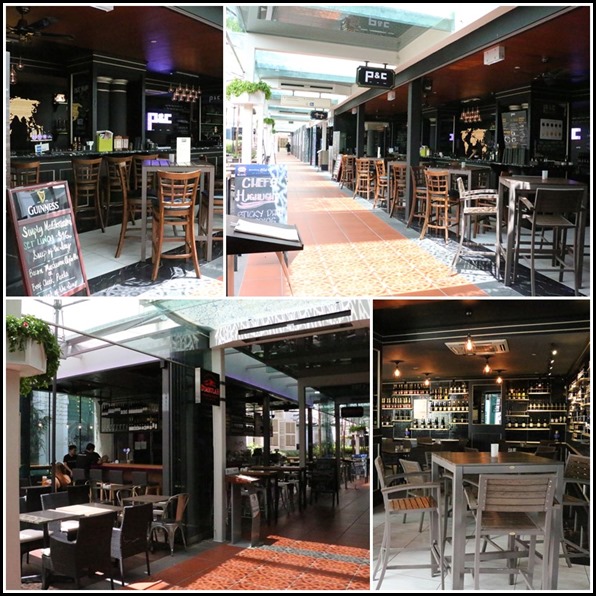 There is also the Western themed peripheral flank…Dimbulah, the coffee chain is here, with full meals, Harry's, Oyster bar & Wine Dining wharf, Paprika & Cumin….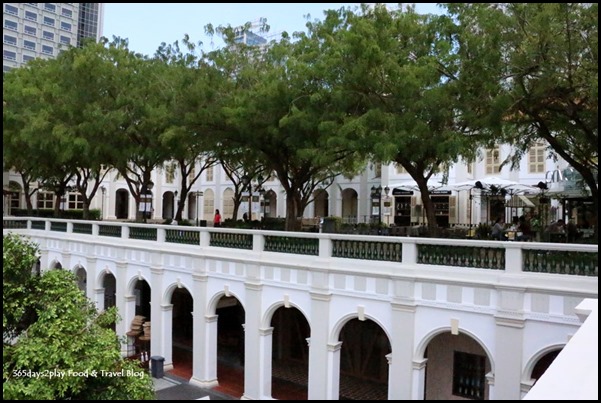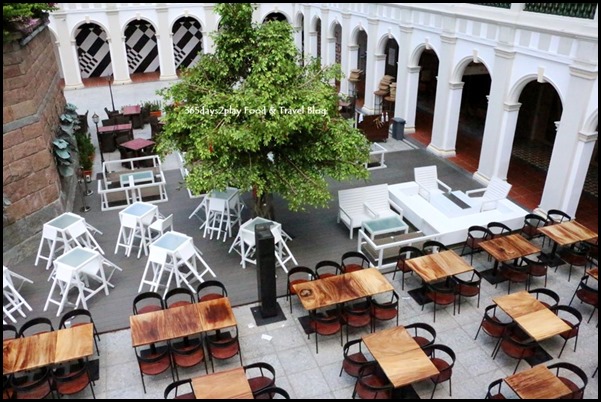 I didn't get a chance to go to the basement, but there are also more restaurants there, those meaty, beer and where you can watch the English Premier League football /rugby types if you know what I mean. Highlander has opened another outlet here, in fact, they celebrated their grand opening yesterday on 7 March 2015! Bobby's Restaurant and Bar, and BERLIN are also located here. Hog's Breath doesn't seem to have an outlet here anymore though, based on their Facebook post.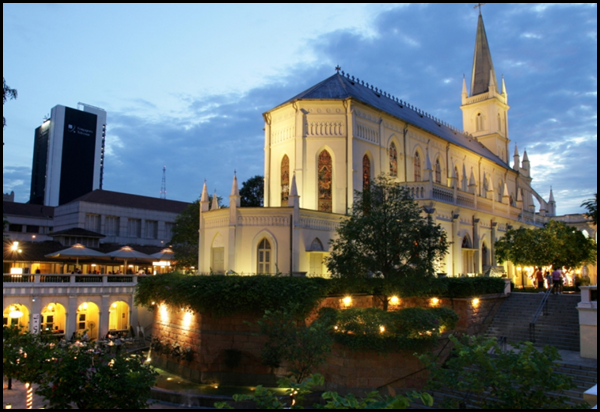 Photo credit : Chijmes Website
Well if you want to know the full list of restaurants, you can check out Chijme's directory.
Check out my list of what to eat and do around the City Hall area.
---
Add me on Facebook, Instagram and Twitter if you want to be kept up to date with the latest happenings in the food and lifestyle scene in Singapore!
---
Chijmes
30 Victoria Street, Singapore 187996
Tel : +65 6337 7810