After knowing of Privé's existence for more than 1 year, we finally found the opportunity to pay it a visit. The whole trip was like a mini excursion out of Singapore. In fact, we literally had to leave mainland Singapore and hop onto Keppel Bay Island in order to get to Privé. We didn't have to take a ferry though. Keppel Bay Island is connected to mainland Singapore by the $30m Keppel Bay Bridge. Betcha didn't know we even had a Keppel Bay Island!
Keppel Bay Island is extremely small, it's almost impossible to miss the clubhouse where Privé is situated, because the clubhouse is practically the only building on the Island. It was drizzling the entire morning so it was the perfect opportunity to enjoy some al fresco dining. Everyone else had the same idea, so nobody was sitting in the air-conditioned area of Privé. Sitting outside also allows you to enjoy the idyllic view of the bobbing yachts on the waters.
There were quite a number of items on the menu that caught my eye, and we took quite a while to decide! I'd heard that the Cod Fish Burger $26 was excellent, and the Chicken Cordon  Bleu $22, Slipper Lobster Linguine $25, Duck Confit Pappardelle $23, Slow-Cooked Beef Cheek $26 also looked very interesting. Decisions decisions….in the end I ordered the LA Wagyu Beef Burger with fried egg and Monterey Jack cheese $26 while the Partner ordered the Organic Mushroom Linguine $18.
After 6.30pm, they also have a "small bites" menu where you can get a sampler of 3 mini wagyu burgers for only $18. What a shame it wasn't available for lunch!
I loved the Beef Burger very much. The minced beef patty was very juicy and full of flavour. You could tell it was of good quality mince because there was very little fat in it. The only grouse is that I did find several bits of unchewable gristle in the patty.
Definitely going to return again to try out the other dishes as well as the desserts!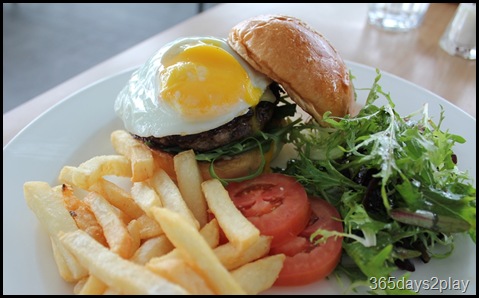 LA Wagyu Beef Burger, Wagyu minced beef patty hiding under the sunny-side up. The burger looks a wee bit tiny, only because it's on the far side of the plate.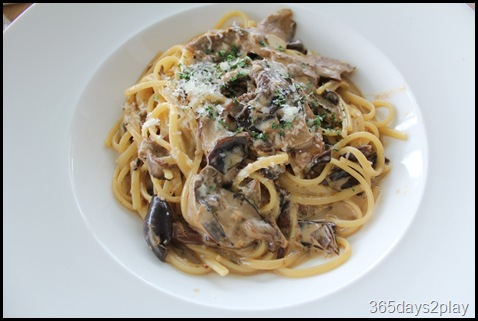 Organic Mushroom Linguine
Privé
No.2 Keppel Bay Vista
Marina at Keppel Bay
Singapore 098382
Prive Restaurant
Operating Hours:
Mon to Fri
Lunch – 12 noon – 3pm (last order 2:30pm)
Dinner – 7:00pm – 11:30pm (last order 10:30pm)
Sat & Eve of PH
Dinner – 7:00pm – 11:30pm (last order 10:30pm)
Sun – Closed
The Waterfront Bar
Operating Hours:
Sun to Thur & PH
– 12 noon to 12am (last order 11:30pm)
Fri, Sat & Eve of PH
– 12 noon to 1am (last order 12:30am)
Prive Bakery Cafe
Operating Hours:
Sun to Thur & PH
– 9am to 12am (last order 11:30pm)
Fri, Sat & Eve of PH
– 9am to 1am (last order 12:30am)
Tel: 6776 0777
Website: www.prive.com.sg
Promotions :
All credit cards with AMEX on it will be entitled to 10% discount on Mondays to Thursdays, excluding Public Holidays and eve of Public Holidays.
Keppel Club Members and Residents of Keppel Bay are also entitled to discounts.