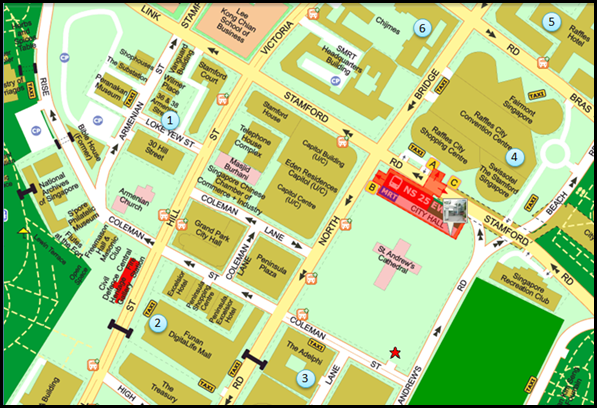 The Partner's sister is in town and staying in the City Hall area. The last time they were here I was busy preparing for the wedding. So I was quite appalled to hear that they were eating breakfast daily at Spinelli! I'm like YOU SPENT $10 on a generic sandwich there when you could have gotten much better at the independent cafes and sandwich shops??! So I'm making sure that no such thing happens again, no way, not anyone remotely related to a food blogger!
So here's a list of nice cafes and good eats around the City Hall / Raffles City area. I've only listed my personal favourites or places where I would recommend. This is a really good location to stay at if you're looking for good hotels in Singapore as the red coloured building in the map is the City Hall MRT interchange station. The City Hall area is also known as the heritage/ museum district, with quite a number of museums within walking distance! The oldest church in Singapore, the Armenian Church is also 10 mins walk away!
When in Singapore, you must try out the local coffee and our favourite breakfast, snack and supper all rolled into one, the ubiquitous KAYA TOAST. Apart from being available at all coffee shops and food courts, my favourites are from Yakun Kaya Toast and ToastBox.
~~~Good Eats in City Hall~~~
Soho Coffee — good coffee here and western dishes.
Funan Digital Mall

Yakun Kaya Toast (1st Floor) – My favourite local coffee, soft boiled eggs, and kaya toast
Paradise Inn (2nd Floor) — Good and pretty affordable Chinese restaurant.

The Adelphi

Stall selling cheap fruit juice. 1st floor down the back end

Raffles City Shopping Centre

Tiong Bahru Bakery (Basement) – Good coffee, croissants, pastry, squid ink sandwich
Cedele (Basement) — Healthy sandwiches, organic coffee, bread loaves
Canele (Basement) — Decadent and pretty cakes
Yakun Kaya Toast (Basement)— My favourite local coffee, soft boiled eggs, and kaya toast
ToastBox (Basement) — Good Local coffee and cheap tea cakes for $1.40
BreadTalk (Basement) — Bread buns with various fillings
Din Tai Fung (Basement) — Really good steamed pork dumplings known as Xiao Long Bao, from Taiwan
McDonalds (1st floor) — Self explanatory
Food court on 3rd floor — worth a visit

Raffles Hotel

Royal China (3rd Floor) — One of my favorite places to have Yum Cha / Dim Sum

Chijmes — Lots of restaurants here

Chinese, Italian, Western, Pubs, all available here. Budget $25 and above for mains usually.
Lei Garden (ground floor) — One of my favorite places for Yum Cha and Double Boiled Soup!
~~~What to do near City Hall~~~
Museums within walking distance of City Hall MRT Station
National Museum of Singapore
Singapore Art Museum
Peranakan Museum
Philatelic Museum
Fire Station Museum
Good Buys
Cameras — John 3:16 at Funan Mall (2)
Children's Clothes — Robinsons or speciality children stores at Raffles City (4)
Really cheap bakeware — Sunlik Trading at Purvis Street which is 2 or 3 streets behind Raffles hotel, not in this map.
If you want to look for cheap food around City Hall, you can check out this article I wrote 3 years ago. It should still be fairly accurate.