The Marina Bay area is blessed with many great restaurants with spectacular views and Me@OUE is definitely among the top, literally speaking. I've seen the bay from many different angles and thought I had seen everything. But the view from Me@OUE's rooftop lounge and restaurant is great because it is at a comfortable height (not too high) which makes you feel like you are in the thick of the fireworks.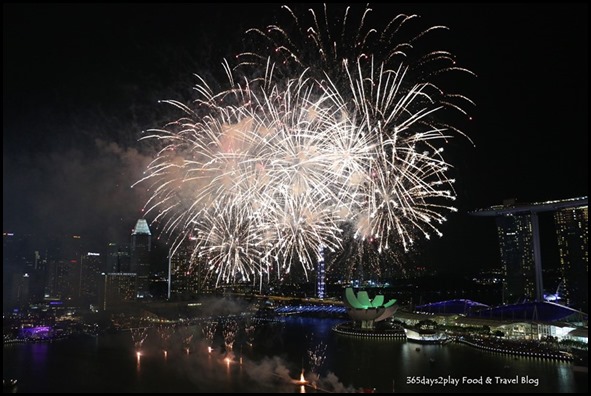 To celebrate Singapore's Jubilee Anniversary on August 9th Me@OUE invites diners to tuck into dishes influenced by local favourites with the restaurant's distinct twist. The menu highlights Celebrity Chef Chen Kentaro's vast expertise of fusing Japanese, French and Chinese cuisine with a local flair. For $245++ per person, you can tuck into the National Day Menu comprising the following items :
Caviar
Superior Seafood Soup in Young Coconut
Uni Chawanmushi
Chilli Lobster
Chicken-Rice with Foie Gras & Black truffle
Mangosteen Vanilla Sorbet
If you don't wish to go for the full on 6 course National Day Menu on 9th August Sunday, you can also sample 3 SG50 special main courses on 8th August Saturday :
Sweet and Sour Pork
Chilli Lobster
Sri Lankan King Crab
The normal menu is available along side the SG50 special main courses. We were lucky to be able to sample this SG50 special dishes as well as a few other signature dishes from ME@OUE! Read on for more details.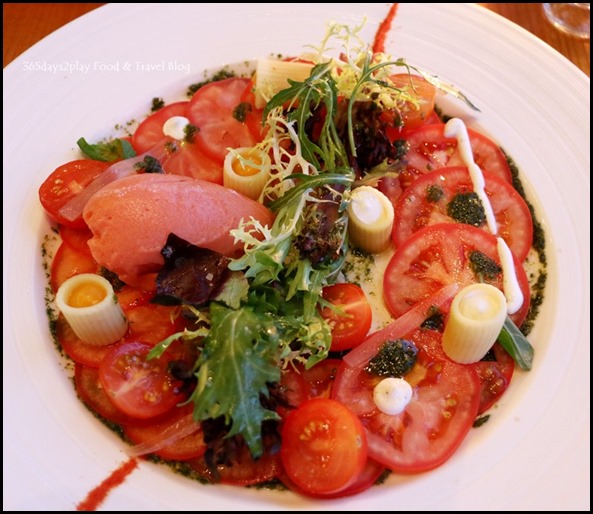 Roma Tomato Salad, with Tomato Ice Cream, Rigatoni Mascarpone Pepper, Pesto $22
Fresh tasting almost as if the tomatoes were just plucked from the garden. A really nice appetiser to start the evening.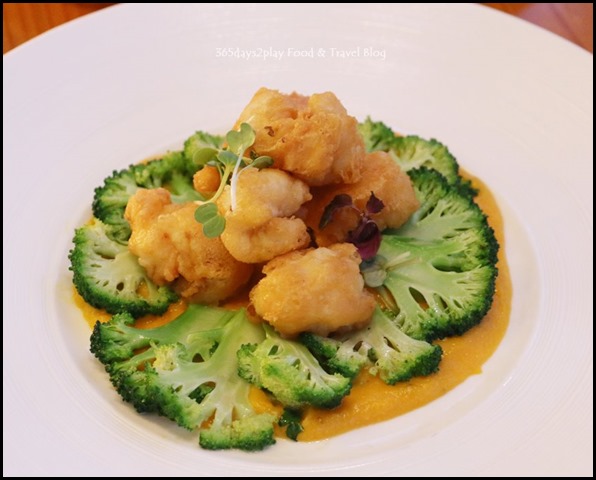 Pumpkin Salted Egg Yolk Crayfish, Broccoli, Green Chilli $28
Crispy and not as salty as many of the salted prawn dishes I've tasted before. The use of the pumpkin does taper the salted egg yolk nicely.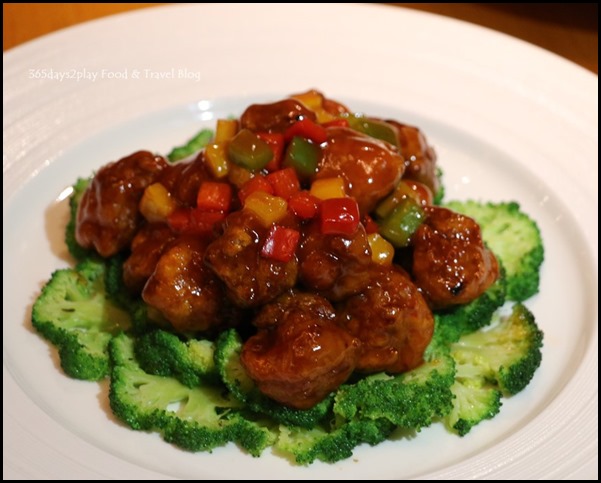 Sweet and Sour Pork $120++
A knockout dish. One of the nicest sweet and sour pork I've had. The meat was tender from being marinated overnight and the sauce not too sweet. The only grouse is the price, but I guess this is because the premium Japanese Momoiro Pink Pork is used! It is probably the most expensive pork dish I've had!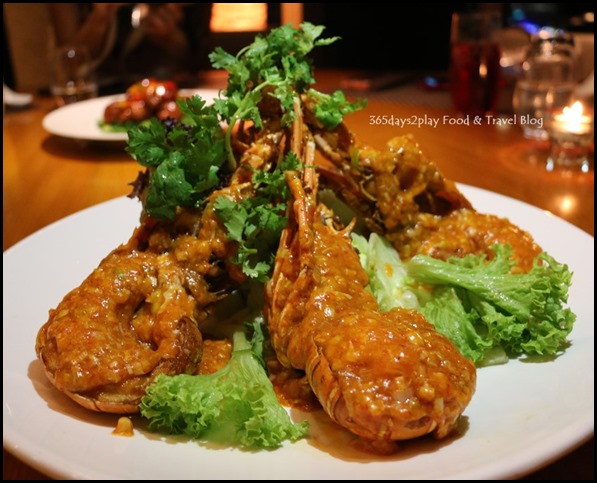 Chilli Lobster $180++
Great flavour and not too spicy. The spicy eggy gravy sauce was lip-smacking and just the thing to accompany the fried mantous. The Chef prefers to keep the spiciness at a level that caters for most Singaporeans but for those of you who need more kick additional chilli is available on the side.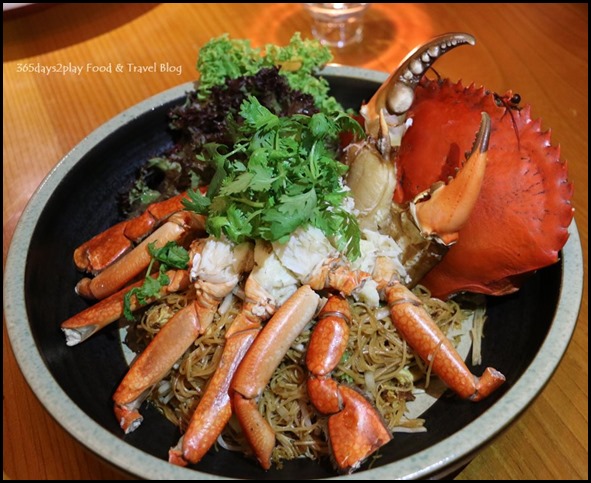 Sri Lankan King Crab Mee Sua. $198++
I'm a carbo fan and would have been content just slurping up the mee sua soaked in rich crab superior stock that has also been enhanced with beansprouts, yellow chives and shallots. But of course, despite being quite full by now, how could I miss out on the succulent crab flesh which had lent its aroma to the mee sua?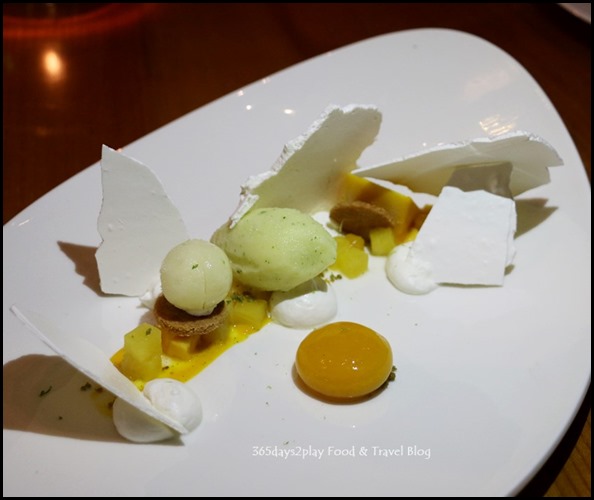 Vacherin (Mango, Pineapple & coriander, Bergamot Sorbet, Vanilla Meringue) $15
There are so many flavours and textures in this desert it's amazing. Sweet, tangy, velvet, crispy. They're all there. That rounded egg yolk thing is not what you think it is. I'll leave you to make a guess.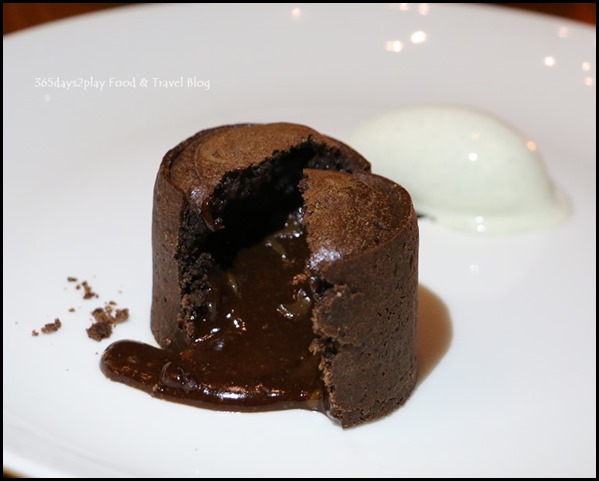 Dark Chocolate Moelleux with Vanilla Ice Cream $16
For you chocoholics our there and that includes myself! Rich and decadent, I think the picture says it all. The vanilla ice cream is much needed to cleanse the palate before going for the next chocolaty bite.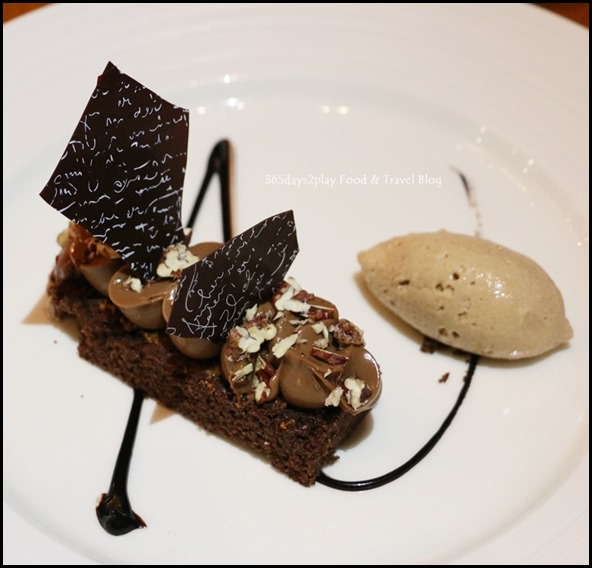 Caramelised Pecan Biscuit, Gianduja Cremeux, Praline Ice Cream $16
This is the chocolate dessert to choose if you want something that is slightly lighter than the chocolate Moelleux. It's more well-balanced in the sense that there are other flavours to enjoy and not just full-on chocolate. They really do their ice creams very well here, I loved all that I tried!
Me@OUE's regular dinner menu will still be available for those who don't wish to partake in the SG50/National Day menu.
---
Add me on Facebook, Instagram and Twitter if you want to be kept up to date with the latest happenings in the food and lifestyle scene in Singapore!
---
ME@OUE
Address: OUE Bayfront Rooftop, 50 Collyer Quay, Singapore 049321
Contact: +65 6634 4555
Email: enquiry@me-oue.com
Website: www.me-oue.com
Restaurant Opening Hours
Lunch: Mondays to Fridays — 12.00pm to 2.00pm
Dinner: Mondays to Saturdays — 6.00pm to 10.30pm
Lounge Opening Hours
Monday to Saturday 6.00pm until late
Saturday afternoons and Sundays & Public Holidays Closed