It has been a long 10 years since I last stayed at the Conrad Centennial Singapore. Back then, with no kids in tow, I had the luxury of being able to stay at one of the club rooms so as to be able to enjoy the Club Lounge. I don't know why but having club lounge access just seems so exciting to me. Perhaps it's the novelty of being able to indulge in drinks and food at nearly all hours of the day, in an exclusive lounge. After all, no matter how well-appointed a room is, it will be fully explored and inspected in a couple of hours. And I am not the type to sleep in the bed the entire day, life is much too exciting for that.
Nevertheless, our stay at Conrad this time round had a notable first. It was the first time we have ever stayed in adjoining hotel rooms. Solo or business travellers would probably have no need for this information. However if you are doing a staycation with family, adjoining rooms are what you want to know about!
Follow me on my Instagram for more updates on what to see, eat and do in Singapore!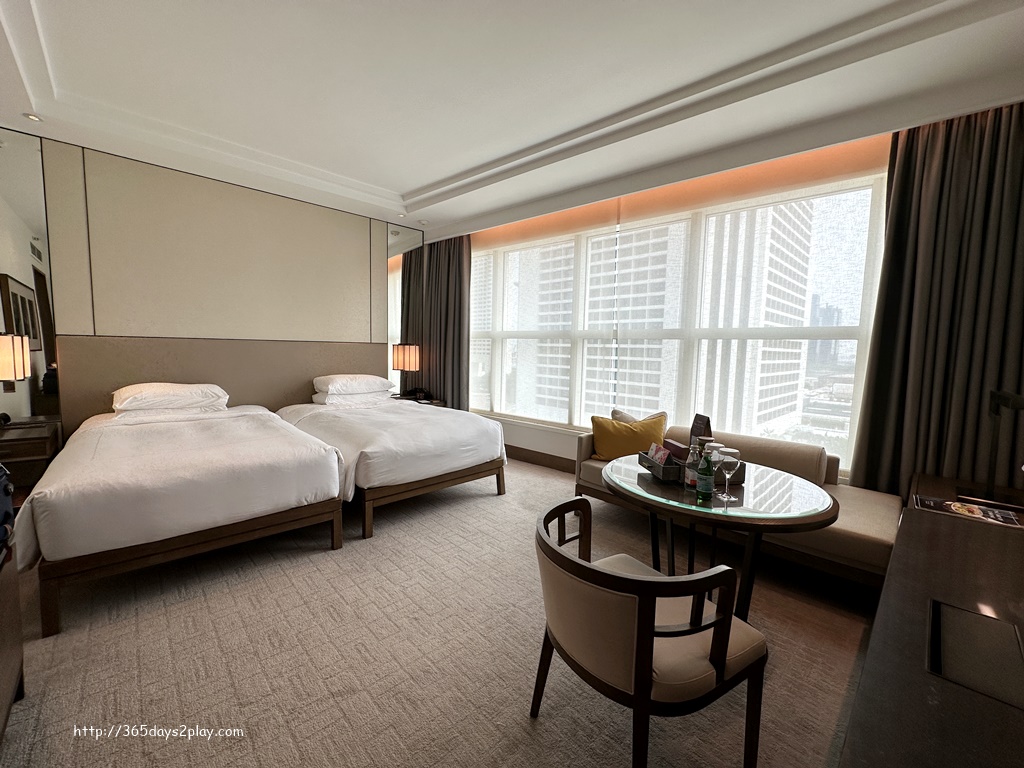 We had booked a room for ourselves and the 2 kids, and an adjoining room for my parents. After our successful and enjoyable 2 nights stay at a 3 room apartment at Orchard Parksuites, I was itching to be able to do another similar staycation. When the grandparents are around, needless to say there are more hands on deck to take care of the kids! Both of them also thoroughly enjoyed running from one room to the other. You would think that every room in the same category would be the same, and that is the case. However, to the kids, the sheer novelty of the rooms being mirror image to each other had them going back and forth to explore and discover. Every knob and every switch had to be pressed (multiple times yes). Each bed had to be jumped on. Each sofa had to be sat on.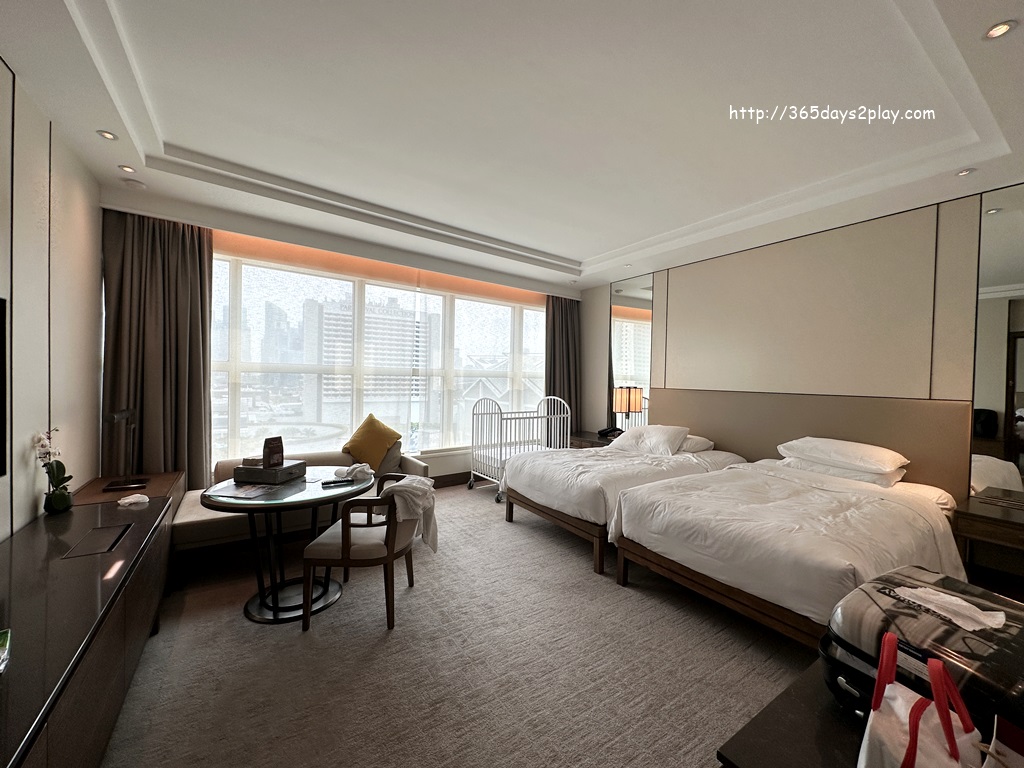 And you know what, we later discovered that my parents had been assigned a slightly larger room. We only noticed it a few hours later when we realised that their side table was double the length of ours, due to the slightly slanted layout of the Conrad Centennial Singapore. It would probably have been unnoticeable otherwise.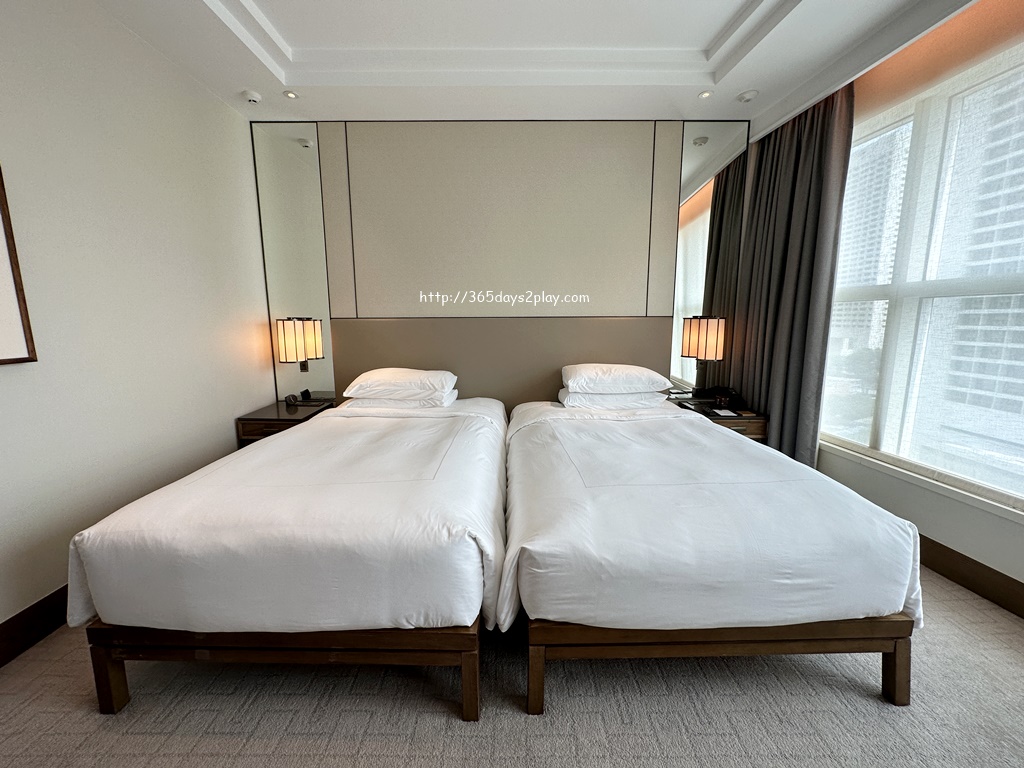 In any case, Conrad being the luxury tier of the Hilton group (don't forget to chalk up your Hilton Honors points), their rooms are spacious even for the most basic category. The 31 storey Conrad Centennial boasts one of the largest rooms in Singapore, starting from 40 sqm. Officially, the room sleeps 3, so there will be no additional charge even if 3 adults check into the room and use the existing bed configuration. The room comes with 2 singles or a king (your choice at the booking stage), in addition to a sofa bed. We pushed the 2 singles together and used the bed as if it were a king. It might be my imagination but the 2 singles pushed together felt a tad larger than my king sized bed at home.
The sofa bed is large enough for a child to sleep on (or a small-built unfussy adult), and that was where my son slept after we asked for extra bedding to cover the sofa. A charge will only be imposed if you request for an additional rollaway bed. Cribs are complimentary though, as is the case with most hotels.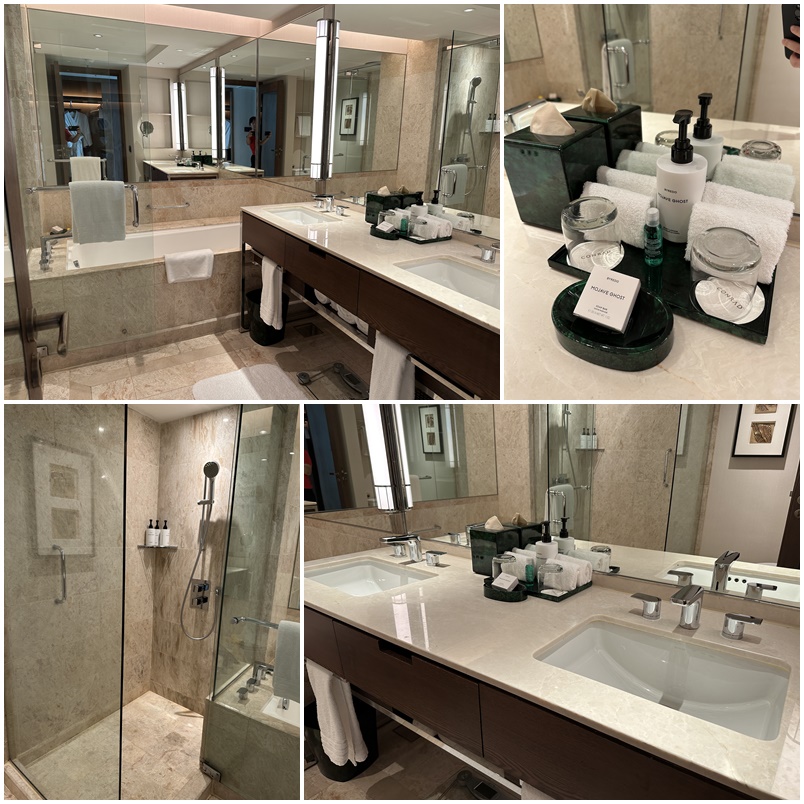 Another highlight of the property are the wall to wall windows. A good amount of natural light comes into the room. If possible, upgrade to a higher floor to enjoy the extended views. The most basic room category will mean you are at the mid level of the hotel at best (about level 11 I think?) Also there are 2 sinks in the bathroom, which makes it convenient to get lots of people ready. Also comes with a bathtub, and their iconic rubber ducky. These days, with many swankier looking bathtubs at newer hotels, I must say the Conrad's rectangular and plain bathtub doesn't look appealing at all.
I do think the Conrad is in need of a renovation or some sprucing up. Although the room is very clean, and everything is in working order, it just feels a tad bit dated due to the age of the hotel. It's something that hotels which were built around the same time as Conrad also suffer from, which is why many of the older hotels (eg Mandarin Oriental, PARKROYAL Collection Marina Bay, Pan Pacific Singapore, Marriott) are undergoing renovations/have undergone renovations.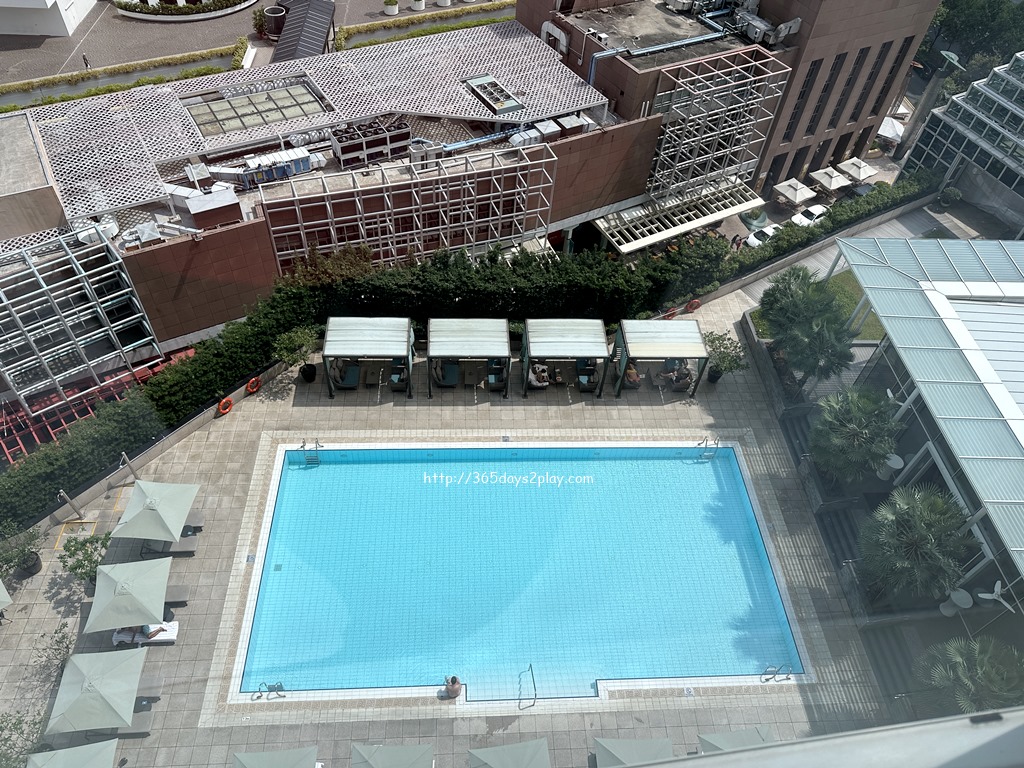 Swimming at the pool is of course a mandatory activity for us when it comes to staycations. The pool is pretty basic looking, just a rectangle, with shallower ends. Good for lap swimmers. The pool staff are very attentive and will leave glasses of water for you when they notice your arrival. My son was a bit disappointed there was no kids pool but he managed to still have fun at the shallow ends. The cabanas are free to use, on a first come first served basis. That's good news because I know of other hotels that charge a fee for cabana usage.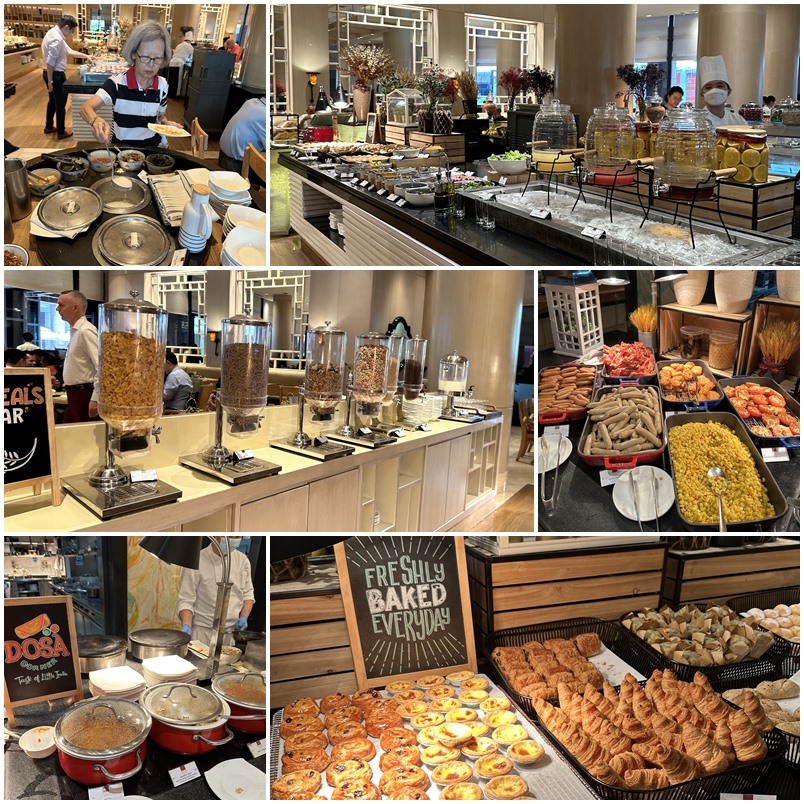 Lucky for us, breakfast came included with the room booking. The breakfast at Oscars is quite popular, and it is very extensive and befitting that of a 5 star hotel. They have a huge array of food ranging from Asian items like porridge and condiments, dim sum, sushi, to Western items like salads, cheese counter, eggs cooked to order and cereals. They also have quite a number of ice creams to go with waffles if that is up your alley for breakfast.
There's also this huge orange juicing machine (similar to the ones you pay $2 to see oranges being squashed for their juice), which is fun to watch, as opposed to getting a ready-juiced version. I was surprised at the number of oranges going into just 1 glass of orange juice! Now you know why they say too much fruit juice is unhealthy.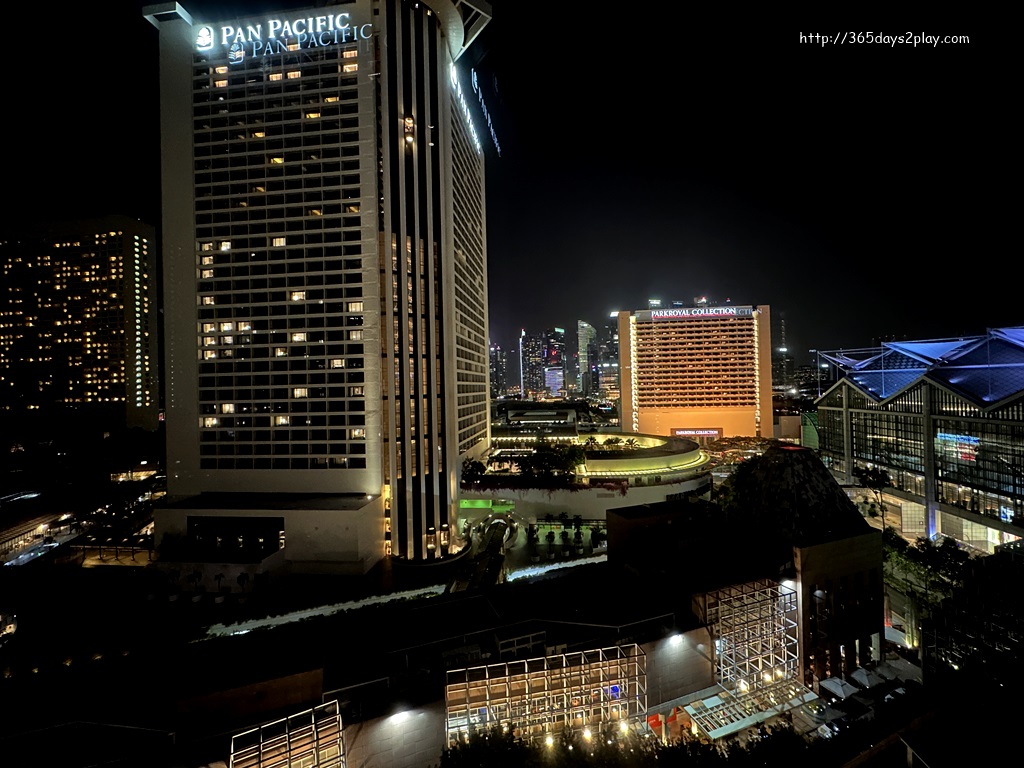 Staying at the Conrad Centennial Singapore means that we are right next to Suntec City, Marina Square and Millenia Walk shopping malls. Millenia Walk has a whole stretch of cafes (eg Patisserie G, The Dark Gallery, C Australia's Coffee Club and Starbucks) and we lost no time heading to one after we had finished unpacking in the room. So much ground to cover at the malls, and so fun to be able to just traipse across the road back to our hotel room after a hard day's shopping and eating.
We also made a pitstop at Conrad's Lobby Lounge for some cake and coffee. Would have loved to have afternoon tea at the Conrad Lobby Lounge but we just didn't have time!
Scroll down for more photos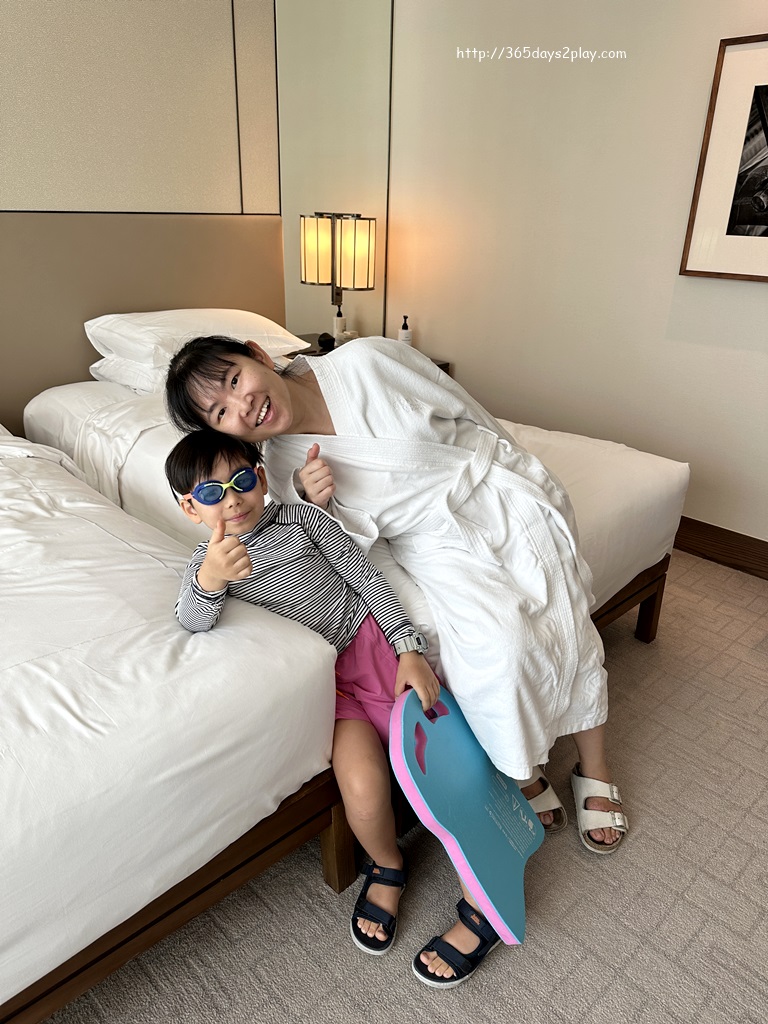 All ready for our swim at the hotel pool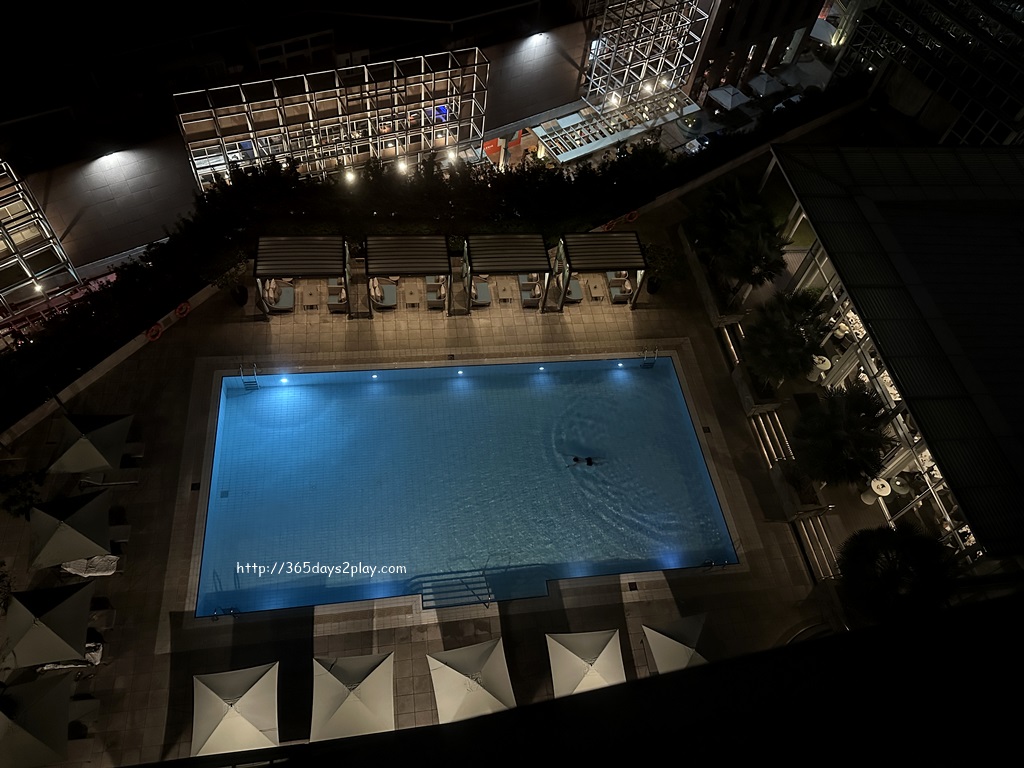 The pool view looks nice at night. The building in the background is Millenia Walk. Just a skip and a hop away from Conrad Centennial Singapore.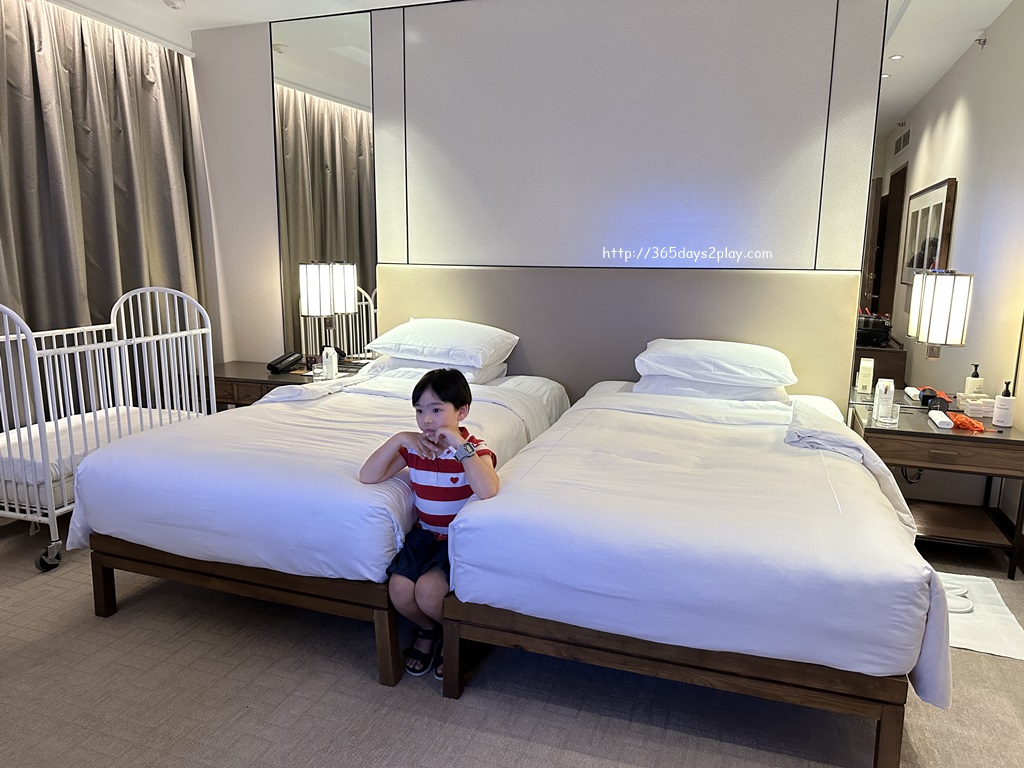 Whaddya know, the gap between the two single beds comes in useful after all.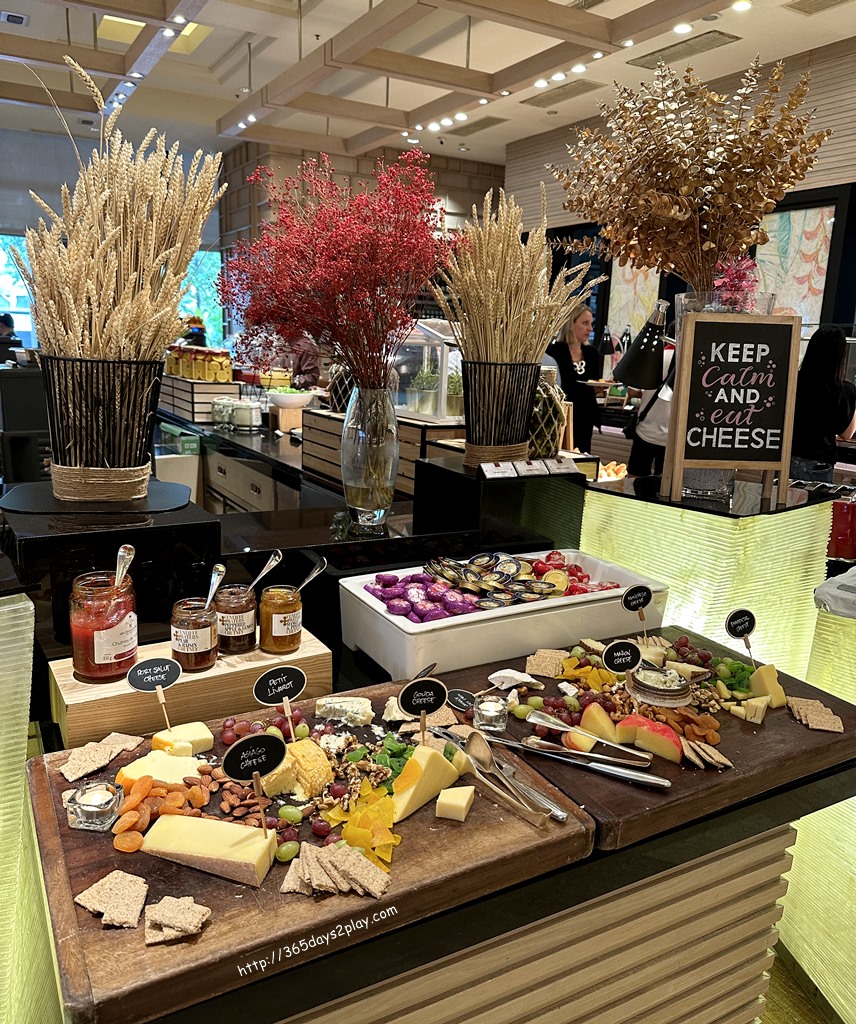 Huge cheese selection at the breakfast buffet!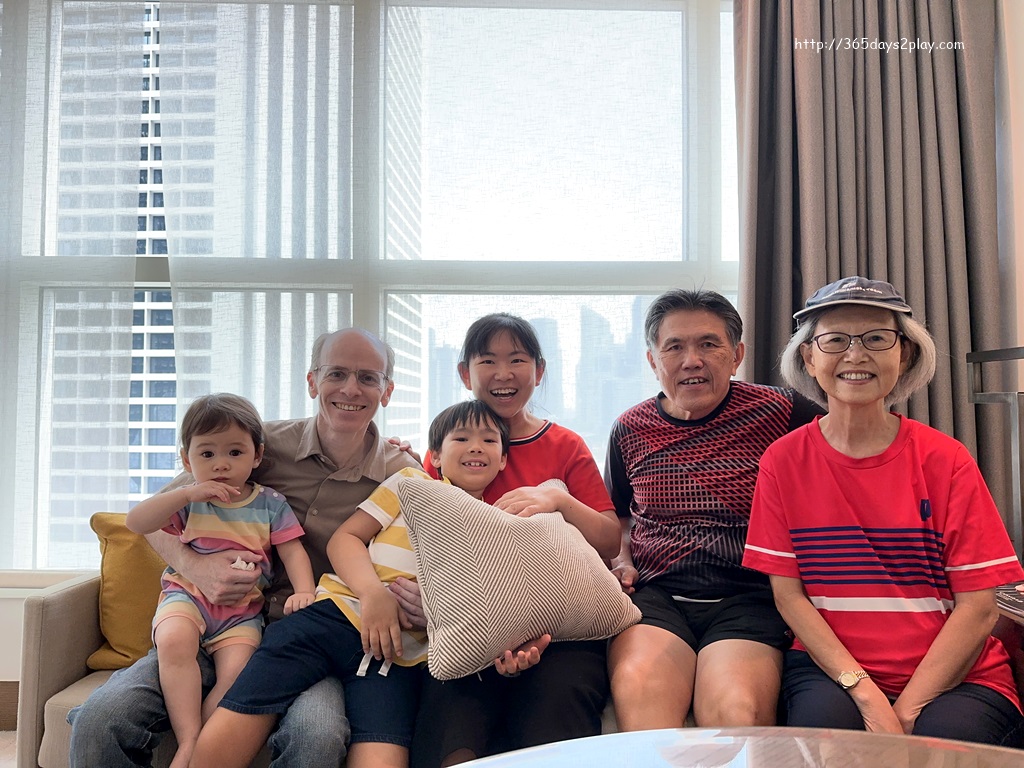 That's the number of people that can fit on the sofa bed!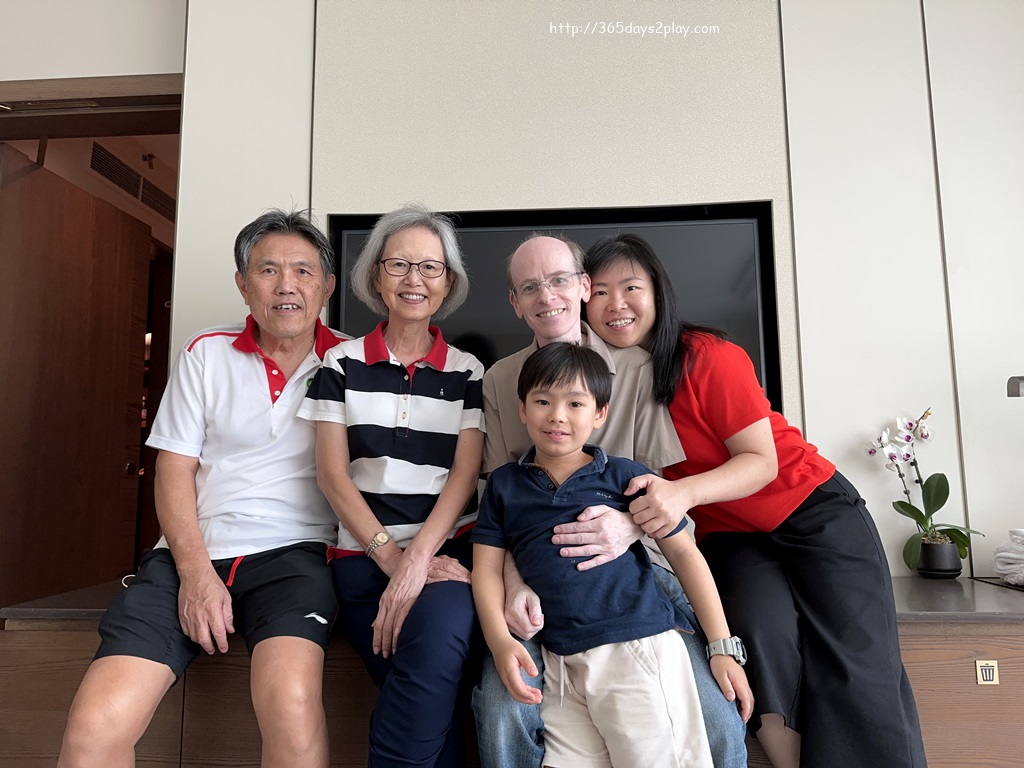 Another shot in front of the TV. The adjoining room door is to the left.
Follow me on my Instagram for more updates on what to see, eat and do in Singapore!
Conrad Centennial Singapore
2 Temasek Blvd, Singapore 038982
Tel: +65 6334 8888
Email | Website | Facebook | Instagram