Let's face it, having afternoon tea in Singapore in a nice comfortable setting such as a hotel doesn't come cheap. A few dainty morsels perched on a three-tier tray plus a few cups of tea would normally set you back by about $30 — $40 per pax. So I was quite shocked to discover that Grand Copthorne's afternoon tea costs only $38++ in total for TWO pax, with free flow coffee/tea!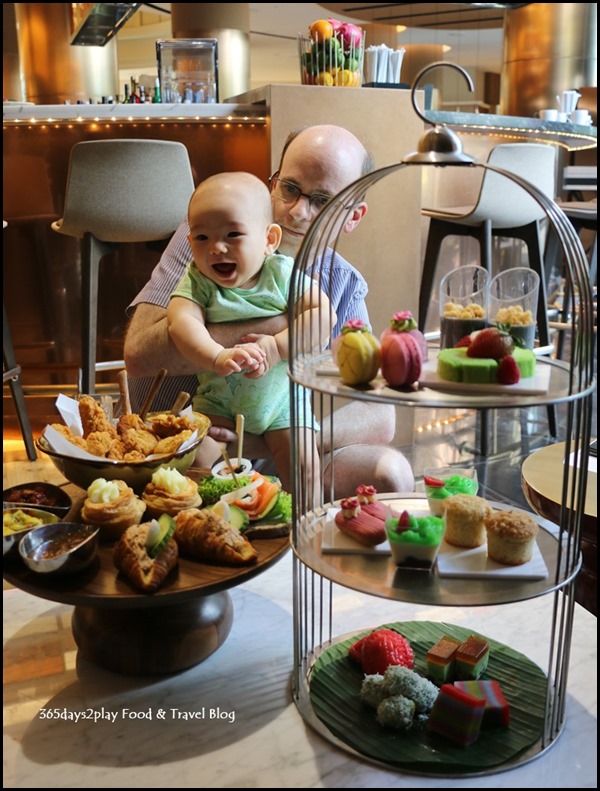 Look at this afternoon tea set, comprising fried chicken wings, dumplings, tuna croissants, salmon sandwiches, chicken pies, cakes, macarons, éclairs and nyonya kueh, it's quite substantial for afternoon tea right??? I did a quick poll of some of my friends and they guessed that this would cost $40 per pax! Granted the nibbles may not be the most expensive of items (ie not foie gras etc), but still, I really do think this is a good deal.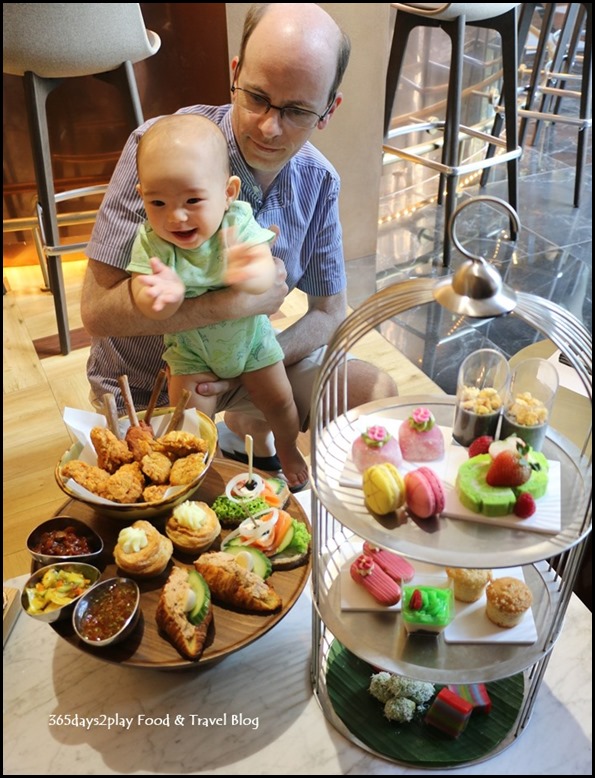 Baby certainly thinks this is a good deal! Just look at his happy face! Ok I don't know why he was so happy because he obviously wasn't eating any of it, I suppose he's just excited to see the large colourful spread!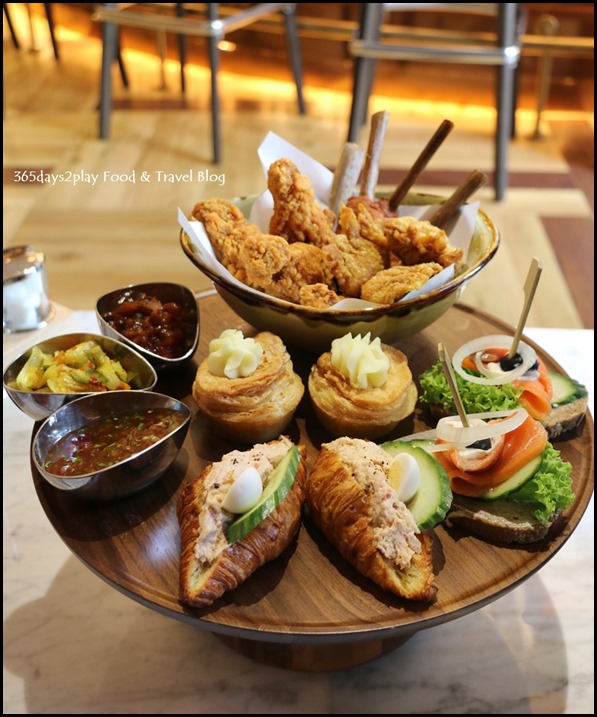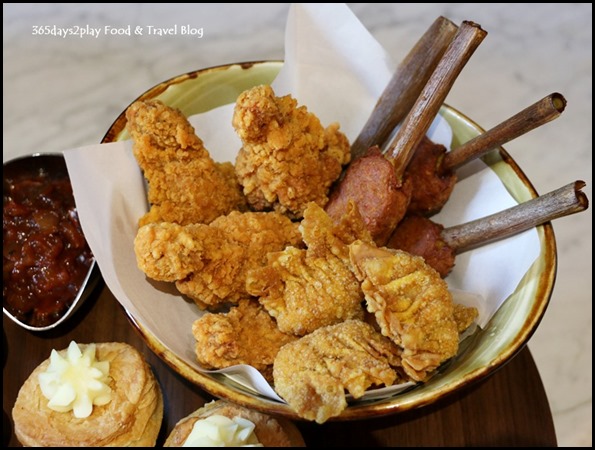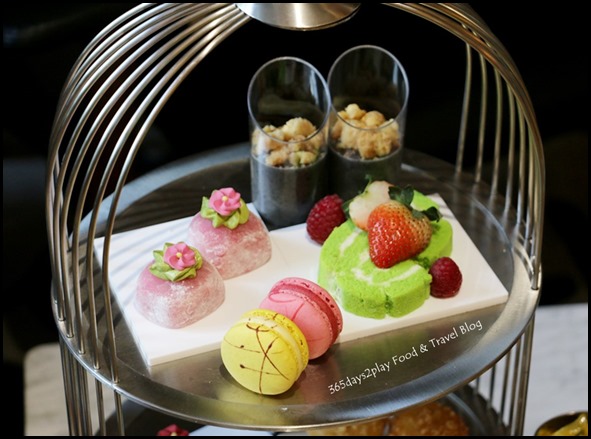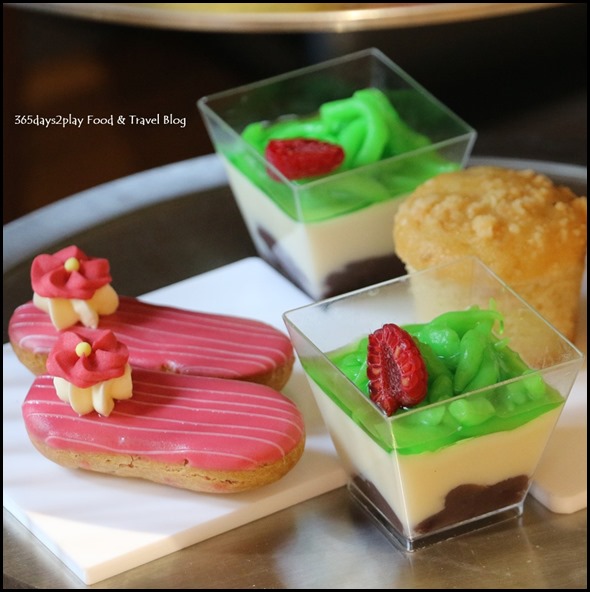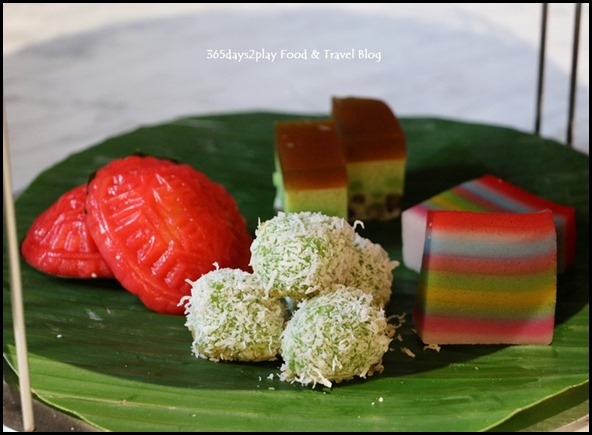 Ok have a closer look at the selections. The Partner and I did not have lunch, and this was more than enough to make us full, IN ADDITION to sharing some of the desserts with my parents! And I have to say, most of the items taste pretty good too, yes even the nyonya kueh! My father said "got standard"!
The afternoon tea set comes with free flow coffee/tea for 2 pax. The picture shows more because we ordered extra for my parents. It's not entirely clear but I think the free flow refers to the normal tea and coffee, ie the iced cafe latte isn't free flow. Do check with the staff again when you are there.
---
Add me on Facebook, Instagram and Twitter if you want to be kept up to date with the latest happenings in the food and lifestyle scene in Singapore!
Borderless Brunch at Grand Copthorne Waterfront — Free flow wagyu and foie gras!
---
Singapore-Inspired Tempo Tea at Grand Copthorne Waterfront Hotel
Mondays to Saturdays, 2.30pm to 5pm
$38++ for two (with free flow of coffee or tea)
Address : 392 Havelock Rd, Singapore 169663
Tel : +65 6733 0880
Email : enquiry.gcw@millenniumhotels.com
http://www.celebrateatgcw.com/aspx/promodetail.aspx?id=2
https://www.millenniumhotels.com/en/singapore/grand-copthorne-waterfront/tempo/