My friend is going to get married in France and she will be off tomorrow for 3 weeks! I just discovered that she is going to go via Qatar Airways so I decided to do this post for her. I've only flown Qatar Airways once for my Norway trip, or should I count it as 4 times, as it was a total of 4 different planes for the entire trip.
I like flying with Qatar Airways. I almost always fly with Singapore Airlines. I am afraid of flying and I feel safe with SIA. In fact, I don't think I've ever flown on any budget airlines before, even though I would love to pay much less. Qatar Airways gives me the same safe feeling. According to Wikipedia, Qatar Airways boasts of a very young fleet, with an average age of only 4.9 years as of April 2012. It was also voted Airline of the Year in 2011 by the prestigious Skytrax, which is an airline and airport review site.
I have to admit, it never crossed my mind to fly with Qatar Airways regardless….until I saw the fares to Norway. $450 nett return!!! I'm like WTF?!?!?! I hadn't even planned on going to Norway, I was actually planning to go to Germany instead! But it was just so good a deal that I took it up. You can't get fares to Norway for $450 now. The fares were cheap to celebrate the inaugural flights from Qatar to Norway. I did have to endure an 8 hour stopover each trip, but because the Doha Airport has a sleeping lounge (which I did not know about before I left), it was not as tiring as I'd imagined.
Here's a quick summary of my experience with Qatar Airways
Airplane : New, clean, no foul smells, no weird noises.
Seating : I took Economy and I found the seats to be similar to SIA, perhaps a little bit more cushiony and hence more comfortable.
Food : Good. No complaints for the main meals. Filling, hot, tasty and neatly packaged. 2nd meal (the pre-landing meal) is a wrap, which was tasty but not filling. I guess it wasn't meant to be a main meal again, given the 8 hr flight, but I was hungry. Qatar Airways does serve wine, in case you were wondering.
Service : Service with a smile. No complaints. I didn't have unusual requests though.
In-flight Entertainment : Very good. On some flights I got the touch screen TV thingy so it must have been a very new plane. Lots of movies to choose from. And games. And am I the only one who goes to the language games to learn new words and to read about the host country?
Doha Airport  : Quite basic. This is the worst part of the whole flying experience. Because of speed of growth in Qatar Airways, the Doha Airport has not managed to catch up in capacity, despite being upgraded 4 times. A new International airport is currently being built, and scheduled to open in Dec 2012 or next year.
Doha Airport — Getting to the terminal! : For me, I kena the old airport. There is no aerobridge to greet you when your plane lands. You have climb down the movable stairs onto the tarmac where buses will ferry you to the terminal. If you're carrying bulky items, good luck to you. I don't know how the wheelchair bound people disembarked. The buses are also no frills as compared to the more luxurious interior of the plane. Most people have to stand as seats are limited. The journey to the airport can be quite long, depending on how far your plane has parked. I believe the longest distance I travelled was at least 10 or 15 minutes, and that was to catch the plain for the Doha to Oslo leg. The Singapore to Doha leg, the shuttle bus only travelled for 3 minutes before arriving at the terminal, so I was quite scared when the 2nd shuttle travelled so far. I arrived in the dead of the night and left in the morning, so the temperature was rather similar to that of Singapore. I imagine it would be way hotter at noon.
Doha Airport Amenities (Only applies if you are flying with Qatar Airways. Other airlines use Terminal B) : The airport itself is also extremely no frills. It feels super crowded, even at 12 midnight. There is nothing to see except for the duty free shop, which everybody no doubt would be heading for. I think they even sell laundry powder there, and cornflakes, which is amusing to me. There are one or 2 cafes and a fast food place, from what I recall. Prices aren't exorbitant, pretty much Changi Airport type prices. Credit cards are accepted, and US dollars as well.
Oh, there is WIFI, but because there are so many people, it's really hard to get a connection. I only managed to get a connection at 5am.
There are 2 executive lounges, quite affordable I feel (I think it was $50?), but once again, rather crowded and doesn't give an atas feeling.
Sleeping Lounge : Ah, here was where I spent the bulk of my 8 hr transit. At first, we didn't know about this place, and found a quiet area with many chairs to attempt to nap. It was hard to nap because the seats were hard and had hand rests. So I got up and from my seat I spotted what looked like an Internet Cafe. When I got nearer, what I thought were the backs of computers were actually the backs of inclined chairs! Free entry to those whose tickets show a 3 hour stop over for more! You really got to scroll down to the pictures to see this sleeping lounge. It is no frills once again, and sited next to a cafe (noisy!) but even Changi Airport doesn't provide this! A god send! Thank you Doha Airport!
Okay enough talk, just scroll down and enjoy the pictures. Feel free to drop me an email if you have any questions! I love to talk about my travels!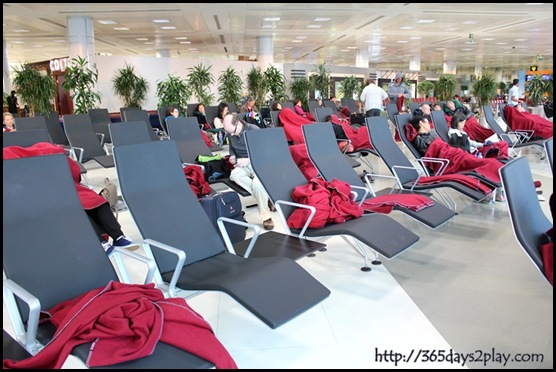 Blankies are provided. So sweet… The attendant comes around to shush people up if they're talking too loudly. Very good of him to do so.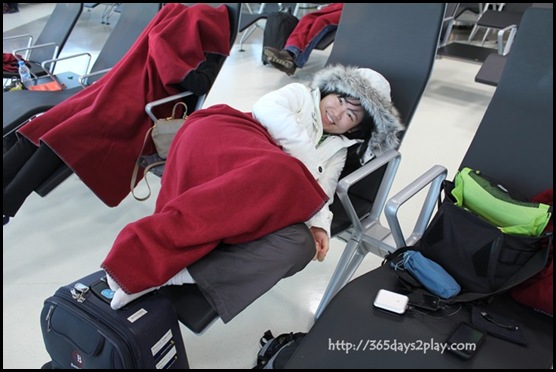 I can't sleep inclined for nuts. So what I did was to rest my head on the seat and put my legs on my suitcase. Worked pretty okay. When times are rough, you learn to deal with it. Airport was bloody cold though. That jacket was meant to be worn only in Norway!

Sunrise from the Doha Airport Sleeping lounge. Cool way to wake up.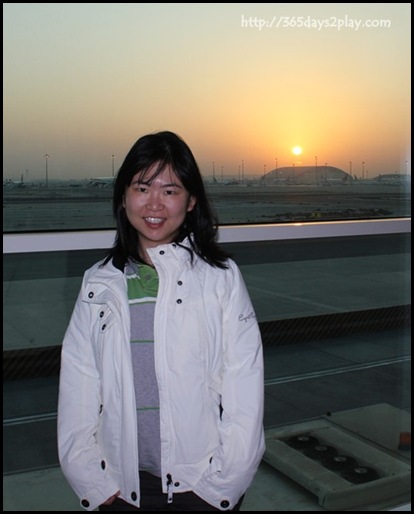 This is the best look I can summon after sleeping like a prawn on that hard seat. Pumped up by the fact that I was only 8hrs more to Norway! I didn't have this smile on the return journey, naturally…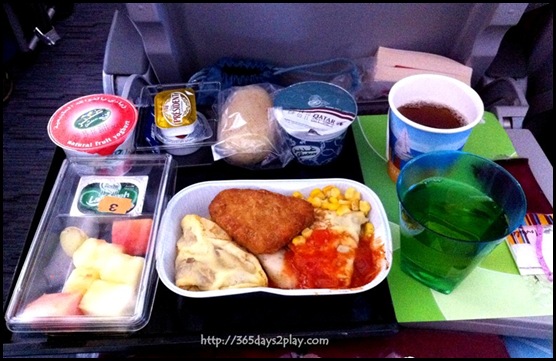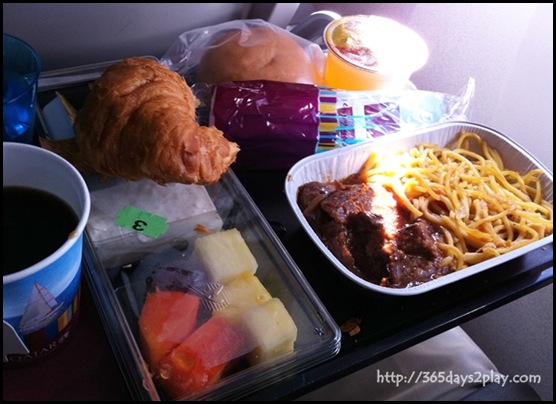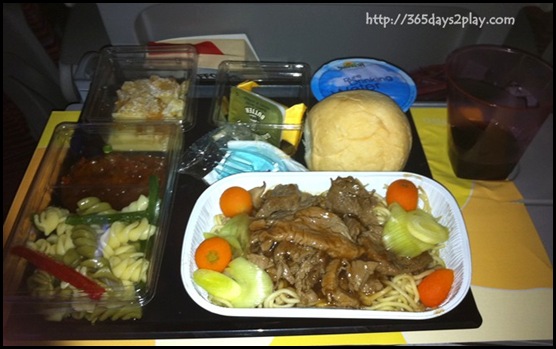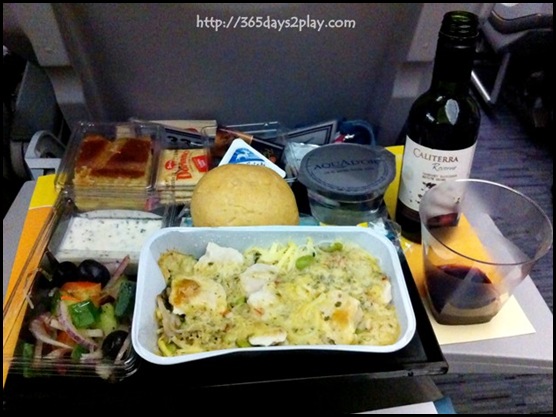 Apologies for the less than stellar food photos. These were all taken with the iPhone, under low lighting conditions. It was too taxing to have to get out of my seat to get the DSLR. Nonetheless, the food was pretty good. I always enjoy my meals on board and I actually look forward to meal time. I know some people can't seem to enjoy their food when flying but I am one of those people whose taste doesn't seem to deteriorate with increased altitude.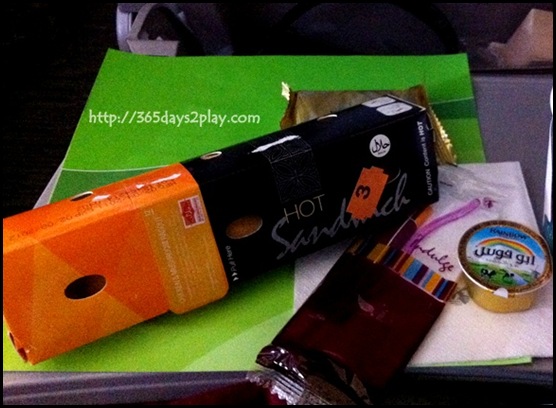 This is the snack wrap they provided. Only 2 flavours to choose from. On one flight, we had to choose between Chicken and Vegetarian.
Chicken Fajita hot posh wrap, so they say…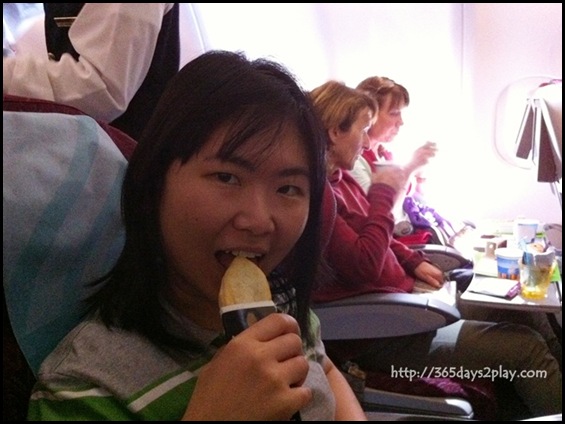 Actually the wrap isn't a soft tortilla wrap. It's quite hard, more of a pie hardness in fact, without the crumbliness.

Oh, I just had to add that the male model in the safety video is very handsome! I think it's very unsafe to have him inside the safety video because I completely missed the safety demonstration!!!
So in conclusion, is Qatar Airways good and safe? Yes you betcha. I would not hesitate to fly with Qatar Airways again, given their more affordable fares but equally 5 star experience.