Because Baby loves going for staycations, we have been trying to let him experience as many hotels as possible! One of the hotels we checked out was the Swissotel Merchant Court some time back. The hotel has actually undergone a 18 month refurbishment, so it was a good opportunity to check out the new furnishings!
One huge plus point about staying at the Swissotel Merchant Court is that you're right smack in the heart of Clarke Quay where all the vibrant restaurants are (beware the touts). There's also a mall next to the hotel called The Central with numerous fashion boutiques and more restaurants and cafes. Very importantly, the Clarke Quay MRT station is next door as well, or you could simply take one of the numerous buses straight to Bugis (just 4 or 5 stops away).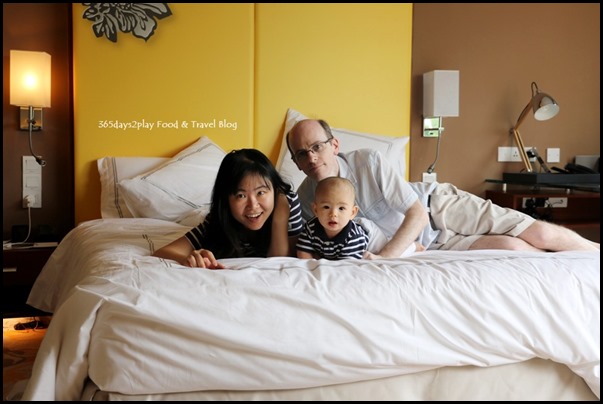 Greetings! Our mandatory wefie on the king size bed!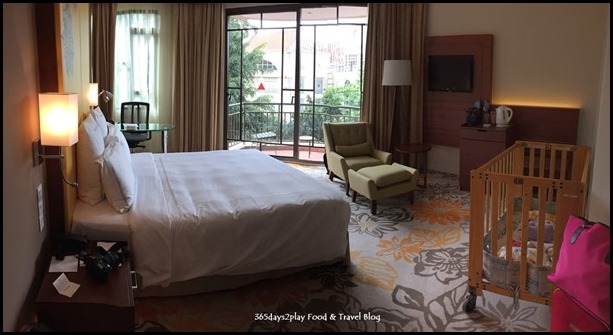 The Swiss Executive room that we were assigned was spacious and had a lovely balcony, and if there's one thing that I love, it's balconies! Even though the balcony may not be large, but just being on it and being "out in the open" makes everything so much more exciting. And of course it makes the room feel so much more spacious.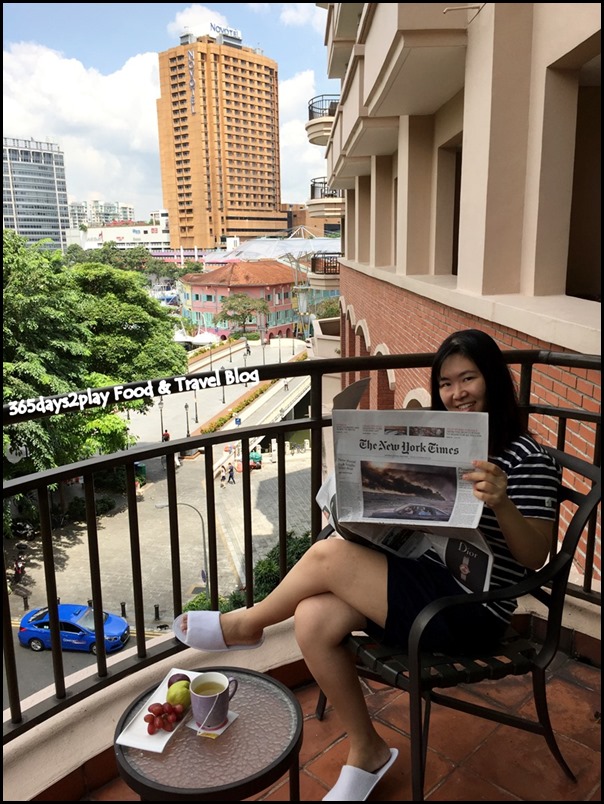 Not many hotels offer balconies with their hotel rooms, so we were very lucky to be able to snag one. I would highly recommend the additional $. If you are able to, request for the rooms facing Clarke Quay, then you will be able to enjoy the full view of the vibrant Clarke Quay and its restaurants at night (might be somewhat more noisy though). Even though I only managed to get a partial view, it was still lovely being able to have a spot of tea and some fruits out on the balcony!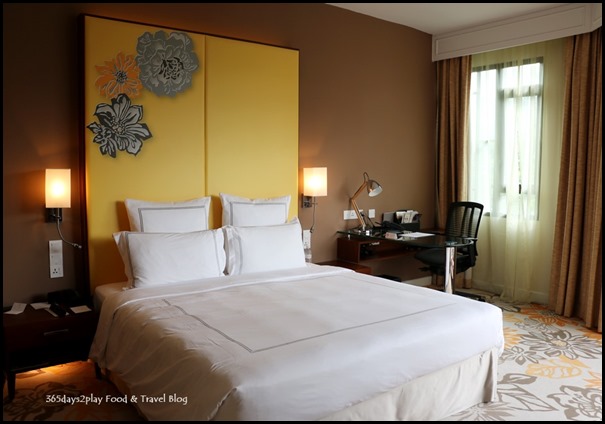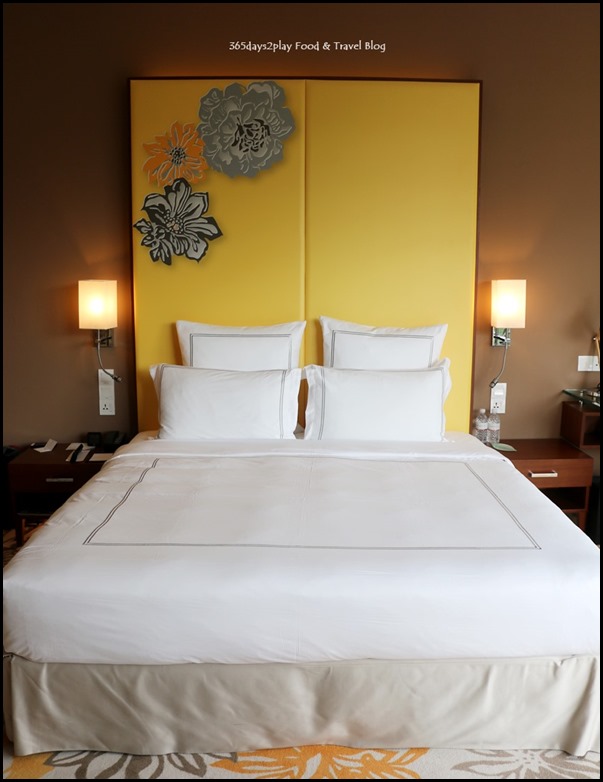 Here are more pictures of the hotel room. Love the bright yellow headboard which makes the place look so inviting!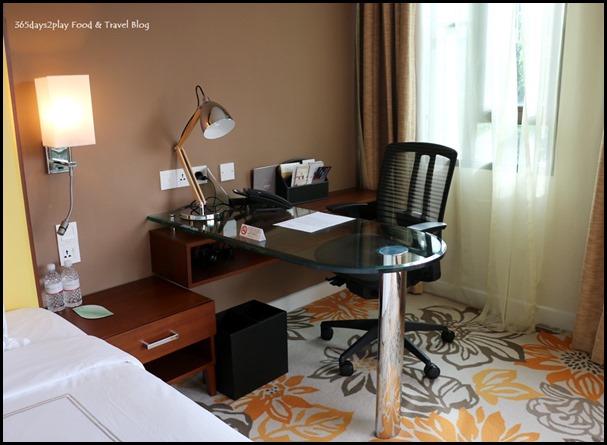 Nifty little business table corner to get some work done. Yes very helpful to bloggers and influencers who may have to file stories on the go. Many hotels in Singapore now offer free usage of a mobile phone set with unlimited data. It comes installed with tourist information on Singapore and apps where you can book tickets or make reservations should you wish to do so. Very useful for those who did not purchase any data card at the airport, you can tether to this phone for free!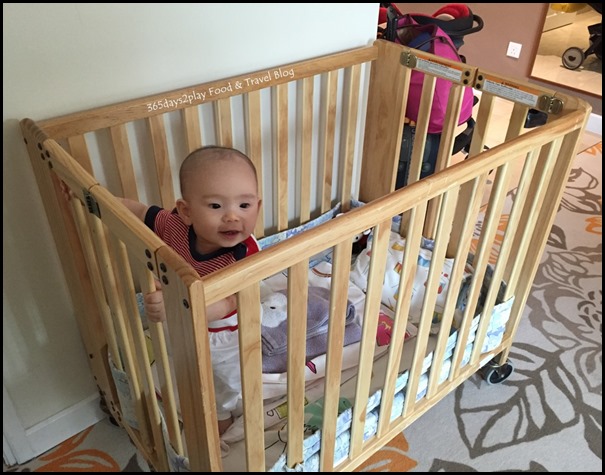 Baby checking out his crib for the night!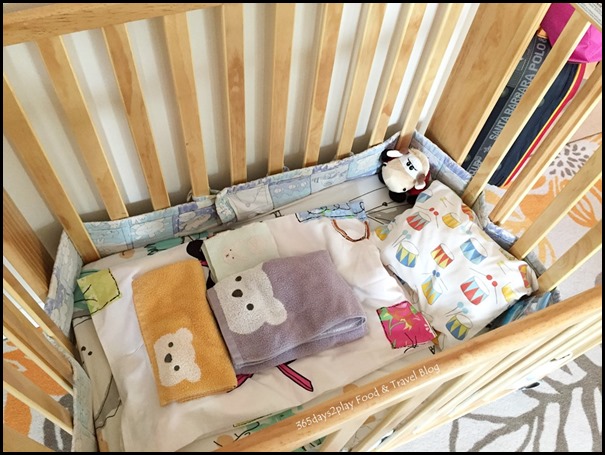 Swissotel Merchant Court has also provided a set of towels and toiletries for babies/children. That's very useful considering I already had to lug 3 suitcases worth of stuff for the staycation! And did you spot the mascot soft toy? It's Niu Niu aka Cow Cow, yes that's the official name I kid you not!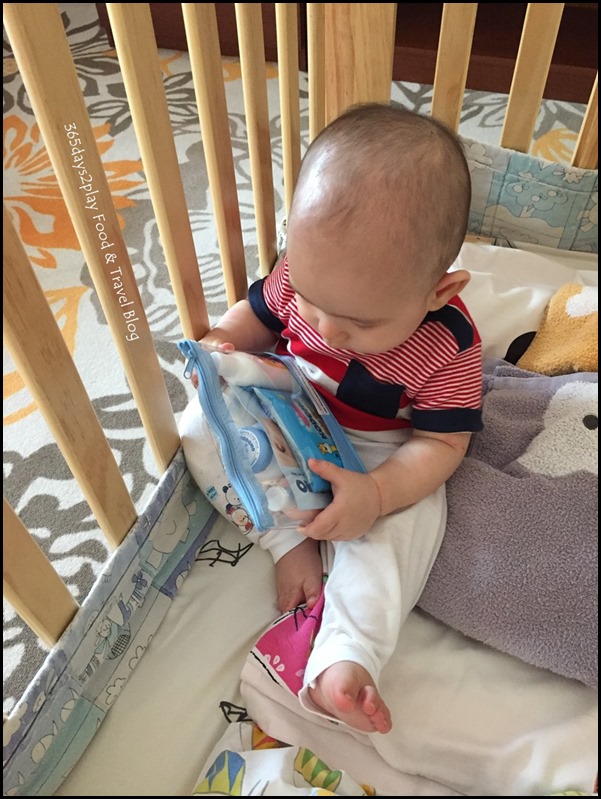 Baby scrutinising his new bag of toiletries….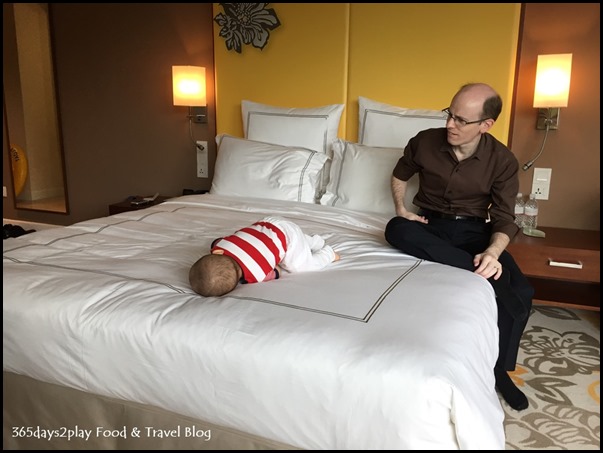 Baby making sure that the bed is soft and smells good, not that we allow him to co-sleep you know…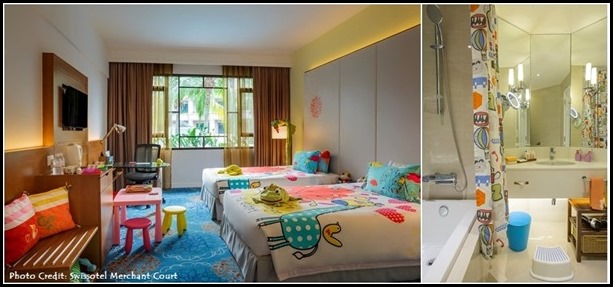 Swissotel Merchant Court also has kids rooms (available as adjoining or connecting rooms) that are decked out with kid friendly furniture, bedding and even shower curtain! Too bad Baby wasn't of an age to appreciate such stuff so we went with the normal rooms.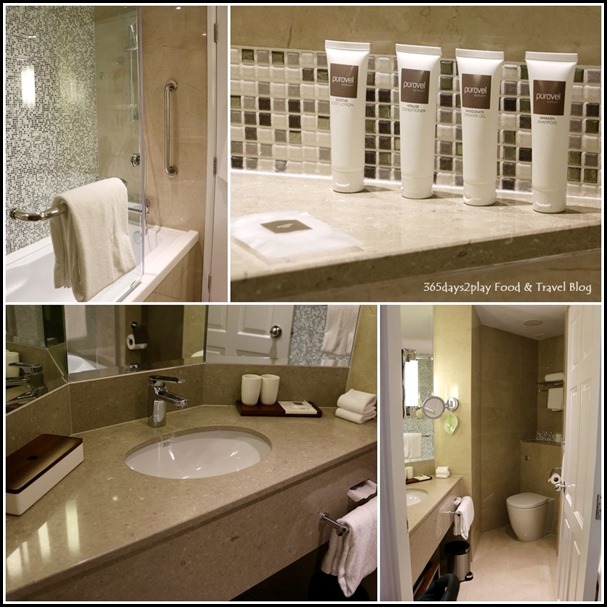 Purovel toiletries for the adults…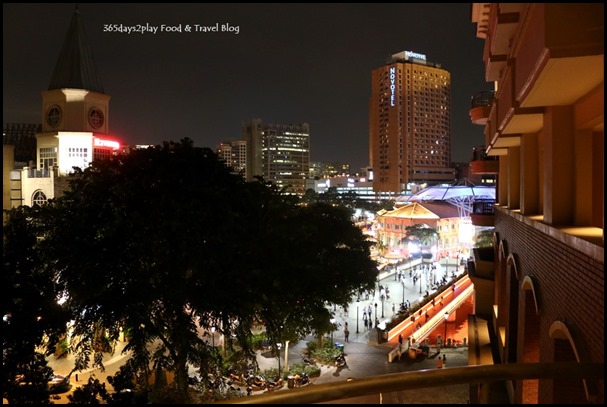 View of Clarke Quay from our balcony at night. As much as the hotel room was comfy and inviting, we could not resist the allure of Clarke Quay and had a stroll around after dinner.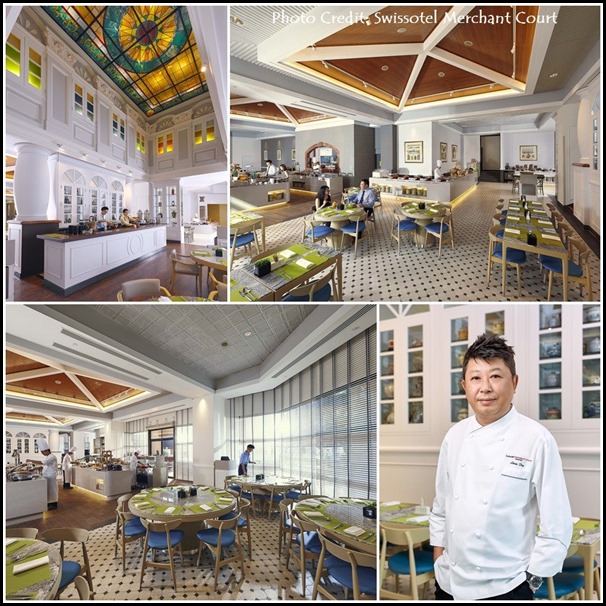 Hotel buffet breakfast is provided at the famed Ellenborough Market Cafe. I must say it is one of the more stylish hotel restaurants I have seen. The designers have done themselves proud. Another jewel in the crown for Swissotel Merchant Court would be Executive Chef Louis Tay. Chef Tay was team manager of the Singapore Culinary Team that clinched double gold at the Culinary Olympics held in Germany in 2016.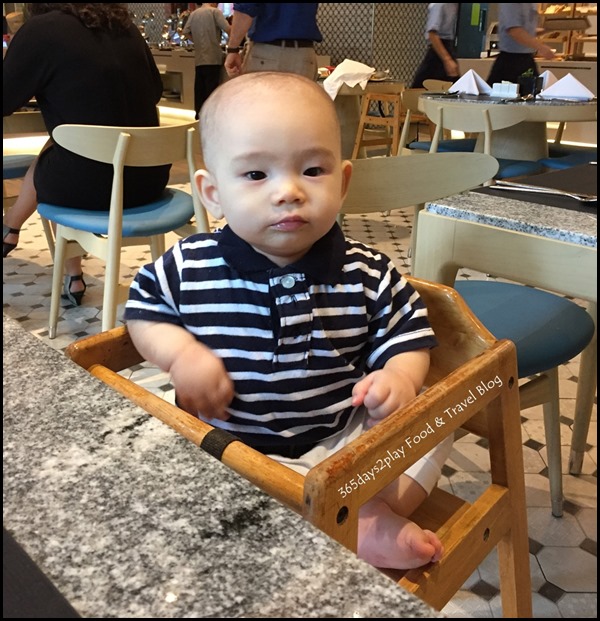 Where's my food????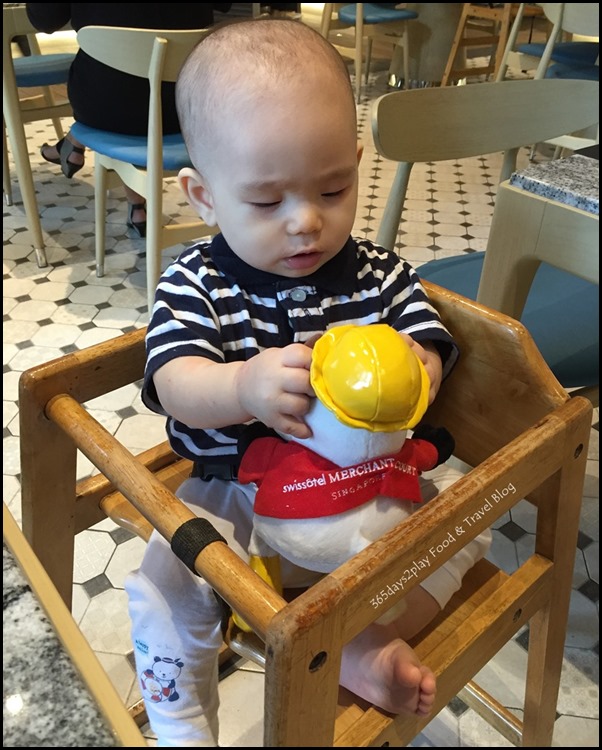 Guess what? While he was sitting there planning the next naughty thing, someone handed him yet another soft toy! This one has hard hat and hard boots, apparently specially commissioned during the renovation period!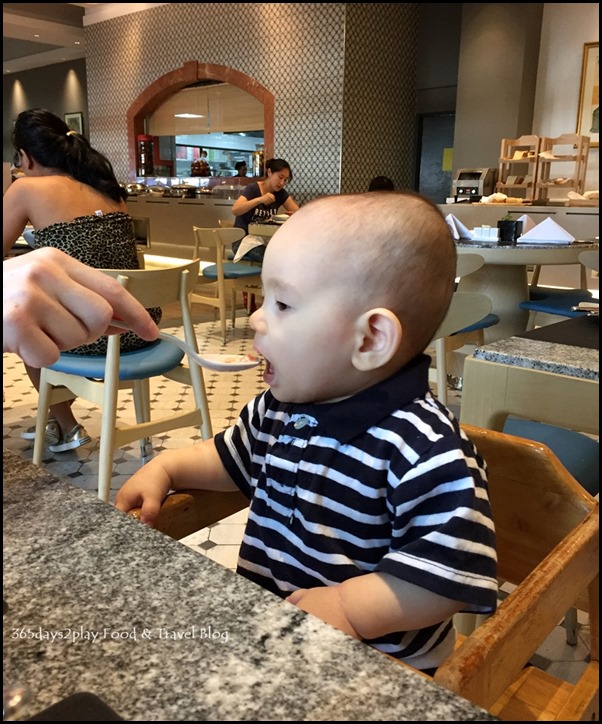 Baby's first taste of hotel food! Actually it's Bircher muesli (since it's a Swiss hotel), and quite good I must say, probably due to all the sugar or honey in it. I usually don't eat muesli, but I had 2 servings of this!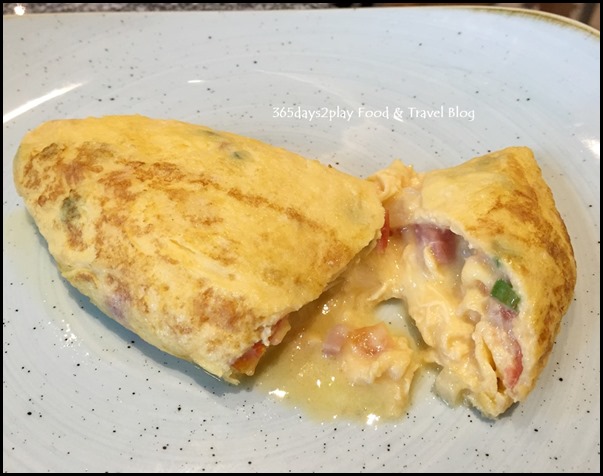 After my healthy bowl of muesli, I rewarded myself with this delicious egg omelette.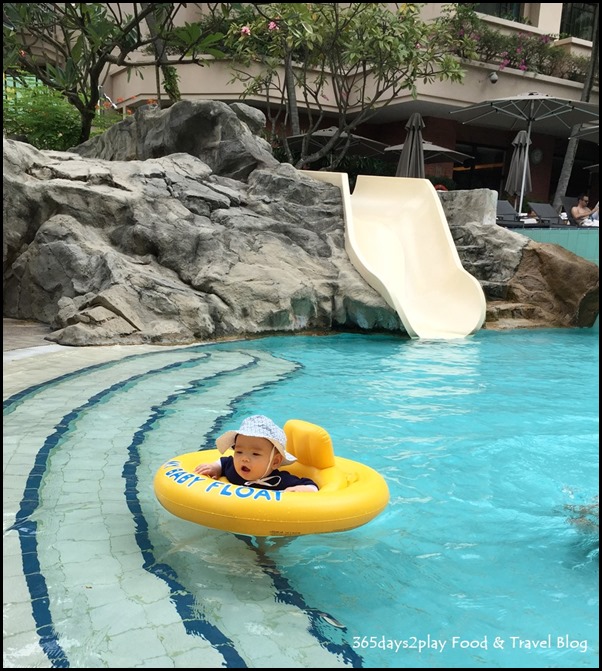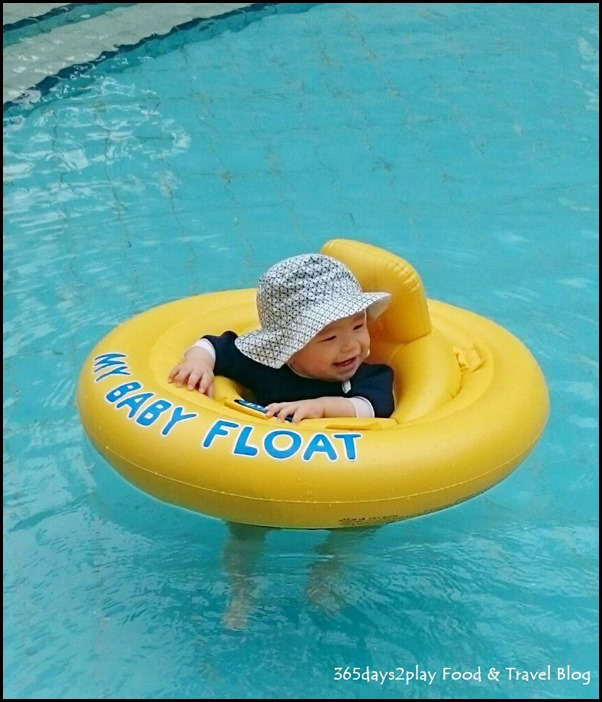 No staycation is complete without a dip in the hotel pool. I like that the kiddies pool is separate from the adult pool so that the bigger kids don't come over to splash around and scare the babies. But some still do if they want to use the slide. This place can't be seen from the main pool area so some parents might find that inconvenient.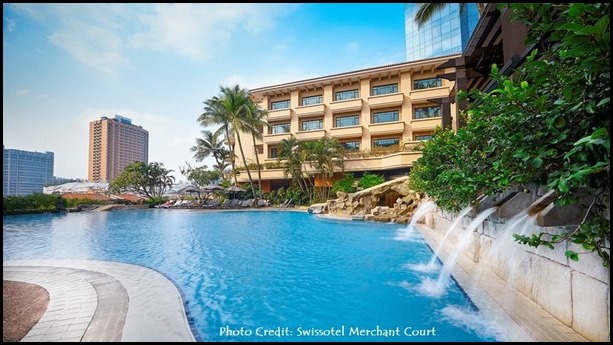 In case you want to know how the adult pool looks like.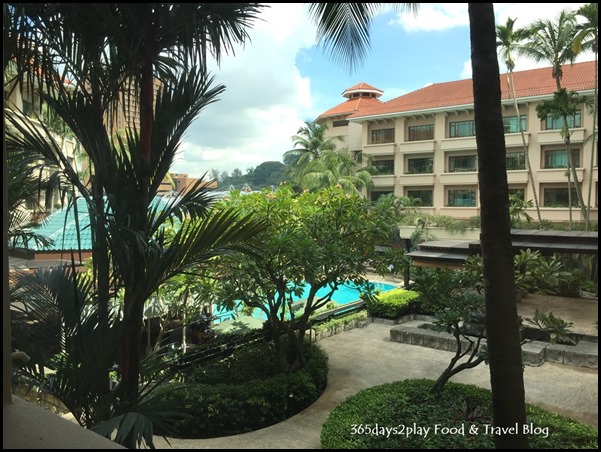 Here's the view of the pool while walking back to our hotel room. Ask for a high floor and pool view, then you not only get a view of the pool, but of Clarke Quay as well, minus the noise.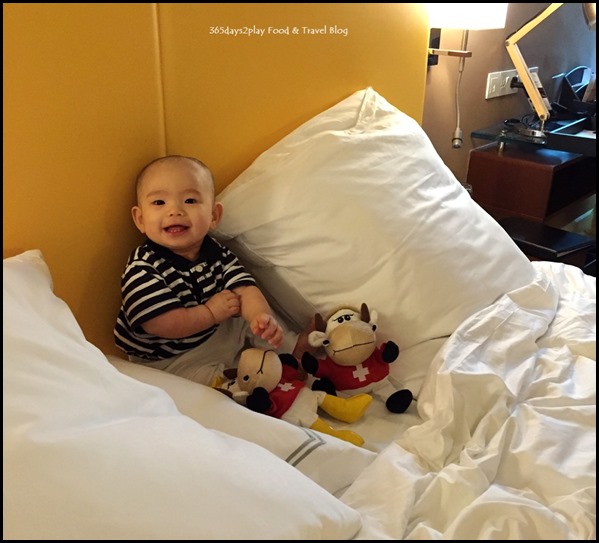 Baby looking happy with his 2 new soft toys just before we were due to check out. That's all folks!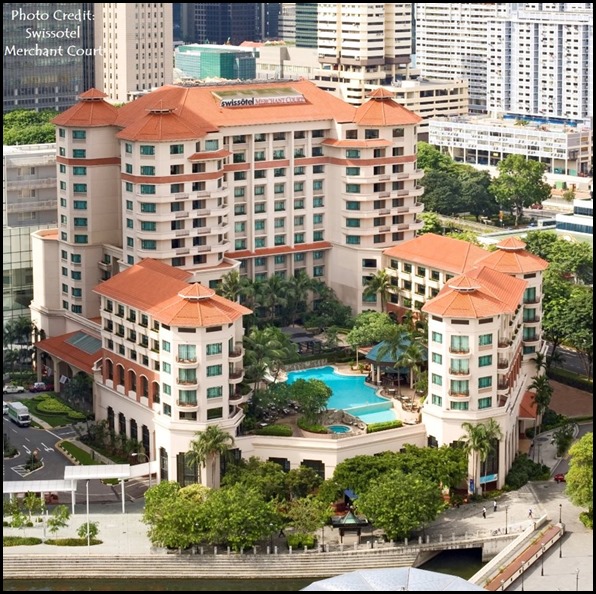 Aerial view of Swissotel Merchant Court
---
Add me on Facebook, Instagram and Twitter if you want to be kept up to date with the latest happenings in the food and lifestyle scene in Singapore!
Reviews of other hotels in Singapore
---
Swissotel Merchant Court
20 Merchant Rd, 058281
Tel: +65 6337 2288
Website : http://www.swissotel.com/hotels/singapore-merchant-court/
Email : singapore-merchantcourt@swissotel.com