It's white asparagus season again, so for those of you who love white asparagus, now's the time to indulge when these beautiful stems are at their best. And for those of you who have never tried white asparagus, I highly recommend you to, not least because of the nutrients that's packed in them. They are juicier, more tender and sweeter than the green asparagus variety.
From now until 30 April, you can sample white asparagus at Marriott Pool Grill, specially flown in from the Netherlands. There are 3 ala-carte dishes to choose from.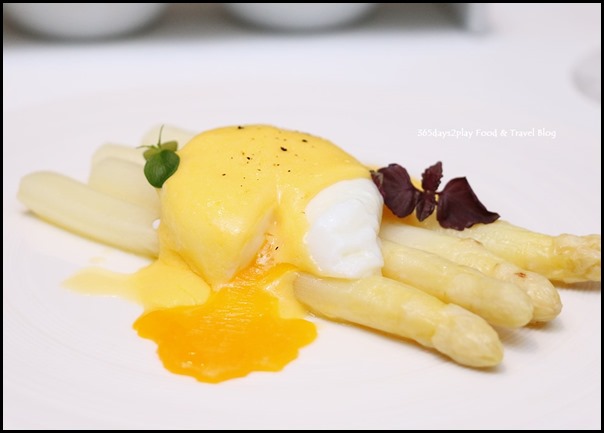 Classic (Steamed white asparagus, poached egg, hollandaise sauce) $20
This is the most affordable dish if you just mainly want to sample the white asparagus in its full glory. The creamy and buttery poached egg goes really well with the juicy sweetness of the asparagus.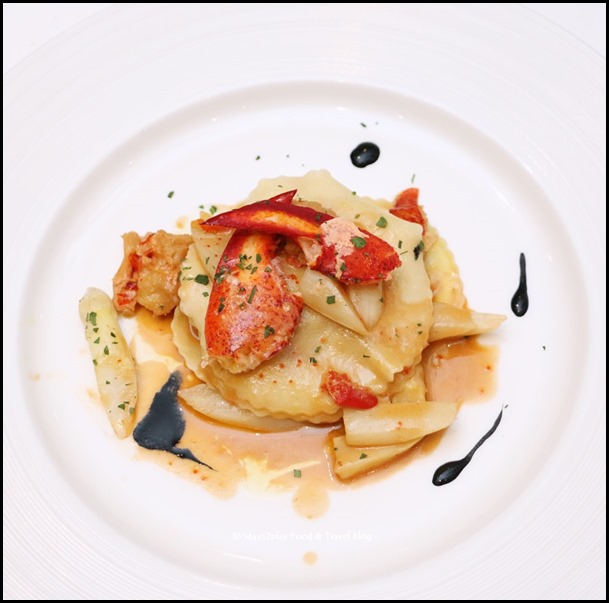 Contemporary (Raviolo, white asparagus, lobster ragout, squid ink, parsley) $38
Seafood lovers may want to go for this dish, although the asparagus is no longer the star of the dish but reduced to an accompaniment. It's a lovely seafood pasta dish, with strong flavours coming from the lobster ragout. I wish the squid ink was somehow incorporated into the dish rather than left as streaks around the plate as they were sticky and a bit difficult to swipe up. It's not a heavy dish so you may have to order appetisers and dessert to complete your meal.
Modern (Beef mille-feuille, butter poached white asparagus, morel sauce) $68
This is the dish to order when you just want to indulge in it all. There are actually 2 pieces of Australian wagyu steaks sandwiching the white asparagus (which genius thought of this). Marriott's Pool Grill restaurant has been consistently dishing out fabulous steaks and this occasion was no exception, except that you get to enjoy TWO steaks! In this case the asparagus becomes a palate cleanser. After every few bites of steak, you dive into a bit of asparagus for a bit of a breather, and you go back to your steak again! A really enjoyable dish, down to the morel sauce.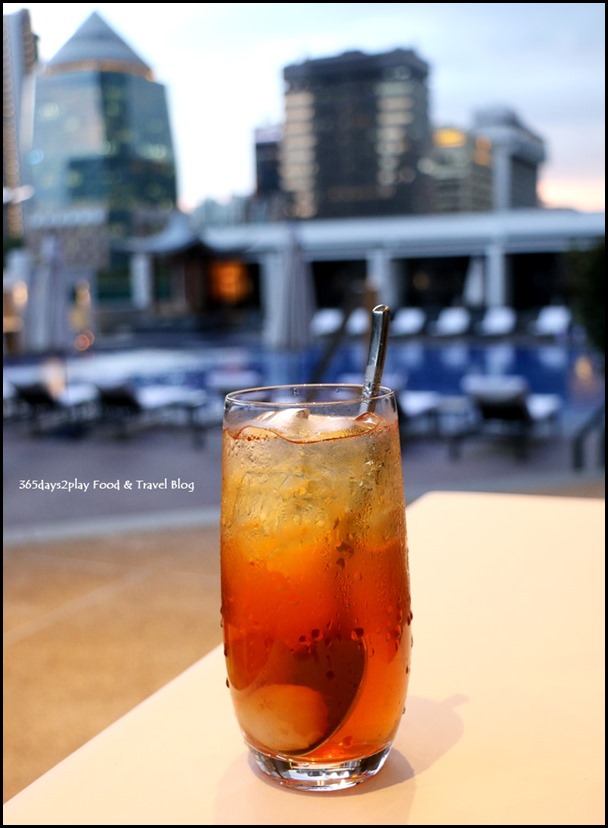 Order this refreshing lychee tea and sip your blues away.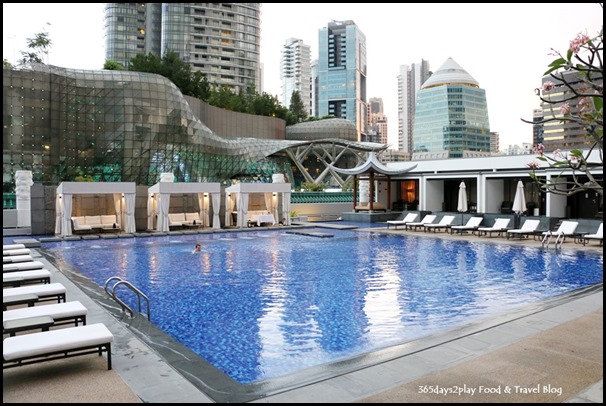 Perv on the swimmers while you're having dinner, although there was only 1 when we were there. See the 3 cabanas on the left of the picture, you can reserve on with a minimum spending of $100. Would be good for a romantic night out or for a special occasion such as a proposal?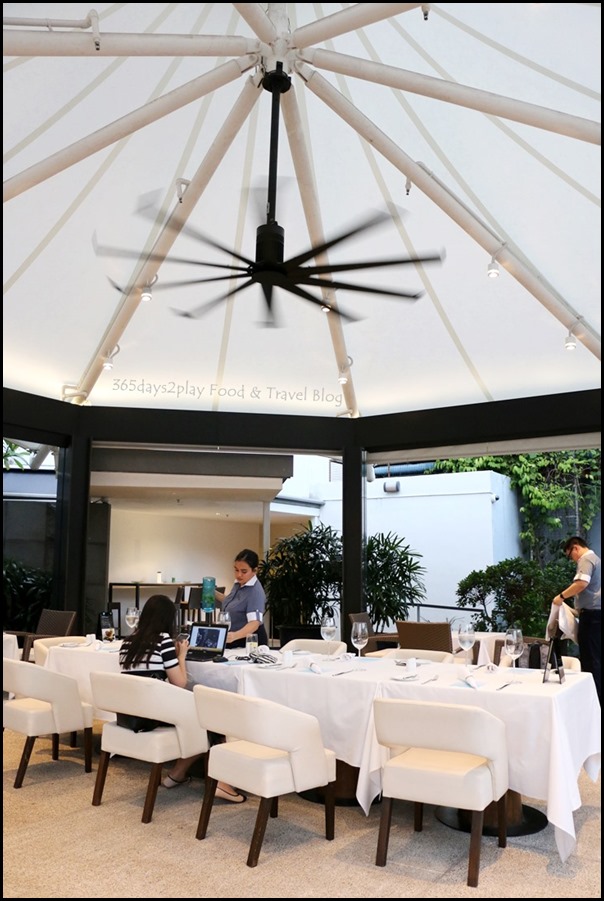 Even though Pool Grill is not air-conditioned, it's still pretty comfortable dining here because of the big ass fans. And I'm not kidding you, they are literally called big ass fans.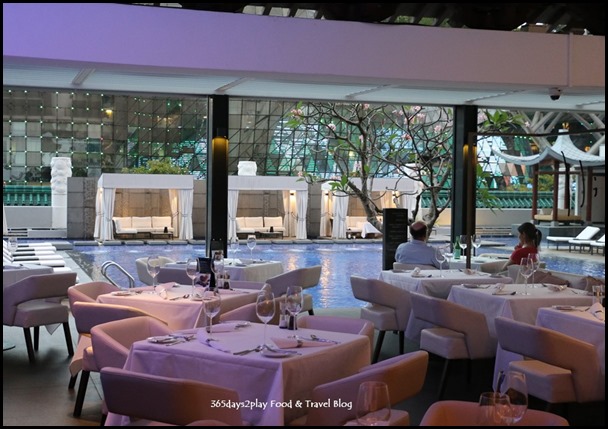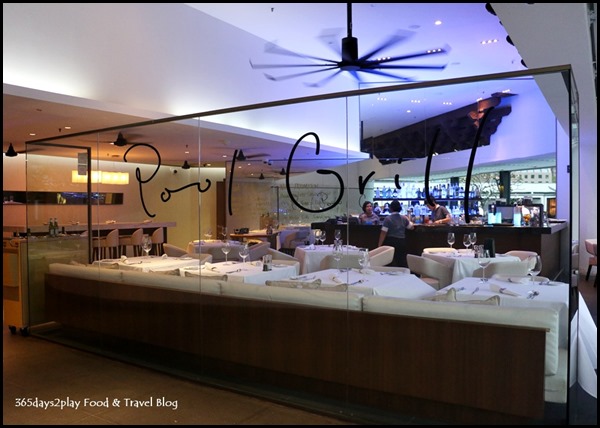 ---
Add me on Facebook, Instagram and Twitter if you want to be kept up to date with the latest happenings in the food and lifestyle scene in Singapore!
Check out reviews of other restaurants at Marriott Hotel
---
Singapore Marriot Tang Plaza Hotel (Pool Grill Restaurant)
320 Orchard Rd, 238865
Tel: 6831 4605
Email mhrs.sindt.fb.reservations@marriotthotels.com
http://www.singaporemarriott.com/restaurant/pool-grill/
All About White Asparagus until 30 April 2017
Enjoy 1-for-1 deals at Marriott Hotel with The Entertainer App