After reading a plug by Papa Palheta only 3 days ago on this new cafe called Forty Hands, we paid it a visit today. I just love discovering new cafes in Singapore so please email me or leave me a comment if you know of any cafes worth visiting!
We were highly impressed with Forty Hands today. Having opened only 1 week ago, I must say they have really got their act together already! The staff and owners look like they have been managing the place for a long time! It was full save for the table at the front door when we arrived. This is certainly laudable for a cafe that is only 1 week old, and located in a very secluded area. I don't know how they will accommodate big groups as it is a pretty small place. They did have some chairs outside if you don't mind not having tables.
Coffee is obviously one of the highlights here. Their name 40 Hands emphasises the fact that each cup of java requires an average of 40 people in the production chain from plant to cup. The coffee they use here is "fair trade" as they want to support and promote a sustainable coffee economy where growers are paid a fair and decent price for their coffee. I certainly support the idea of not letting the mega coffee chains proliferate anymore!
In addition to the all-week breakfasts and pastries that they serve, the other highlight is their gourmet sandwiches. We ordered almost all of them, reviews if you scroll down further. They also use retro plates like Epicurious!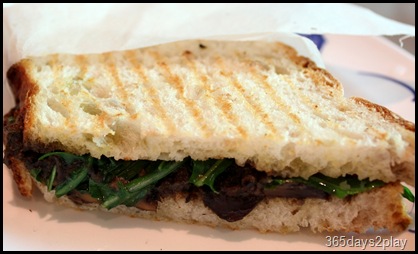 Truffle Mushroom Sandwich $8.50 — This was really good. The mushrooms had such a strong flavour they made this vegetarian sandwich stand out amongst the rest.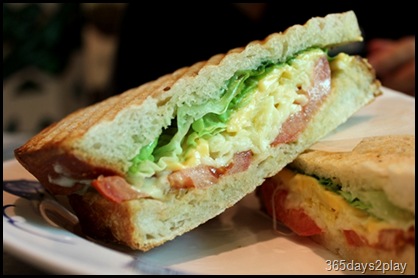 Tomato & Cheese Sandwich $8.00 — Cheesy and packed with fresh greens and tomatoes
Jamaican Jerk Pork Sandwich $9.50  – The flavour of pork and the mango together was a wonderful combination, however texture wise, the pork did taste too stringy. Yes that yellow thing there is mango not butter.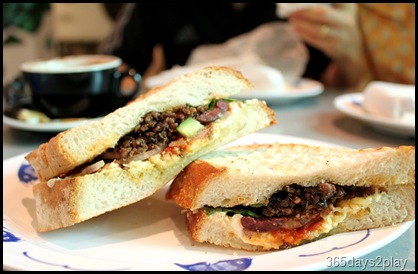 Mediterranean Lamb Sandwich $9.50 – This was also a very flavourful sandwich with a deliciously appetising sauce. The taste of the lamb was strong, which is how I like my meat, but I think the lamb was a little hard from overcooking.
I have to say all of the sandwiches were really good! I would definitely come back again for their gourmet sandwiches. When you first walk in and you see the display counter, the sandwiches look small and wilted. They shouldn't have put those there, but luckily the freshly made sandwiches looked much larger and succulent. The sandwiches come wrapped in greaseproof paper but I removed them for the photos.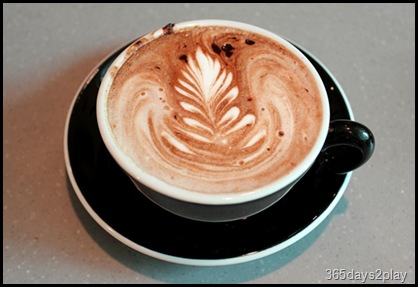 Hot Chocolate $5 — Pretty good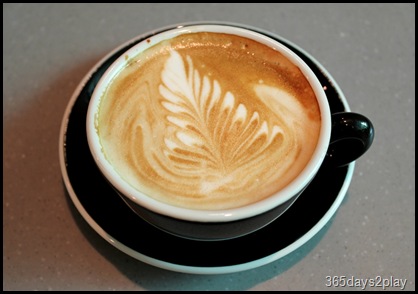 Flat White $5 — This was better than the hot chocolate. Strong and with a good flavour.
Their coffees seem a little on the expensive side, considering that they are located in such a secluded area (I presume this means the rent must be lower). However, they don't charge GST and service charge at all, so effectively this means $4.30 per cup.
Do give Forty Hands a try everybody! After your cuppa, you can also stroll along the historic Tiong Bahru area where you can still see some really old shop houses and old style coffee shops. After my love affair with Tanjong Pagar, I think I'm going to explore Tiong Bahru next!
Read about my 2nd visit to 40Hands on 25 March 2011!
.
Forty Hands (40 Hands)
78, Yong Siak Street (Tiong Bahru) #01-12
Tel: 6225-4623
Hours:
Tuesdays: 8:30am to 6:30pm Wednesdays and Thursdays: 8:30am to 10pm Fridays and Saturdays: 8:30am to 11pm Sundays 8:30am to 6:30pm CLOSED MONDAYS
Email: info@40handscoffee.com
Website: http://www.40handscoffee.com Facebook
Directions on how to get to Forty Hands (It is about 10 minutes walk from Tiong Bahru MRT station but unless you're familiar with this area it is easy to get lost. Definitely check the map before you go there)