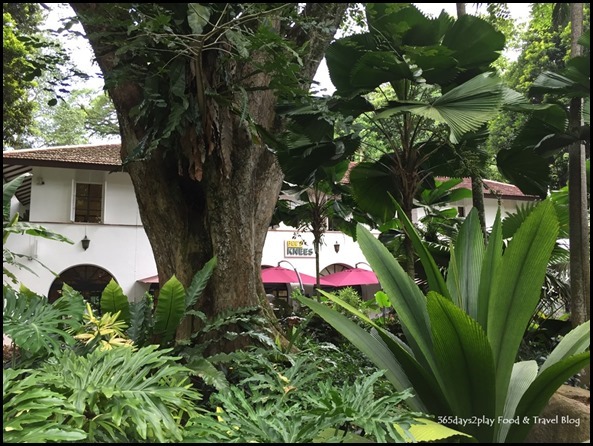 When I say lush greenery, I do mean lush greenery!
Last month, we brought Baby to check out the the latest dining establishment at the Singapore Botanic Gardens, ie the Bee's Knees. It's located in this conservation building called The Garage, which houses Bee's Knees cafe on the ground floor and a more atas restaurant called Botanico on the upper floor. We thought it would be a good opportunity to expose Baby to nature and greenery.
Btw, this 1920s era Art Deco building is called The Garage because it was actually used as a garage back in the colonial times, hence its seven vaulted entrances for the parking bays back then.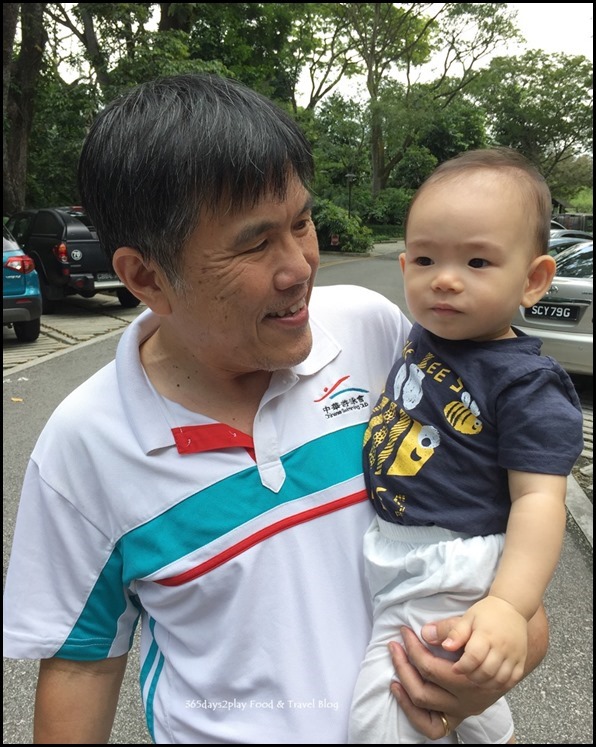 Gong Gong's bringing his favourite boy out for lunch. Did you see what he's wearing?? Yes I bought The Bee's Knees shirt from Mothercare SG specially to go dine at the Bee's Knees.
The cake display counter greeted us as we walked towards the seating area. Not cheap, with the cakes going at $7, but they sure look good! As they don't take reservations, we tried to arrive early but it was still full when we got there at 12 noon on a Friday. The indoor air-conditioned seating area was all taken up, and we were left with one final table at the al-fresco area. I thought it would be too hot for Baby, but some of the Ang Moh tai tais had younger babies with them also at the al-fresco area, so we decided to bear with the heat.
Excuse me, where's my food?
On weekdays, they do breakfast until 11am. Lunch dishes are available after 11am, comprising sandwiches, salads, pizzas and pastas. Kind of similar to the menu at Wildseed Cafe at Seletar actually. On weekends, breakfast is until 2pm, and lunch is available from 12pm. The menu isn't very extensive. Eg for breakfast, you have a choice of 4 egg based dishes, or a smoked salmon/serrano ham croissant, that's about it. Check out the Bee's Knees Menu here.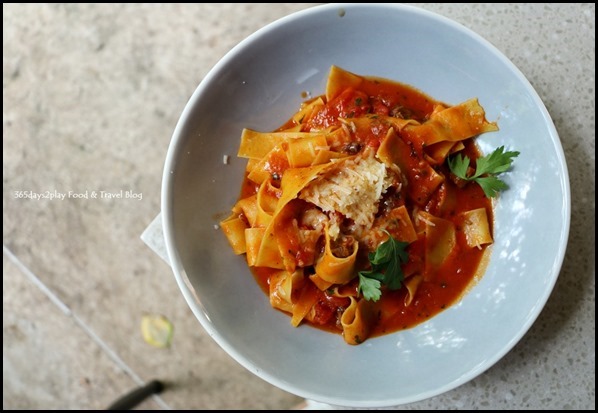 Beef Cheek Bolognese (Pappardelle, Braised Beef Cheek, Tomato, Parmesan, Basil) $16
As much as I like egg based breakfasts, I was craving for pasta that day. Chose this dish and it hit the spot. I had wondered if the braised beef cheek would be minced, because Bolognese is associated with mince meat right? The cashier staff was unable to tell me, and I think she didn't even understand my question, so I just ordered it anyway and hoped for the best. Thankfully, the braised beef cheek was in slivers and chunks. To have it minced would be a waste of the lovely texture I feel.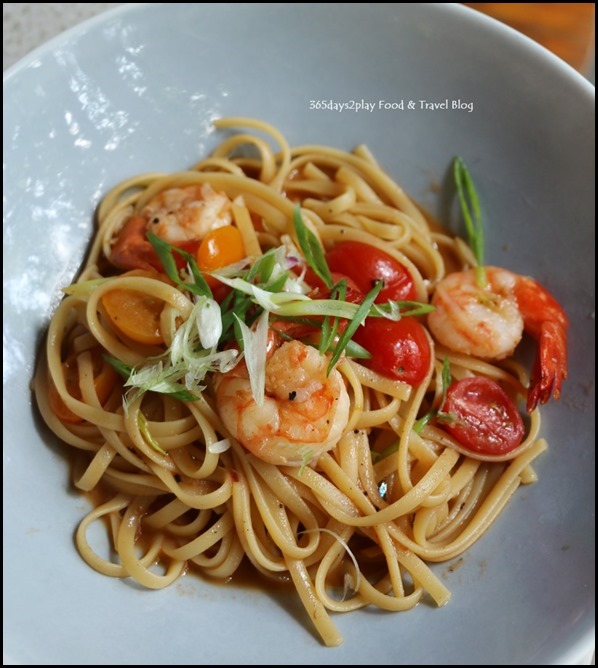 Tiger Prawns Pasta (Linguine, Tiger Prawns, Spring Onion, Cherry Tomatoes) $18
My father had this and said it was so so. The broth was probably too weak for his liking.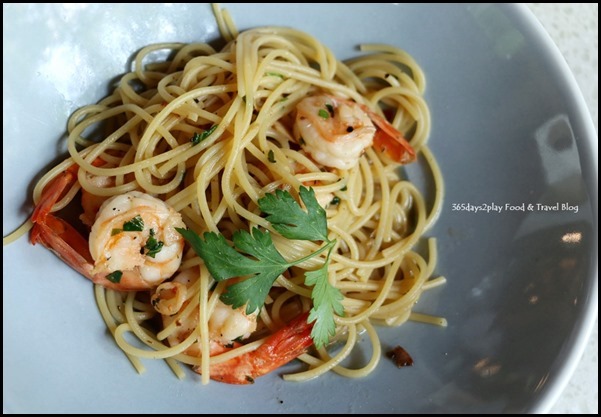 Aglio Olio Vongole (Spaghetti, Prawns, Garlic, Chilli Padi) $18
This is supposed to be with clams, but my mother wanted prawns instead. I was quite sure the kitchen wouldn't be able to do it because the stock would have to be made with clams to give it the oomph, no? But to my surprise they actually agreed, and it was not bad tasting either. Having chilli in the dish always makes it a bit more exciting.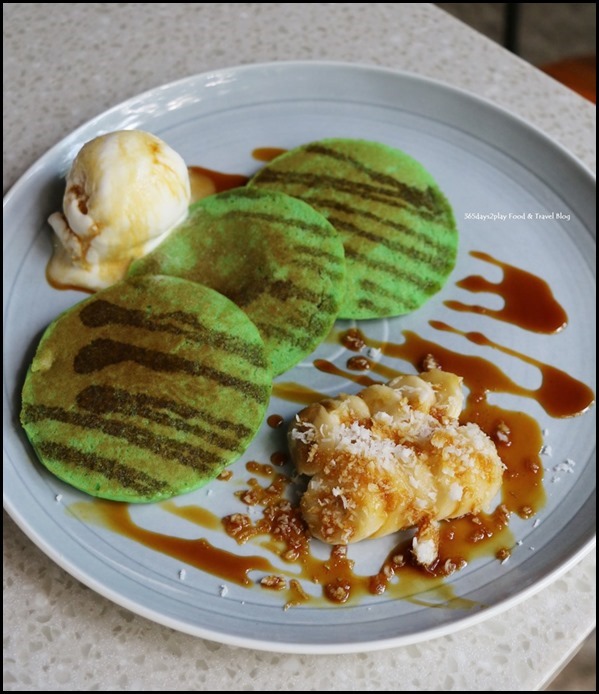 Pandan Pancakes (Banana & Coconut, Gula Melaka Ice Cream) $14
We were so looking forward to dessert after the good showing at Baba Chew's, but it was not to be.
1. The neon green pancakes had hardly any pandan flavour. If no corresponding pandan flavour, does it mean that the neon green is from food colouring?
2. The gula melaka ice cream was rather flavourless. Is the gula melaka referring to just the drizzle or is the ice cream supposed to have been made w it? Either way, it did not help to enhance the already rather flavourless pancakes.
3. $14 is too expensive given 1 and 2. And given the reasonably priced pastas of $16-$18, why is this dessert priced at $14?
Alas, pretty on the plate but not on the palate.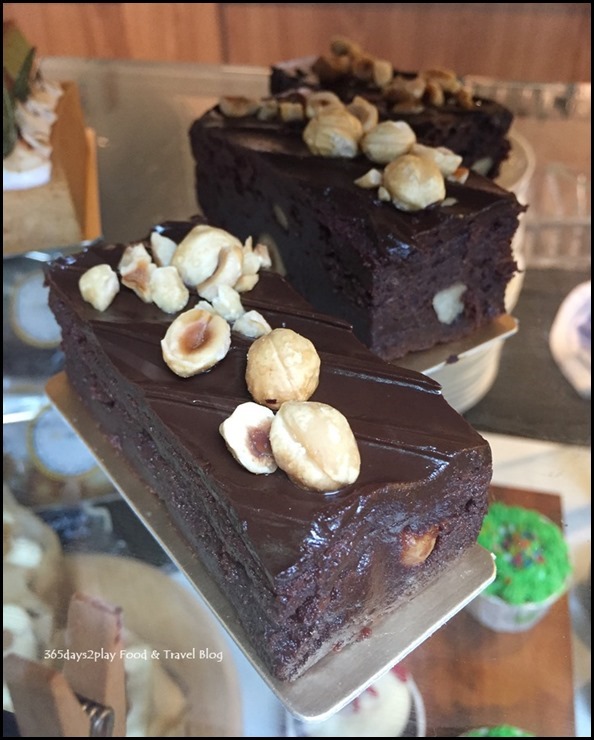 Should have gone with this luscious looking hazelnut brownie Hopefully it would have tasted better.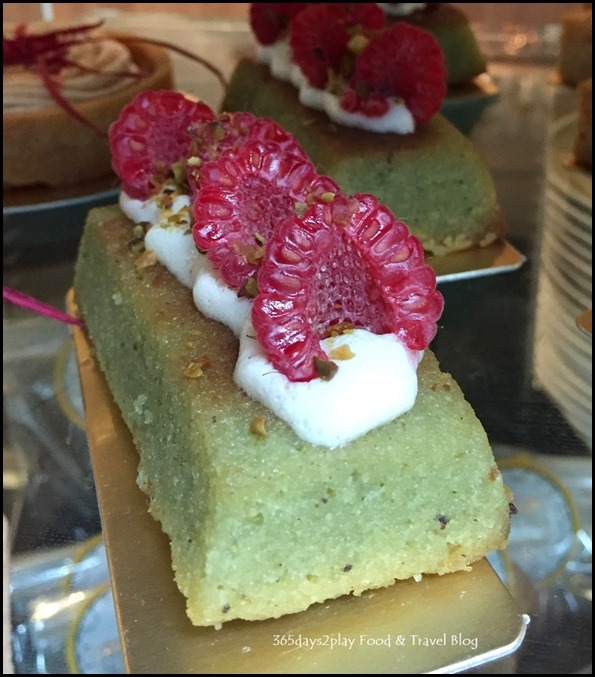 Or this Pistachio Financier $7 perhaps?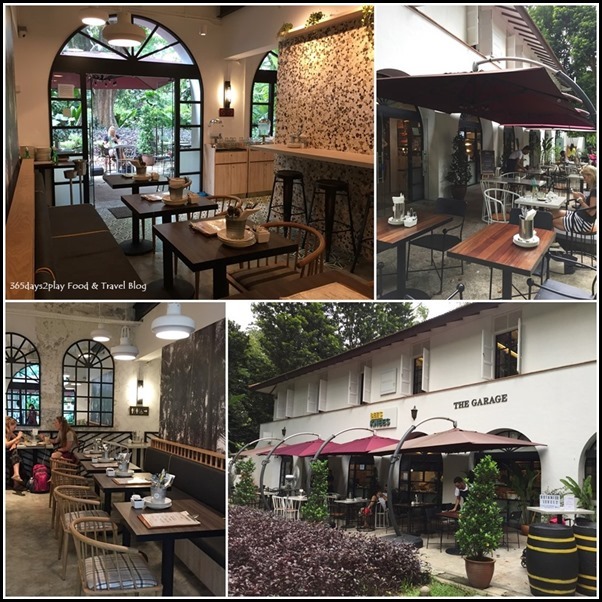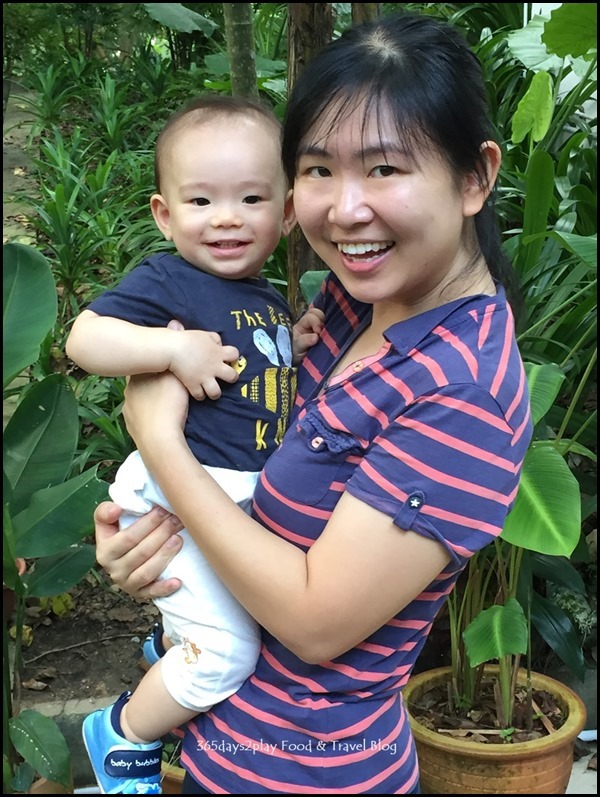 Here's us having a bit of fun before the food arrived. Sometimes you got to resort to under-handed methods (or in this case under-arm methods) to get the photo that you want.
---
Add me on Facebook, Instagram and Twitter if you want to be kept up to date with the latest happenings in the food and lifestyle scene in Singapore!
Other dining options in the Singapore Botanic Gardens.
---
Bee's Knees at The Garage
50 Cluny Park Rd, Singapore 257488 (5 minute walk from Botanic Gardens MRT station. There is also parking directly in front of The Garage)
Opening Hours:
Sunday to Tuesday    ||    8am to 6pm
Wednesday to Saturday     ||    8am to 8pm
Email : enquiry@thegarage.sg
Telephone : +65 9831 1106
http://www.thegarage.sg/bees-knees/
http://www.thegarage.sg/wp-content/uploads/2017/04/Bees-Knees-Full-Menu-v14-web.pdf