Meats & Malts opened earlier this year but surprisingly, I haven't seen or heard much about them on the social media sphere. In fact, when I googled, the only mention of them is from the Straits Times! That's a shame because Meats & Malts is one of my best finds this year so far (food & relaxed ambience), definitely worth a visit if you're nearby, or even if you're not!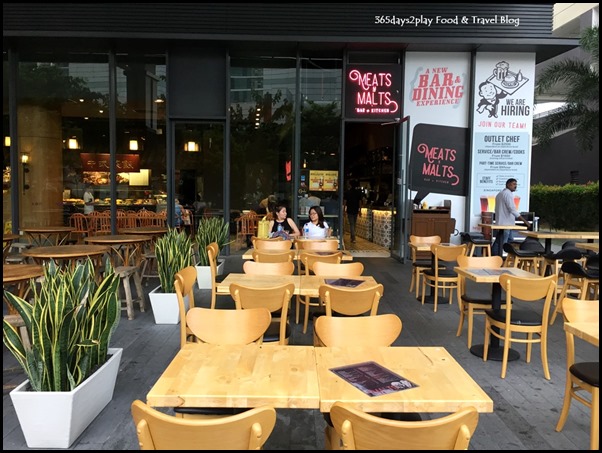 So spacious!
Meats & Malts is tucked away at the corner of the BreadTalk IHQ at Tai Seng, next to Food Republic. The seating area is massive, because BreadTalk IHQ is massive. I love the high ceiling, so spacious! Thanks to the humongous ceiling fans, it's a breeze sitting outside, literally!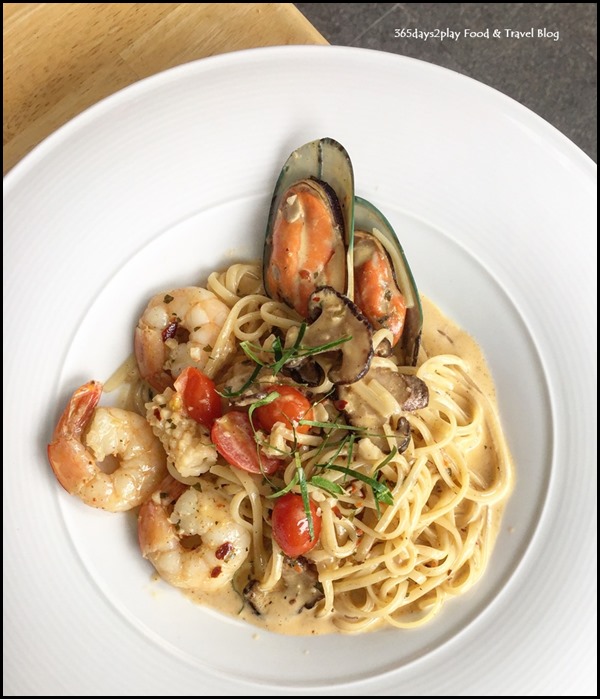 Seafood Tom Yam Pasta (Mixed seafood with Thai Tom Yam spices) $15.80
Ok so here's the most memorable dish that we had. To think I was really reluctant when my dining companions suggested to order this. I wanted something more "cafe food" style, but they ignored me and went ahead! Everything was great about this dish, but what I loved most about it was the bouncy texture of the pasta and the really delicious tom yam cream sauce. It was good that the spice level was just right too. I could just eat oodles and oodles of those noodles with that sauce.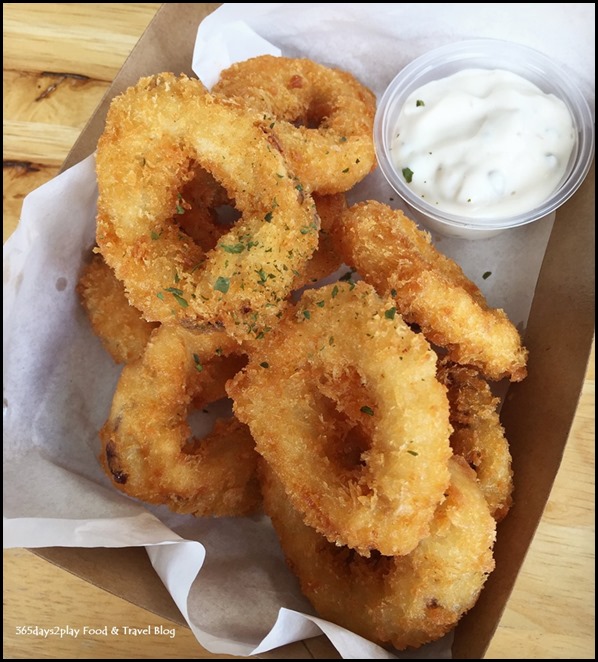 Crispy Calamari $8.80
This was very good too. Crispy batter with succulent and juicy squid rings. Just too easy to overeat this one.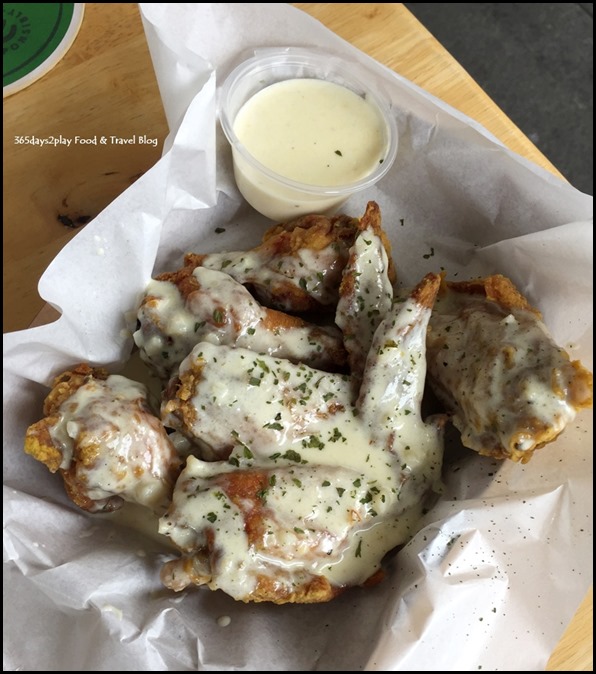 Wings with Garlic Parmesan dip $9.80
Didn't enjoy these wings sadly. First of all, too messy to eat. The dip should have been placed at the side instead of drenching the wings. Also, the wings became soggy really quickly, either from the dip or from the grease. Lastly, the dip itself didn't really have the oomph I was looking for. Oh well, there are 5 other dips to choose from if you want to have a go at this, including "Hot N Naked", "House BBQ" and something called "Mad"….And maybe ask them not to drench the wings.
Baked Salmon (Lightly marinated salmon on mashed potato and zucchini spaghetti) $16.80
My dining companions ate this. Think they polished off the plate so it must have been enjoyable.
See their menu above
Meats & Malt's menu is quite promising. All the mains are around $15 — $18++, which is really quite affordable for a restaurant/bistro. Their appetisers aka Beermates are also $8.80 or lower. I would love to return again, the only problem is there's nothing much to do in Tai Seng! The only reason I knew of their existence is because I attended a few culinary classes at At-Sunrice Academy at the Sakae Sushi building, so I happened to pass by! But if you're in the vicinity or looking for affordable food with spacious seating, you might just want to consider Meats & Malts.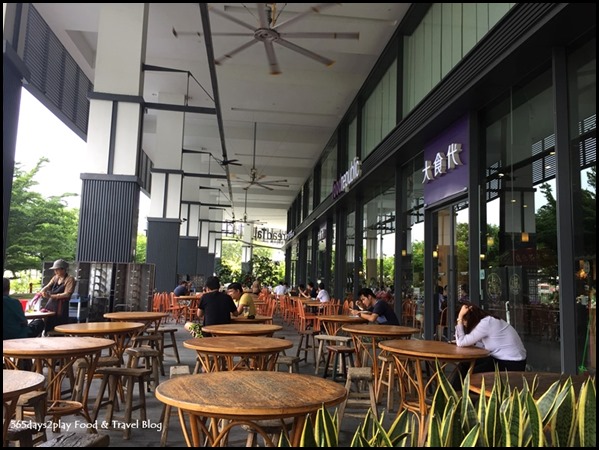 See the high ceiling. Is it spacious or what! And those big ass fans really do their job well.
Meats & Malts is owned by The Colture Group, who also own The Drunken Poet, Molly Roffey's Irish Gastropub, and Finders Keepers.
*All photos taken with iPhone 6.
---
Add me on Facebook, Instagram and Twitter if you want to be kept up to date with the latest happenings in the food and lifestyle scene in Singapore!
---
Meats & Malts
30 Tai Seng Street #01-07. BreadTalk IHQ, Singapore, 534013
Opening Hours : 11.30am — 12am daily (according to their Facebook)
Tel : 6909 0010
https://www.facebook.com/meatsNmalts/