A few weeks ago, I was privileged to be invited to a special private dining party organised by FairPrice Finest and Cookyn Inc (a cooking school). I gladly accepted the invitation as I love attending cooking classes! Nearly didn't make it as it was right smack in the middle of a huge project I had at work, but I'm sure glad I did.
Cookyn has just moved from its previous location in Novena to Jalan Penjara just off Margaret Drive. The place looks really pretty and I hear that in the day time, you can even see a nice lttle pond outside Studio no.3. Chef of the evening, Ming Tan of Jam, proceeded to teach us 3 really simple dishes that we can replicate at home easily with ingredients that can be bought from FairPrice Finest, the atas arm of NTUC FairPrice. Recipes can be found at the end of the post.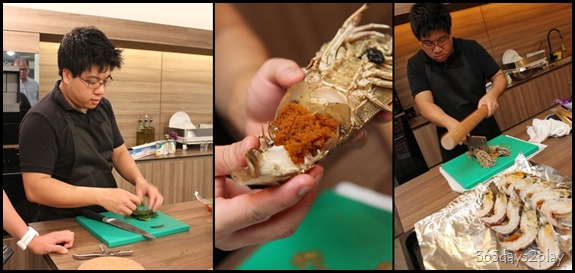 Here's a picture of Chef Ming showing us the techniques of cutting up the lime leaves into little shreds and halving the lobsters.

Here's all of us studiously taking down notes and photographing his every move. Personally, I will only go for cooking classes that have a hands-on component. There's only so much you can learn from watching the chef. Besides, its so much more fun to get your hands dirty. But of course, for that day, it being a weekday (a very busy week I might add), I was just glad that I didn't have to cook my own dinner.

Lovely bruschetta to start us off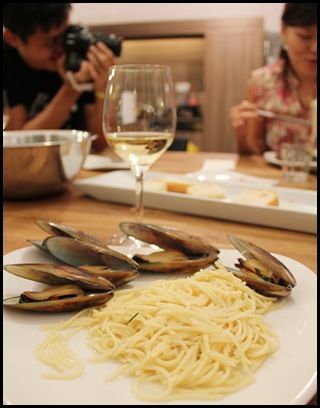 Lime-Leaf Mussels with Linguine and a White Wine Sauce — The recipe is so simple, it's almost unbelievable.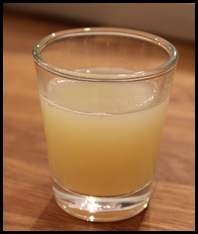 Mussel pasta broth — Hmmm I wish they gave us a huge bowl of it! 1 shot glass ain't enough! I think if you're feeling down in the dumps, or having a flu or cold, having a huge bowl of this pasta with lots of broth would just chase all the evils away. I would add more aromatics to give it even more kick, and maybe add double the wine? Hee hee hee ….hic!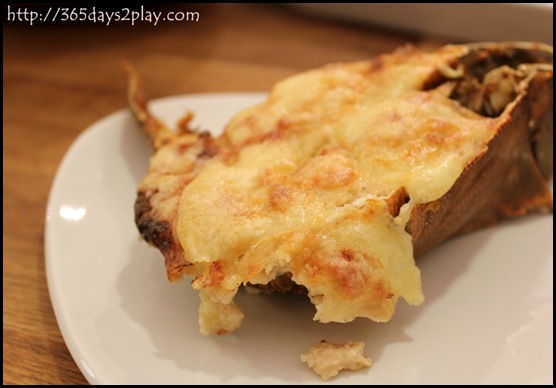 Grilled Slipper Lobster with Mornay Sauce — I really love the cheesy topping, perhaps even more so than the lobster! And that's saying a lot since I love lobster as well!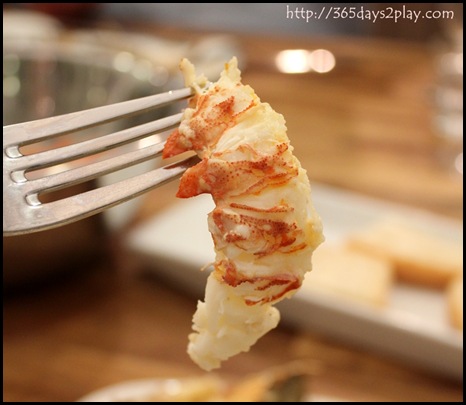 Close up shot of the lobster meat. Feel hungry already! Hey I took this photo all by myself, including holding up the lobster meat!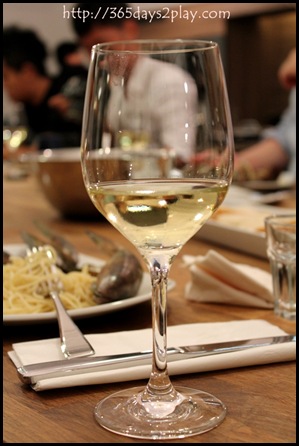 Can't say no whenever I'm offered wine…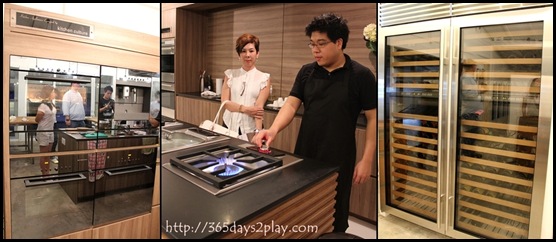 We also got a tour of the Cookyn premises. They have 3 studios, the 3rd studio being the one with the all the "to lust for" kitchen equipment. Those in the know where oohing and ahhing at the brand name wine cabinet, refrigerator, oven and hobs.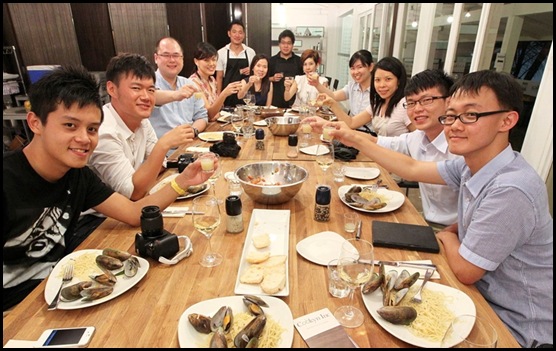 Cheers!
A very special thanks to Cookyn/Chef Ming and FairPrice Finest for sponsoring this event and to Joelle of Siren-Communication for inviting me.
Did you know that you can get Organic Pasta, OMEGA New Zealand Cooked Green Shell Mussels and even Parma Ham from FairPrice Finest? FairPrice Finest has a premium delicatessen counter run by Culina, a walk-in wine cellar, live oysters displayed in a specialised oyster tank, a wide variety of cut cheeses, and home delivery services as well. Ambassadors are also available to offer shoppers information on the available products and even guidance on how certain products can be used. Make full use of the free help! As of June 2011, you can find FairPrice Finest at 7 locations:- Bukit Timah, Clementi, Marine Parade, Upper Thomson, Tampines, Serangoon and Orchard. Click on http://www.fairprice.com.sg/ to find out more.
I didn't know about Culina having a counter at FairPrice Finest. I love looking at delicatessen meats, I can literally spend 10 minutes staring at each cut and imagining what good things I (or the Partner more likely) can cook with them.
Cookyn Inc
60 Jalan Penjara, Garden Hub, Block O, Singapore 149375
Tel: 6748 4848
Read on if you want the recipes….
Lime-Leaf Mussels with Linguine and a White Wine Sauce (Serves 4)
Ingredients:
1 yellow onion, finely chopped
3 cloves garlic, finely sliced
1 bay leaf
1 Sprig of thyme
1 tbsp unsalted butter
1kg mussels
200ml dry white wine
75ml chicken stock
350g dry linguine
Juice of 1 lemon
2 lime leaves, chopped
Salt and Pepper
Steps:
Heat a large pot of lightly salted water, bringing it to a boil. Cook pasta for 7-8 minutes, removing when al dente.
Combine the onion, sliced garlic, thyme, bay leaf and parsley with the wine in a large covered pot. Add the mussels when steam develops and cover, cooking for 3 minutes whilst stirring occasionally. Add the lime leaves to the pot and cook for a further 3 minutes, seasoning to taste
Remove mussels and set aside. Bring the mussel broth to a boil over high heat for 3 minutes, then remove from heat and stir in tablespoon of butter.
Assemble the mussels over linguine, pour broth over and sprinkle on the parsley leaves. Serve immediately.
Grilled Slipper Lobster with Mornay Sauce (Serves 2)
Ingredients:
2 slipper lobsters
2 tablespoons unsalted butter
2 tablespoons plain flour
1.5 cups milk
3/4 cup grated cheese
Salt and Pepper
4 lemon wedges
Steps:
Pre-heated oven @ 150 degrees celcius
Melt the butter in a pan over medium high heat, and add the flour in bit by bit, stirringly well with a wooden spoon. Once flour is well incorporated, let mixture bubble for 3-4 minutes, stirring constantly. When the colour of the mixture reaches a pale golden, add the milk to the pan and stir well for 4 minutes. The mixture will thicken considerably upon reaching a boil. Set aside when the mixture coats the back of the wooden spoon well.
Rinse the slipper lobster and cut in half, lengthwise. Pour sauce over the tops of the lobsters, then sprinkle grated cheese over. Place in oven for approximately 15-20 minutes until cheese is golden brown. Serve immediately with lemon wedges.