Pao Fan / 泡饭 has been the buzzword in the dining scene these days and Easties will be glad that they have yet another Pao Fan option to choose from. Chao Ting Teochew Pao Fan recently opened its second outlet at Simpang Bedok. Chao Ting is one of Jumbo Group's latest concepts, having opened Chao Ting only in June 2019 as a simple stall in Far East Square.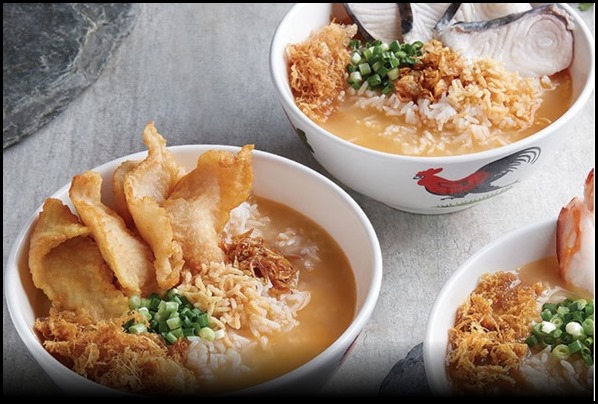 Photo Credit: Source
The Chao Ting stall at Simpang Bedok is even simpler looking as it resides within a bigger outlet called Lao Lim Kaya Toast, which happens to be opened by the Lao Lim Mee Pok next door (original one being in Jalan Tua Kong). You can actually sit at either outlet and order from both.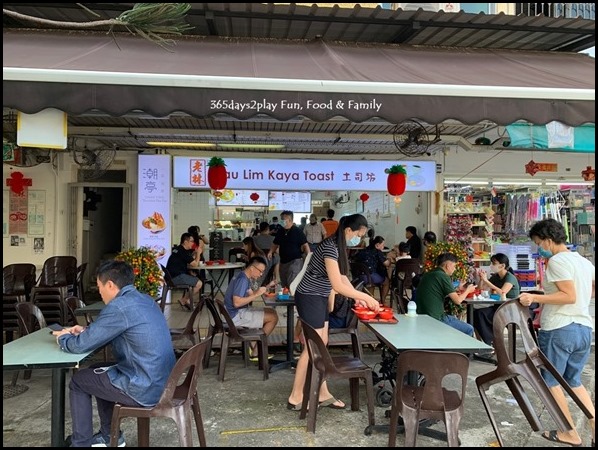 At first glance Chao Ting strikes you as just another fish soup stall, until you realise that they do a Pao Fan version. Just in case you didn't know what Pao Fan is, it's basically cooked rice drenched in a savoury broth, and topped with the signature crispy rice for the popping effect when you eat the dish. It's not to be mistaken with porridge.
Many good restaurants offer Pao Fan, as it is time consuming to create a good broth. The great thing about Chao Ting's Pao Fan is you can simply just order an individual portion if you can't find anyone else to share a huge pot with.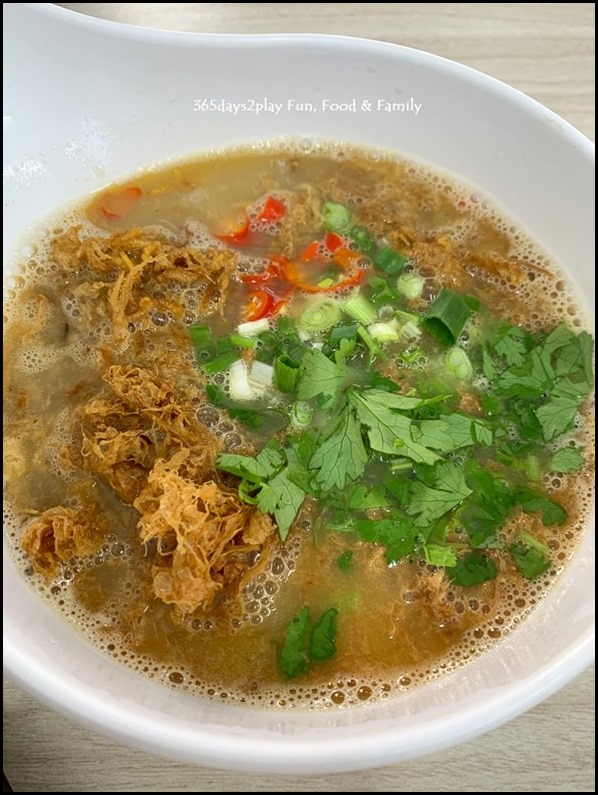 Apparently Chao Ting's broth has been slow-cooked for over 5 hours using prawns, pork, chicken and fishbones. I have to say, the broth was really enjoyable and you know it is when you finish half the liquid before you even start on the ingredients. And every drop polished off in the end! Really comforting.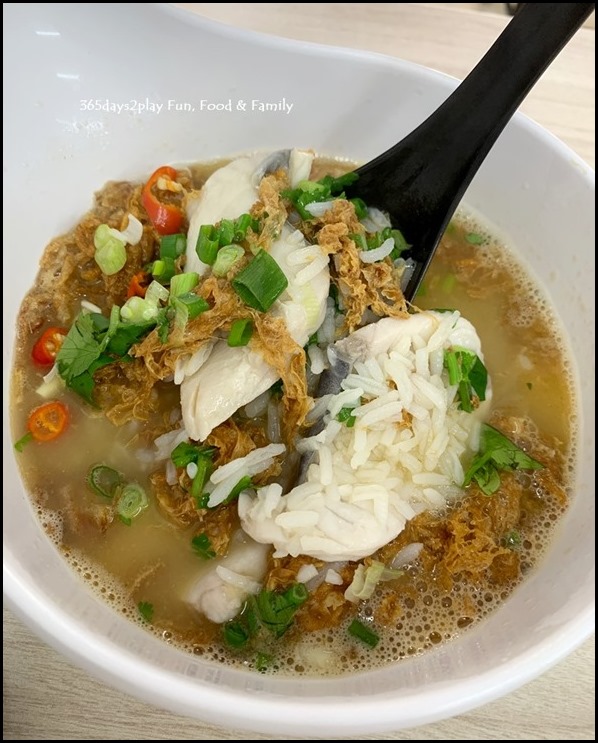 They were also pretty generous, ingredients-wise, lot's of must have egg floss, plus thick slices of fresh fish. The rice portion may be a bit small for big eaters though. And more crispy rice would have been better as that's one of the big reasons for going for Pao Fan!
The great news about the Simpang Bedok Chao Ting is that pricing is cheaper than their outlet in the CBD. The most basic Sliced Fish Pao Fan is $6.80 at Simpang Bedok and $9 at Far East Square, after taxes. There are also more Pao Fan options at Simpang Bedok although there isn't the King Prawn option, only normal prawns. At Simpang Bedok, you can also order just the soup version, without the rice.
All in all, for the pricing and convenience, worth visiting again soon!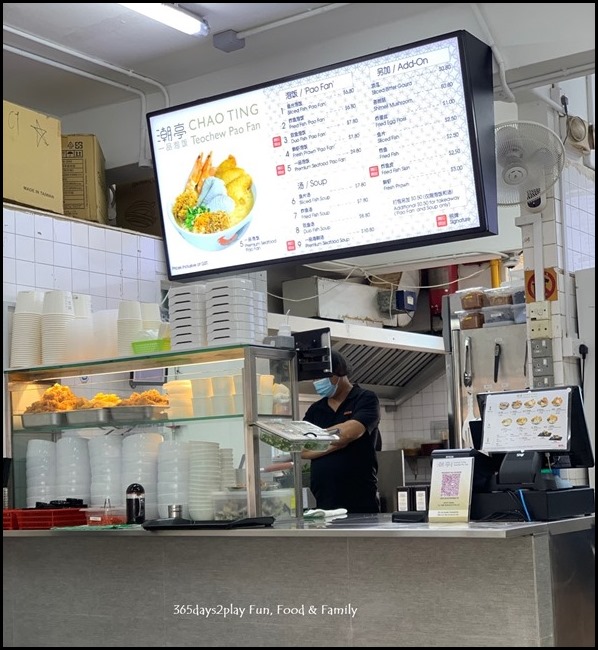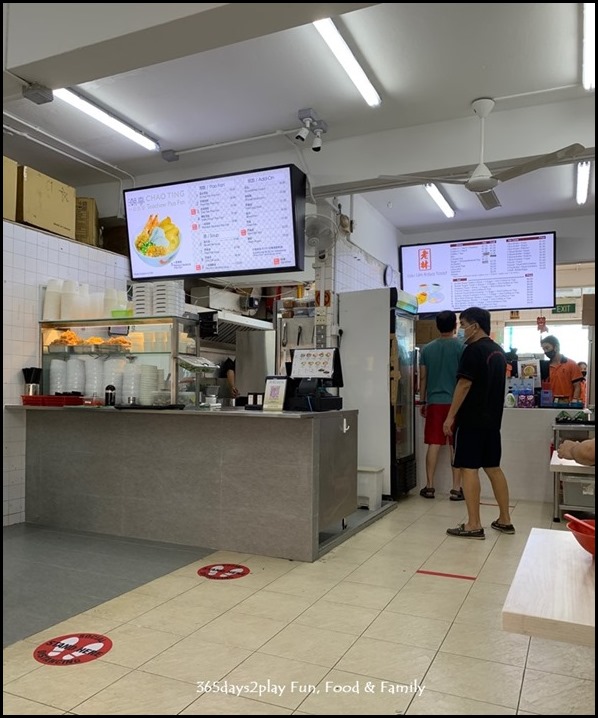 Chao Ting Pao Fan on the left, and Lao Lim Kaya Toast on the right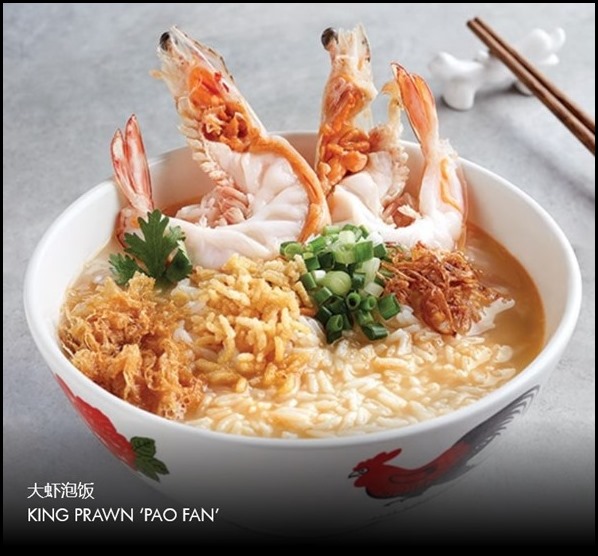 Photo Credit: Source
The King Prawn Version that is only available at Far East Square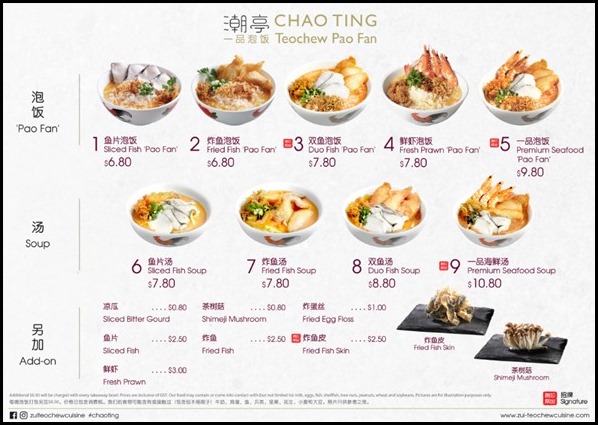 The Simpang Bedok Chao Ting menu
---
Add me on Facebook, Instagram and Twitter if you want to be kept up to date with the latest happenings in the food and lifestyle scene in Singapore!
Other Eateries in the East
---
Chao Ting Teochew Pao Fan
308 Bedok Road, Bedok Shopping Complex, Singapore 469469
Daily : 7.00 am — 5.00 pm