[Media Invite]
Dining at Antoinette is always a very pleasant affair. In this Instagram era where F&B's pop-up and close down as fast as you can count, Antoinette gives you the feeling that it is here to stay. I've personally visited at least 10 or so times over the last few years? What amazes me is that Chef-Owner Pang Kok Keong seems to show no limits when it comes to introducing new dishes to his menu. All restaurants have to do that from time to time, but Chef Pang comes up with numerous dishes that are not only pretty to the eye (or camera), but taste good as well. Simply put, these are dishes I would return again to have.
This time round, I thought the new appetisers and main dishes stood out. My favourites from this lot has got to be the double prawn linguine, the wagyu beef tagliatelle, the baked rigatoni and the black bait. I'm quite sad to see last year's Hakka inspired dishes go, but at least we have these new ones to look forward to.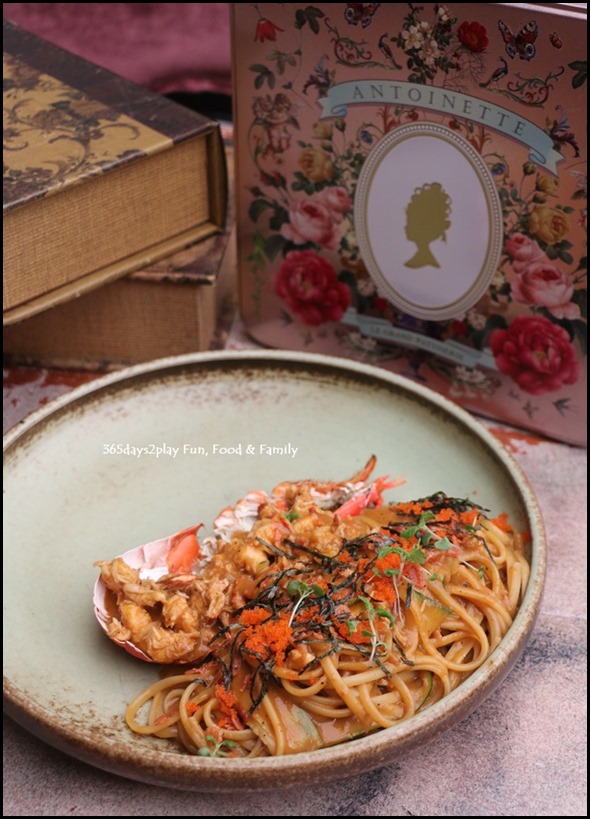 Double Prawn Linguine $28
It says in the press release that this is a show-stopper, and indeed it is. Here, lobster is sauteed and deglazed with white wine, followed by the addition of prawn bisque and spicy shrimp paste. Topped off with ebi sakura and ebiko. Lots of rich flavours going on. I wonder why they don't include the word lobster in the name of the dish, but perhaps all the better, then you feel like you've received a bonus!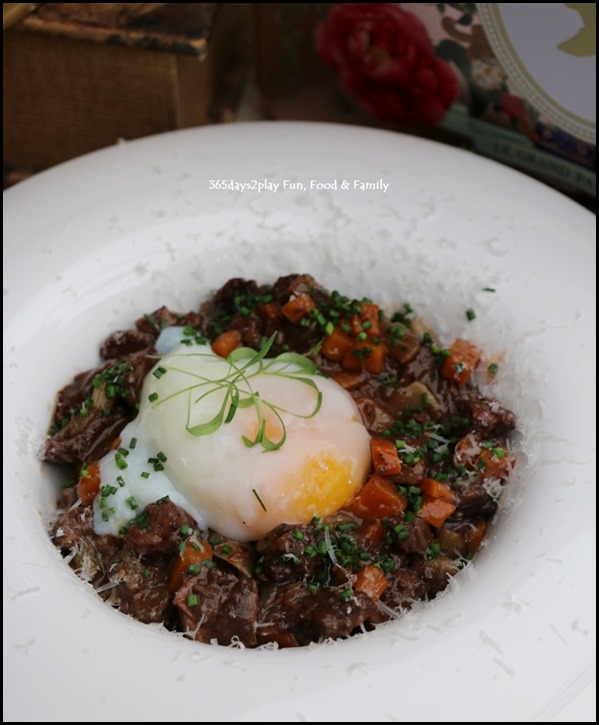 Wagyu Beef Tagliatelle $28
Everything that I love in 1 dish. Tender chunks of wagyu beef cooked in red wine, plus an onsen egg to bring it all together. Homemade whole wheat pasta was used, but I didn't even notice the difference thanks to the rich ragout.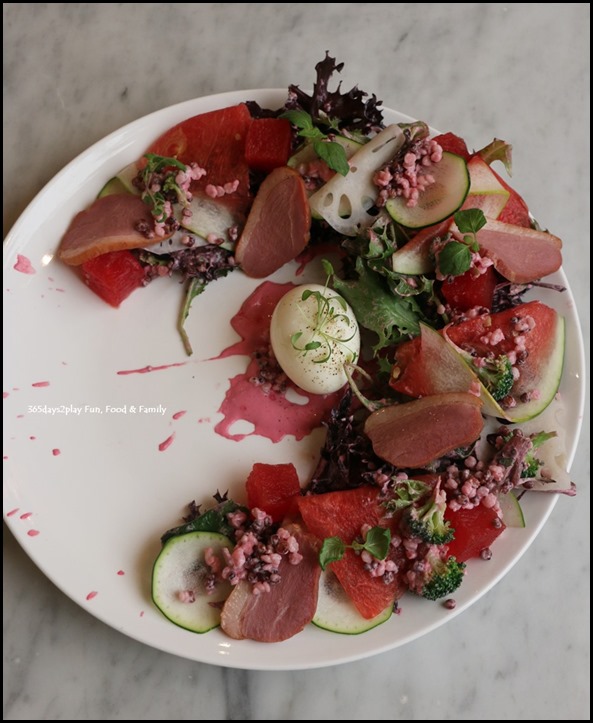 Watermelon & Smoked Duck Salad $24
This is not your usual kind of salad as the flavours can be quite contrasting. Here you have salty smoked duck, paired with 2 kinds of watermelon. Some are compressed and sous-vide for a sweeter flavour, while others are brined in vinegar. Sorghum grains are added for textural contrast. To me, the sorghum grains have a mild taste and a texture similar to barley. I think it's good to expand our diet to other types of grains which usually have a better nutritional profile as compared to wheat and rice. This salad probably isn't very filling as a mains though.
Baked Rigatoni $8
It's interesting that this is being served as an appetiser/side because most would associate hot pasta with being the main course. Nevertheless this was really good. Piping hot, cheesy and boasting a rich tomato cream sauce with a bit of Italian sausage and chilli spice, it does hit the spot. If you're a small eater, you could even possibly pass this off as your mains.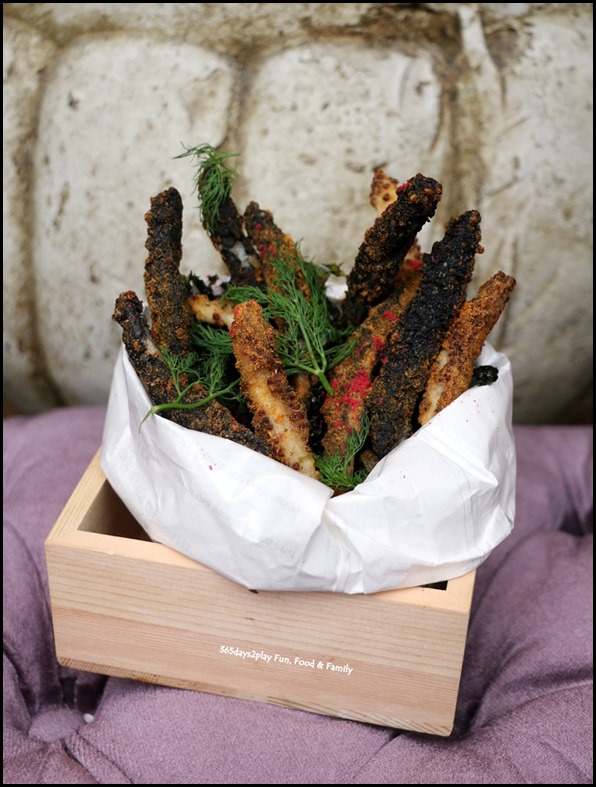 Black Bait $12
This was so good and addictive! Looking like some sea monsters, these are actually white bait (fish) quoted in quinoa charcoal batter and dusted with a homemade spice seasoning blend of onion powder, paprika etc. I could have finished the whole lot myself if I didn't have to be polite.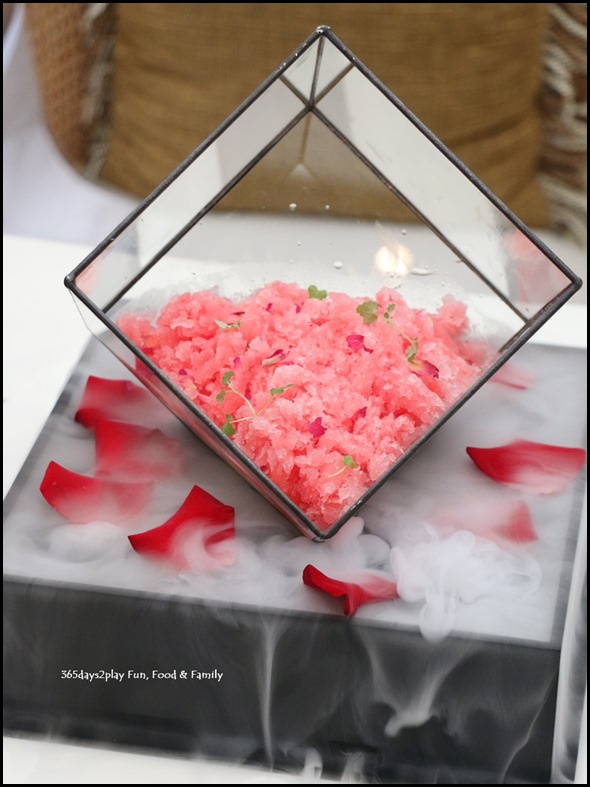 Watermelon kakigori $20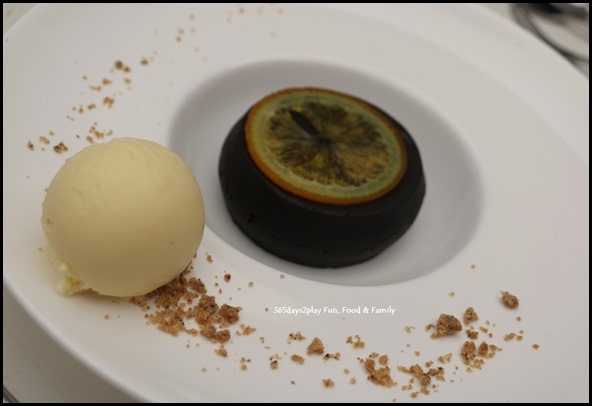 Fondant au chocolate $14
The two plated desserts were nice too, but not as memorable to me. The watermelon kakigori is basically cubes of watermelon and shaved iced watermelon placed on top of earl grey chiffon cake layered with yuzu cream, fresh strawberries and almond crumble. It is served on a dry ice platter for the wow effect. Actually the flavours are nice and this is certainly a very refreshing and thirst-quenching dessert. However some may not like the idea that the cake becomes soggy very quickly.
As for the Fondant au Chocolate, it is just your classic chocolate cake that oozes chocolate lava. Pretty common these days. The cold-brew coffee ice cream that came with it was very good though. It had a very intense coffee flavour.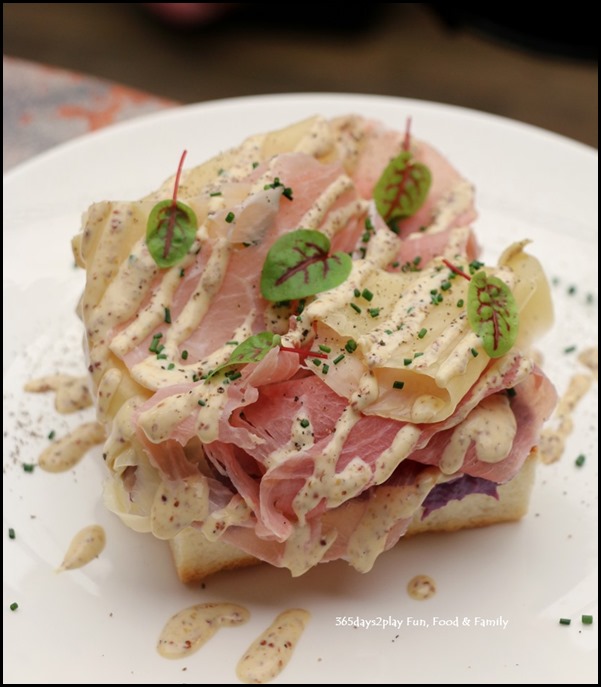 Kurobuta Ham & Cheese $14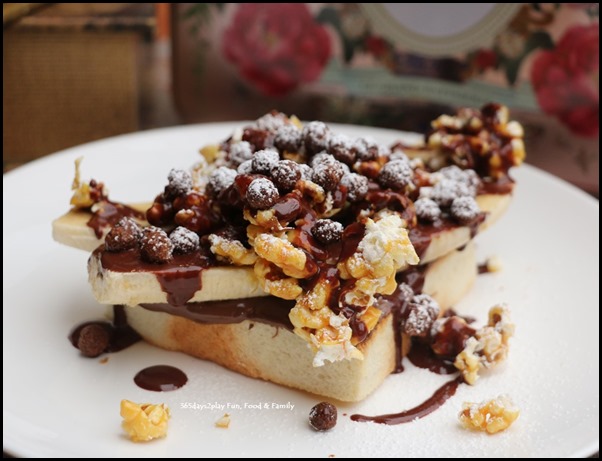 Banana Toast $12
The toasts are only available during tea time. There are 6 different types to try but we only tried the 2 above. Between the 2, I preferred the Kurobuta Ham & Cheese. It is a jazzed up ham and cheese sandwich due to the use of kurobuta ham, and the lashings of mustard mayo. I didn't like the addition of the purple sweet potato mash, as that's carbs on carbs, meaning that effectively, the ratio of meat to carb became too low.
The banana toast with caramel popcorn, cocoa pops, dark chocolate and nutella did not quite hit the spot as well. I found the texture quite strange, a mix of mushy bananas and somewhat soft popcorn on toast. How do you even eat this?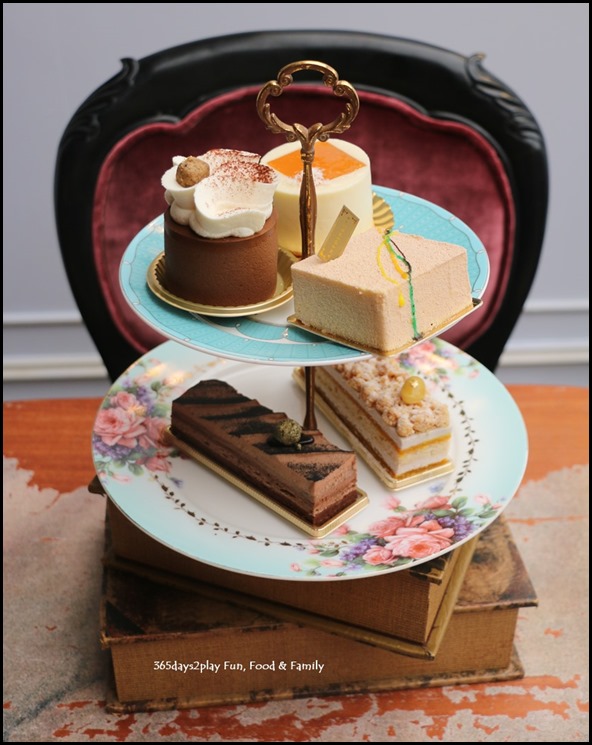 Antoinette has also launched 5 new charming cakes, inspired by iconic fashion luminaries from Coco Chanel to Issey Miyake. See if you can guess which cake is inspired by whom?
Chocolate No. 5 — chocolate chiffon cake, almond hazelnut feuilletine, cream chantilly
Cheese Please — Apricot Jelly, finger sponge 3 cheese mousse, almond sable
Nude — Tropical fruit mousse, caramel parfait, coconut creme chantilly
Haute Cafe — Sugar free, cold brew coffee creme chantilly, sponge with expresso
Orh Nee — Yam mousse, candied pumpkin, fried shallots, yam cake
Cakes range from $9-$11 for single servings and starts from $40-$48 for a small whole cake.
---
Add me on Facebook, Instagram and Twitter if you want to be kept up to date with the latest happenings in the food and lifestyle scene in Singapore!
---
Antoinette at Penhas Road
Address: 30 Penhas Road (off Lavender Street), Singapore 208188
* View Map *
Operating Hours:
Monday to Thursday — 11am to 10pm (Last order — 9.30pm)
Friday and Eve of Public Holidays — 11am to 11pm  (Last order — 10.30pm)
Saturday — 10am to 11pm  (Last order — 10.30pm)
Sunday and Public Holidays — 10am to 10pm  (Last order — 9.30pm)
Reservations: Highly recommended, 1 week in advance.
Telephone Number: (65) 62933121
*Reservations taken for lunch and dinner only at the Penhas Road outlet.
Antoinette at Mandarin Gallery
Address: 333A Orchard Road, Mandarin Gallery, #02-33/34, Singapore 238897
* View Map *
Operating Hours: 11am to 10pm daily (Last order — 9.30pm)
Telephone Number: (65) 68369527
Reservations not available at this outlet