Dann's Daily has added new stuff to their menu, yippee!!!!!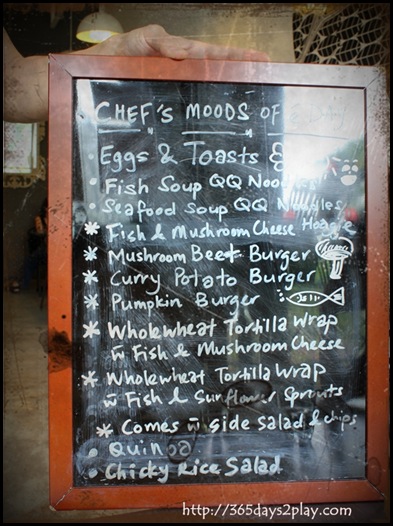 There's quite a few interesting things on the menu like the Eggs & Toasts, Fish & Mushroom Cheese Wholewheat Tortilla Wrap and the Mushroom Beet Burger to name a few. The Chef's mood of the day is due to become a permanent mood!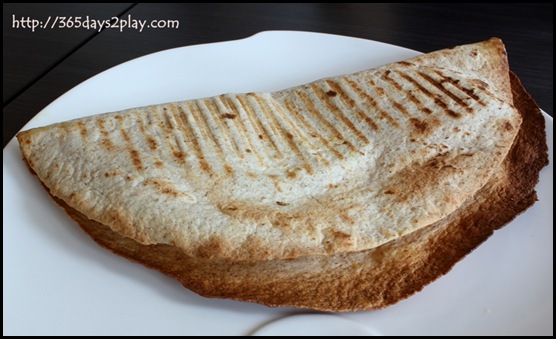 When I spied the Fish & Mushroom Cheese Wholewheat Wrap $9 on the menu, I knew I just had to try it, even though I already had lunch! This was 4pm, so it's snack time lah! It looked a little plain and very flat at 1st glance!
But when you prise it open, behold the goodies inside!!! Mmmmmm!!!!! LOVE the white fish and how it goes with the mushroom and cheese. It was oozy juicy goodness. It's a great thing that Dann's Daily likes to experiment with spices, cuz there's more to seasoning than just salt! Since the tortilla was toasted to a crisp, it felt a little like eating fish and mushroom cheese pizza. Love it that it doesn't taste like whole wheat at all!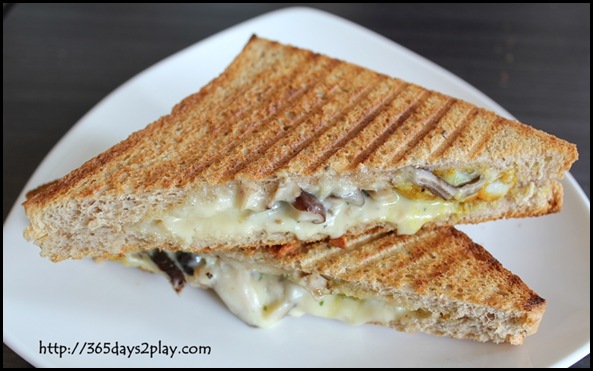 Another of my all time favourites, the toastie. The filling is exactly the same as the wrap, but panini bread is used instead. This is slightly less messy to eat, but equally fantastic in taste. Also slightly cheaper at $5. It's for the toasties and latte that we keep coming back!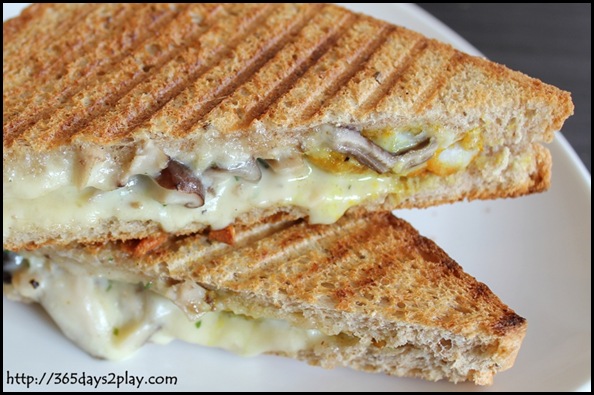 Closer look at the oozy goodness. Seriously good stuff, and it's HEALTHY!!!!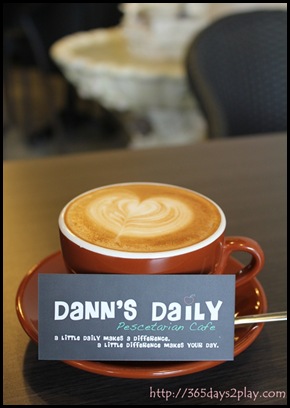 Xing of Dann's Daily told us that they have changed their coffee beans to one that gives off a slightly less acidic and more chocolatey flavour. Didn't manage to get a picture of the one we had on Sunday but here's a picture of the latte I had some months back. If you want to know where to find the best latte in eastern Singapore (Bedok, Siglap, Tampines, Marine Parade), you won't go wrong with Dann's Daily. I assure you, I'm not paid for making this statement.
Read about my previous visits to Dann's Daily Pescetarian Cafe
https://365days2play.com/2011/05/22/danns-daily-pescetarian-cafe-revisited/
https://365days2play.com/2011/04/05/danns-daily-pescetarian-cafe/
Dann's Daily Pescetarian Cafe
20 Eastwood Road
#01-06 Eastwood Centre
(It is facing the bus-stop and the main road, and is opposite Bedok Food Centre)
Singapore 486442
Tel: 6449 1355
Opening Hours:
Tue to Sun
9am — 9pm
(Closed on Mondays)