[Media Invite]
You may know Antoinette for it's dainty and delectable desserts, but did you know that Antoinette serves up delicious mains as well? These are not just a few savoury dishes to cater to those that happen to be hungry, but a full-fledged menu that you would find in a good restaurant.
Award-winning Chef Pang Kok Keong is always experimenting with new dishes. You can tell when he makes it a point to come up with a cake collection launch every single year. Recently, he decided to create Hakka inspired dishes so as to showcase his culinary heritage. When you look at these dishes, you'll wonder, are these Western dishes, or are these Asian dishes? Therein lies the excitement of dining at Antoinette's, some of the new dishes are so different, you're kept on your toes wondering what's coming next!
Take a sneak peek below of what the 6 new dishes are like. The revamped Antoinette menu will still feature some classic French dishes as well as these 6 new special dishes. So glad to know that my favourite Nougatine crepes are still available, although only during tea time and weekend brunch. One of the best crepes I've ever had!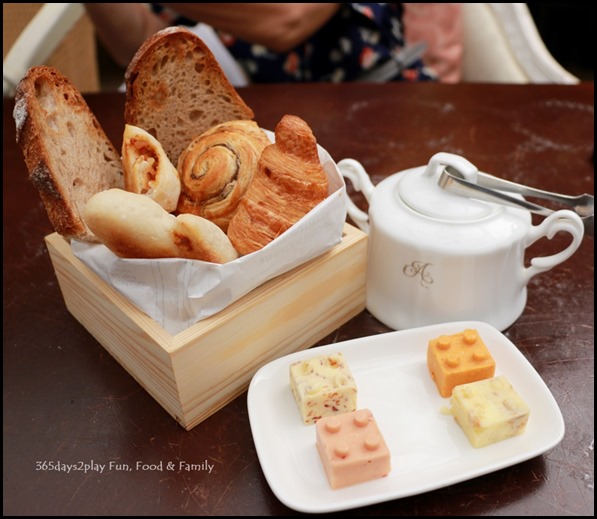 Bread Basket $5
Just when you thought that the bread basket will be the safe option, you are served lego butter! How cute is that? The butters are flavoured with preserved bean curd, caramelised shallot, rempah and preserved turnips, and served on rotation. Aside from the usual levain, baguette and croissant, there are also satay bacon epi and five-spice escargot breads!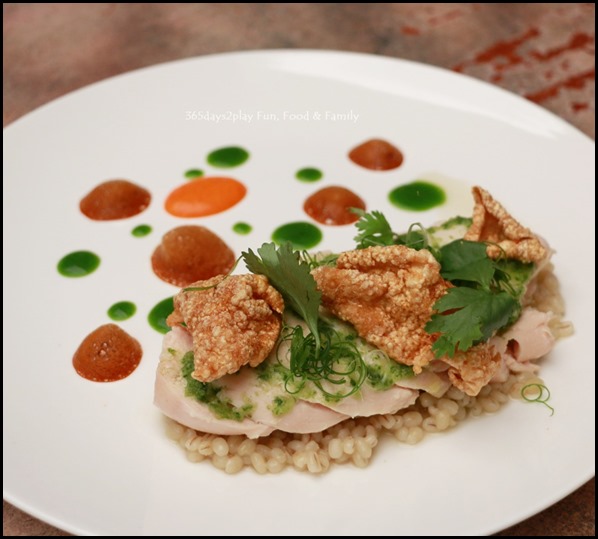 Chicken Rice with poached chicken breast, ginger scallion dressing and barley $26
Why pay $26 for chicken rice? Because it's chicken rice like you've never tasted before. The chicken breast is so tender thanks to the sous-vide cooking style. And the grains are actually barley, not rice. Interestingly, this actually works well. The barley imparts its own flavour and extra bite. Those who like to drown their chicken rice with chilli or soya sauce are not likely to be happy though because yes those smigins of foam are the chilli and dark soya sauce.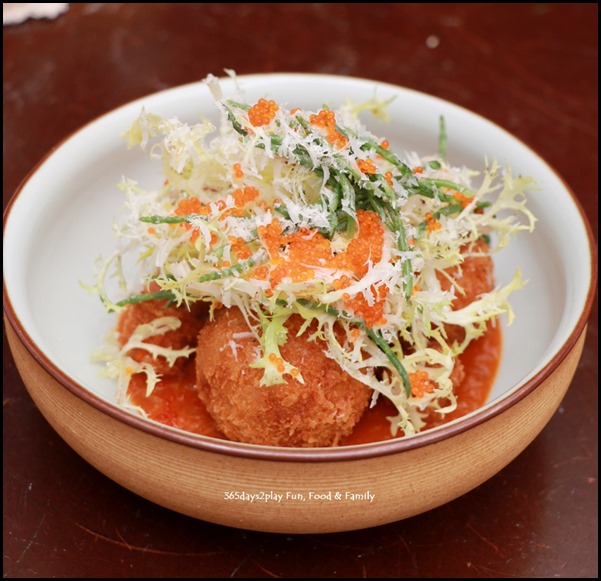 Chilli Crab Arancini with sea asparagus salad and chinese bun $16
A seemingly innocent looking risotto ball but packing in lots of big flavours such as lobster bisque, crab meat and home made chilli sauce.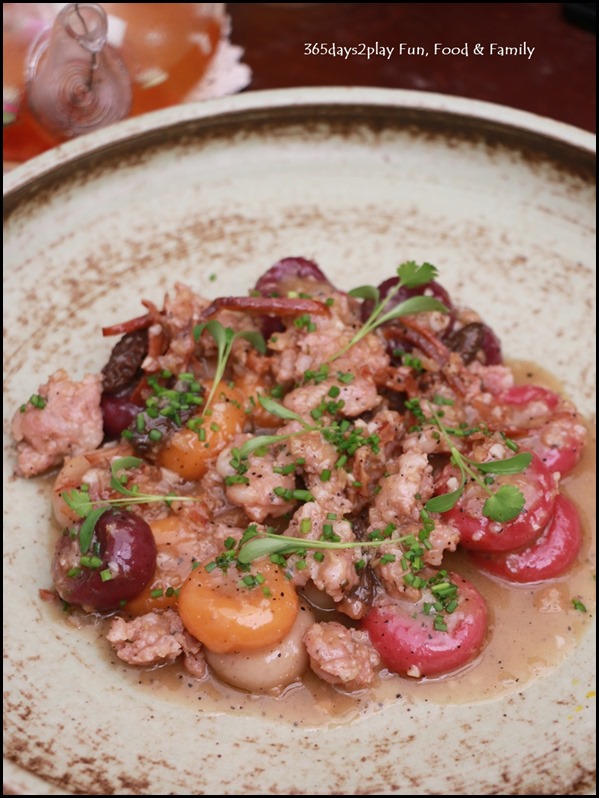 Hakka Gnocchi with dried shrimp, foie gras, cured pork and morel mushrooms $24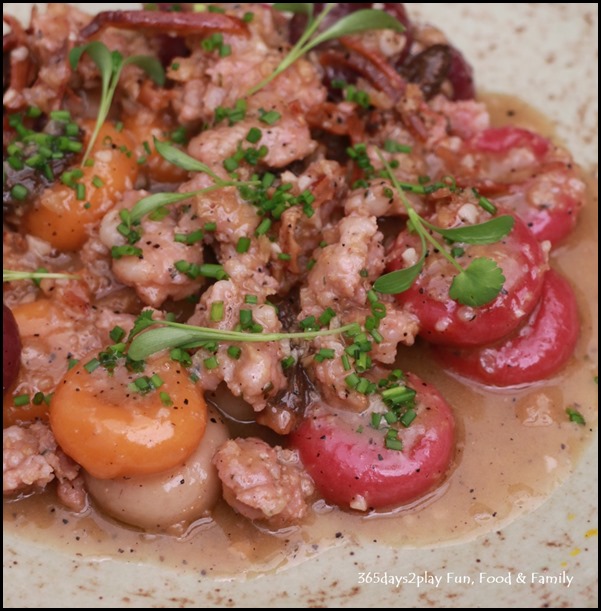 I can't get over how plump and cute these abacus seeds aka Hakka Gnocchi look. I want to keep popping them in my mouth. Again, different colour means different flavour : beetroot, sweet potato, purple sweet potato and yam. If you love gnocchi like I do, you would love this. It's gnocchi like you've never ever tasted before.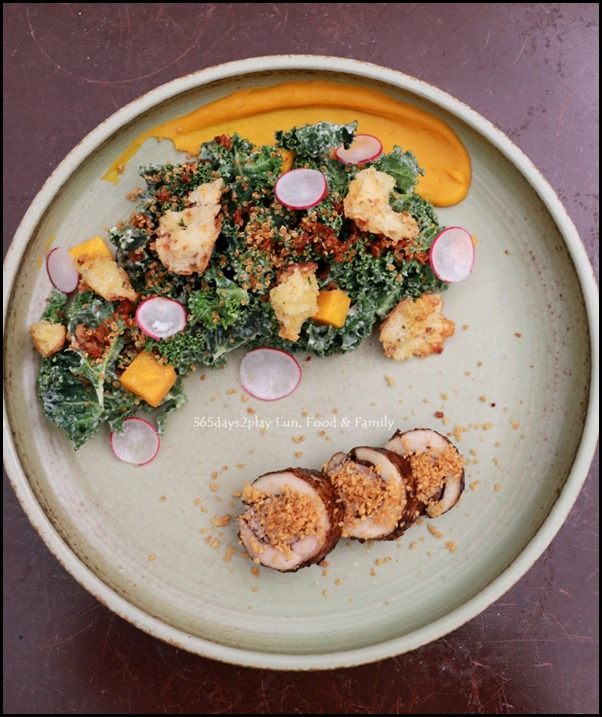 Kale caesar salad with salted fish dressing, 5 spice roasted chicken leg and butternut squash $22
Compared to the above few dishes, this Kale Caesar salad seems more muted. Instead of anchovies in the dressing, salted fish is used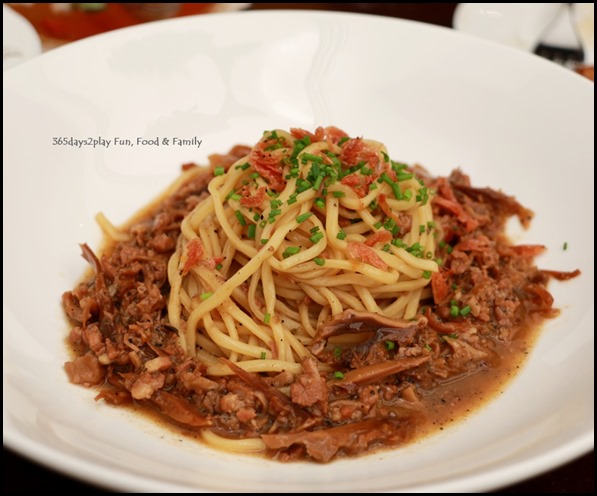 Spaghetti with pork belly ragout with cuttlefish and ebi sakura $24
This also tastes more western-style although the use of pork-belly seems more of an Asian thing, and of course the ebi sakura. A bit on the oily side though.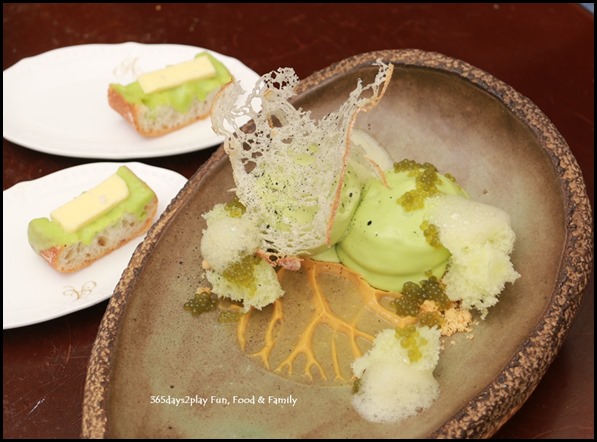 Pandan (foam, sponge, ice cream, salted gula melaka, rusks) $14
You know, the ice cream and all the trimmings tasted good, but these were overshadowed by the humble kaya butter bread on the side. This is kaya butter toast like you've never had before. The kaya was so smooth and creamy! What a pity that this kaya butter bread only comes together with the ice cream dessert, and not on its own. Yes, I've asked.
Sunny Side Up (Exotique coulis, coconut foam, sweet olive oil, cocoa bean, bacon) $10
This is actually a dessert dish! The egg white is made of coconut foam, while the orangey yolk is an exotique coulis. Comes with candied bacon and toasted brioche. I don't know, when I see a sunny side up, I want a sunny side up. This dessert didn't work for me, it seems like just bread with coconut foam mainly.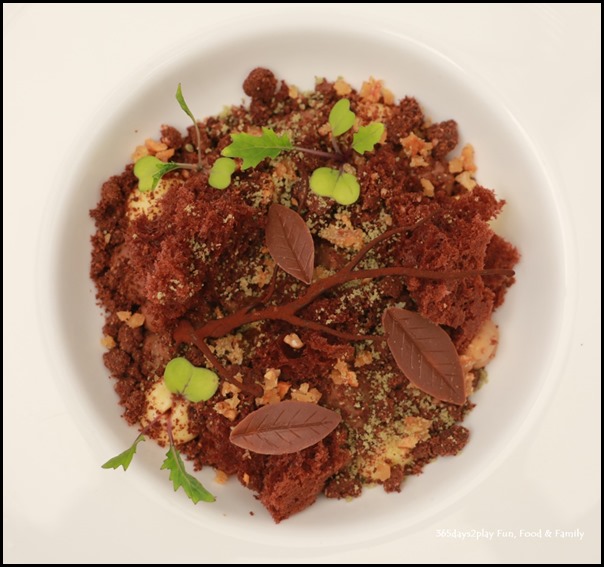 Misty forest (yuzu curd, praline cream, cashew nut nougatine, smoke) $18
This is more my kind of dessert and chocolate lovers would love this. Don't mind the mess of chocolate crumble, chocolate coral sponge and matcha moss, it's supposed to look mysterious.
And finally, the much anticipated launch of the 2017 cake collection….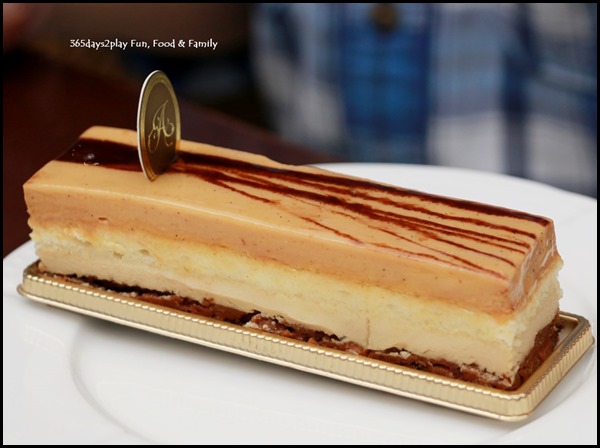 Cafe Blanc Caramel $9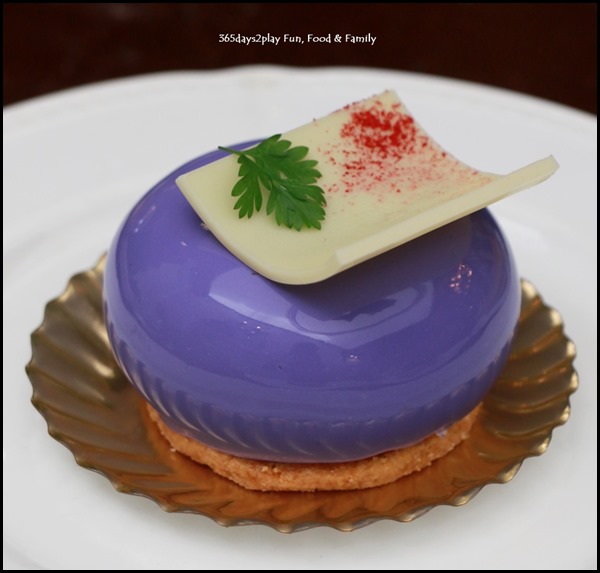 Charlotte IV $9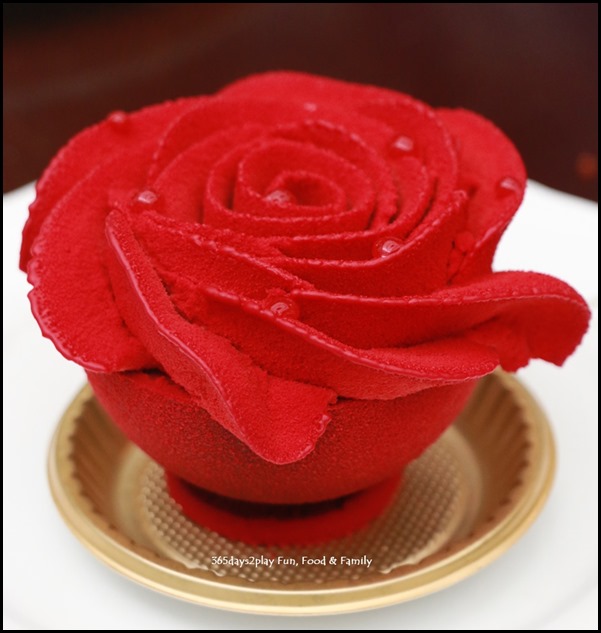 La Rose $12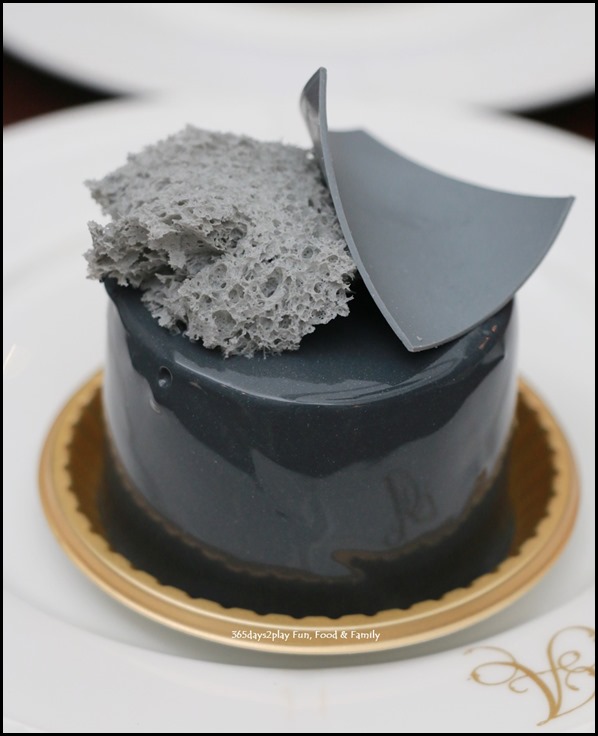 Monotone $9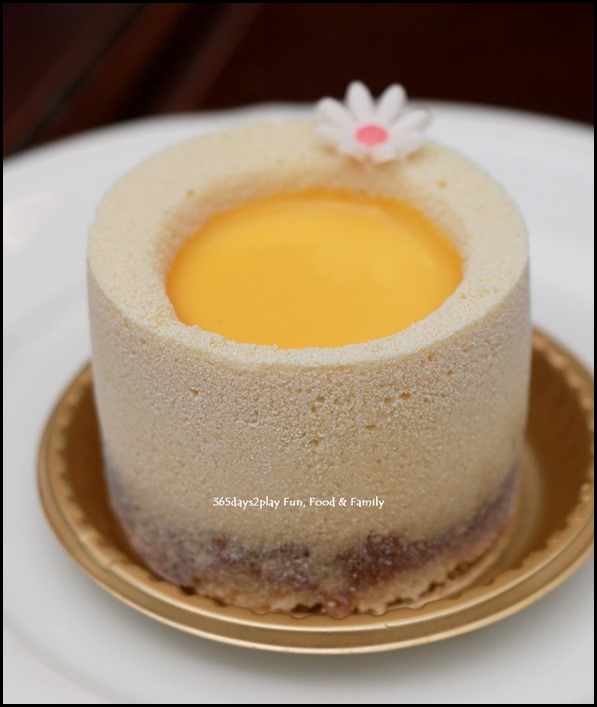 Orient $9
---
Add me on Facebook, Instagram and Twitter if you want to be kept up to date with the latest happenings in the food and lifestyle scene in Singapore!
Read about my previous visits to Antoinette here.
---
Antoinette at Penhas Road
Address:
30 Penhas Road (off Lavender Street), Singapore 208188
* View Map *
Operating Hours:
Monday to Thursday — 11am to 10pm
(Last order – 9.30pm)
Friday and Eve of Public Holidays — 11am to 11pm
(Last order – 10.30pm)
Saturday — 10am to 11pm
(Last order – 10.30pm)
Sunday and Public Holidays — 10am to 10pm
(Last order – 9.30pm)
Reservations:
Highly recommended, 1 week in advance.
Telephone Number:
(65) 62933121
*Reservations taken for lunch and dinner only at the Penhas Road outlet.
Antoinette at Mandarin Gallery
Address:
333A Orchard Road, Mandarin Gallery,
#02-33/34, Singapore 238897
* View Map *
Operating Hours:
11am to 10pm daily
(Last order – 9.30pm)
Telephone Number:
(65) 68369527
Reservations not available at this outlet