The modern Asian brasserie One-Ninety Restaurant  at Four Seasons Hotel is now open after a botanical-inspired makeover. This heritage-botanical theme is in line with the theme used by the the recently renovated hotel rooms and suites. If One-Ninety Restaurant previously struck you as cavernous and aloof, it now exudes a much more inviting and friendly vibe, yet still retaining its classy nature.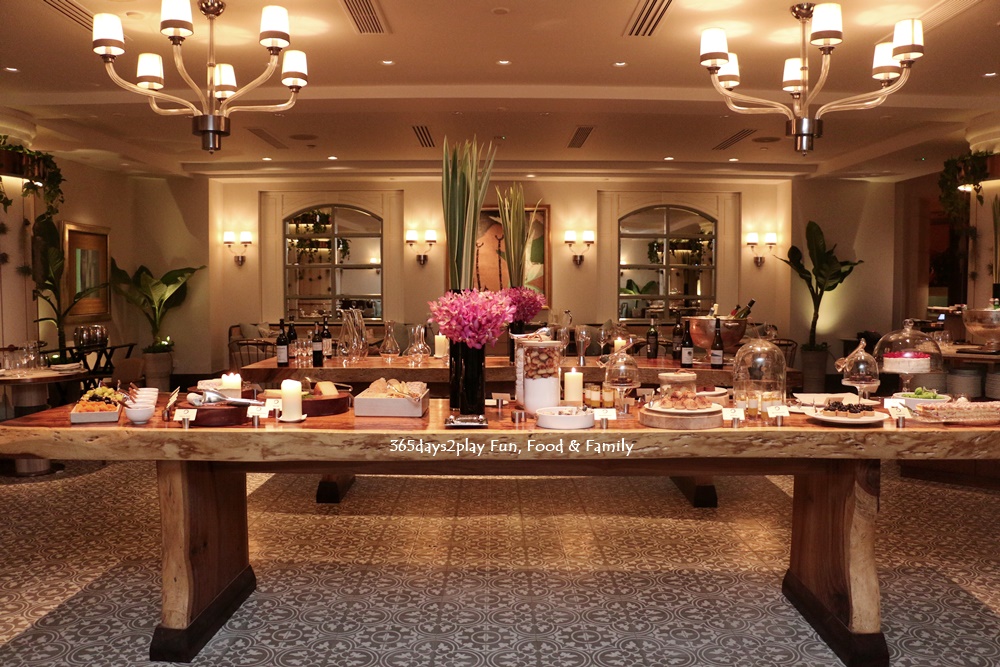 The revamped restaurant now serving Provençal cuisine with an Asian twist,  also boasts a newly minted Restaurant Chef Kamarl John, who previously worked at Four Seasons London (I'll be visiting in just a few day's time!!) as well as at Adrift at MBS.
Signature dishes here include the Seasonal Seafood Tower for Two, the Chargrilled 1.2kg Forty Days Aged Rib Chop MBS 6 and the Iberico Pork Presa & Collar. Even the complimentary bread showcases Chef Kamarl's creative craftsmanship as the Artisan Sourdough bread is made from flour sourced from artisanal mills in Hokkaiddo, ground by hand and blended to his specification, and the loaves baked fresh daily at One-Ninety.
Scroll down to read more about the signature favourites to order as well as for more pictures.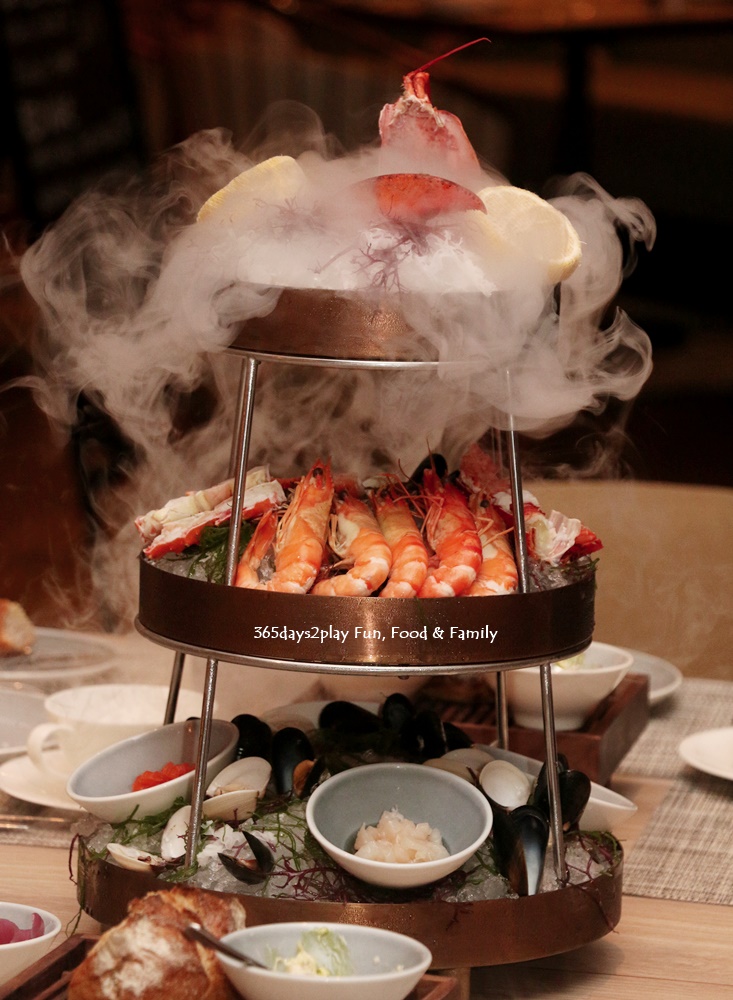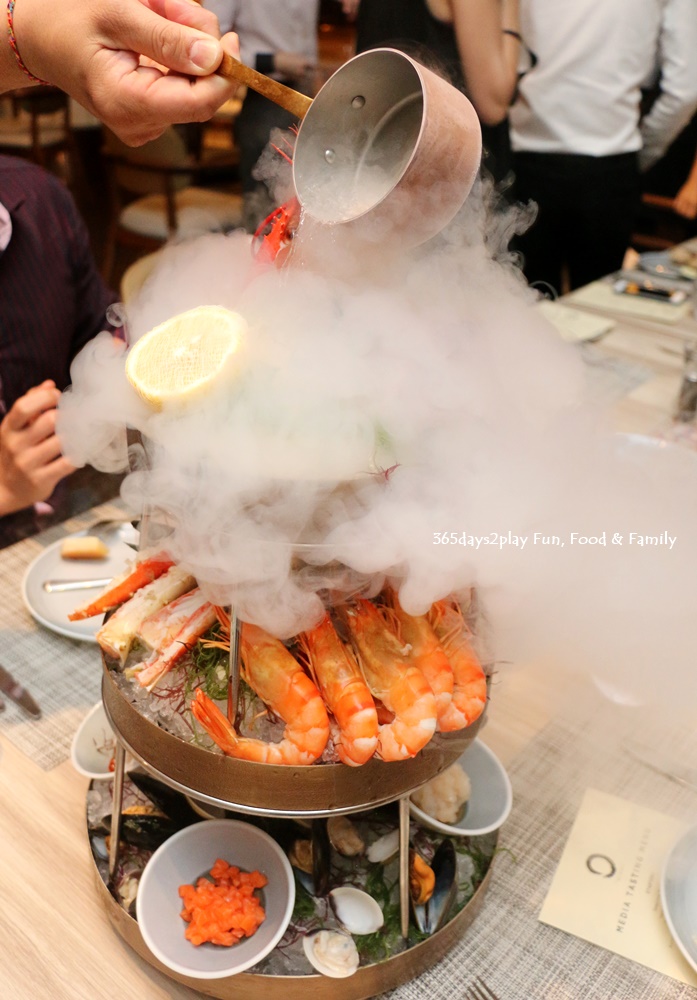 Seasonal Seafood Tower (Maine Lobster, King Crab, Mussels, Spanner Crab, Scallops, Prawns, Tuna) $78
Fresh and simple is best when it comes to seafood, and this Seasonal Seafood Tower featuring quality seafood from Southeast Asia, Japan and North Atlantic Ocean certainly delivered. No heavy sauces to mask the natural flavours although you're certainly welcome to utilise the accompanying house-made sauces such as calamansi aioli and young ginger vinaigrette to jazz up the seafood. The seafood tower is good for 2 to share, and I'd advise you not to share beyond that because you'd surely want all the choice bits to yourself, they are that good!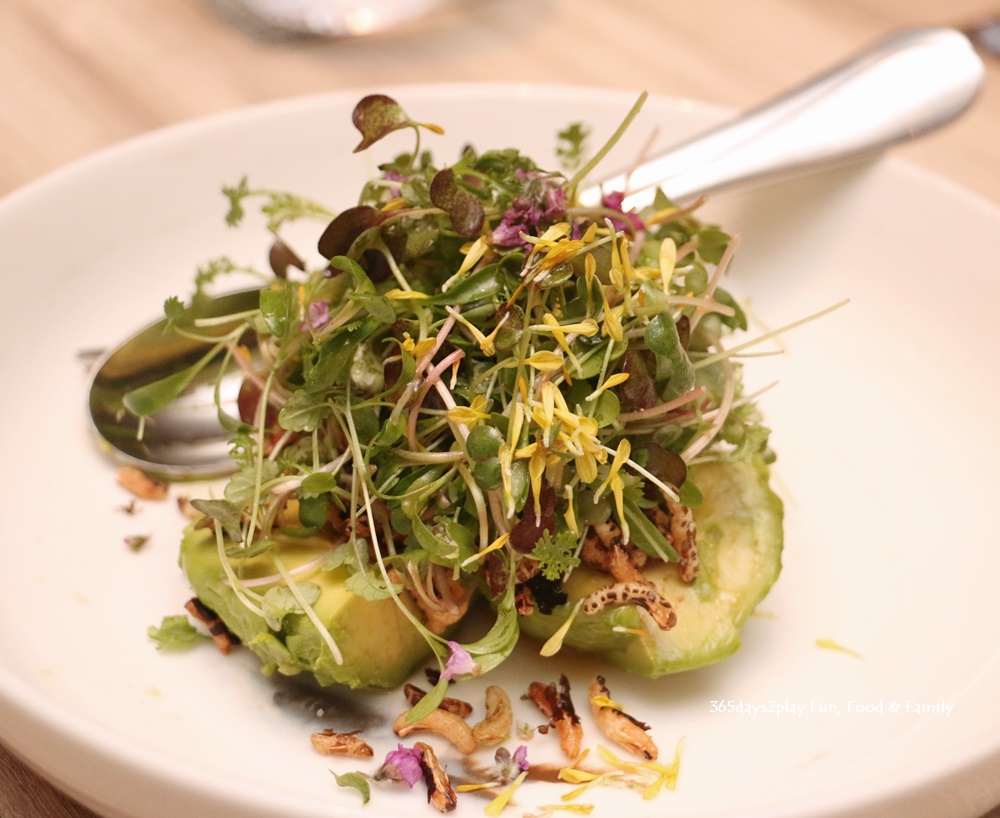 Avocado Salad, Mixed Baby Cresses $18
Lovely salad here. Even non salad lovers might like this because the generous amount of creamy avocado and the addition of puffed rice makes you feel like you're eating something else.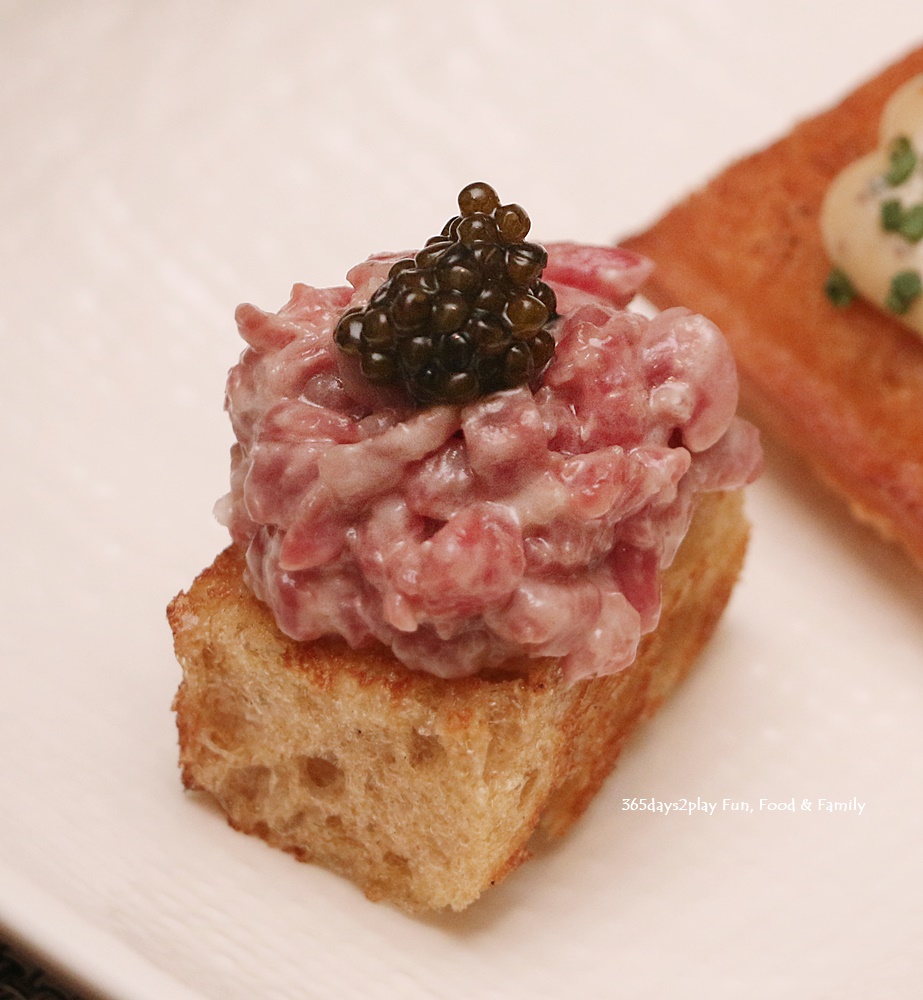 Beef & Caviar $18 3 pcs
18 dollars for 3 precious pieces of these wagyu beef and ossetra prestige caviar seasoned with Dijon emulsion. So good and so full of flavour from the entire combination. I've had beef tartare many times and you will be surprised that some are pretty tasteless!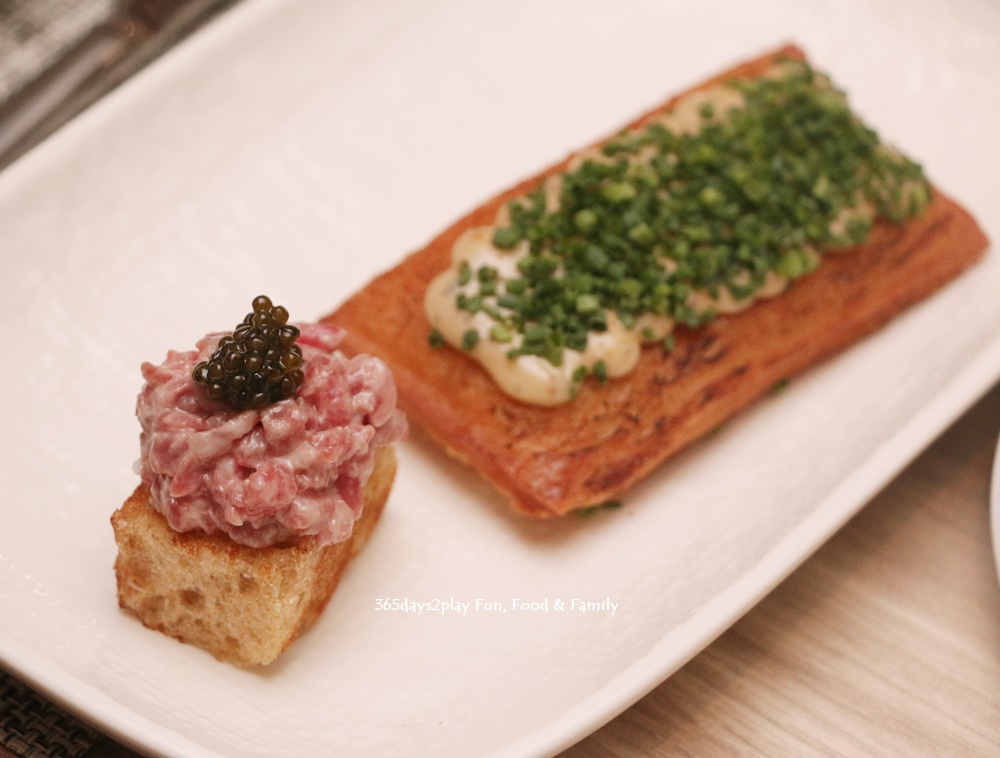 Lobster and Prawn Toast, Spicy Tobiko $8 1 pc
A more substantial starter, this was also very good.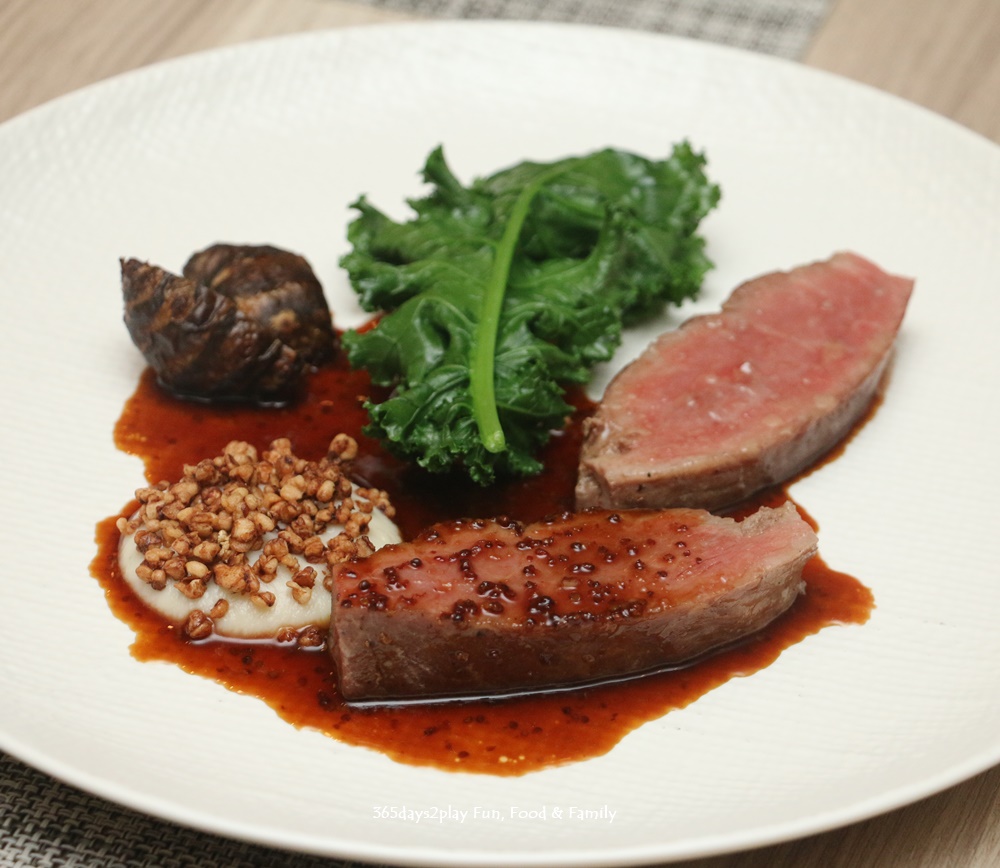 Four Seasons One Ninety Restaurant – Iberico Pork Presa with Celeriac Puree, Pineapple Chutney, Star Anise $42
You will be forgiven for thinking that this is beef, but this is actually pork. The presa is a specialised muscle within the shoulder that is tender and juicy, as you can tell from the marbling of the pork. It's no wonder the Iberian pork is also known as the Wagyu of Pork. One of the highlights of the tasting session and I would highly recommend you order this.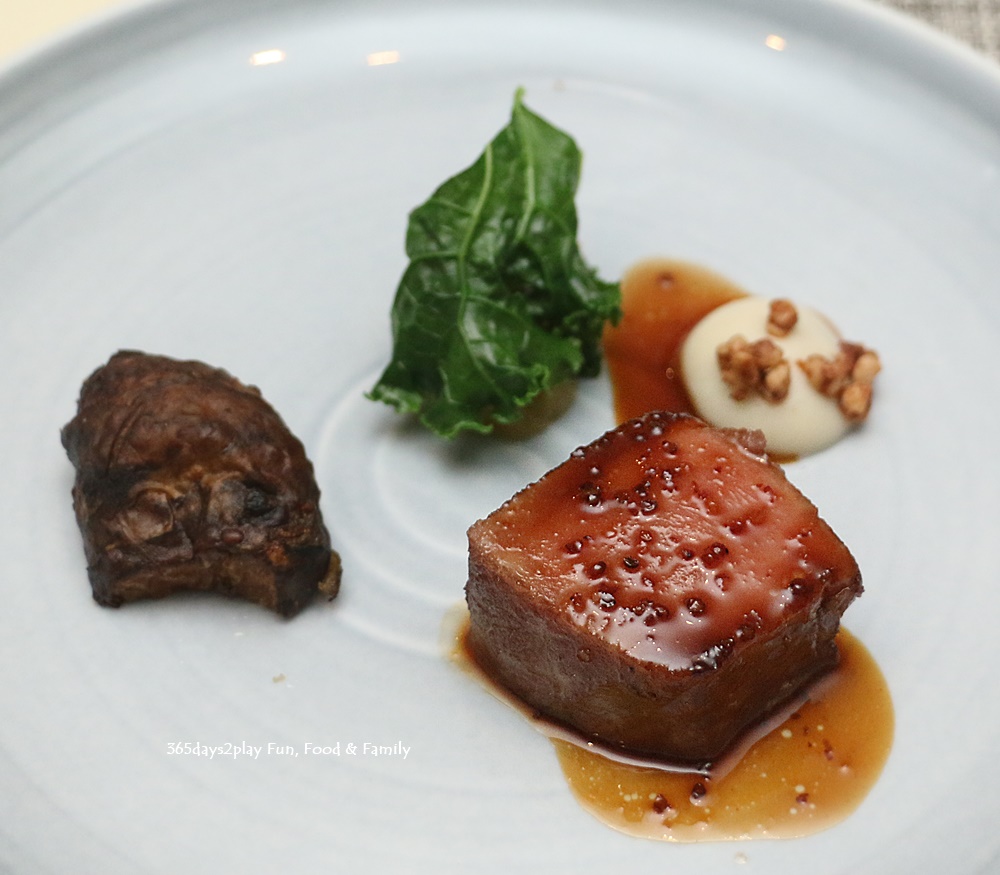 Closer look at the pork presa.
Chargrilled Forty Day Aged Rib chop, MBS 6+ 1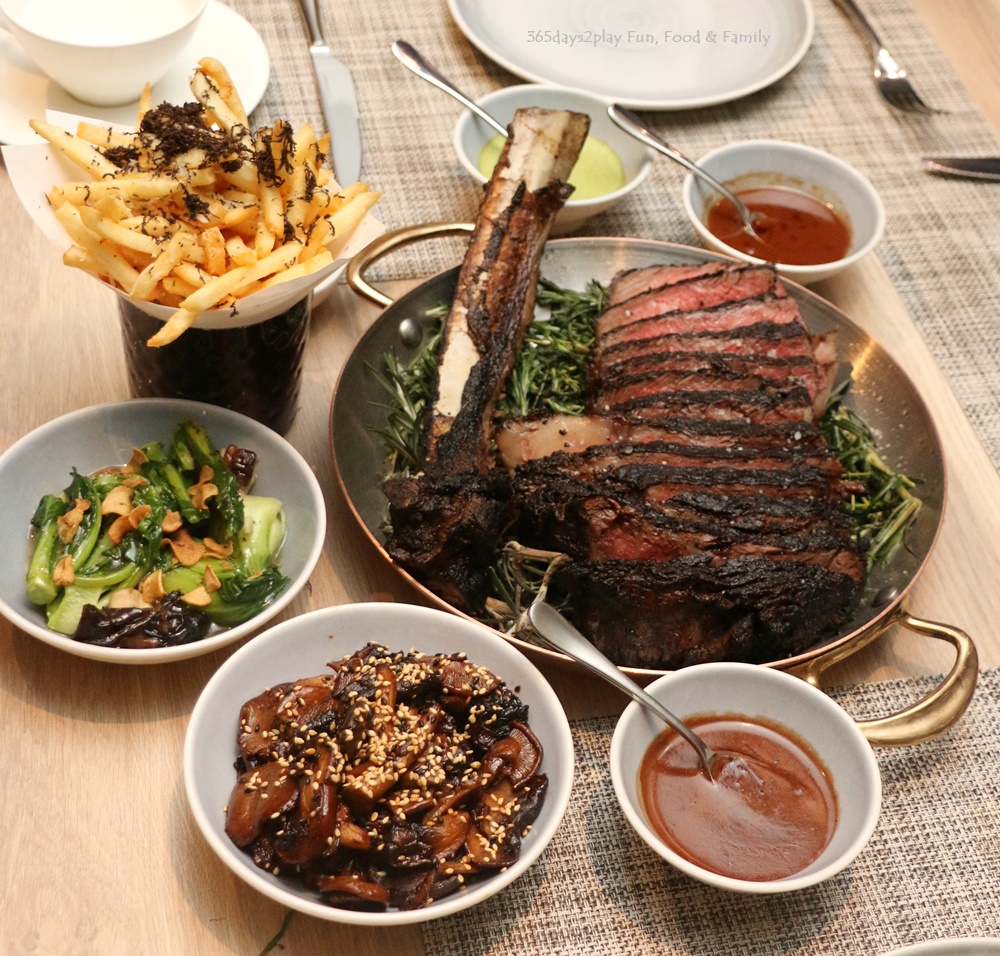 Chargrilled Forty Day Aged Rib chop, MBS 6+ 1 $188
Surely another highlight of the evening, the meat has been aged in-house for 40 days to mature before being slowly chargrilled over apple wood. Quality aged beef simply chargrilled, again how good meat should be savoured. Surprisingly strong flavoured, despite not being overly fatty.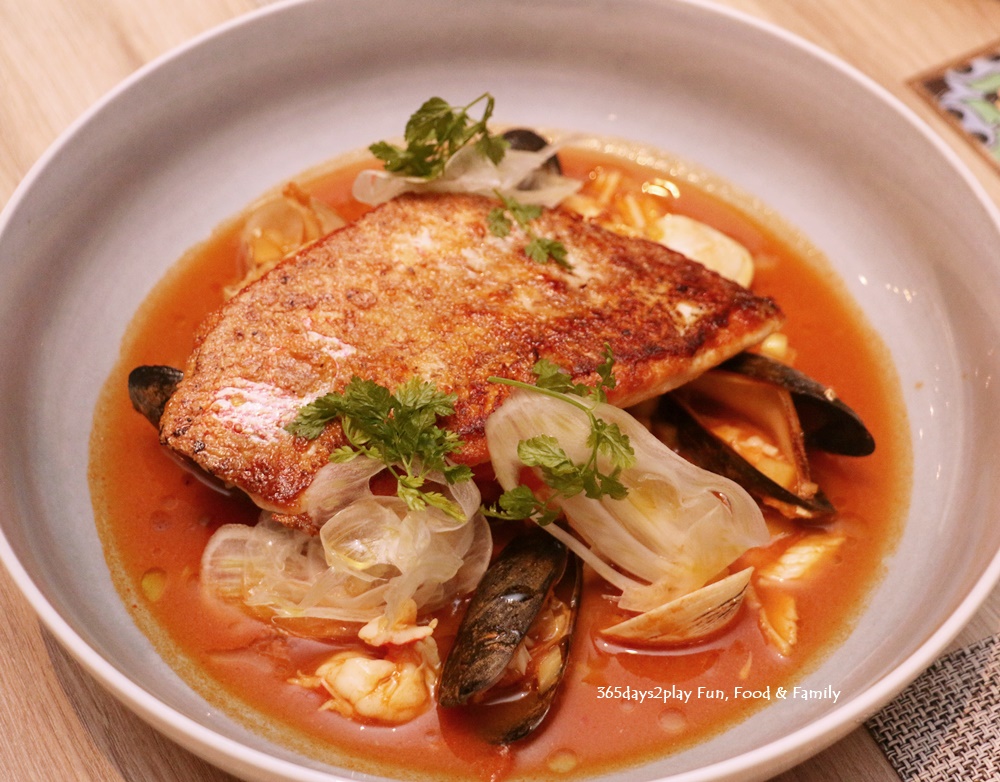 Snapper Bouillabaisse, Spicy Daikon, Lemon Grass $36
A comforting dish of red snapper, clams, tiger prawns and bouchot mussels in a very savoury broth made with potatoes, ripe tomatos and lots of herbs and spices.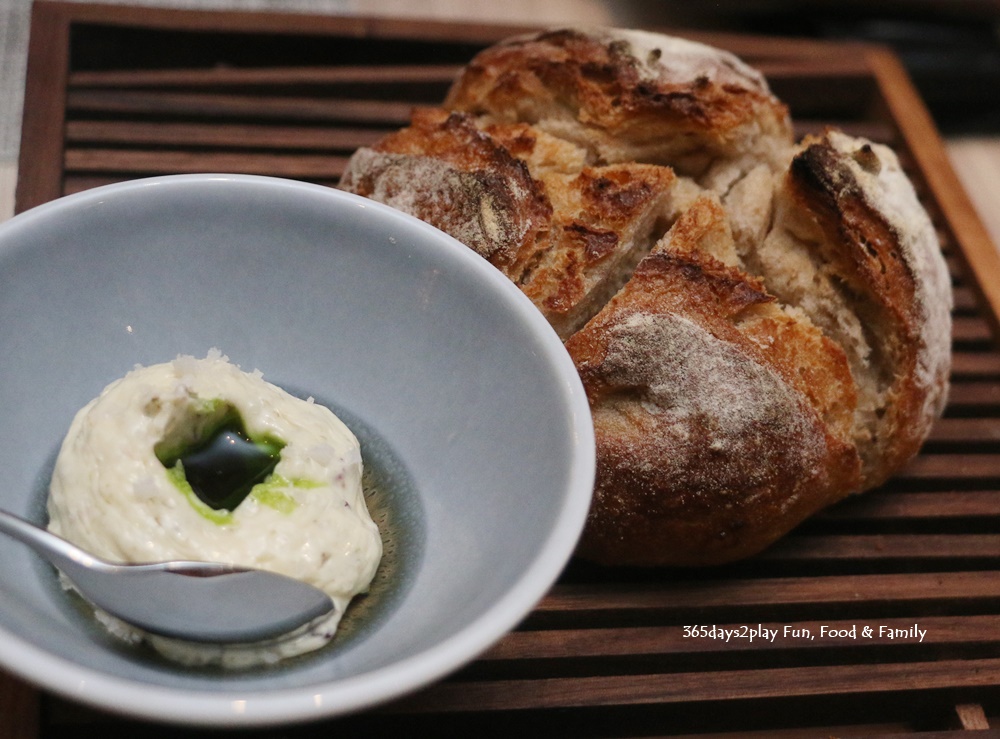 Artisanal Sourdough Bread with Seaweed Butter
This was served right at the beginning and definitely not to be missed. The sourdough is made from artisanal flour sourced from Kitahonami and Yumechikara in Hokkaido Japan, and the flour is only hand-milled upon order. As if that's not an impressive enough process, be wowed by the seaweed butter that has a somewhat mysterious flavour. Think those crispy seaweed sheets that you can never stop at 1, somehow being infused into the butter.
The dessert buffet table comprising an assortment of nuts, fruits, cheeses and sweet treats. The dessert buffet is an additional $28++ on top of your main course. Or go for the semi-buffet lunch for $38 which includes a mains as well.
---
Add me on Facebook, Instagram and Twitter if you want to be kept up to date with the latest happenings in the food and lifestyle scene in Singapore!
---
Oh if you've managed to scroll this far, why not check out pictures of my wedding lunch at Four Seasons Hotel. Yes I got married at Four Seasons Hotel! Or my cousin's wedding dinner at Four Seasons Hotel subsequently. Nobody can resist that full length glass windows and the cosy-sized but high ceiling ballroom.
Four Seasons Hotel Singapore
190 Orchard Blvd, Singapore 248646
Tel : +65 6831 7250
email one-ninety.sin@fourseasons.com
https://www.fourseasons.com/singapore/
Dining Hours
Breakfast 6:30am — 10:30am
Lunch (Mondays to Saturdays) 12:00pm — 2.30pm
Sunday Brunch 11.45am — 3:00pm
Dinner 6:30pm — 10:00pm