Do you shy away from dining at Japanese Yakiniku (Japanese grilled meats) because of the cost factor? I am glad to report that you can now enjoy Japanese Yakiniku, Wagyu Yakiniku to be exact at a more affordable price if you visit Wagyu Express by Aburiya. If you've heard of Aburiya, which is also a Yakiniku restaurant, Wagyu Express is the no-frills version.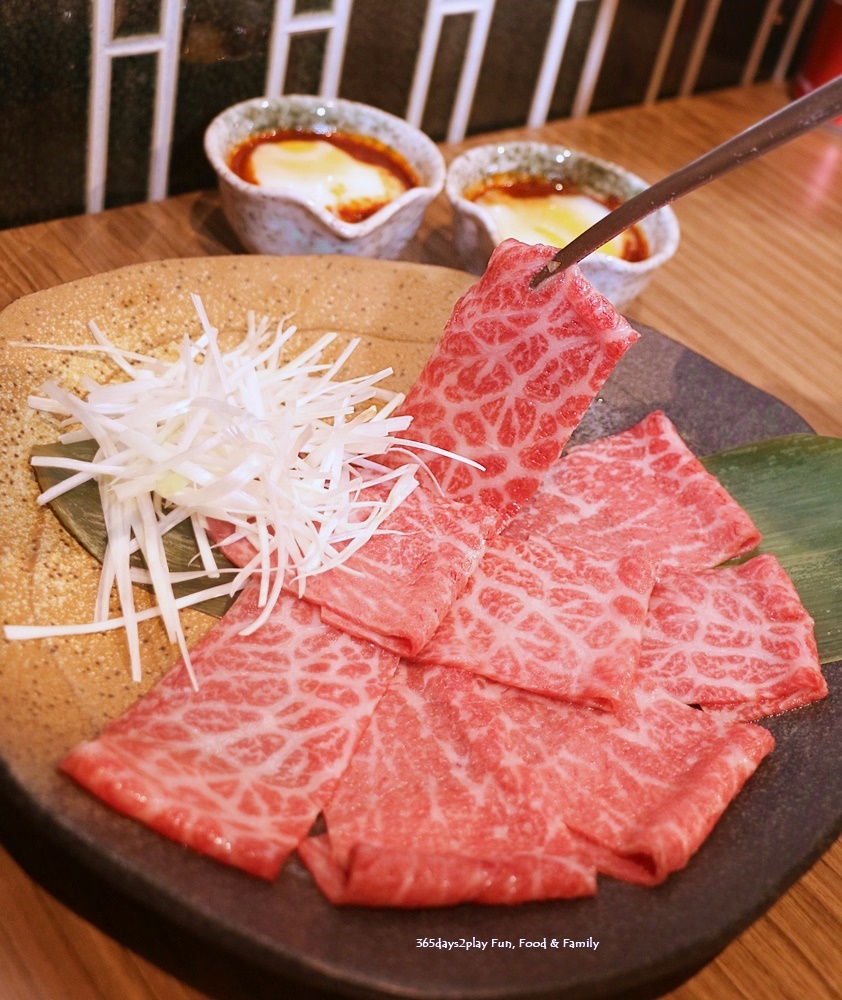 However, no-frills doesn't mean no good. Both Aburiya and Wagyu Express share the same suppliers and the entire cattle is imported from Japan to Singapore, before being processed into the various cuts. They also import their own 'bincho', also known as 'white charcoal', to impart a special flavour to the meats. Cost savings come in the form of specialization. At Wagyu Express, as the name suggests, you get mainly wagyu beef dishes here, although there is a small selection of pork and seafood. Also, the restaurant seating is more spartan and fuss-free. If you're here mainly for the beef, you'll be happy with the resultant cheaper prices.
For example, you can get choice cuts of Wagyu in the Wagyu Moriawase (180 grams) for just $38++, Wagyu Karubi Mori (180 grams) at only $23++, and an entire Wagyu Jo Karubi Steak (with Garlic Butter) at $25++. Click here to see their menu.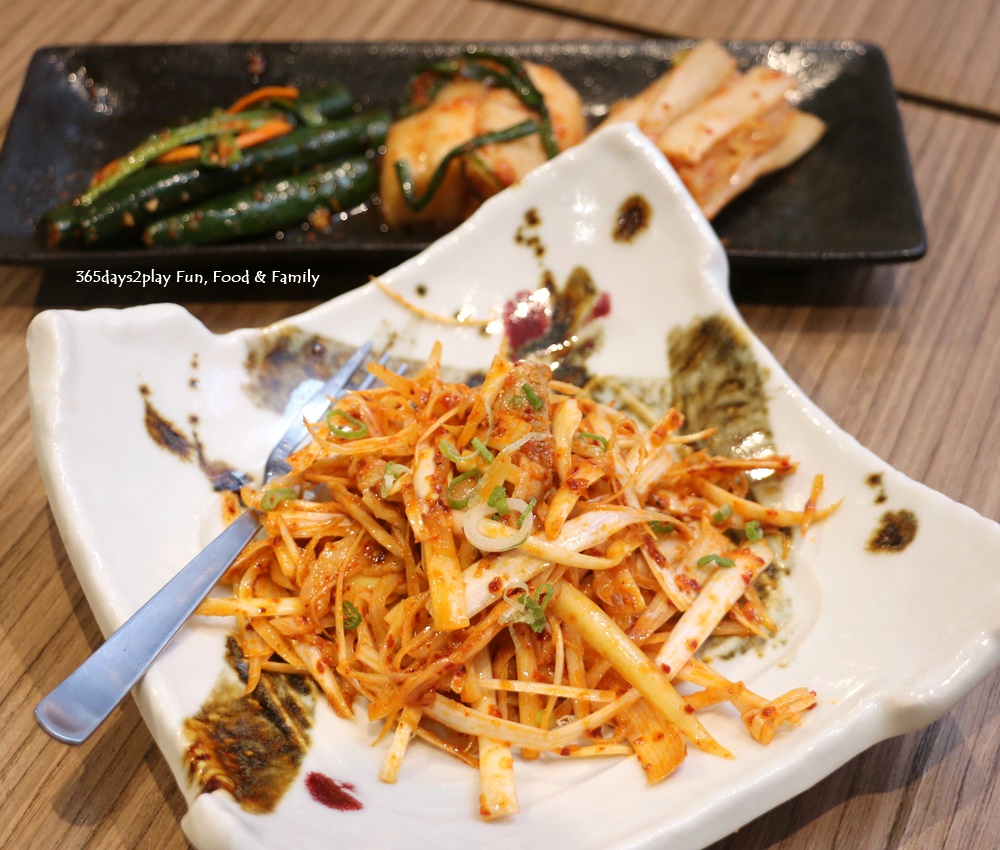 Kimchi Mori ($10) and Wagyu Suji Negi ($7)
If you need some appetisers, you can start off your meal with assorted kimchi or Beef tendon and Japanese leek salad tossed in spicy sauce. Japanese Dashi, prawns and squid paste is used to enrich the kimchi. I've never been a fan of kimchi, so I would rather go for Japanese leek salad, or dive straight into the grilled wagyu meats.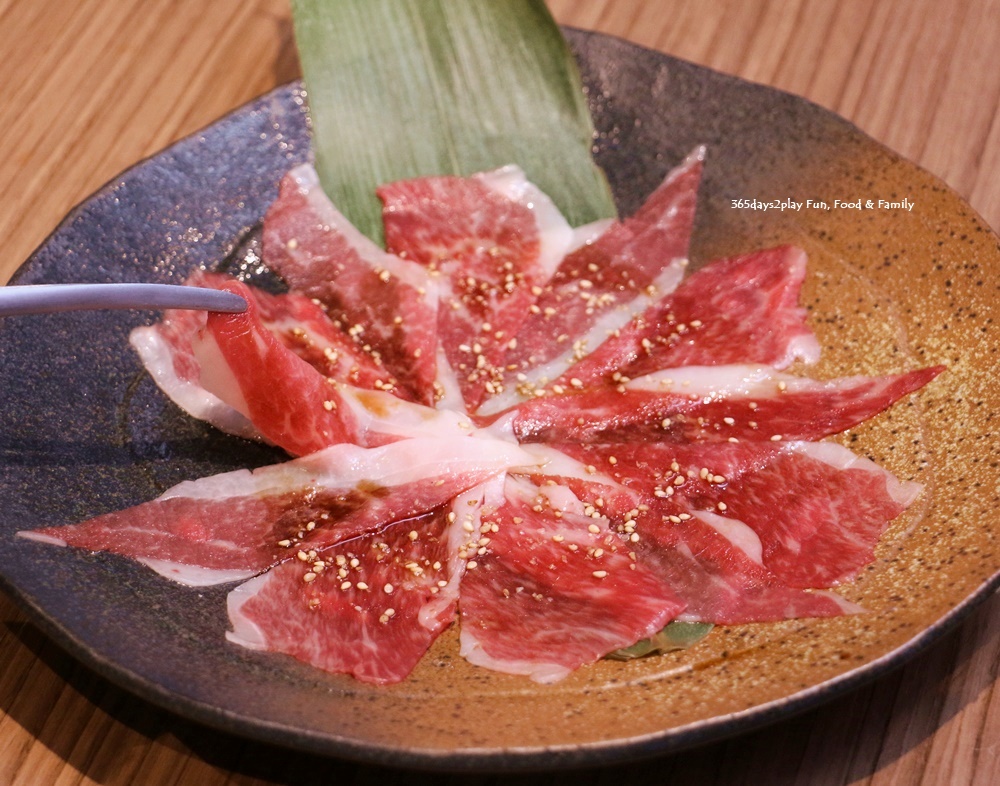 Wagyu Express Yukke ($15)
This is Wagyu brisket tartare (Sashimi) with Wagyu Express' signature sauce. This is to be eaten raw, and it has such a rich velvety flavour I could eat this all day. Be warned it does have some gristle here and there and might require some chewing if you encounter it.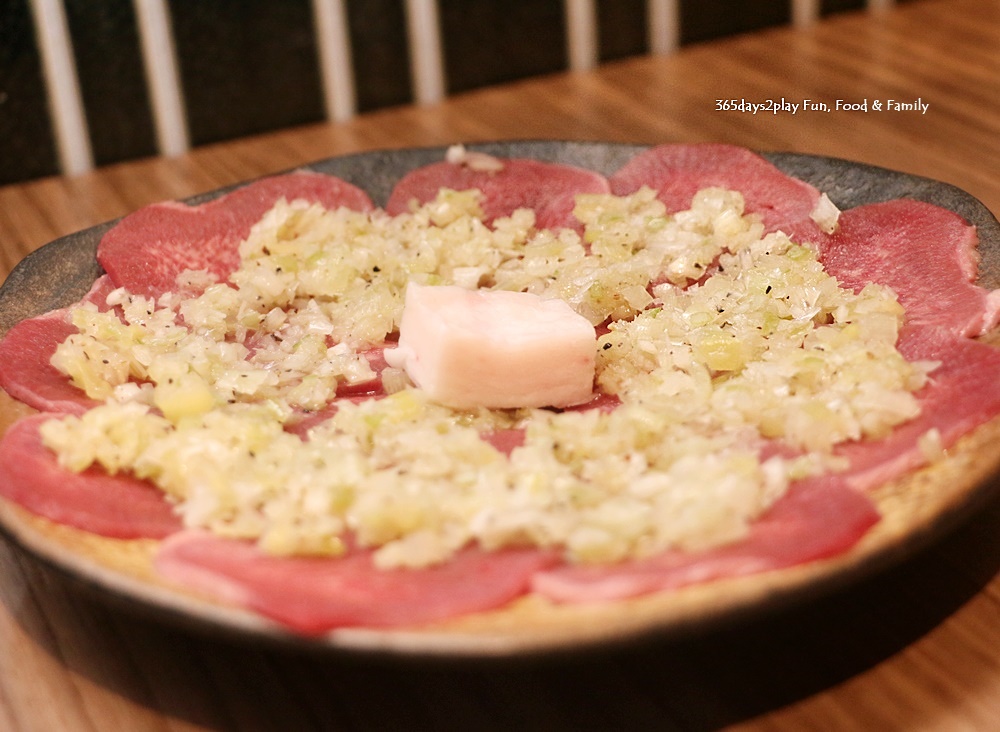 Negishio Tongue ($20)
Pleasantly surprised to find ox tongue on the menu because it is quite rare in Singapore. I've had it a lot in NZ and it's my favourite cut because it's so tender and yet flavoursome. I must say this version has a slightly firmer texture, imagine slivers of kidneys if you will. Still, the flavour was good and we enjoyed eating the tongue together with the Japanese leek sauce.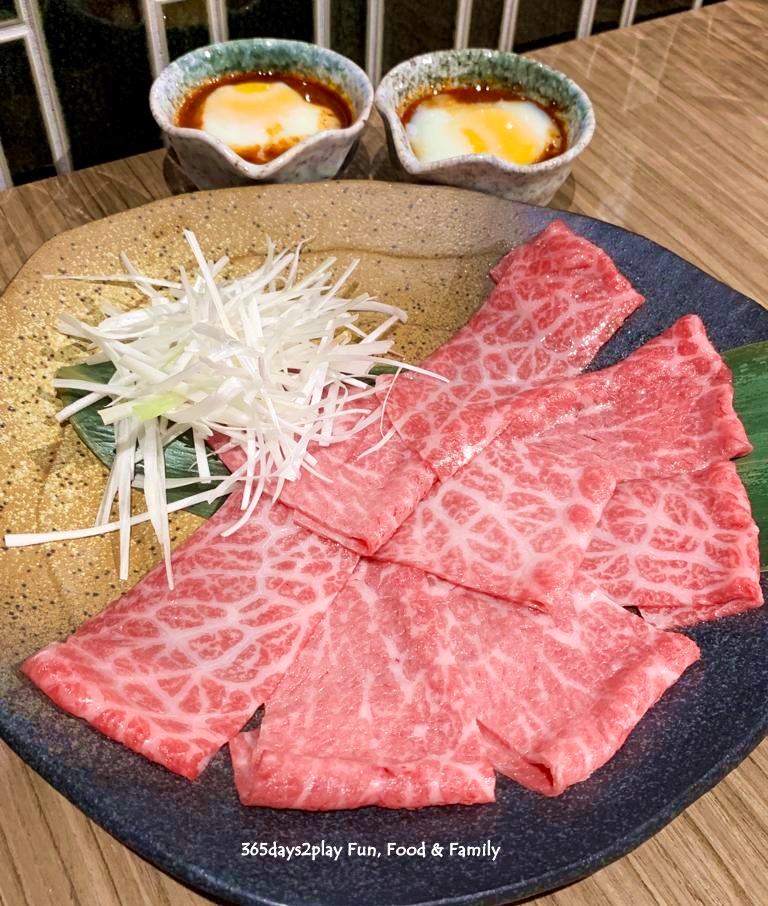 Wagyu Sukiyaki ($20)
The sliced Wagyu Thigh Meat is the one to get if you want tender meat with great marbling. And if that's not already enjoyable on its own, you can amp it up further with a spicy sukiyaki sauce, served with onsen tamago (lava egg).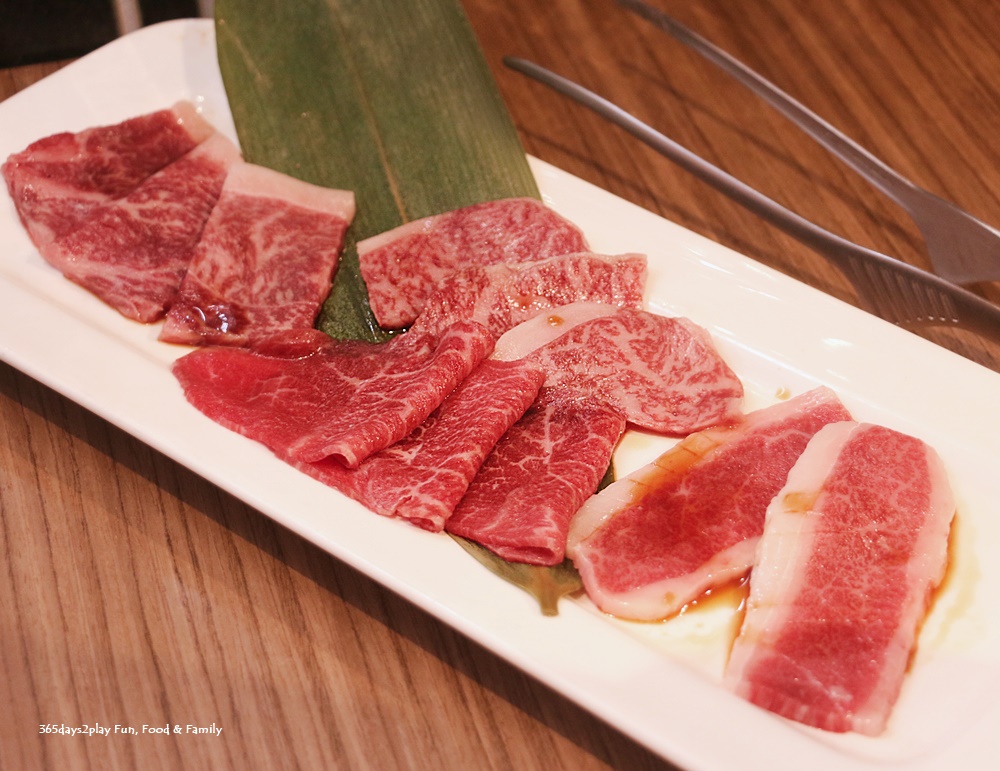 Wagyu Moriawase ($38)
Another lovely option to get if you want a variety of meats as this is a selection of 4 best types of Wagyu of the day. Again, flavoursome meats with a lightly charred taste. I must admit the amount of fat was getting to me by this stage. I discovered because I only lightly grilled my meats, the fats were not rendered off! So for subsequent meats, I left them on the grill longer to melt off the fats!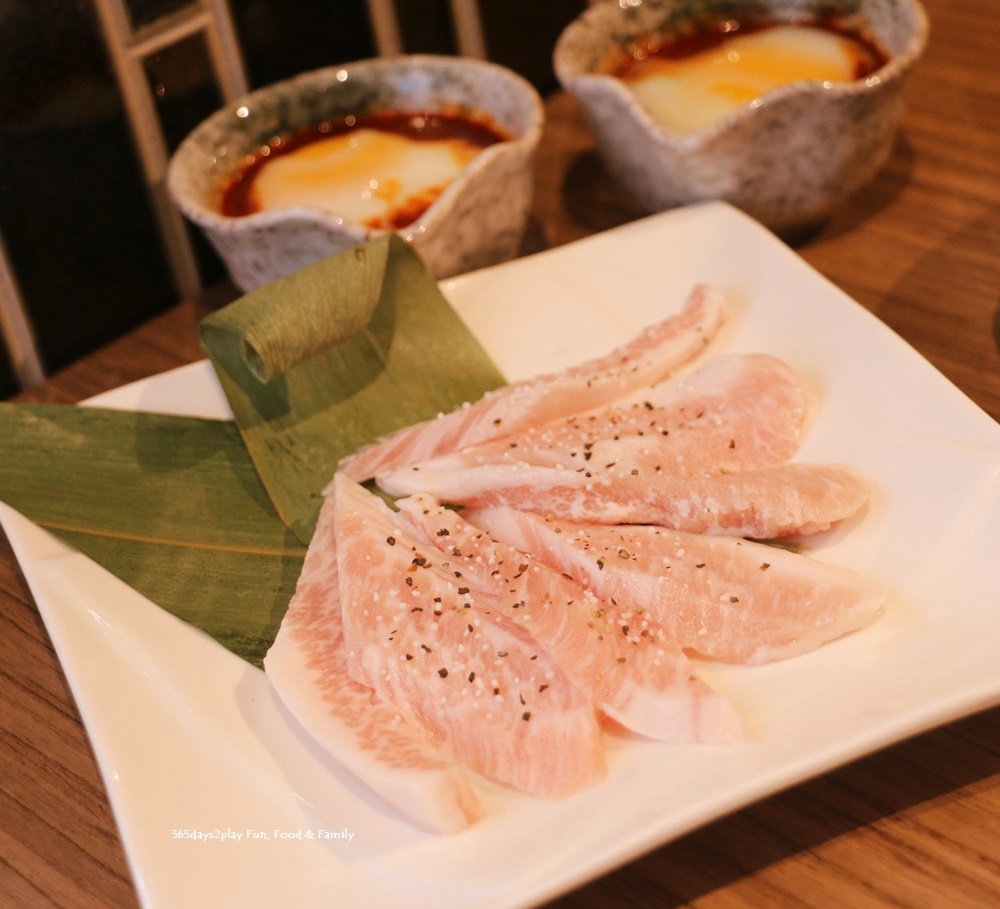 Hokkaido Pork Tontoro ($10)
If you need a change of pace, you can try this Hokkaido 4th generation Pork Cheek. The pork is a cross cross between four different breeds of pig (Landrace X Large Yorkshire X Duroc X Berkshire).
Just look at that marbling…..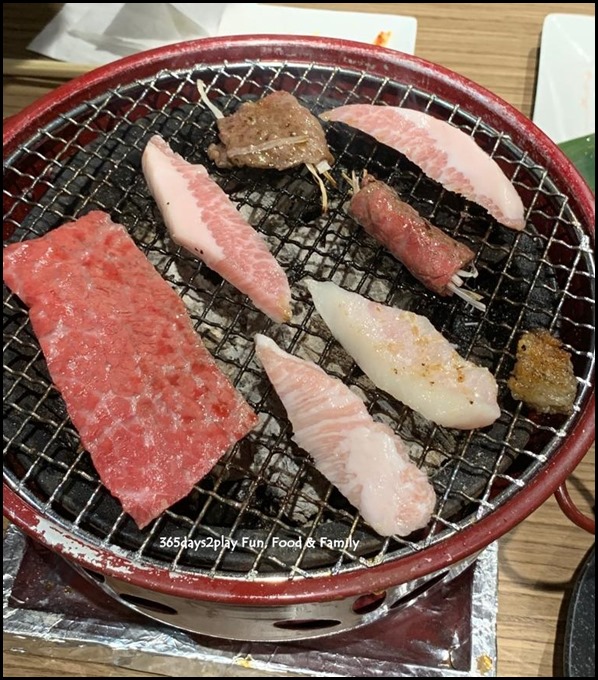 ---
Add me on Facebook, Instagram and Twitter if you want to be kept up to date with the latest happenings in the food and lifestyle scene in Singapore!
Other Tanjong Pagar Japanese Restaurants to check out
---
Wagyu Express by Aburiya
108 Tg Pagar Rd #01-01 Singapore 088526
Tel : 6226 0854
http://www.wagyuexpress.sg/
https://www.facebook.com/wagyuexpresssg/
Opening Hours :
Monday to Saturday : 5.30pm — 11.30pm | Sundays & PH : 5.30pm — 10.30pm