Everyone loves the idea of hopping across the causeway to Johor Bahru for cheap shopping and good food. But it's no secret that before you can enjoy the thrills that JB offers, you must first brave the jams at the Immigration Checkpoint. The Woodlands Checkpoint to the Johor Bahru Checkpoint is but a 2.5 km stretch but if you've ever been stuck in a multi-hour jam there, the two places feel world's apart.  If only it were a breeze to make the journey across, I am sure many more Singaporeans would make day trips to JB multiple times a year. Wouldn't it be a dream when you no longer have to even devote an entire day to visiting JB, it could be as simple as "going into town" for a couple of hours!
I for one have been itching to revisit JB and do more cafe hopping since my last visit. But devoting an entire day to this has been next to impossible as we are stuck with having to pick Edward from school during lunch time on weekdays, and the weekend crowds are even more off-putting. But nevertheless, here's my tips on how to beat the queues at the Johor Customs, assuming that you are not going by car. Let's be frank, it's either going to need advance planning, or you're going to need to be in "battle-mode" and have your smarts about you.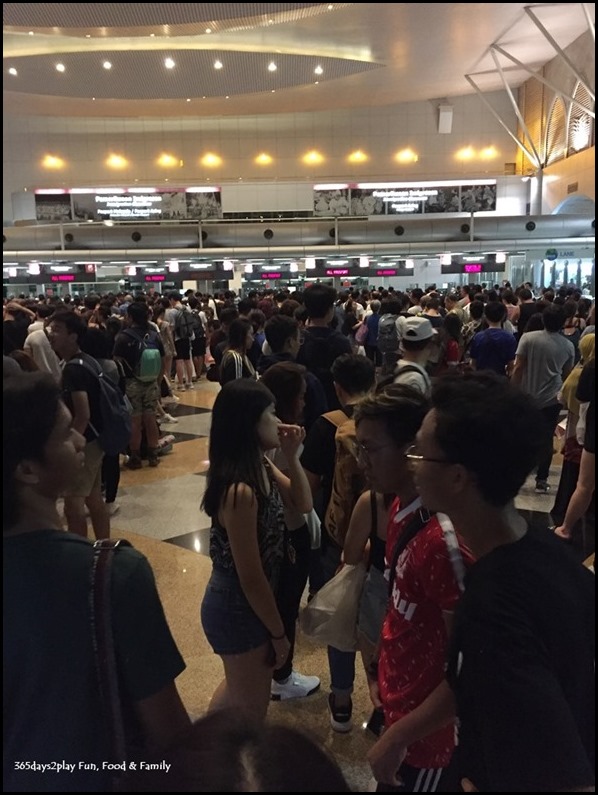 1. Take the  KTM Shuttle Tebrau Train Service
This is the fastest and easiest way to get to JB without dealing with the crowds. Passengers from the KTM train go through a different customs route so you get to bypass the horrible queues that the plebeians going by public bus have to go through. Choicest timings are always sold out so it's best to book at least 2 weeks or more ahead, especially if you intend to go during the weekends. KTM have launched a new online ticketing platform recently which makes looking for train timings much easier. Previously the services were grouped into mornings, afternoons and evenings and it was just a pain to navigate. Click on https://ticket.ktmb.com.my/ for the new ticketing platform. Make sure you don't go to the old platform which is still being used for train services within Malaysia, as you will end up seeing that there are no tickets available. Tickets cost MYR16 (just over SGD$5) per leg, which is double the cost of taking the bus, but in my opinion, well worth the money.
2. Drive in
This may not seem like a solution if you were planning to take the bus, but again, is worth considering. If you are driving into Johor, you don't have to go through the same customs queues as those taking the public bus. You can clear customs without getting out of your car. That is not to say that the queues are short. They can and will be long too during peak hours, but at least you are waiting in comfort and sitting down, as compared to being squashed like sardines at the walk-in customs. This is also a good option during school holiday weekdays where the walk-in queues at customs can be lengthy thanks to hoards of students also wanting to make day trips to JB.
3. Not all queues are equal
Now here's the secret tip you've been waiting for, how to beat the JB customs queues if you've decided that you're still going to take the public bus into JB from Singapore. First of all, there are actually 2 customs / immigration checkpoints that you have to go through. The Singapore Woodlands Checkpoint side is fairly easy enough. There may be a queue, but it is pretty fast moving and based on my experience, it should not take more than 10 minutes to clear this area, be it whether you are leaving Singapore or returning to Singapore. The headache comes when you are at the JB immigration checkpoint. On good days when there are no queues, I have heard that you can clear customs within 5 minutes. However, if the crowd that you see looks like the one in my picture, you are in for a long wait.
Still there are ways to make sure you don't wait longer than necessary.
Recessed Counters?
First of all, not all queues are equal. Notice that some counters are recessed, while some are not. Those that are recessed inwards will add 5 more persons to your queue, all things being equal.
Thickness of queue
Next, observe the "thickness" of the queue. People travelling in groups tend not to line up in a straight file. They tend to group together loosely on the sides, making the line seem shorter than it really is. Avoid lines that look short but have many groups of such people.
Is the counter manned?
Next, make sure to observe that the counter is manned to begin with! Some counters have no staff behind them but there is still a queue, albeit enticingly shorter. Those people queuing there are not idiots. They have companions dutifully lining up behind manned counters while they take a gamble that the unmanned counter may be opened up at some point in time. It does happen and if it does, their companions quickly hop over! There is certainly no loss to do this, but whatever you do, make sure you don't end up queueing at an unmanned counter without backup! And likewise, while you should definitely be alert to new counters opening up, do evaluate whether it is worth while hopping over  because your own line may be come shorter while the new line may become longer with earlier said people joining their friends.
4. Avoid peak hours
This goes without saying, but what are peak hours? Weekends are of course notorious, particularly between 9.30am – 3pm. It seems easy enough to get to the Woodlands checkpoint before 9.30am to beat the crowd, however if you live in the far West or far East, it already takes a good hour to even travel there. School holidays as well. Public holidays as well as eve of Public Holidays.
Alas, there's only so much you can do if you're already at the immigration checkpoint and the queues are still relentlessly long. Mentally, it helps to note that it takes approximately 15 minutes to move forward from 1 pillar to the pillar in front, even after you've deployed all the tactics written above. Go with friends to make it a fun wait, or prepare a book/magazine in advance to while away the time. Enjoy your time in Johor Bahru!
Check out my article on what to do in JB!
Visit this Instagrammable and super popular cafe in JB
---
Add me on Facebook, Instagram and Twitter if you want to be kept up to date with the latest happenings in the food and lifestyle scene in Singapore!
---